Hopping across continents in search of talented student-architects is truly an exhilarating experience! Each individual I meet amazes me for their distinctive creativity and individuality. I get to learn so much from these young and talented student-architects about architecture, life in this competitive sector and of course not forgetting – how each individual's struggle and triumph to be the best among the bests is so-so remarkable!
From Johannesburg, South Africa, the GEN Z Series travels to the Universitat Politècnica de Catalunya in Spain to meet a bubbly, vivacious and creative student-architect Hillari S Zarco Canido. In the year 2022, she graduated with honors in a Postgraduate in Structural Analysis and Steel. Hillari had earlier completed a Structural Rehabilitation Course with excellence from the same university. It was really interesting to know that Hillari was born in Bolivia and brought up in Costa Brava, Spain.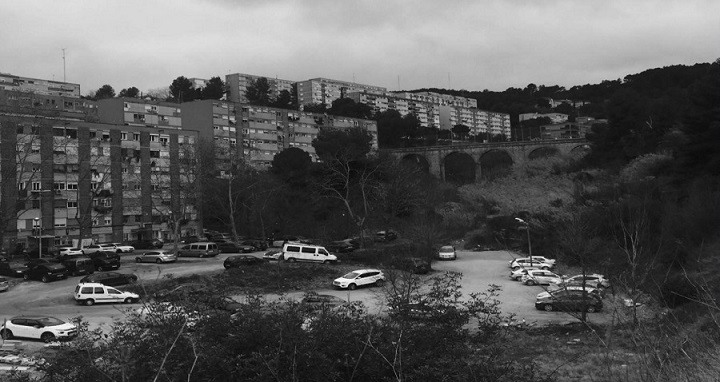 Hillari Zarco was brought up by her single parent mother. Hillari reveals, "Architecture was innate in me (smiles), because my mother works as a Law professional. Our professions are poles apart from each other. However, my mother has greatly influenced me for being the individual I am today. She has inculcated in me great values to help other people for a better society. I firmly believe that architecture has the capacity to provide solutions to various current problems, such as overpopulation, the energy emergency and poverty. In fact, I focused my final degree project titled 'Conscious Architecture' on this topic."
Hillari S Zarco Canido talks to Johnny D about her quest in the field of architecture and her thesis 'The Neutral City, Ciudad Meridiana'.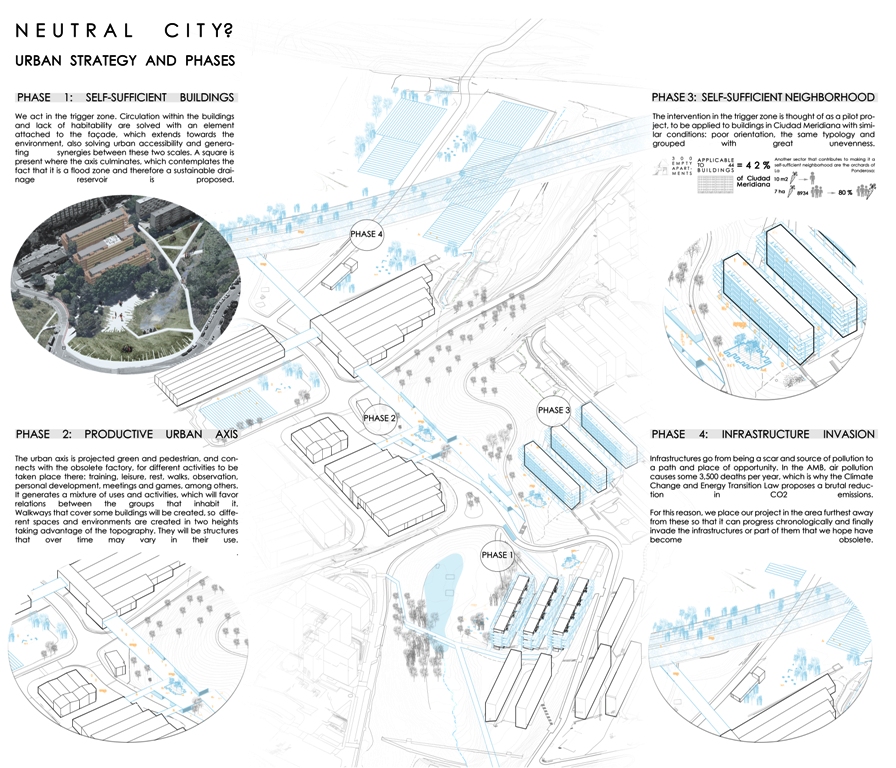 What was your childhood ambition? Did you always wanted to become an architect?
Ever since my childhood, I loved activities that allowed me to express myself creatively. Painting, photography and even poetry have been disciplines in which I have stood out. I have always known that my profession would be related to art. For many years I wanted to study fashion design. I even have boxes full of my own designs, but this profession did not include mathematics. Incidentally, I am a faithful lover of this science. When I was 9 years old, my grandmother planted in me the interest in architecture. She made me realize that architecture is a combination of both science and art. Since then, my professional path has been very clear to me (smiles).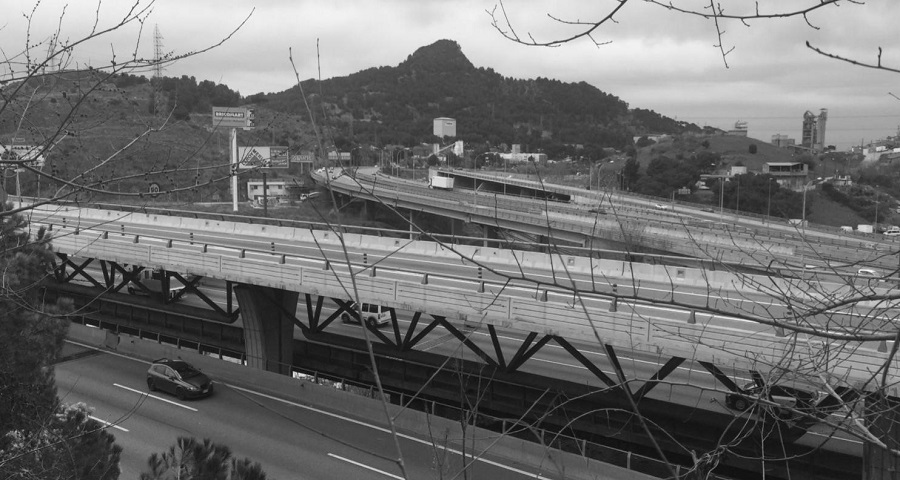 How has architecture influenced your life as a student?
I think most architecture students will agree that this discipline requires many hours of dedication. However, in my view, what differentiate the life of the architecture students are the dedicated hours that no one else can really appreciate. All that time of research, reading and analysis looking for what is called inspiration is endless and constant in an architect's life. However, we should not forget that architecture is an art. In my case, the more freedom the project entails, the more difficult it is to begin. Many designs appear in my head, all so different and so interesting, that I find it very complex to find that initial condition that makes the project begin to grow in a natural way (smiles).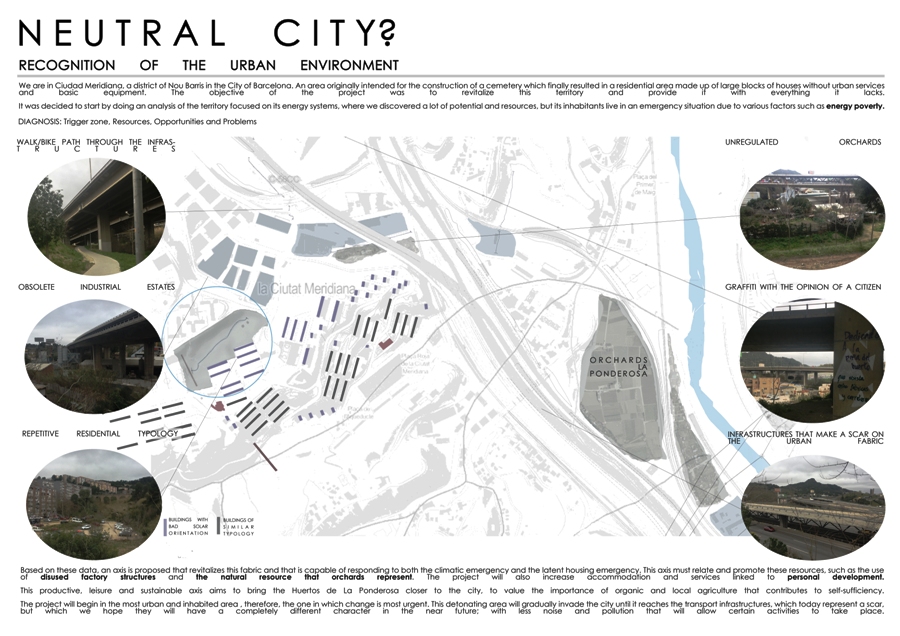 Please write about your University and the Course.
I studied my career and my postgraduate degrees in Catalonia. Thanks to the recommendation of my teachers, I got trained in the art and technique of architecture and read great books of authors such as David Harvey or Charles Moore. It has greatly influenced my way of projecting and perceiving the territory. I also learned from the experience of architects of great relevance, who taught at the university. I decided to specialize in the scope of structural calculation, as I thought it would allow me to expand my technical, numerical knowledge to create projects where the structural design and the desired atmosphere would work in harmony.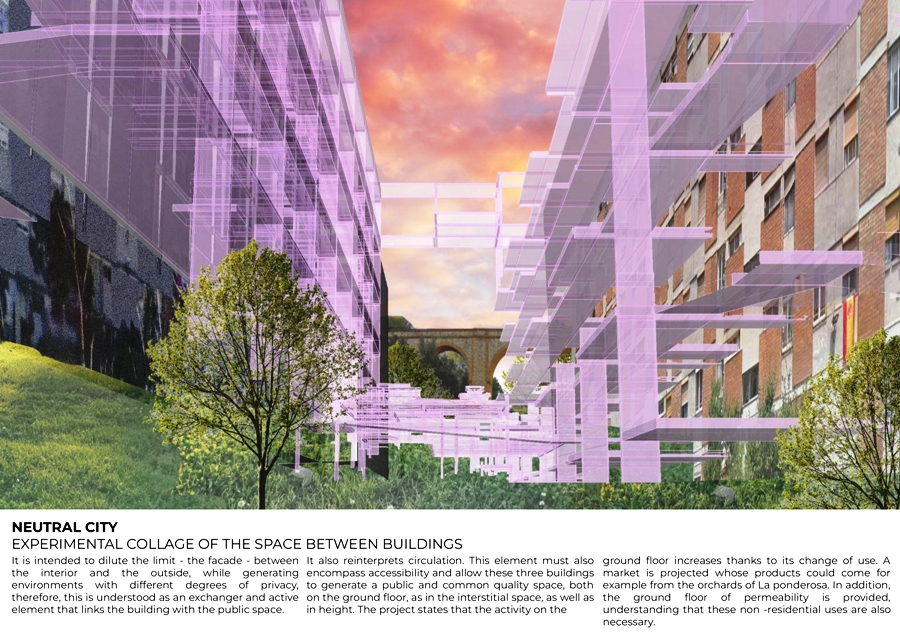 Briefly describe the significance of your project.
'The Neutral City' project aims to achieve self-sufficiency in Ciudad Meridiana, Spain. I created it in 2020, while I was in the 4th year of my degree together with my classmate Leila Ginés. It is the first project that we worked extensively on both the large and the small scale. On an urban scale, circular strategies were implemented, such as a green and productive urban axis, which culminates entering a set of residential buildings (small scale). The pathologies of the buildings are solved and a wooden structure is attached to them that incorporate the furniture and installations. The objective is to increase the useful m2, improve comfort and energy efficiency.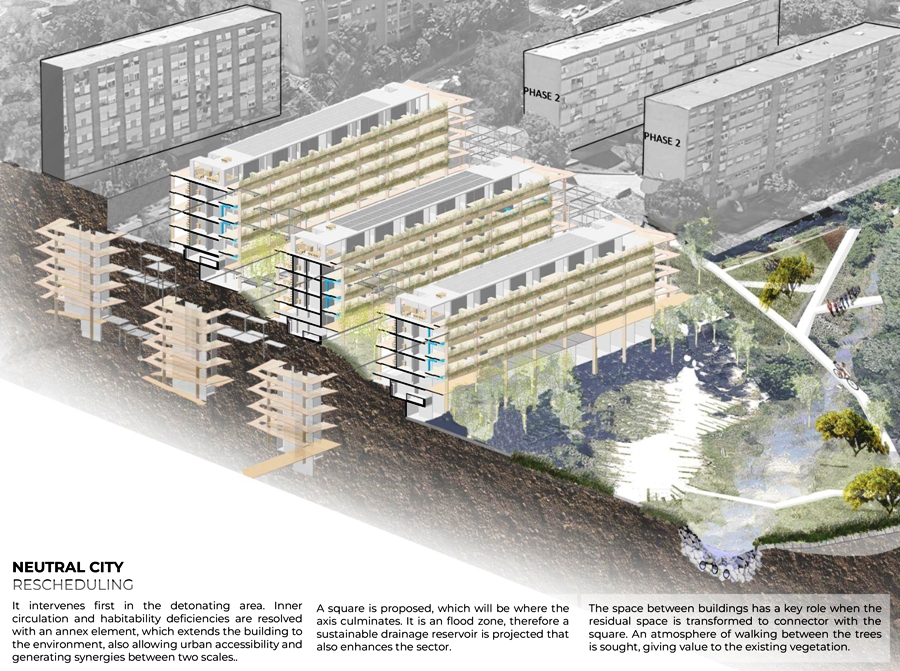 We have gone beyond conventional methods and passive energy strategies. Seeking maximum sustainability, we experimented with innovative technological systems, more efficient than those currently common in buildings. An example is the use of airgel (reduced section thermal insulation). The constructive solutions and strategies are accompanied by energy calculations. We reinvented the phytodepuration system to supply up to 80% of the residents' consumption and we opted for solar air collectors for heating.
Finally, the interesting thing about the project is that it covers a widespread problem in Europe, where such type of residential estates from the 50s to 70s do not meet the current sustainability standards, and whose urban structure presents deficiencies, so the intervention could be extrapolated to these areas.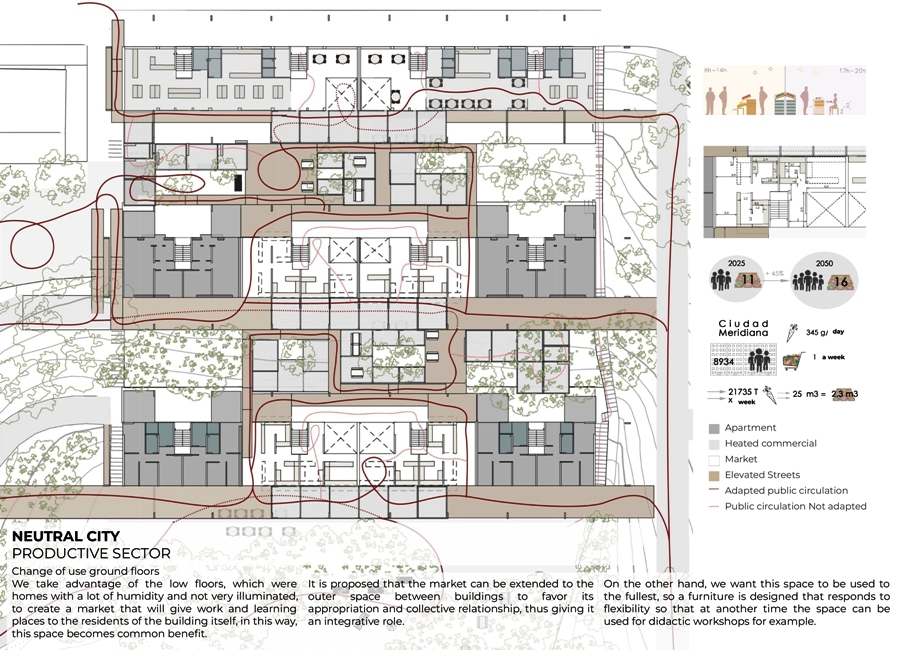 Which National or International architect has inspired / influenced you? Please specify as to why?
I have studied and learned a lot from Lakaton & Vassal's projects. I feel great affinity with their way of approaching architecture. I share their preference for finding value in what exists, for trying not to disturb the environment and seeking maximum sustainability. I have to say that the rehabilitation project that I share with the world was inspired by their 'Transformation of G, H, I Buildings', 'Grand Parc' project, which they carried out together with Frédéric Druot and Christophe Hutin.
On the other hand, I also follow the firm OMA – Office for Metropolitan Architecture. I constantly learn from their works and publications. Their way of applying concepts, such as the vertical city and the mixture of uses in buildings has really stuck in my mind.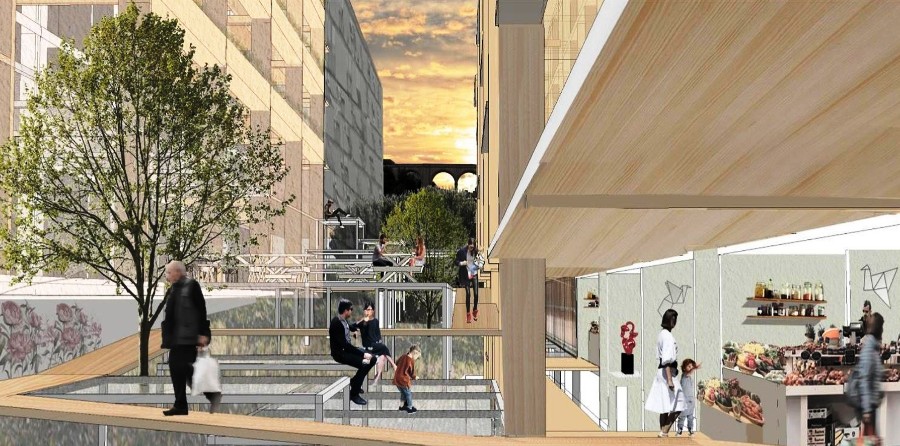 As an Intern, what is the most important lesson(s) you have learned from senior architects, while being a part of a project?
I believe that once you work, you become more aware that you can have many ideas that respond to what the client asks for, but in most of the cases we do not do what we want, we do what we can. Especially, when we are intervening in an existing building or we are renovating and there are pre-existing conditions that limit the project, just as the budget does. Obviously doing what you can means going to great lengths to achieve the best possible result for our client.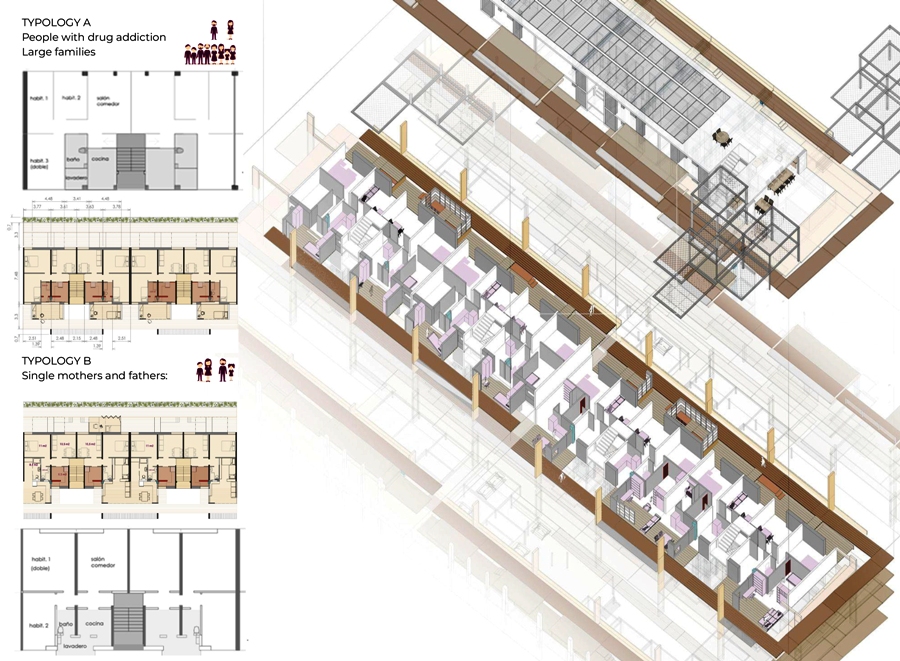 Cities are getting inundated in a massive proportion due to flawed drainage and sewage systems apart from Climate Crisis – Your views about flawed urban planning and remedies to rectify to make cities flood-proof.
This problem happens due to the sewerage system not being effective, perhaps due to the shortage or incorrect functioning of the sinks or because the installation does not have the ability to store the volume of sufficient water. A possible solution can be to try that the water does not reach or arrive later to the installation, creating reservoirs, which can include phytodepuration systems in order to use this water.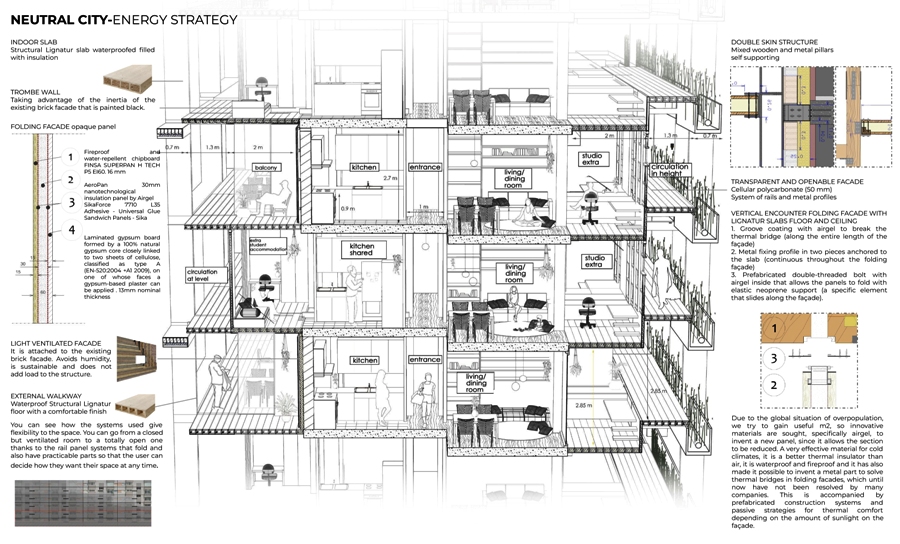 Besides, it is known that the more permeable surface we use, the more we will reduce the problem. But in case of needing tiles, we are lucky that technology is constantly developing and there are currently permeable tiles, cities like Copenhagen are pioneers in their use. If we combine techniques like these, we can deal with this problem. I used these strategies in the project presented, since we intervened in a flood zone due to topography.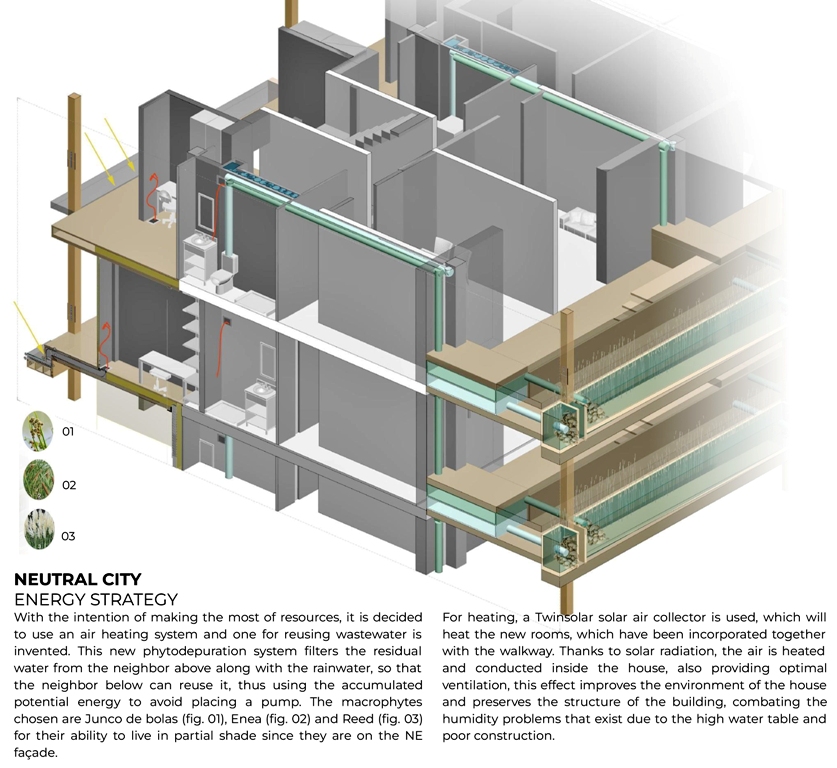 Which significant aspects of the global platform 'zerobeyond – the new frontier!' did you like the most, and why?
Apart from the great variety of topics that are covered, what I like the most about 'zerobeyond – the new frontier!' is the variety in the professionals, who are interviewed. We come from different places, so it is very interesting to see how the same question can give rise to different answers, with heterogeneous approaches and solutions. Even the projects that we present reflect an interest, concern and a different sensitivity, normally linked to our environment.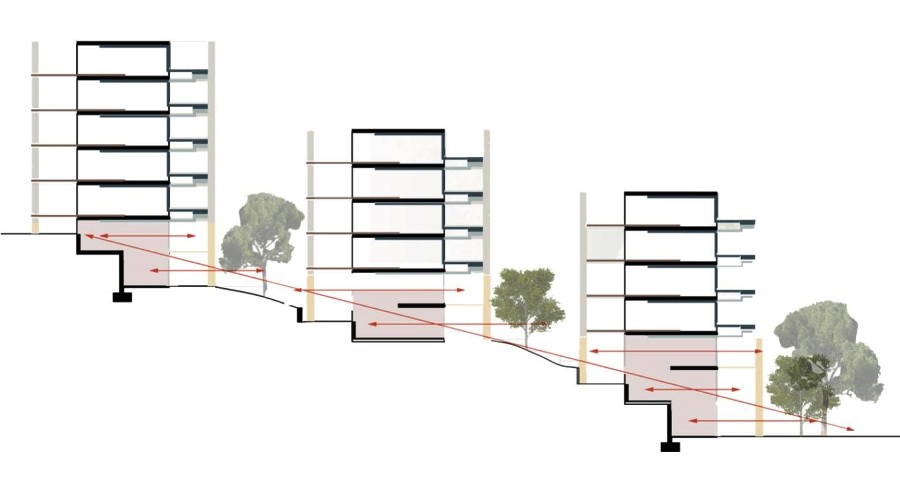 Local charm of cities has diminished due to Modern Architecture as every city looks alike and similar. How should architects / urban planners / landscape architects modernize cities, while maintaining the local charm intact?
It is true that many cities resemble one another and new concepts are probably necessary, such as Smart Cities arise. The cities are alive and change just like our needs. I consider what mostly broke the initial character of our cities was the automobile, making it a challenge to maintain the spaces, where the common life between inhabitants happened, as does the rapid growth of the population.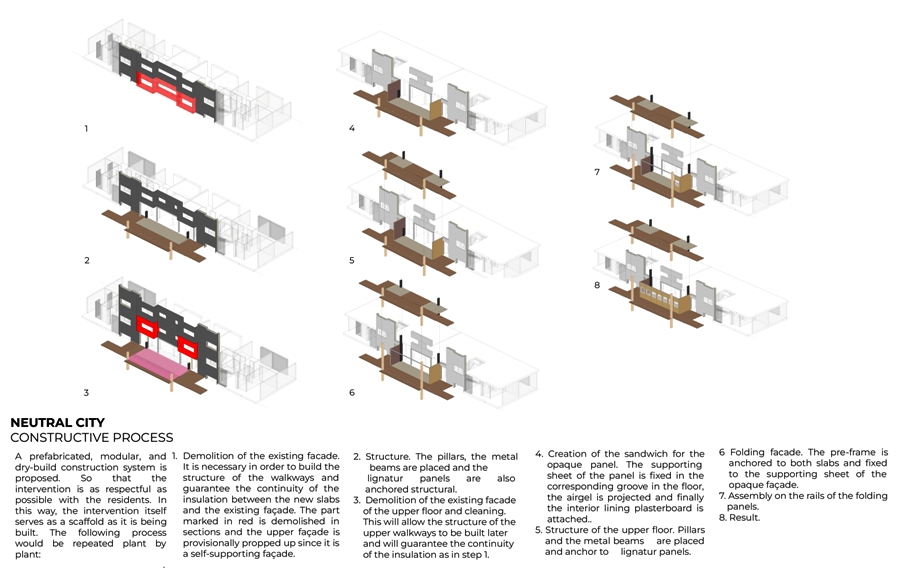 However, we can analyze the history of the place and try to reflect it through urban planning, perhaps through urban tours that maintain character and tradition while joining the key points of the city; thereby, giving importance to little businesses that have existed for several generations.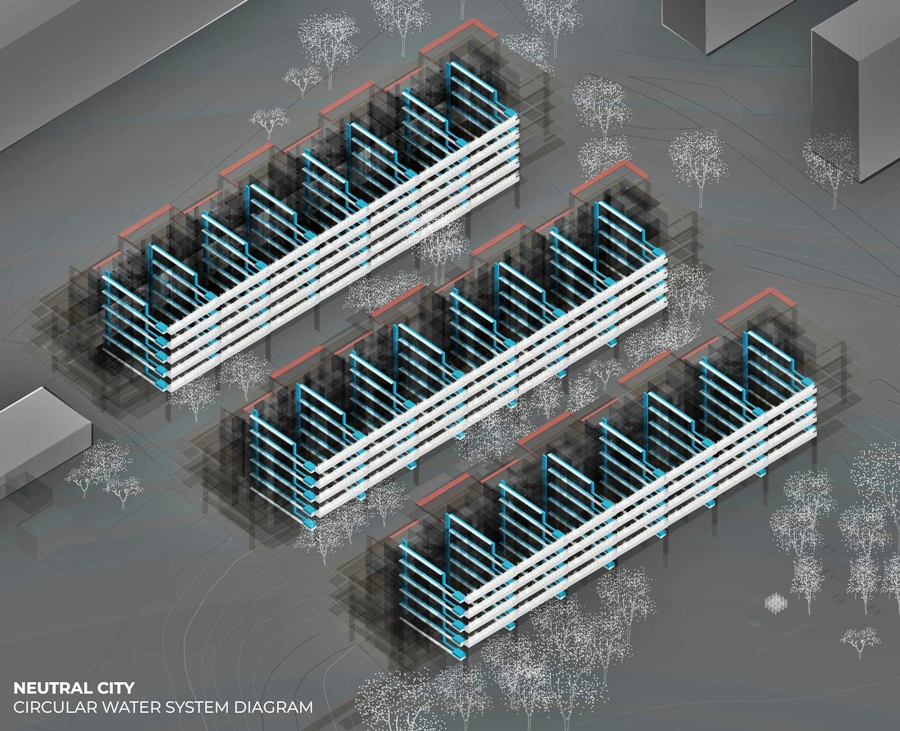 How would you elucidate Modern Spanish Architecture from the Ancient?
Its evolution is clearly seen in its large religious buildings influenced by cultures, such as the Muslim or the Roman. However, on a smaller scale we also find authentic styles, such as its Mediterranean architecture. Since ancient times, materials such as lime and ceramics have been used to protect homes from the Sun. These climatic strategies seemed to have been replaced by technological systems. But, since the 1940s and 1950s, a modern architecture focused on tradition began to be promoted. Currently, the search for sustainability, self-sufficiency recovers those constructive methods. The connection with the landscape, the central patios and porches of interior-exterior transition are back.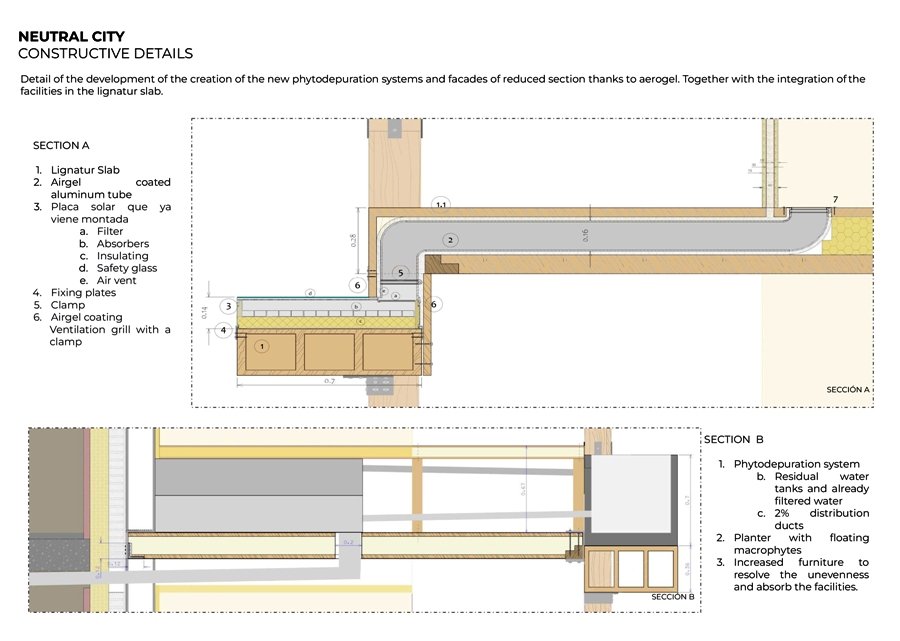 Honours and awards related to architecture, if any.
I won the 2nd Prize at the 2019 KNAUF Competition for the creation of innovative constructive solutions with Pladur.
I graduated with Postgraduate Honours degree in Structural Analysis and Steel from the Polytechnic University of Catalonia.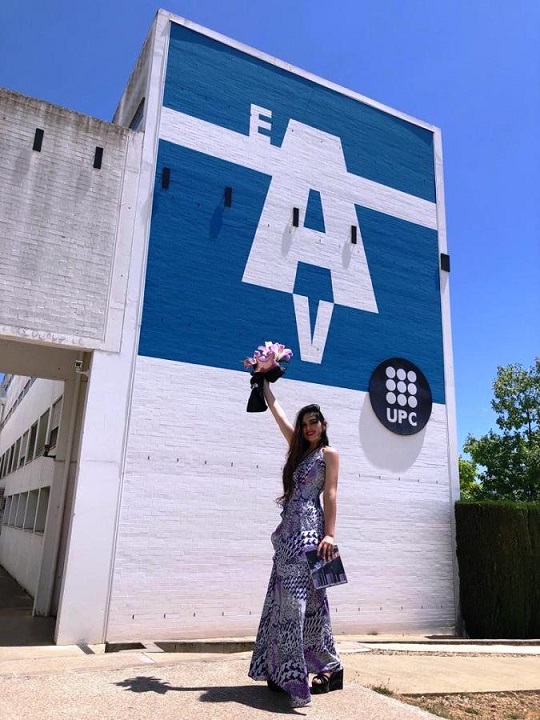 Image Courtesy: Hillari S Zarco Canido