In the year 2019, young and innovative German architect Martino Hutz established his own practice MHA – Martino Hutz Architecture in Munich, Germany. He graduated with an architecture degree from Hafen City Universität Hamburg in 2012. For the academic year 2012 – 2013, Martino also attended École Nationale Supérieure d'Architecture Paris-Val de Seine. In the year 2016, Martino graduated his Masters in Architecture with distinction from Universität für angewandte Kunst Wien (University of Applied Arts Vienna, Austria). Martino has had the privilege to complete his Masters' thesis under Professors Zaha Hadid and Kazuyo Sejima.
Martino Hutz gained immense experience to hone his skills working with some of the most renowned firms like Zaha Hadid Architects, Harper Design Studio in Bangkok and Delaossa Architekten in Munich. As soon as he completed his Masters, Martino joined BIG in Copenhagen. From October 2016, he has worked as an architect, project architect and continues to work with BIG as a Consultant, even after establishing his own firm in 2019. This speaks high about Martino's creativity and innovative approach towards his design creations.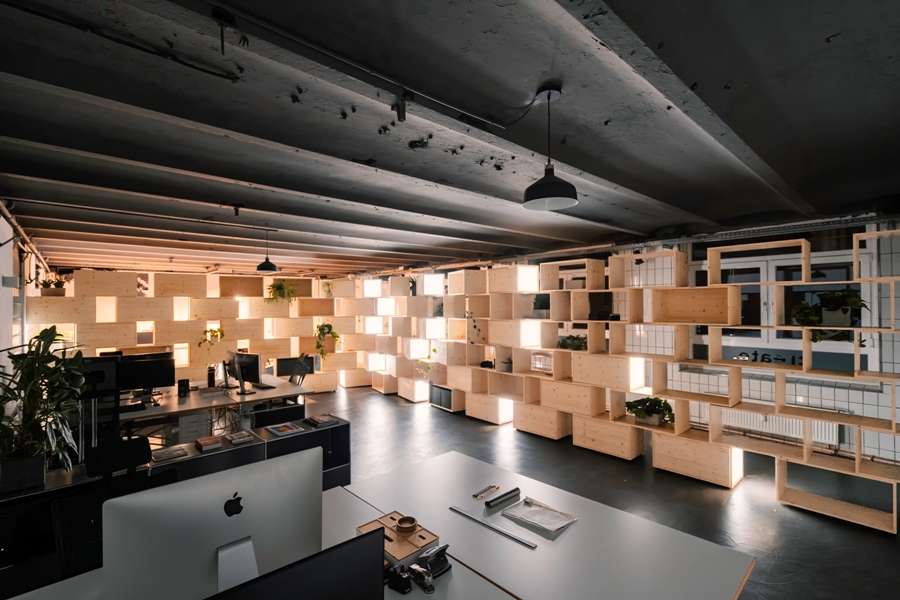 Martino Hutz holds a significant position as University Lecturer at the Institute for Architecture and Design at the Technical University in Vienna. In 2019, he joined as University Assistant at the Technical University in Munich and later as Research Associate. Martino Hutz has researched in the field of '3D printing with salt' at the chair of Building Construction and Material Science. He strongly believes, "The combination of academic approaches, as well as practical experience bond to a strong connection." Meticulous in his approach, Martino comes across as a very warm person, who is willing to go that extra mile to impart his expertise.
Martino Hutz interacts at great length with Johnny D to elucidate his journey in architecture and innovative 'Maveo Office' project.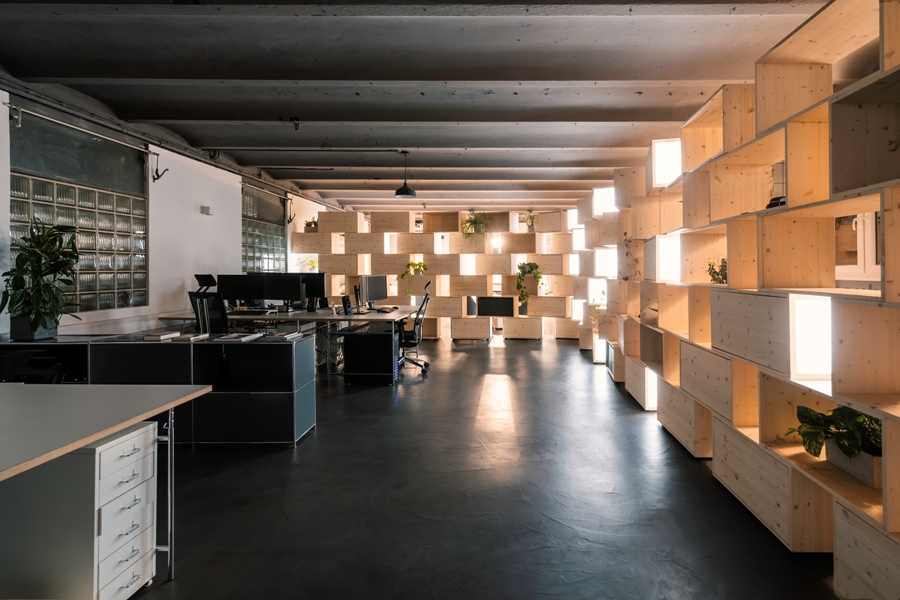 What was your childhood ambition? Did you always wanted to be an architect-designer?
As a kid, I wanted to be an inventor. I used to pull apart old radios, weld parts together, made my bike flashy etc-etc. My parents gave me lot of freedom and trust to experiment and work with tools and materials meant for adults, so I could approach the world of materiality, assemblage, technique etc., in a playful and trial and error manner (smiles). Thanks to my artist grandmother, I used to draw ever since I can remember. I have boxes full of hundreds of papers and books filled with sketches. During the final year of High School, I realized that architecture can combine the artistic and technical world. So, I started with various internships in my hometown Munich and in Bangkok for a full year, before entering architecture school.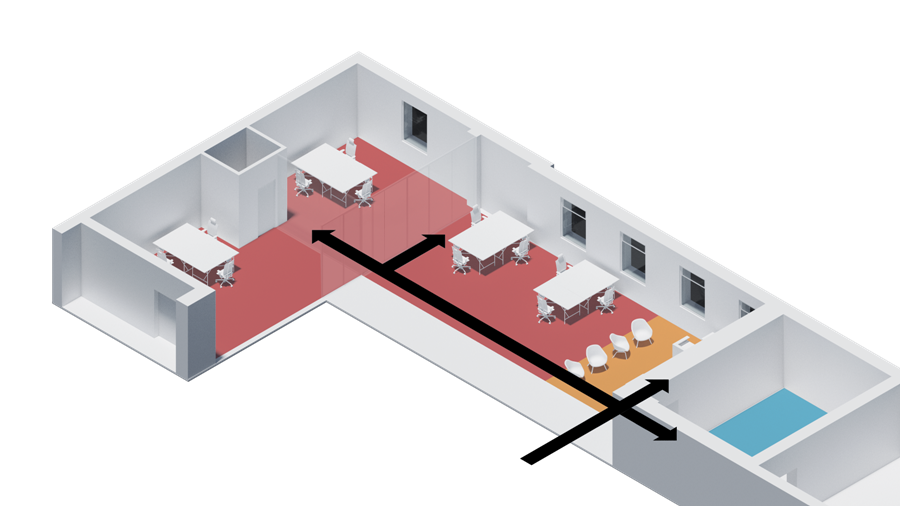 State one thing you have learned at Zaha Hadid Architects and BIG before establishing Martino Hutz Architecture. How has it impacted you?
Zaha Hadid and Bjarke Ingels are still my role models! I have the highest respect for their professional achievements. Professionally, I learned pretty much everything within these two architecture worlds. First, I was fortunate to study in Studio Zaha Hadid at Angewandte in Vienna. After 4 years of architecture school in Hamburg and Paris, starting my Masters in Vienna, I felt like starting architecture education from scratch. To give you an example: From 'building a house with walls', the task became 'what is a wall'? Constantly working with an international bunch of talents was such an exciting time! Whenever I feel frustrated, I have to remind myself that Zaha worked 24/7 for 10 years to build her first building, the 'Vitra Fire Station'.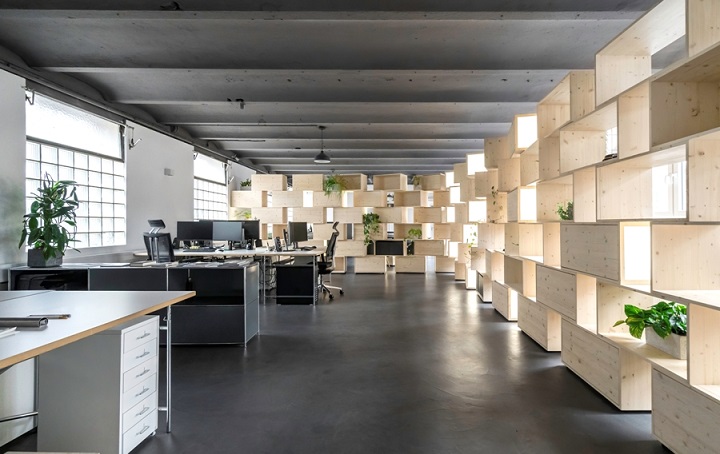 At BIG, I learned how much importance one leader's personality and character value in a 550 people corporation is! Even though, there were obviously long hours and pressure, the overall playful and fun environment made it a great place to work. Leaving Copenhagen after three years as project leader felt like a leaving a family behind, but the dream of establishing my own practice was a lifetime dream I had to follow.
What really goes in your mind, when the client states the first brief?
It is always positive excitement first, like leaving for a long summer vacation: Did I think of everything? Am I well prepared? Did everything go well? Then of course references, materials, moods and also clients' outspoken and subconscious wishes and needs. Then the journey begins (smiles).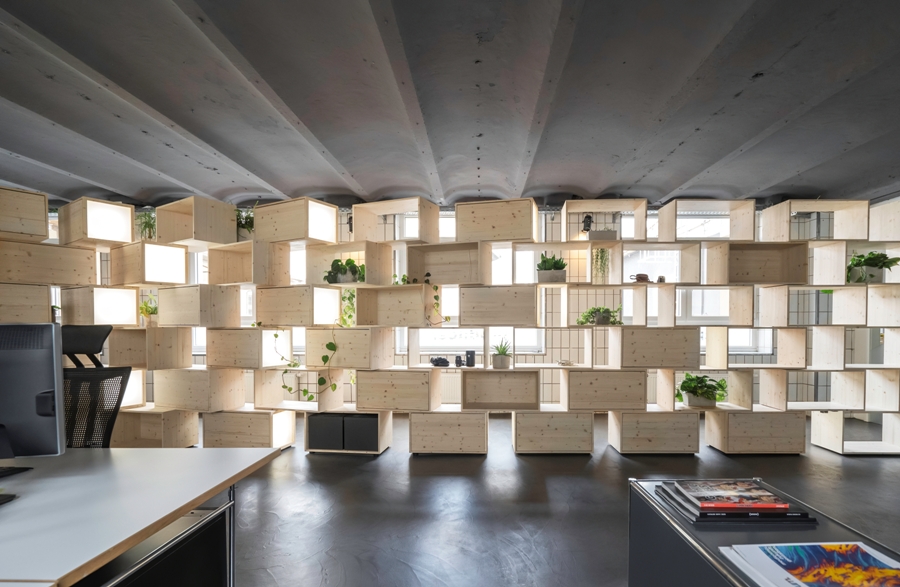 What was the brief of 'Maveo Office' project?
The client Maveo GmbH is a young CGI company based in Stuttgart, Germany. They share their office space with other creative studios, so they wanted to have a subtle subdivision to separate their office area with the corridor and communal kitchen. At the same time, they wanted to keep the space open and transparent and not fully lock them away.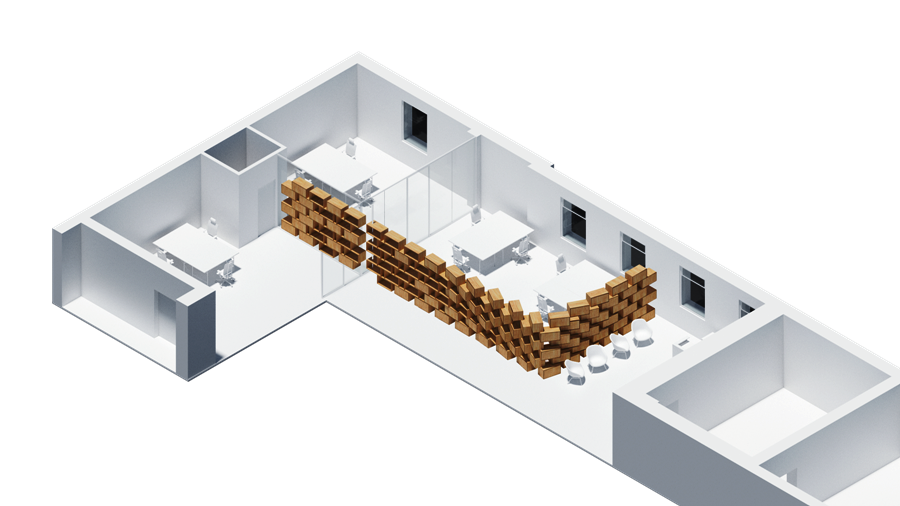 How and what made you to design 'Maveo Office' in such an innovative style? It is truly outstanding! Please elucidate.
We were looking for a design language, which reflects the company's digital self-perception by using natural and sustainable materials at the same time. The winning idea was a multifunctional "division wall" out of 108 prefabricated spruce wood boxes forming a parametrically derived twist towards the entrance and the tip. The four different box types are positioned according to their functionalities. They either allow light into the studio, offer open shelves, completely closed storage space or are part of the lighting concept. The box-dimensions are based on standard document file formats.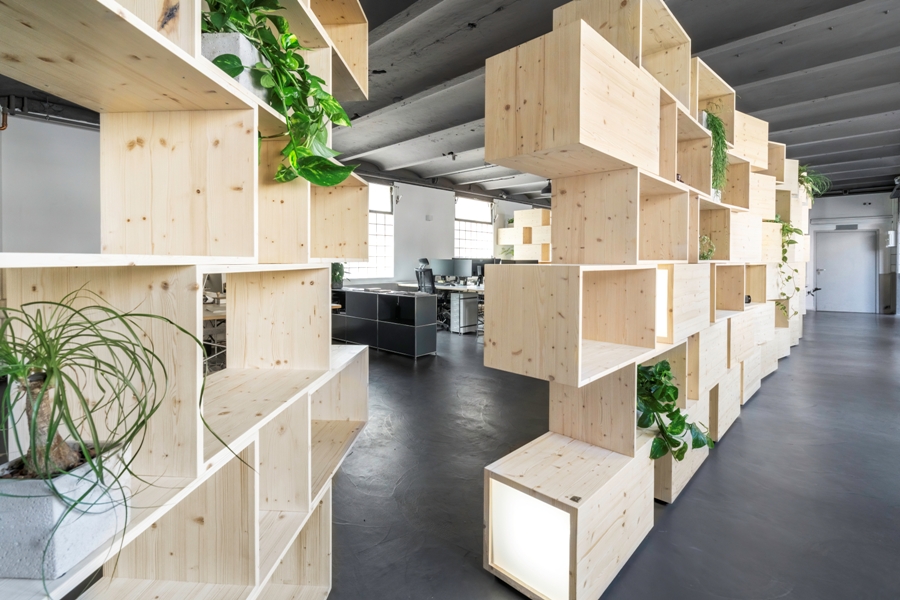 What were the major challenges you faced while executing the project?
Working within an existing structure always brings surprises. There have been multiple challenges throughout the construction with the existing space. The floor had to be sanded and sealed, all surfaces needed some refreshment, electricity had to be rewired, the kitchen redone etc. Even though, the design of the staggered boxes seems simple, the carpenter had to position to install the correct box-type in an exact angle and position like a puzzle. The wiring for the integrated lights had to be hidden within the structure of the wood boxes. The LED panels can be individually controlled to create different atmospheres. Especially interesting was the pivot door, which had to seamlessly interlock with the wooden boxes.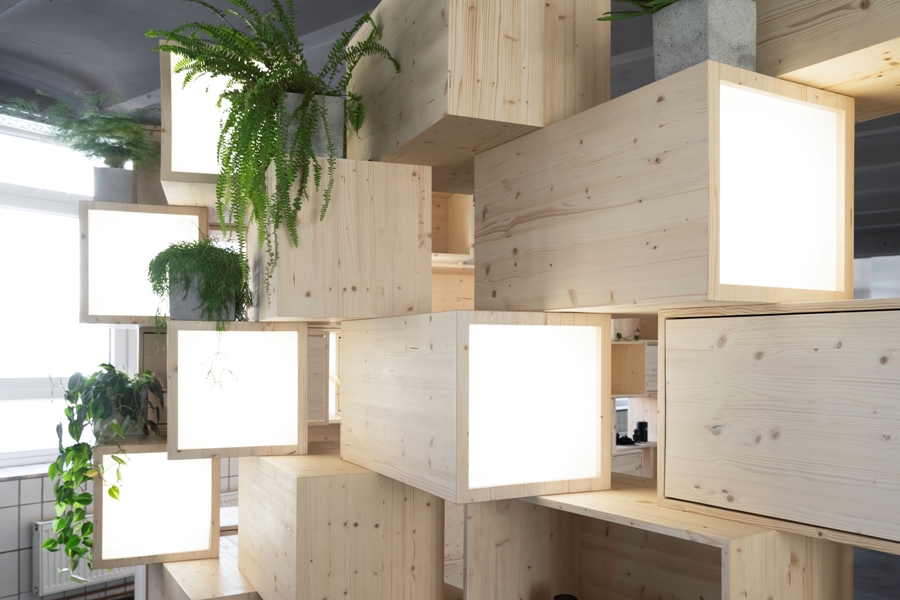 How would you describe the 'Elegance and Significance' of 'Maveo Office' project?
For me, it is the simplicity of the space! The design feels light, easy and effortless. An array of the most simple and standard wood boxes creates a unique shape, atmosphere and work environment. I always try to achieve this in my projects. It is the one gesture, shape and material, which dominates the space. All the other elements are subordinate. This creates a clear image and order to the space.
Sometimes I would like to say to my colleagues, especially for the interior projects – relax and do not overload the space and do not put everything you like in one project. For me, this became like a mantra and not just for architecture, finding the beauty and value in the reduction. This does not just means "Less is more", it means "setting a focus" and "finding the essence". A lesson especially important in facing today's challenges.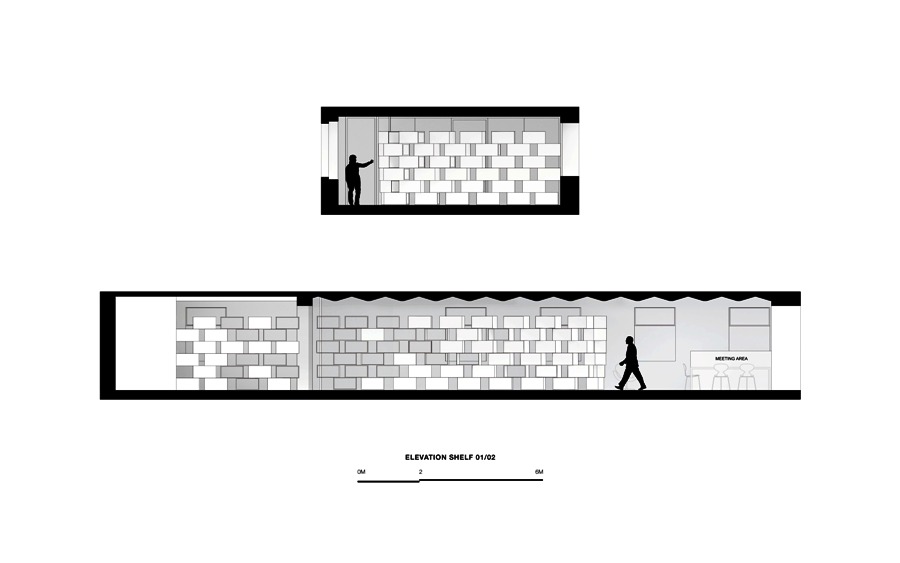 Please mention 5 major 'Sustainability' features you incorporated in the project.
The multifunctional partition wall consists of prefabricated spruce wood boxes, and it being sustainable and using regional materials. The construction was carried out by local carpenters to keep the delivery routes as short as possible. For the office space – a former industrial loft in the city center, the concept maintains the character of the space by carefully renovating the walls, floors and ceiling. Prefabrication further reduced construction time and resources.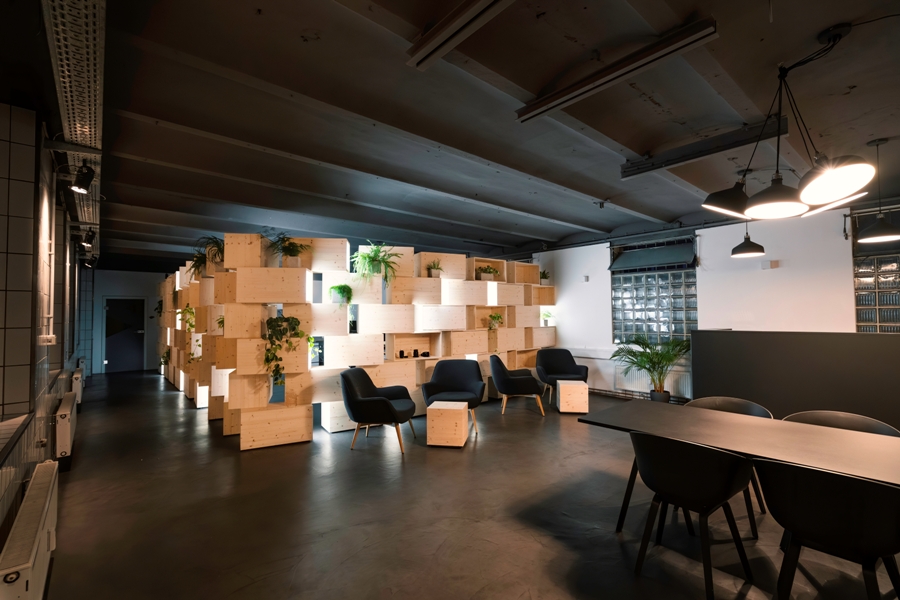 What is the total area, estimated cost and the design-to-finish time period of the project?
The total floor area is approximately 193m². The projects was technically done and planned in two phases, since the client outgrew the first space shortly after completion. In the second phase, the directors' and meeting room were added. The first planning phase was around 2018/2019 and the second phase took place in 2020.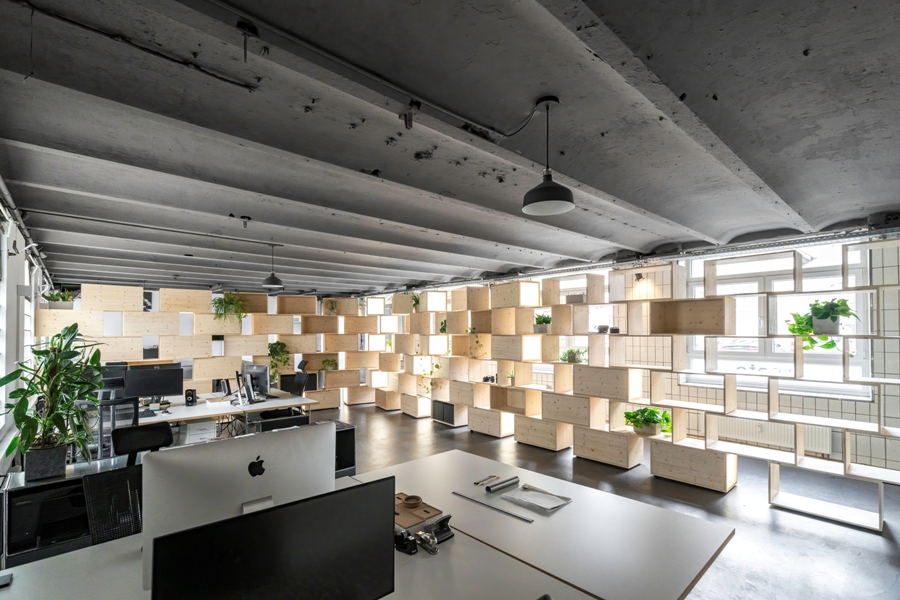 As an architect-designer and a lecturer, what advice would you impart your students while designing interiors or architectural projects?
First of all, I think everyone has his own approach of how to create and design, and how to run a business. All approaches are true and valuable with their audience. Just do it your way, keep on going, be consistent, find your weaknesses and try to work on them. You can optimize yourself, but you can and should not change your character just for business. It is alright to search for a while, but stick to the stuff you really enjoy. You will get good at it, eventually!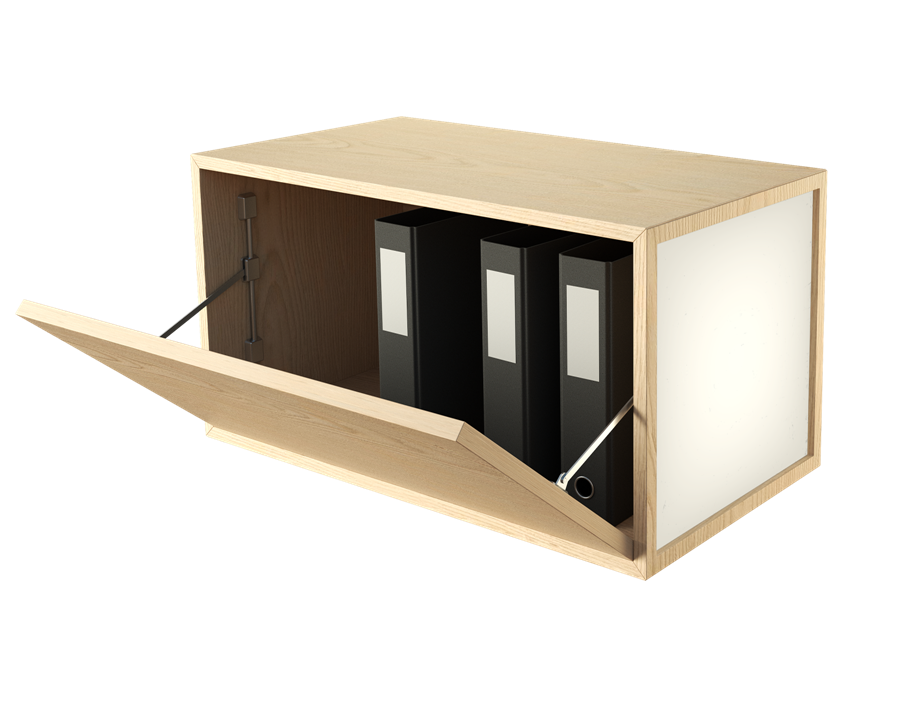 Please elucidate as to how architects / designers / planners can make significant contributions to overcome Climate Crisis and rectify flawed urban planning, when it comes to sewage and drainage network, so as to make cities flood-proof.
This is a huge and important question! It affects all parts of society – the construction industry, politics, culture, heritage, and of course, us as planners. Weather conditions are getting more and more extreme, therefore we have to act for the future and react to the present.
Just to pick one example, which illustrates how complex and all-encompassing the problem is – In 2021, there was a devastating flood at Ahrtal, Germany. Historic and picturesque villages were destroyed. Should the habitants be relocated to safer areas nearby, leaving their family homes and farms behind, which have been their home for generations, since it is just a matter of time the river will rise and destroy again? Should the flood protection be increased, knowing that this will take decades to build and billions of Euros and cannot solve the issue itself? I really do not have a clear answer!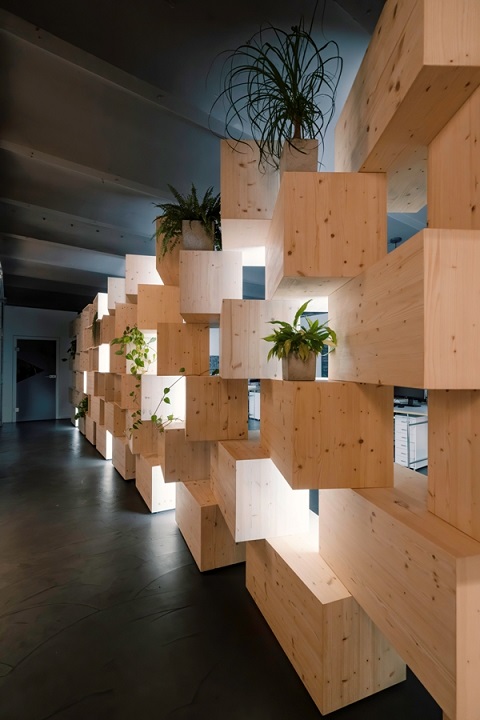 I believe, the climate crisis goes way beyond the building industries possibilities, but being responsible for one third of the global CO2 emission, we play a major role in this problem and have to think in new categories – from adjusting building regulations, densifying cites etc., to new building materials and methods like 3D printing, recycling or simply renovation before building from scratch.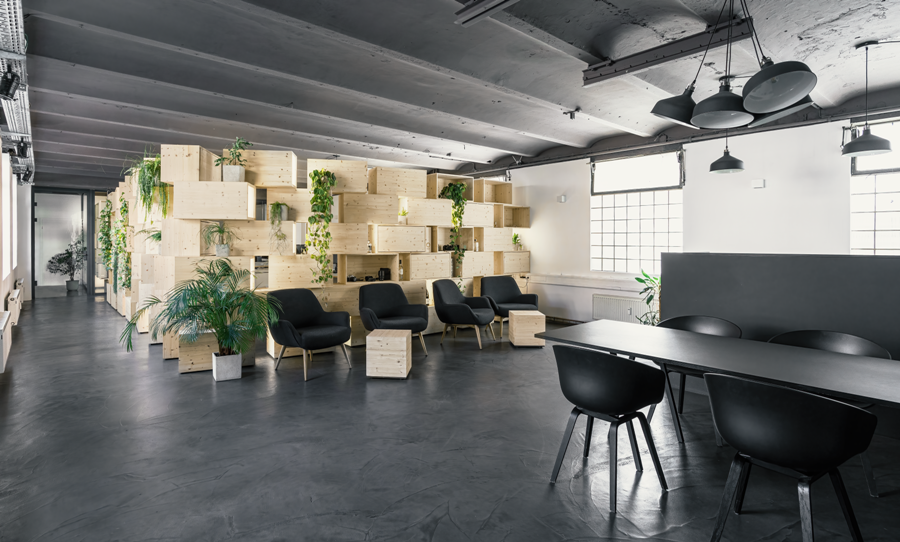 Which significant aspects of the global platform 'zerobeyond – the new frontier!' did you liked the most, and why?
'zerobeyond – the new frontier!' is a beautifully curated platform, which shows a wide range and different types of news. I enjoy reading the interviews, which give great insight in so many different professionals' lives and projects.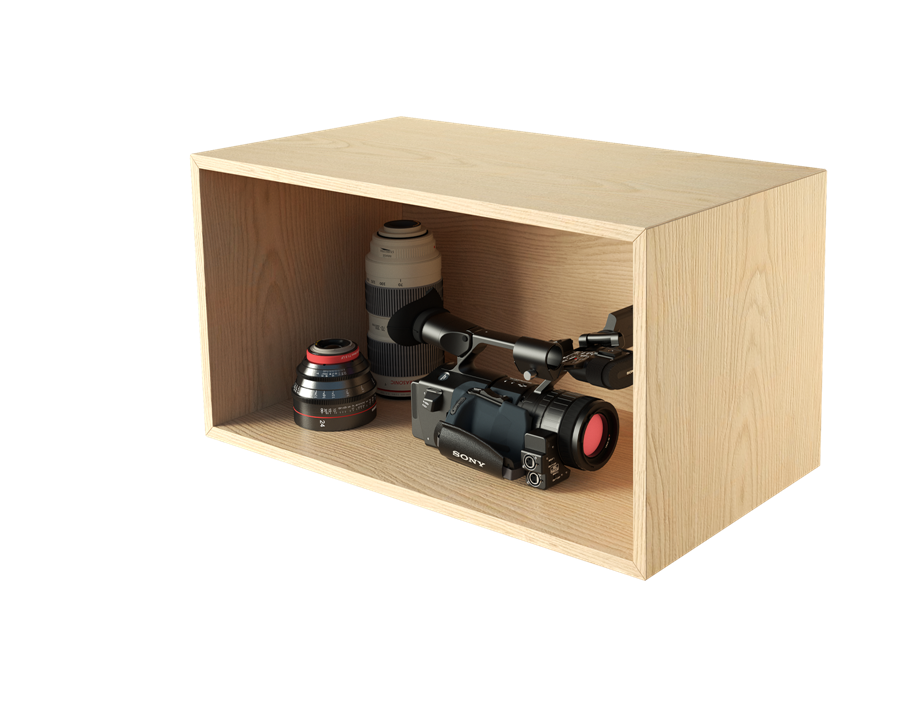 How would you describe Martino Hutz as a leader and a person?
At MHA, we believe that architecture can contribute to make the world a bit better. I am inspired by vernacular architecture, but strongly believe in a contemporary and forward-thinking approach. Great architecture does not mean to be just more costly, instead it should be more thoughtful. Thinking outside of the industry standards and embracing innovation is our aspiration to achieve the best results.
The focus on new, digital technologies to optimize design, workflows and rationalize production processes help to minimize resources and time but can also help to create unseen spaces. I always keep a friendly, respectful and fair atmosphere within the office culture. Work is something to enjoy! I strongly believe that good things can only come from good teamwork.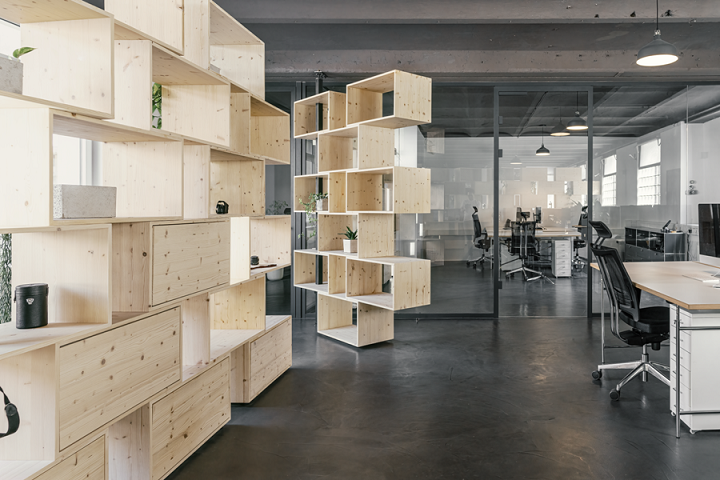 What are the various projects MHA is currently busy with in various cities and countries?
We are currently involved in multiple interior, as well as architectural projects in a variation of scales and locations – from bars to office spaces and from house renovations to public buildings. I enjoy the diversity. We are constantly busy and it never gets boring.
Please state recent awards' win by MHA.
– German Design Award;
– Callwey- Die schönsten Bars und Restaurants; and
– BUILD – Architecture Awards.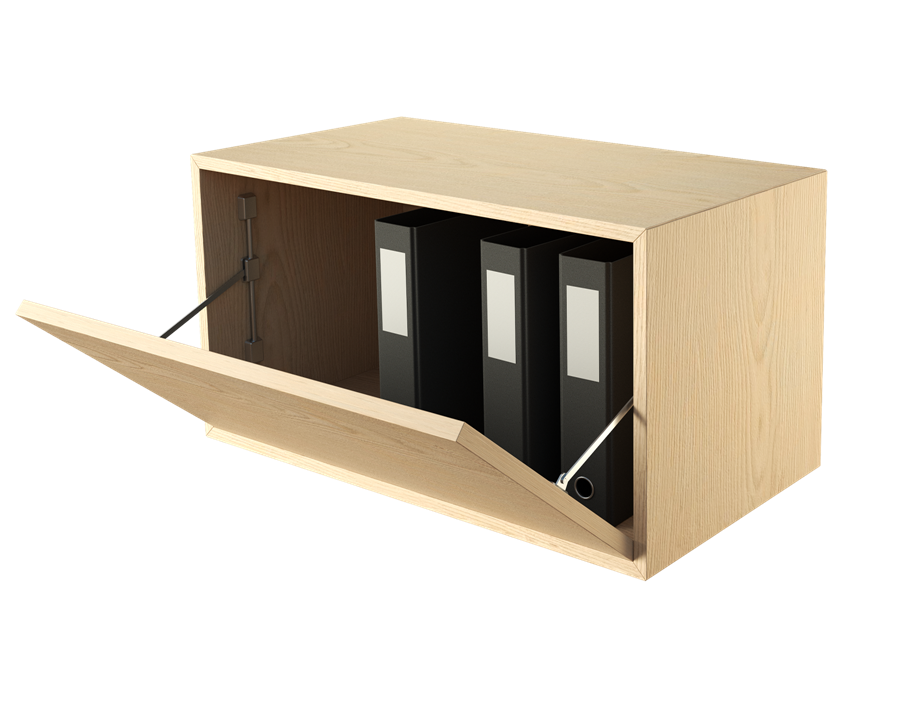 Image Courtesy: Martino Hutz Architecture