From the University of Portsmouth in England, the GEN Z Series hops to Oxford Brookes University in Oxford, UK to meet a recently graduated Romanian student-architect Amalia Radasanu. Born in Iasi, Romania, Amalia comes from an engineering and financial background. Interestingly, her mother is an engineer, while Amalia's father works as a Chief Financial Officer. First in the family, Amalia chose to be an architect instead. She has a younger sister. She reveals, "My parents established in me a passion of logical thinking and problem solving. They have always supported to follow my aspirations, which have been extremely helpful for me."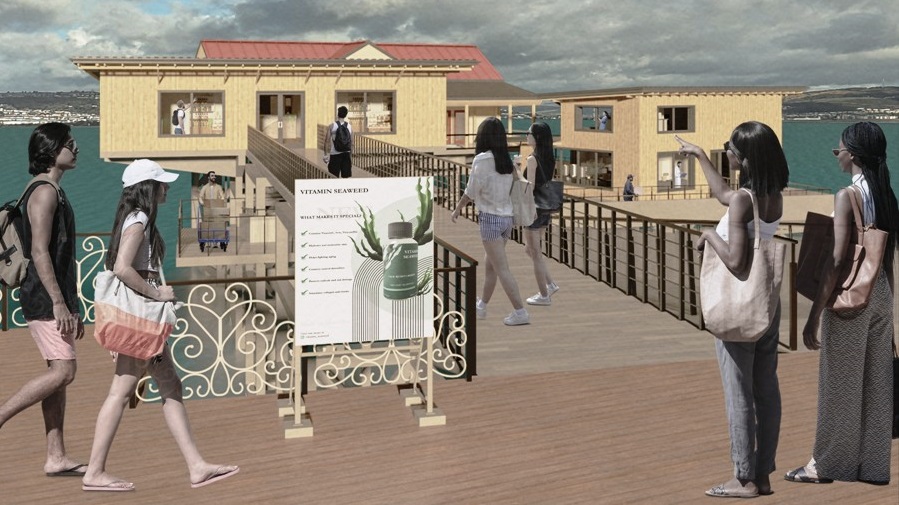 Mumbles Seaweed World
Amalia Radasanu's passion for dancing has helped her to be a great team player. She is a trained ballroom dancer and has had 7 years of dancing career. She elucidates, "I envision myself as a person, who enjoys turning ideas into reality. Strong motivation and perseverance are characteristics that define me. These values accompany my desire to seek out new development paths, as well as to push the boundaries of my curiosity. As a result, I have decided during High School to venture outside of my comfort zone and pursue an architectural degree abroad."
Amalia Radasanu talks to Johnny D about her interesting quest in the architecture world and her interesting thesis 'Mumbles Seaweed World'.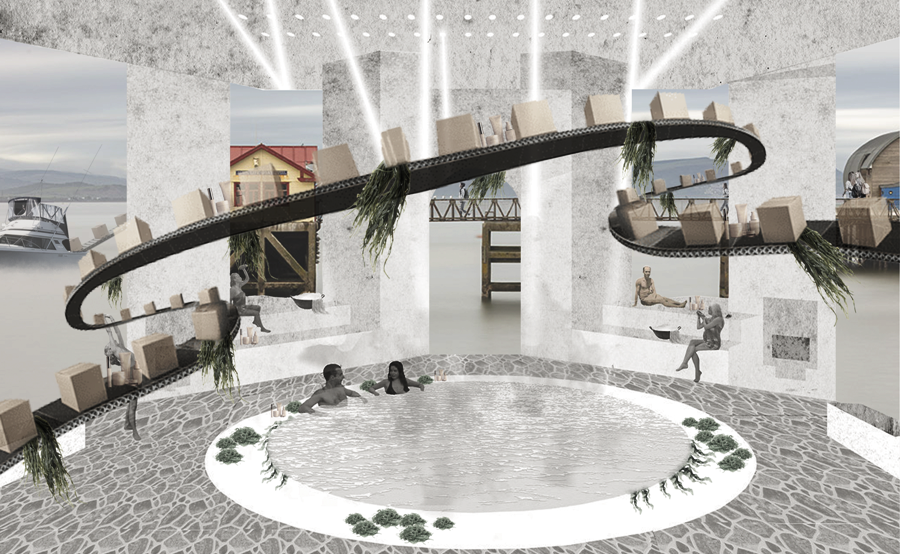 Conceptual Collage
What was your childhood ambition? Did you always wanted to become an architect?
I was an extremely motivated young girl with impressive goals. I was able to focus and work hard to achieve them. I started taking dance classes at the age of 7. Dance as a hobby became like it was my job (smiles). I started to compete in national and international competitions together with my dance partner. I must say, dance developed me as a person and made me love art. Like every child, during High School, I considered a range of career options, starting from medicine, business and finance. However, I finally decided to return to my first impulse and picked a creative field – architecture. Architecture appeared to create a balance between creative and technical features. As a result, I continued with architectural studies, which I truly enjoy.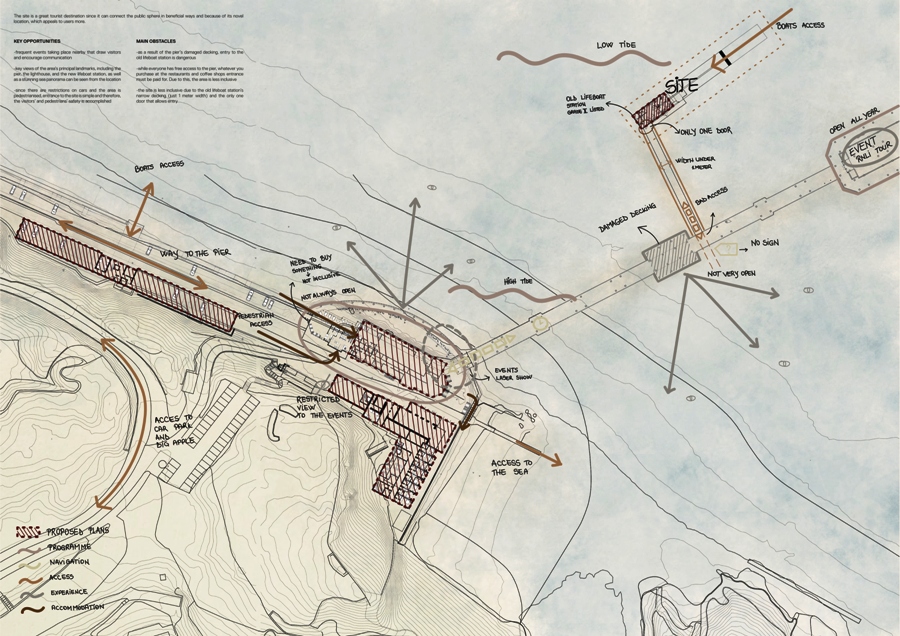 Constrains and Opportunities of the Site
How has architecture influenced your life as a student?
I strongly believe that architecture has a far more powerful impact on our lives in more ways than we give it credit for. It becomes a way of living through acquiring a distinct set of skills. Architecture taught me patience, resilience, and tenacity while additionally connecting me with the best tutors, colleagues, and friends. It was an emotional roller coaster, with long weekends full of work, hours spent in the studio with fellow students and ongoing presentations developing my values, objectives, and aspirations. It has challenged me to push my boundaries of my creativity and critical thinking.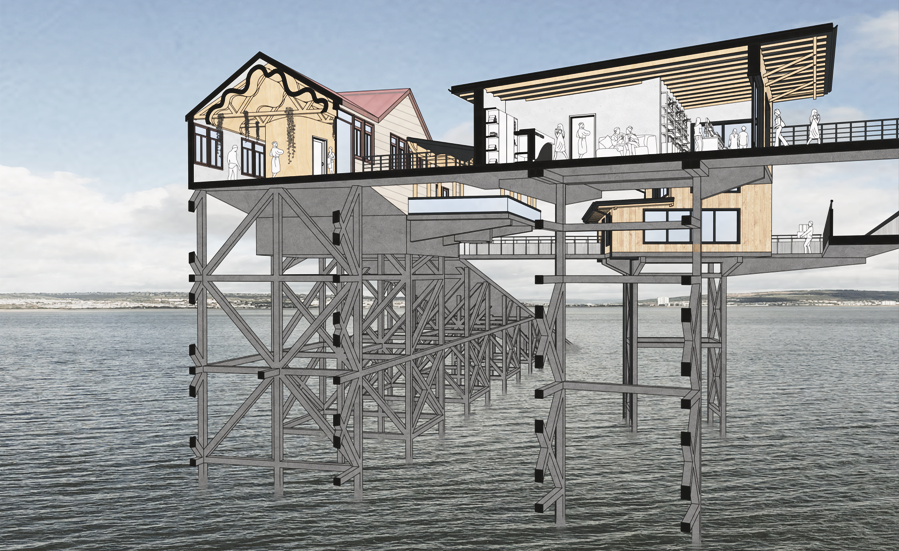 Reception and Spa's View
Briefly tell us about your University and Course.
In May 2023, I graduated with a Bachelor's Degree in Architecture from Oxford Brookes University, in Oxford, UK. The three years' Course of my life has been nothing more than a fulfillment of a dream (sighs with delight). It has been a wonderful journey with a wide range of skills and knowledge acquired. This undergraduate program led me through various modules covering everything from design and technology to history and digital culture, ending with a Bachelor's thesis.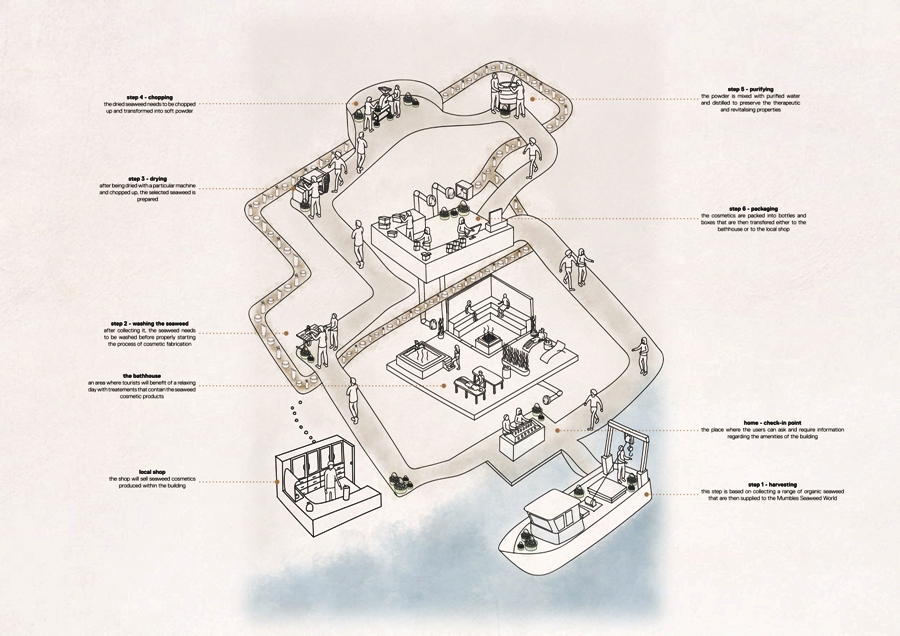 Spatial Brief
Briefly describe the significance of your project.
In 2020, Bournemouth University established a new term in the 'Sustainability Toolkit for British Seaside Piers' report: 'the 21st Century Innovator Pier'. These are introduced as piers that operate 'as a resort' attracting niche tourists and providing attractions, while also serving the local community. As a consequence, a new attraction is required in Mumbles, Swansea, UK.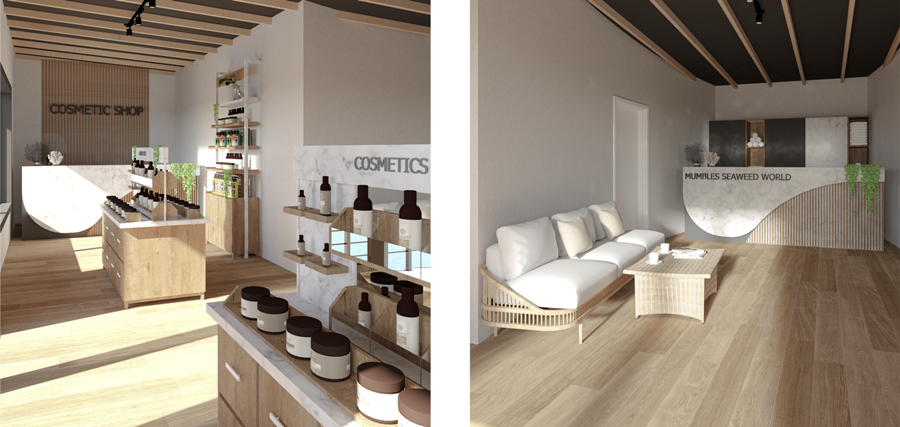 Cosmetic Shop and Reception
My 3rd year project, entitled 'Mumbles Seaweed World', has challenged me with an ambitious program in exploring experiential futures for regenerating urban spaces from the southern coast of Wales. The design investigates Mumbles Pier and intends to offer a Spa Centre with a unique concept of employing cosmetics manufactured from the surrounding seaweeds. Thereby, converting the existing Old Lifeboat Station, a Grade II listed abandoned structure of 100m long branched and a 150 sq. m structure that connects to the main pier.
Plan – Ground Floor
Seaweed cosmetics, which have been proven to have many benefits for all types of skin, such as improving skin tone and pigmentation, or providing vitamin, mineral and nutrient delivery, are the main reason for tourists to visit Mumbles, while the community works to promote their own biodiversity. The exterior impacts by a simple, geometrical presence, while the interior will follow dynamic air movements in curved designs. The goal is to create a sculpted space, a pleasant experience and an exclusive perception. In terms of construction, the environment, which consists of three buildings, the existing one and two additions, is nothing more than a simple timber framing structure with a corrugated metal sheet roof.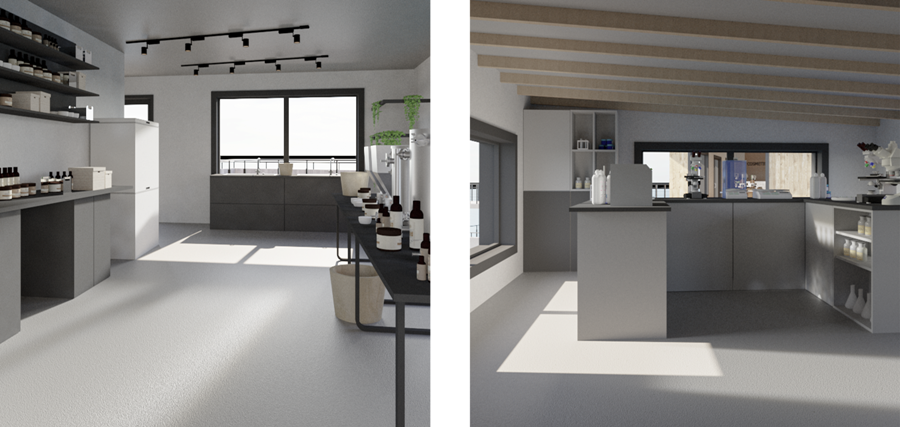 Views of Cosmetic Factory
Which National or International architect has inspired / influenced you? Please specify as to why?
Currently, Peter Zumthor inspires me significantly, notably because of his own simple, minimalist, yet sensory features. I find myself impressed by the perfection he places into details, by incorporating phenomenological ideas. He also believes that in order to fully comprehend a building, it must be experienced in person, as he recounts in numerous of his materials including 'Athmospheres'.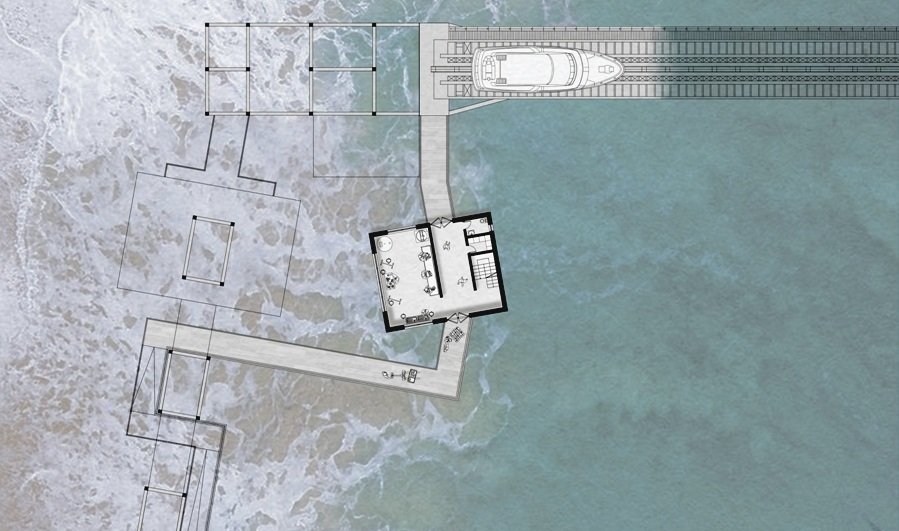 Plan – Underground Floor
As an Intern, what is the most important lesson(s) you have learned from senior architects, while being a part of a project?
As an intern, I have come to appreciate the importance of creating a strong connection with the client, as well as how teamwork, communication and attention to details are critical for projects to be successful. To create outstanding structures and spaces, an architect must not only comprehend the client's desires, but also develop an extensive understanding based on the project's location, and of the experiential sensations that he aims to deliver.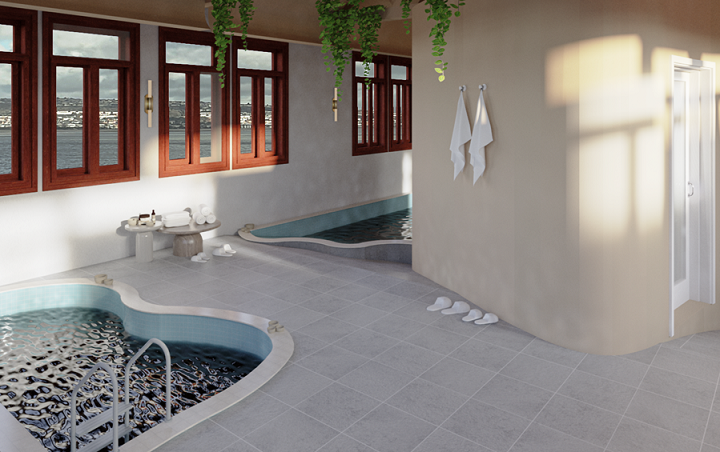 Spa Interior
Cities are getting inundated in a massive proportion due to flawed drainage and sewage systems apart from Climate Crisis – Your views about flawed urban planning and remedies to rectify to make cities flood-proof.
Floods in the cities have become more frequent through uncontrolled urban development, inadequate drainage systems and insufficient flood precautions. I am convinced that all of these could be avoided, if each project begins with awareness about environment. Possibly by implementing better planning approaches and laws, this particular problem can be addressed appropriately. In my opinion, the most significant thing that might be done in the future is to inform people about the new sustainability goals, think more about the environment, and how the entire process of building new structures may impact the issues with flooding.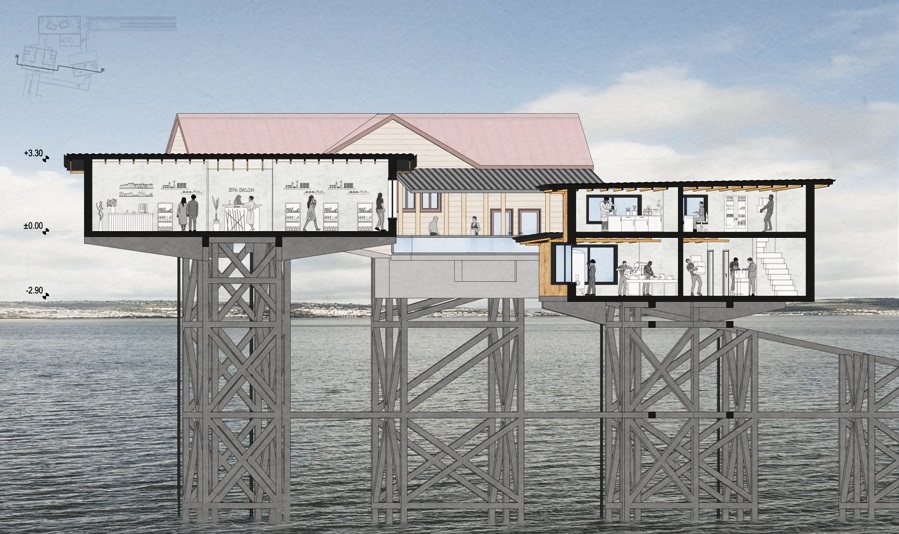 Long Sectional View
Which significant aspects of the global platform 'zerobeyond – the new frontier!' did you liked the most, and why?
I admire how 'zerobeyond – the new frontier!' combines the opinions of young architects, who have recently graduated, with other significant architectural pieces written with expertise about the field. I believe, this diversity and inclusion demonstrates that the ideas presented by aspiring architects matter and are recognised. I also believe the global platform provides an incredible opportunity for young architects to gain confidence by presenting their works for global audience and readers.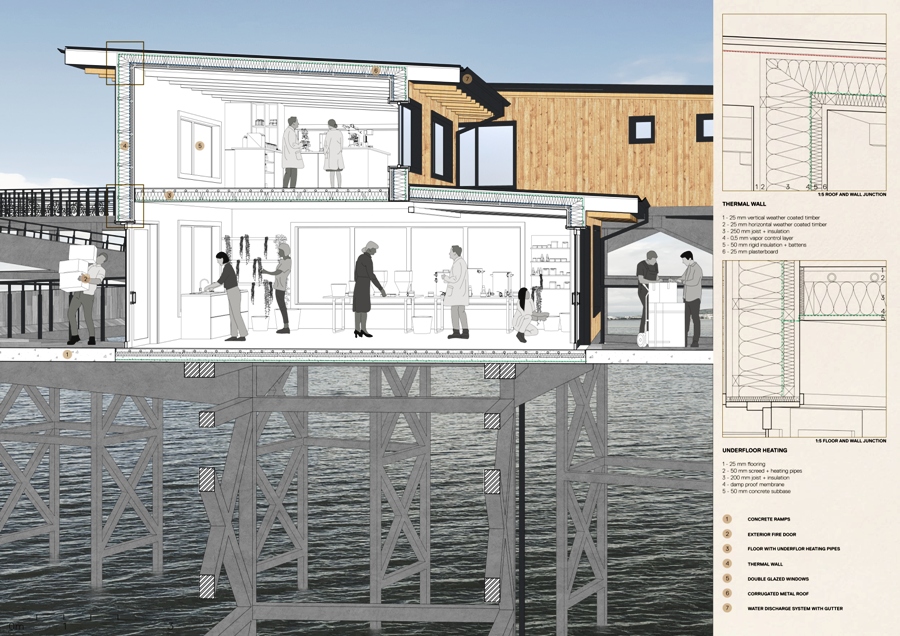 Construction detailing – Looking through Factory
Local charm of cities has diminished due to Modern Architecture as every city looks alike and similar. How should architects / urban planners / landscape architects modernize cities, while maintaining the local charm intact?
I am of the opinion that modernizing cities while maintaining their native identity necessitates a delicate balance of innovation and conservation. As I worked on my last project with a Grade II listed structure, I became more aware of the value of preservation. Architects should place as much focus on the cultural background as they do on the creative process. As Peter Zumthor argues, 'In order to design buildings with a sensuous connection to life, one must think in a way that goes far beyond form and construction'.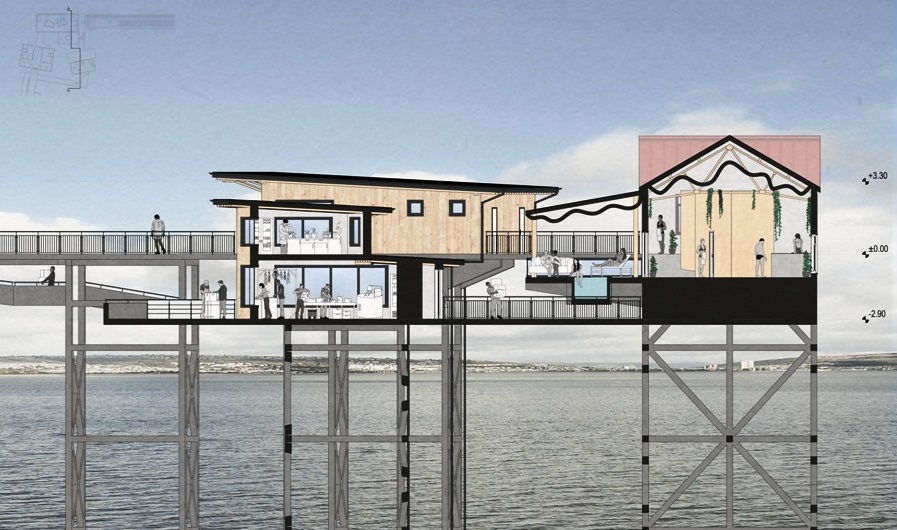 Short Sectional View
Looking at the past in the current present, what are the futuristic architectural changes you would like to see in your home city Iași in Romania? Elucidate the reasons for your vision.
I believe that architecture is adaptable to the circumstances. Iași – my home city in Romania is a magnificent place with mediaeval structures. Its architecture is a mix of mediaeval, neo-gothic, neo-classic, neo-Romanian and brutalist styles. It is stated that every stone in Iași informs of the past and that the urban experience is colorful. The Palace of Culture – a Neo-gothic structure is the city's most prominent structure.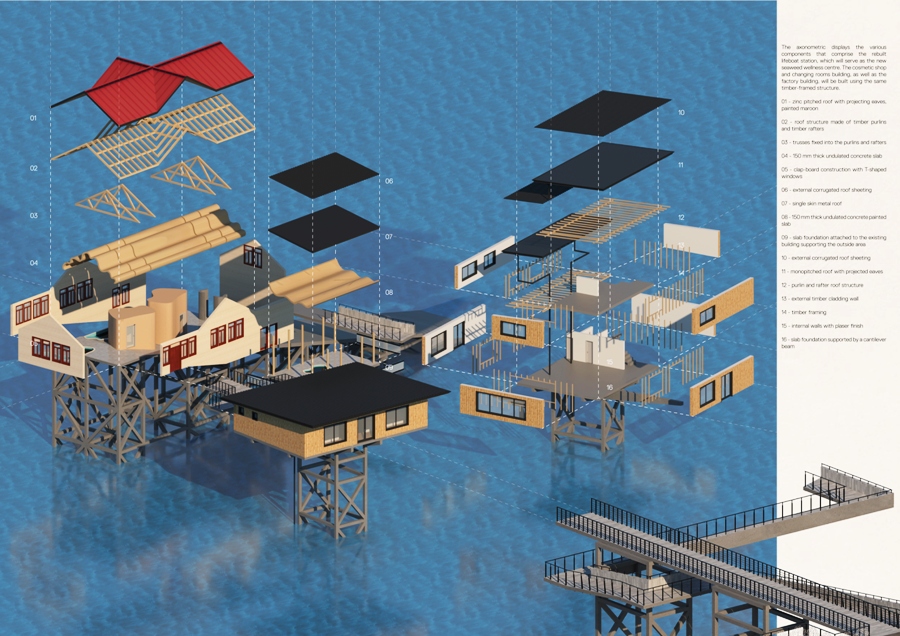 Structural Strategy
Iași is also home to Romania's first university (UAIC), the country's oldest theatre, which is also a listed structure nominated by BBC as second beautiful theater in the world, and the country's oldest library, the Central University Library of Iași. The city preserved all these spectacular buildings depicting the historical significance and also developed new modern structures that demonstrate the city's evolution. I feel this is an effective approach. I hope it can maintain the authenticity it gained through certain masterpieces in the future.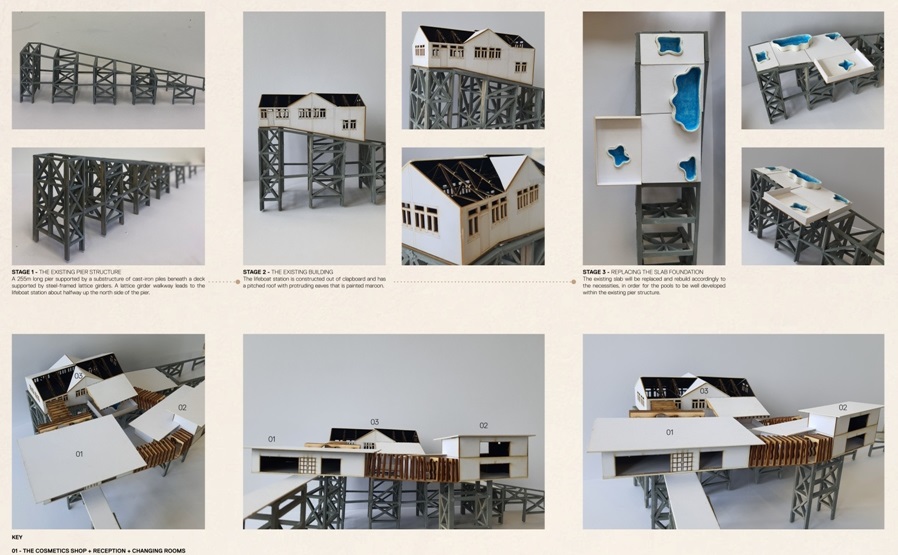 Mumbles Seaweed World Model
Image Courtesy: Amalia Radasanu