In the year 1998, two talented friends Dr. Caterina Roiatti and Robert Traboscia established TRA Studio Architecture PLCC in New York. Interestingly, this creative duo had met each other while working at Vignelli Associates led by Caterina's aunty and uncle. Their friendship over the years tied them together as one loving family. Dr. Caterina Roiatti reveals, "We believed that the integration of work and family is possible (smiles)." Apart from designing and executing multiple projects, the couple is busy raising their 16-year young boy.
Dr. Caterina Roiatti's interesting repertoire is truly unmatched in many aspects. Having trained as a fine arts painter at the Academy of Venice, Italy – she assisted Renzo Mongiardino, the renowned Italian architect and set designer. Later, as a Fulbright Scholarship student, Caterina joined Harvard Graduate School of Design to complete her Masters in Architecture. After her Masters, Caterina's interest in the wider framework of design took her to Istituto Universitario di Architettura di Venezia. It is here, she transformed from Caterina Roiatti to Dr. Caterina Roiatti after receiving her Doctorate in Architecture.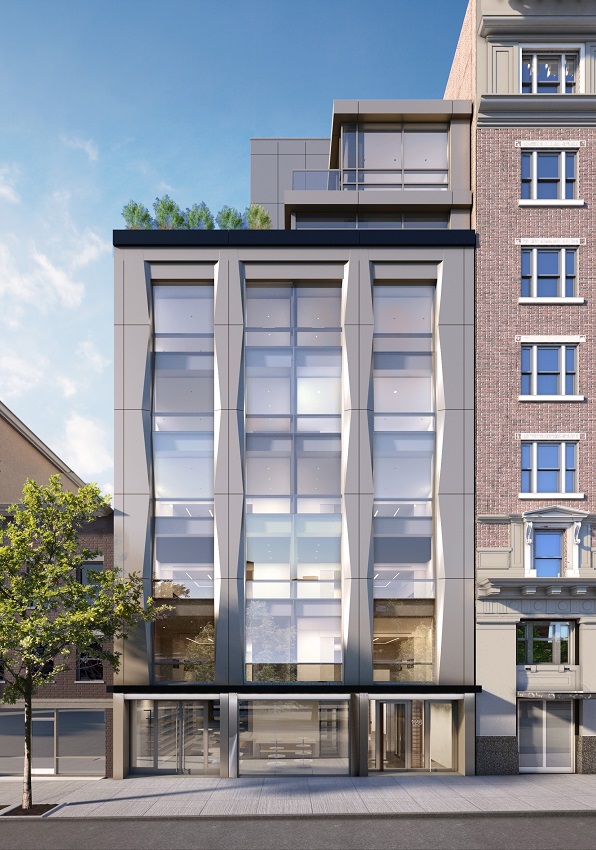 128E28 Façade Day View
Dr. Caterina Roiatti comes from an architect's family. She is the third generation of the architect Valle's family. From her school days, she has had the opportunity to get trained on restoration projects in Venice. Dr. Caterina Roiatti's creative talent has seen her working in modernist offices like Peter Forbes, Pei Cob Freed and Partners, Kohn Pedersen Fox, and Vignelli Associates. Her scholarly knowledge of history has assisted her while working on complex preservation issues of various projects that TRA has handled over the years.
In spite of her renowned stature, Dr. Caterina Roiatti comes across as a very warm and vivacious individual, who is very popular among her friends' circle and peers. At the NYIT – New York Institute of Technology, one can attend Dr. Roiatti's lecture to get priceless insight about TRA's design approach. She also serves as a guest critic at the NYIT. From the year 2012 through 2021, Dr. Roiatti held the position of Co-Chair of the AIA NY Historic Building Committee. Dr. Roiatti had also worked earlier with the AIA NY Exhibition Committee. She is currently active with the AIANY Advocacy Committee and various SoHo Community Groups.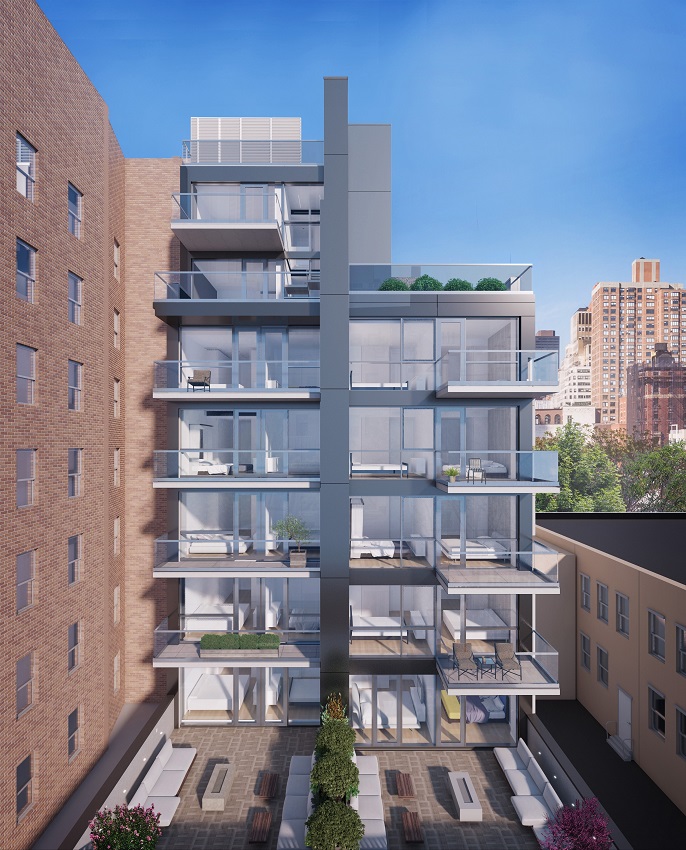 Exterior Rear View
Johnny D interacts with Dr. Caterina Roiatti at great length to explore the amazing journey of a creative mind and TRA's recently completed project '128E28'.
What was your childhood ambition? Did you always wanted to be an architect?
I always knew, I would work in visual related fields after my High School. Asserting my independence, I left Venice and moved to Paris to pursue fine arts painting. I worked for a couple of years in set-design assisted Renzo Mongiardino as his assistant. I soon realized that I was more interested in the front end of things and I needed to prepare to be on my own.
I left Paris in a hurry to start architecture school in Venice. I was amazed to know that my family had enrolled me for the architecture course two years earlier. I had a lot to catch up (smiles)! After graduation, given the perennial Italian economic crisis, I applied for a Fulbright scholarship at Harvard, knowing I would never return.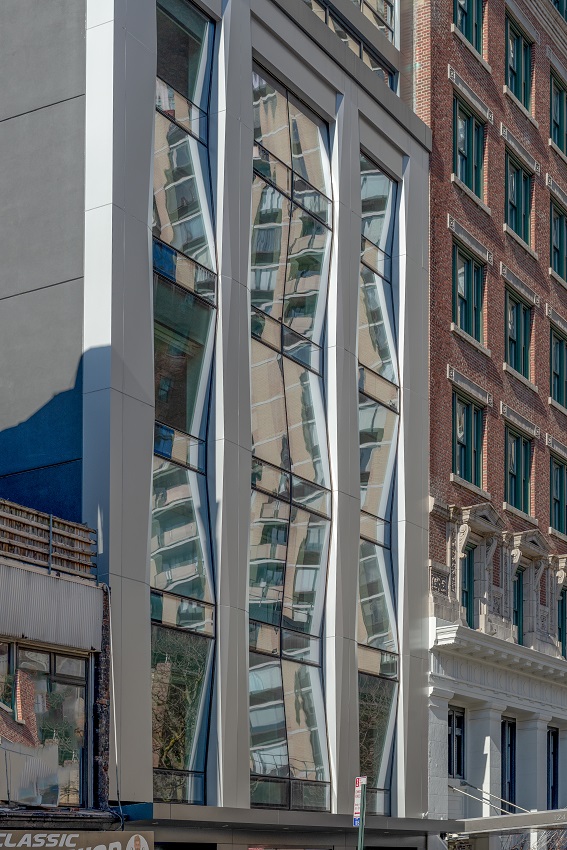 Exterior Close-up View of Curtain Wall looking West End
Coming from an illustrious family of architects, state one significant trait you learned from your family members that has helped you to a great deal by establishing your own practice. Reasons!
Following the Valle family tradition was encouraged, but the real expectation was that you had to be successful in any field. The best help my family ever provided to me was the example offered – 'if they could all be successful and independent, so could I'! Hopefully, we can do the same for our people and our son, Massimo..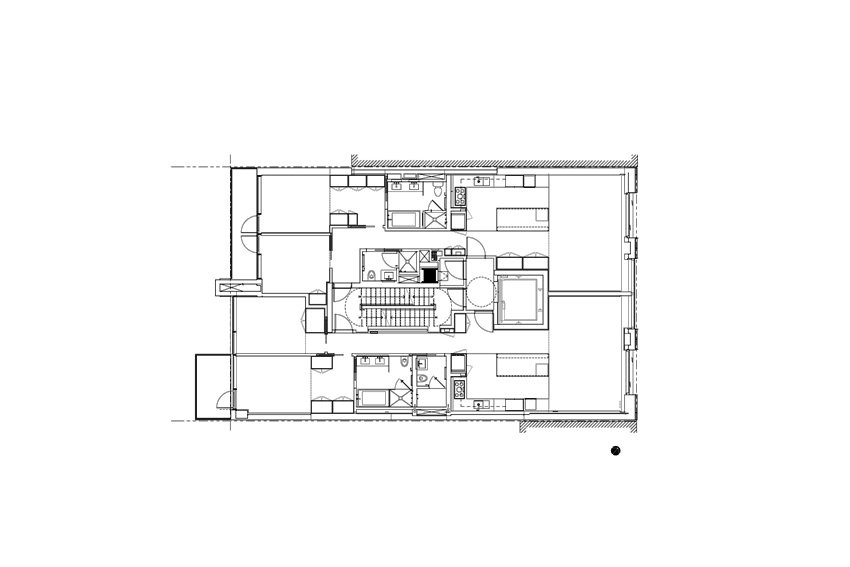 Plan
When and how did Robert Traboscia and you join hands to establish TRA?
We met at Vignelli Associates. It was the perfect place to be, because most people there were roughly of the same age. My aunt and uncle were also still relatively young, so we all hung out together. Italians do not believe in the separation of work and family (smiles)! Bob (Robert) and I started working together immediately. Initially, on and off in our loft, until the practice took off around 1998, when we were commissioned to design our first new building. We often say we can work together, because we do not do the same things. However, everything get reviewed, criticized and approved by both, which keeps the dialogue stimulating for all of us at the studio.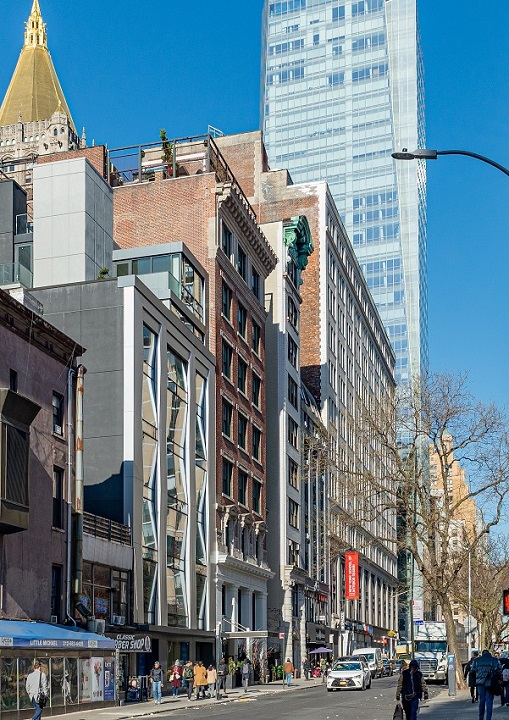 Exterior View looking to Park Avenue
What are the various projects TRA is busy with in various cities and countries?
We describe TRA as the total design studio, since we work in preservation, new construction and interiors. We mostly work in the New York City area, where work is always different and exciting. As it has often happened in our practice before, a successful project produced more work along the street, generating also a catalytic urban effect. Currently, we are working on251-253 Fifth Avenue at the North-East corner of 28th Street, in the Landmark District. The projects include both the restoration of a Landmark and the design of a new residential 20 stories Tower. We are also working on the gut renovation of a loft building in Tribeca. It is being built following the Design-Build process.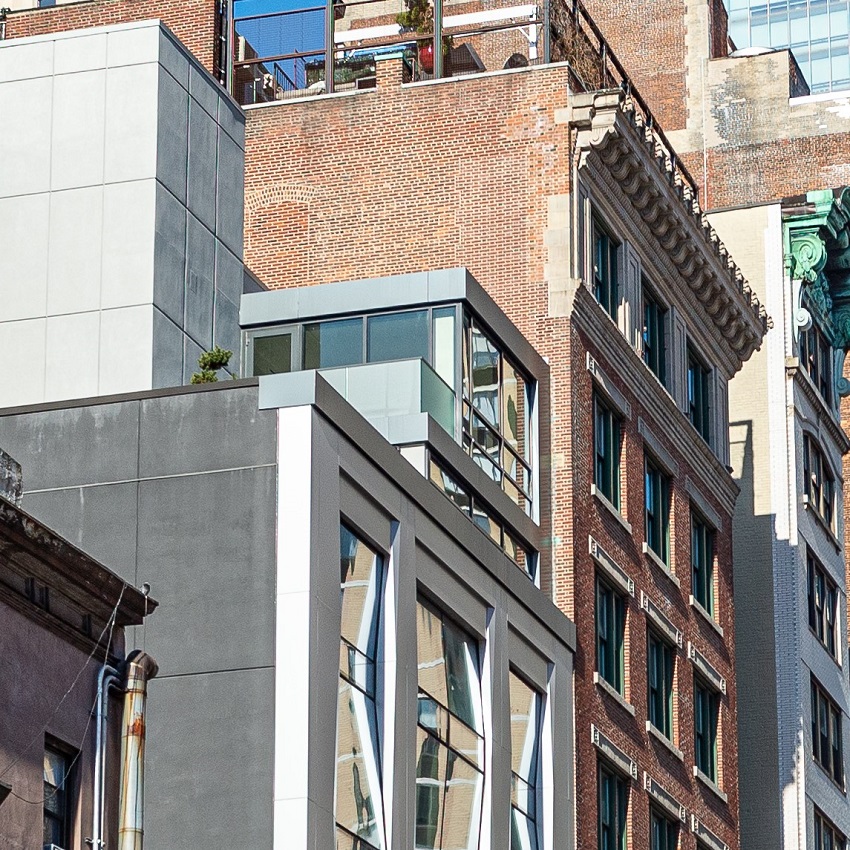 Exterior View of Penthouse
What really goes in your mind, when the client states the first brief?
The initial conversations are the most exciting, because that is when all the possibilities are out there, but also when through the fog of information you see the single idea that brings everything together. Design is easy! A simple diagram sustains the efforts of the entire team, you just have to recognize the right one and stick to it.
What was the brief of '128 East 28th Street' project?
The site comprises two zoning lots governed by different regulations. The first requirement was to maximize the site potential and accomplish, which we devised amassing strategy that takes full advantage of permitted obstructions. Since the building is located at the nexus between NoMad, a fast gentrifying neighborhood, and Kips Bay, a still fringe area, it was immediately clear that the image of the new development had to dialogue more with the historic loft buildings on the right and not to the modest brick structures immediately on the left.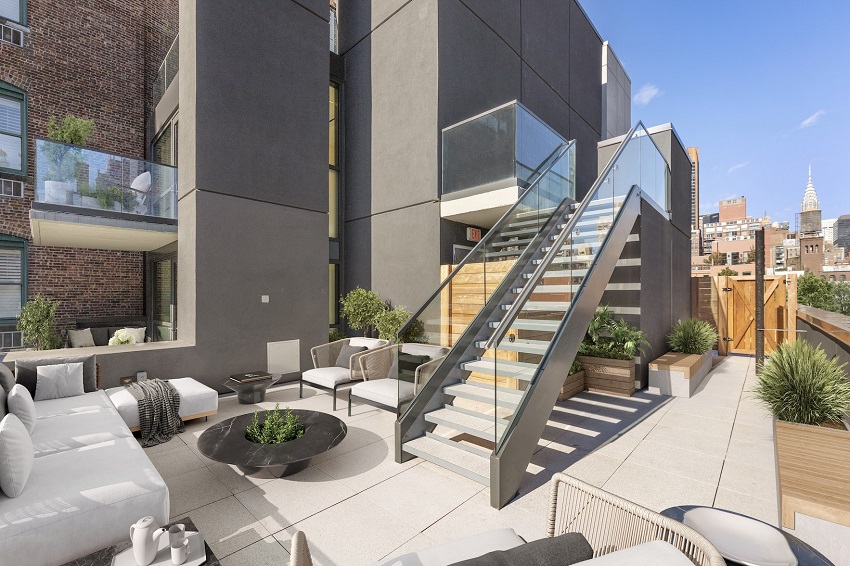 Penthouse Terrace
What were the major challenges to execute the project on real grounds?
Being involved in construction in New York City is always challenging. I am not only thinking of the regulations, logistics or unpredictable site conditions, but also the real challenges coming from the people involved: you can choose your client, team and consultants, but there are still so many other people that get involved along the way, who can become obstacles to the completion. With regards to the execution phase, effective communication is always the most important tool and what assisted us during construction to overcome the unexpected delays and obstacles (smiles).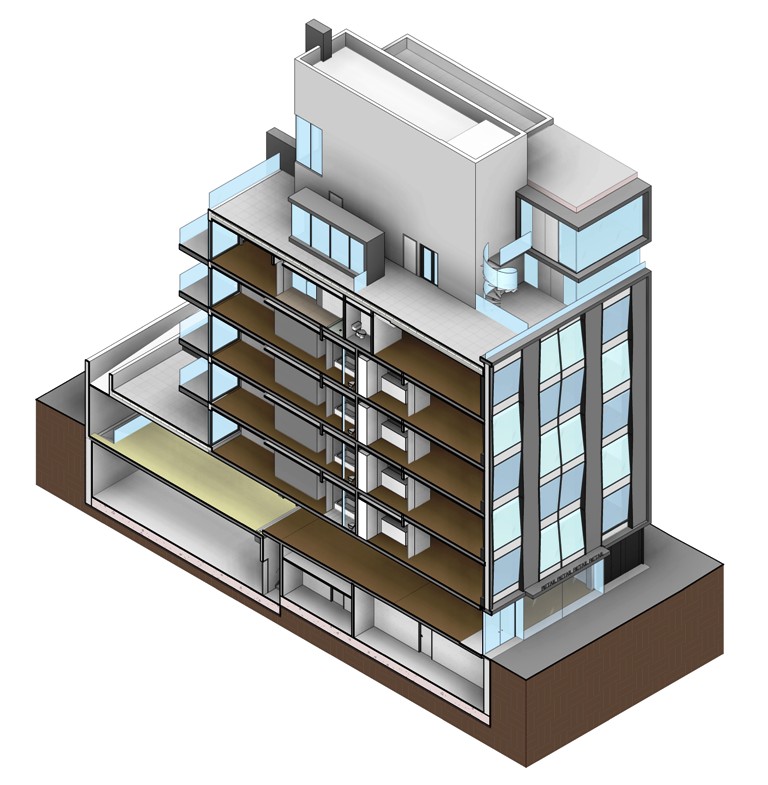 Axonometric View-Cut
How did your team overcome them creatively?
With regards to the design challenges, TRA's expertise with the City's zoning regulations optimized the site's potential, creating maximum value within a beautiful envelope.
The design of the façade needed to connect symbolically to the history of the area without mimicry and within budget. In response to which, the angular geometry of the mat aluminum pilasters creates a vertical thrust, which resonates with the articulated stone pillars of the landmarked structures. The folded aluminum panels intentionally differ from the masonry prevalent in the area to highlight the contemporary, but contextual and aesthetic. The effective tri-dimensional geometry is inspired by Robert Traboscia's bent aluminum art pieces, which always hung in our studio. The modern curtain wall contained between the pilasters connects to the new contemporary glass towers that are recently rising in the area.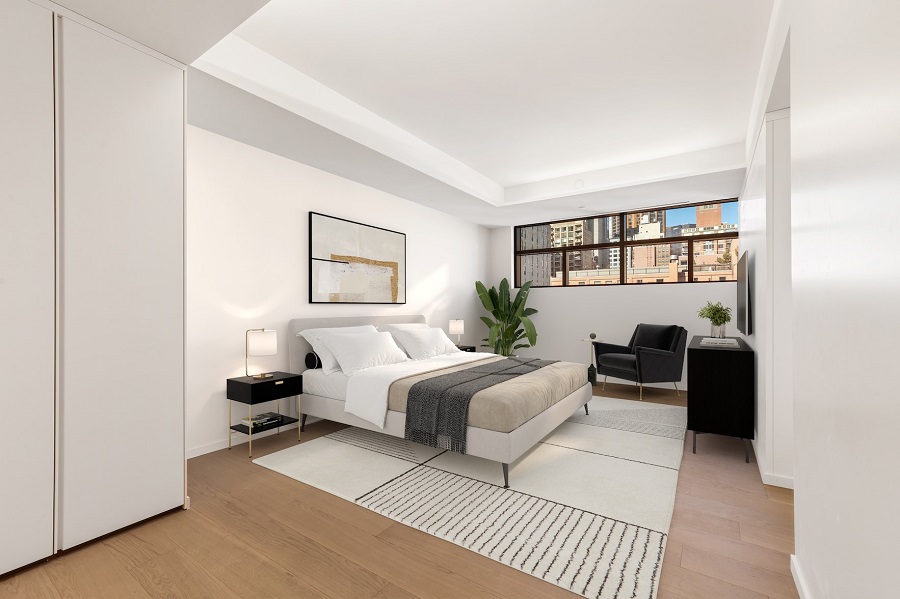 Master Bedroom
On the interior, the window wall is articulated as to create an inhabitable thickened skin that includes bay windows and seats. The alternatively angled planes of glass reflect simultaneously the sky and the street below, thereby amplifying the views of the narrow street.
The layout takes full advantage of the characteristics of the two lots by creating two full floor loft-like units per level. The two lines have distinct layouts and materials, grouped into a cool and a warm palette. In the lobby, a custom wood 'curtain wall, which recalls the exterior façade greets the visitor. Wide plank wood flooring, smooth Venetian terrazzo, calming large format porcelain tiles, Italian custom kitchens and millwork have been all carefully curated. The duplex penthouse is designed like a private maisonnette in the sky, accessing multiple outdoor spaces.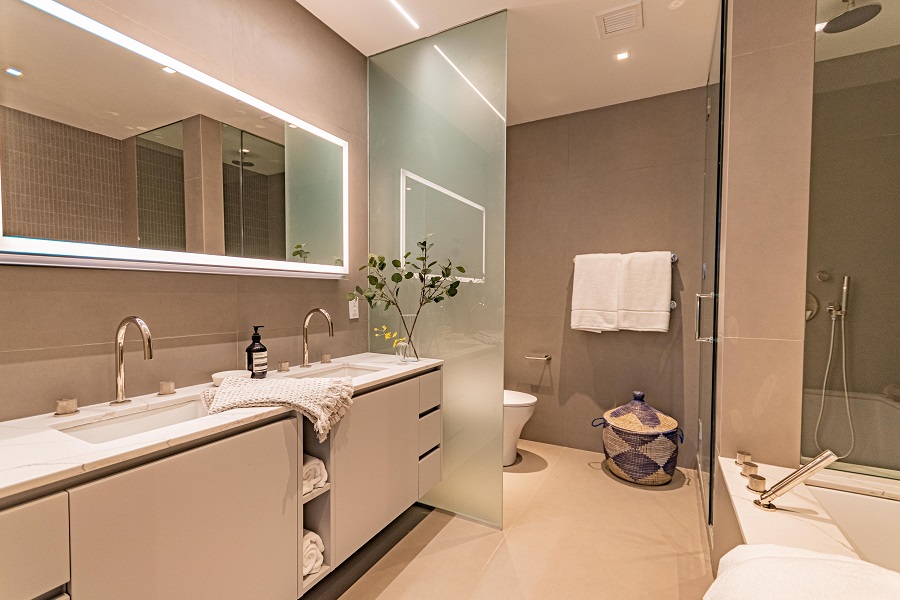 Master Bathroom
How would you describe the 'Significance and Elegance' of '128 East 28th Street' project?
We are committed to design distinct structures that are integral to the surrounding and contribute to the public realm and the context at large. We believe that every responsibly designed building, regardless of its size, is a contributing building. We have been pleased to see that, admits the tallest towers currently under construction, 128 East 28 has been recognized by several on-line publications as one of the most significant ones coming to the NoMad/Kips Bay area.
Of course, since a large part of the success of any project is in the execution, we believe that design continues all the way through completion. The design team, Bob, our longtime collaborator Winston Wolf and I have worked through long and inspiring sessions together, modifying the 3D model in real time all the way through Construction Administration.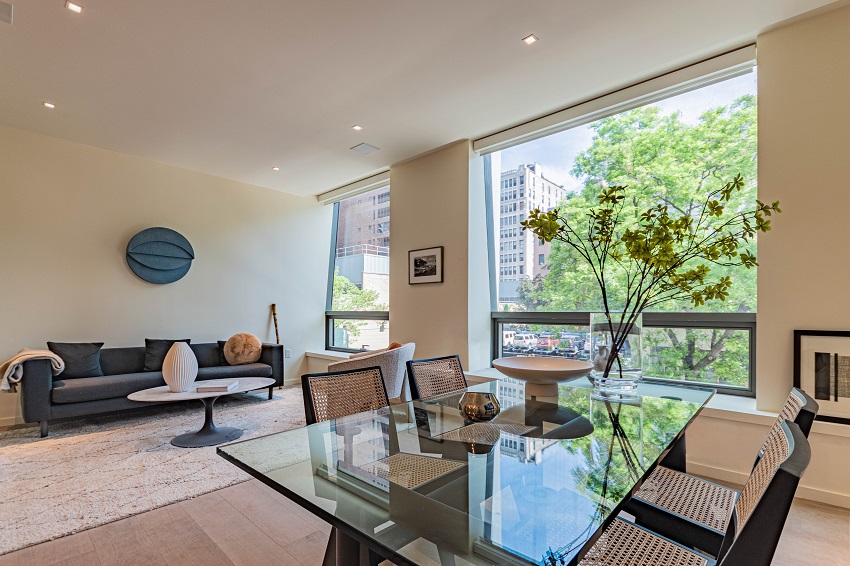 Typical Living Room Unit
Please mention 5 major 'Sustainability' features you incorporated in the project.
Although the design was initiated in 2017, before the new energy codes came into effect, sustainable practices across all scales informed the design process.
Analytic tools such as acoustical reports, com-check and fenestration testing and extensive mock-ups were employed throughout the process.
The glass wall assembly incorporates sustainable passive house tools, such as air tight enclosure and thermal bridge free construction; large windows screened by film improve comfort and offering rare natural cross ventilation.
Attention to acoustics, Climate control VRF and Zoned Variable Refrigerant Flow systems contribute to shape an environment that promotes mental wellness.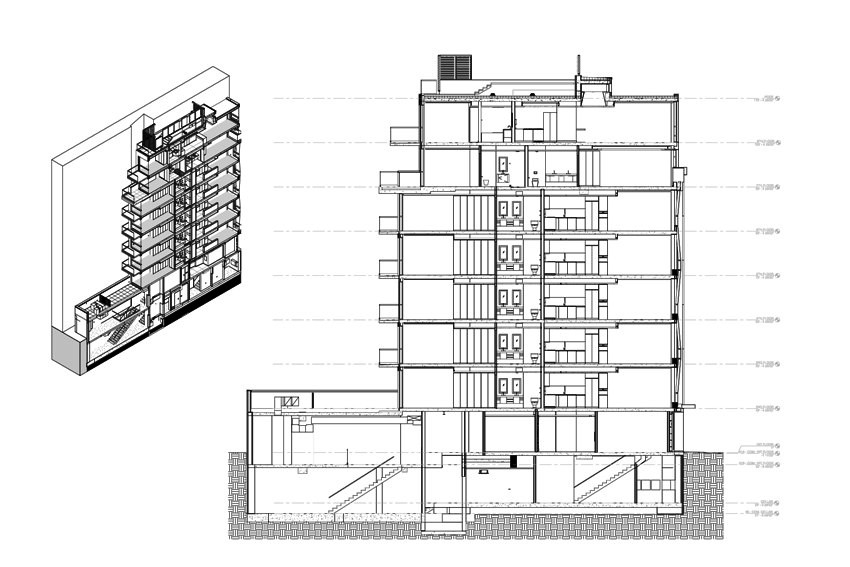 Section
General exhaust is ventilated by a high efficiency Energy Recovery Ventilator that reclaims exhaust air heat and moisture.
Other sustainable practices tools such the water retention blue-roof systm, building wide water filtration, water conservation, air purifier and dehumidification systems and electrical appliances have been specified.
What is the total area of the project, estimated cost and design-to-finish time period of the project?
The total area of the project is about 30,000 sq. m. Time-frame became elongated because of the Pandemic. The client controlled the undisclosed budget. Working in New York, you soon realize that your design better be timeless and that cannot count on schedules (smiles).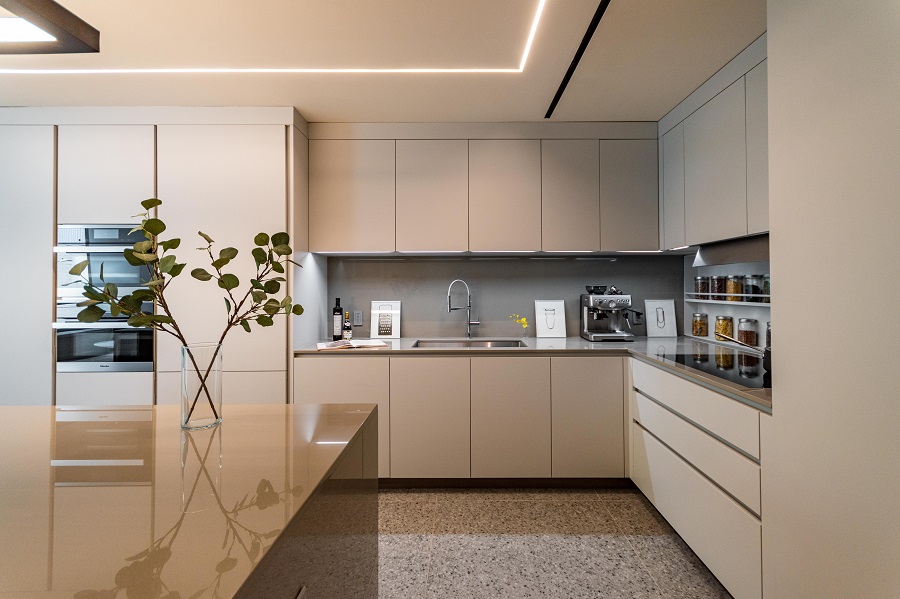 Sleek Kitchen
How do you see urban planning and architecture in cities changing to overcome climate catastrophes?
Certainly advocacy from the part of the professionals for more stringent regulations for new construction is a necessary duty, but it is also very important we encourage responsible retrofitting and reuse, something that was part of our practice since the beginning. The repurposing of office buildings into residential is becoming more and more a pressing issue in the City and for our studio.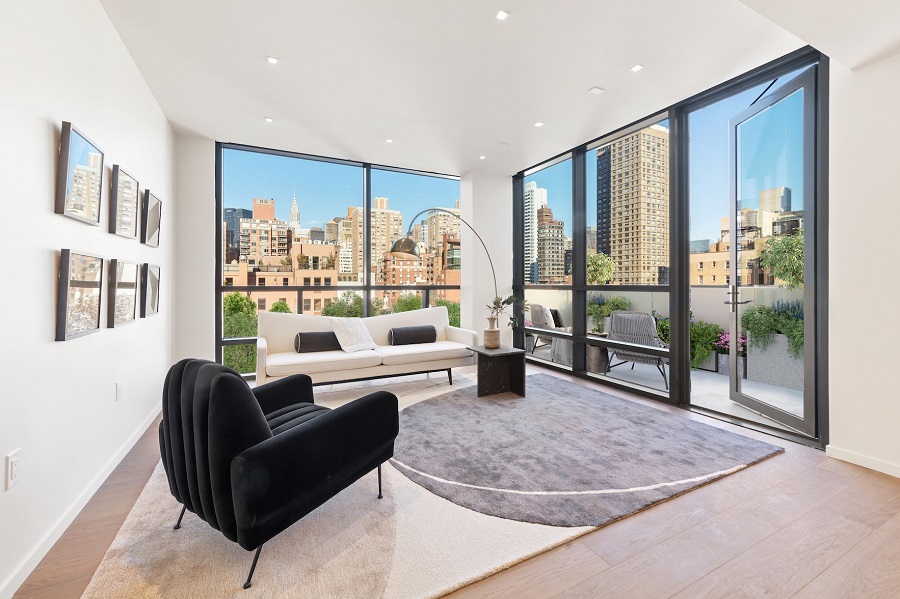 Penthouse Living Room
Flawed Urban Planning and age-old drainage and sewage systems has taken a toll on cities of the world – Your valuable insights to overcome this major issue, so as to make cities flood-proof, safe and livable once again?
Coming from Venice, the rising water levels and inadequate sewage treatment is something I have been very aware of all my life. We need to both increase the porosity of our environment and fund micro cluster sewage treatments at localized level – an issue, which I am also directly interested about since we own a small cottage near the water in Southampton, where there is no time to rely on future large projects or individual initiative. We should also not forget that design maintains the responsibility to improve life by bringing beauty, surprise and a better understanding of our world. This is something I am reminded of every day by seeing the subway signage designed by my uncle Massimo Vignelli.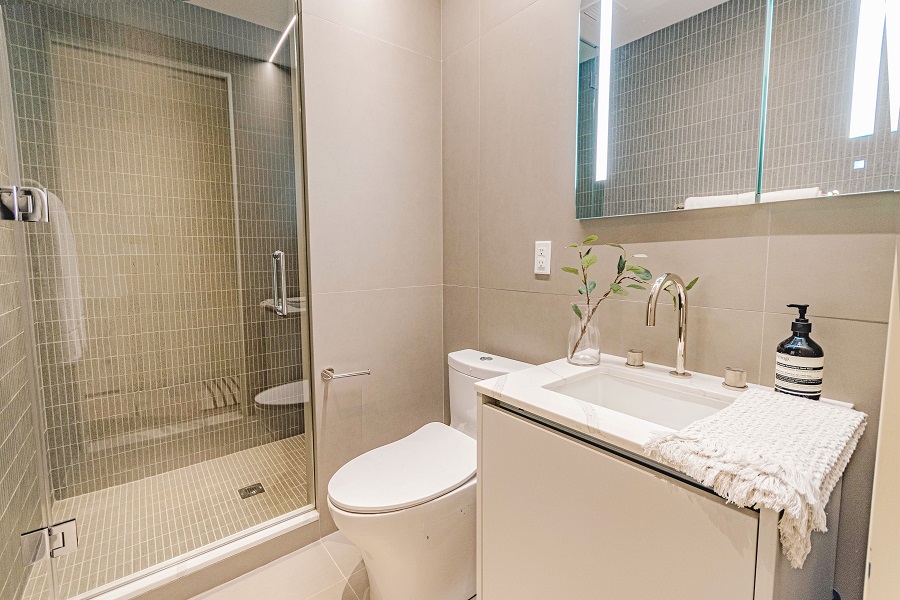 Powder Room
Which significant aspects of the global platform 'zerobeyond – the new frontier!' did you liked the most, and why?
'zerobeyond – the new frontier!' is an ideal platform, which includes all aspects of design. I love the fact that it reads like a magazine advertising-free, because it does more than describing the projects. It also paints the portraits of the people, who conceived them. Architects are not just problem solvers, yet we often only know the offices or at best their names. It is equally meaningful the architects interviewed are not just seasoned professionals, but also emerging architects.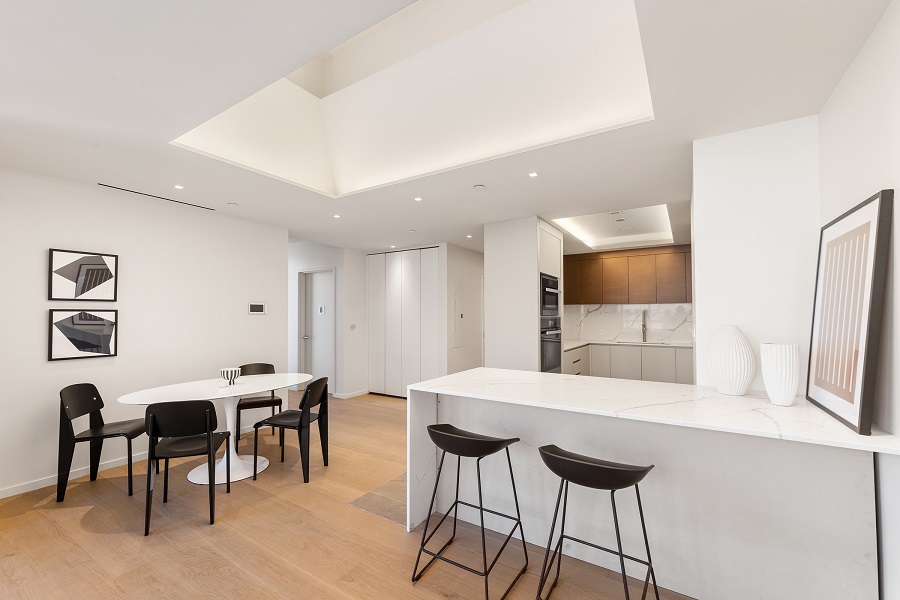 Penthouse Kitchen and Dining
How would you elucidate Dr. Caterina Roiatti as a leader and a person?
I am curious and always looking for what is lurking behind the corner. I think of it as waking in Venice through the narrow twisting "calles": there is always a new encounter along the way and I will always be looking out for it (smiles).
NeuroArchitecture is fast catching up with architects around the world. Your views as to why architects should make use of NeuroArchitecture.
NeuroArchitecture has always existed! To me, it is creating environments that make you connect to the context and the environment, thereby making you feel good. We strive to design architecture that lasts, buildings that align with the context and interiors that people would never want to leave – that is what drives us.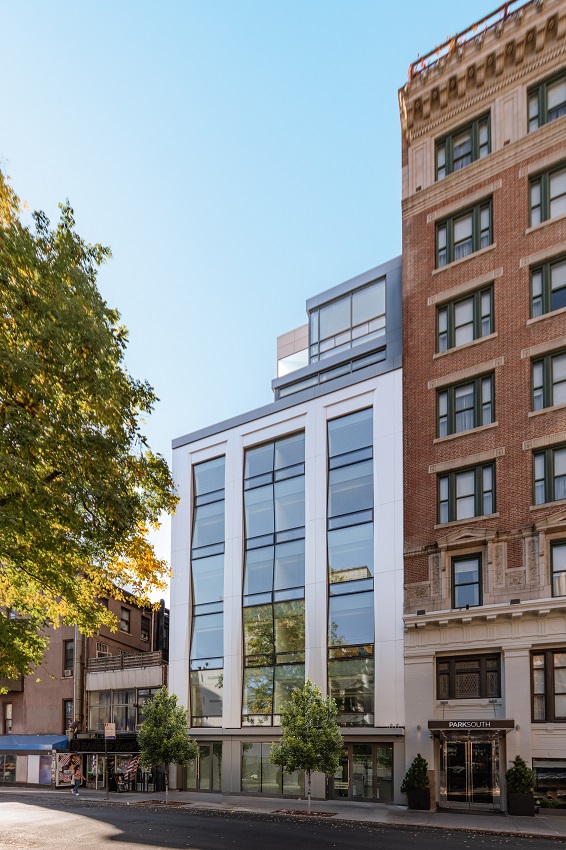 View from 28th Street looking East
Please state five recent awards' win by TRA.
2018 to 2023 – New York Architects nominated the firm as one of the top Design-Build Firms;
2019-2020 – Archilovers recognized the '61st Street Townhouse' as one of the Best Projects of 2018;
2019-2020 – Interior Design Power Grid Top Firms in New York City;
2017 – Finalists of the AIA NY Interiors Committee 'Best Community Interiors'; and
2009 – Regina Kellerman Award from the Greenwich Village Society for Historic Preservation.
Image Courtesy: TRA Studio Architecture PLCC