The GEN Z Series travels from Oxford Brookes University in UK to "Ion Mincu" University of Architecture and Urbanism, Bucharest in Romania to meet a very talented and creative 2020 graduated Masters in Architecture Lorena Minciunescu. Lorena reveals, "I come from a modest family in a mountainous rural region, near Câmpulung in Romania. My paternal grandparents were tailors. My father began his career at the renowned ARO automobile factory during the Communist era in Câmpulung. Subsequently, he transitioned into carpentry. My mother, a skilled seamstress, dedicated her time to caring for my brother and me and managing our household. This choice was influenced by the predominant practice of animal husbandry in our rural area."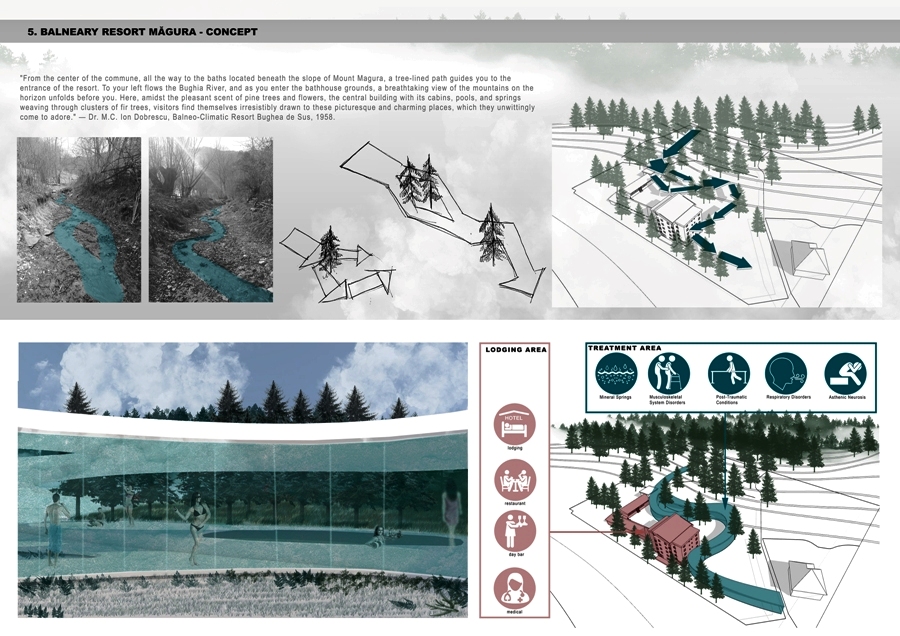 Balneary Resort Măgura – Concept
In the month of March 2023, Lorena Minciunescu established her own studio 'Cubium Architectura' in Bucharest. Interestingly, Lorena discloses, "My background may seem unconventional for an architect, yet I believe it has enriched my perspective. Throughout my college years, I consistently viewed architectural concepts differently from my peers. Growing up, I had hands-on experience with construction materials and their rudimentary production processes, instilling in me a profound understanding of their textures and properties."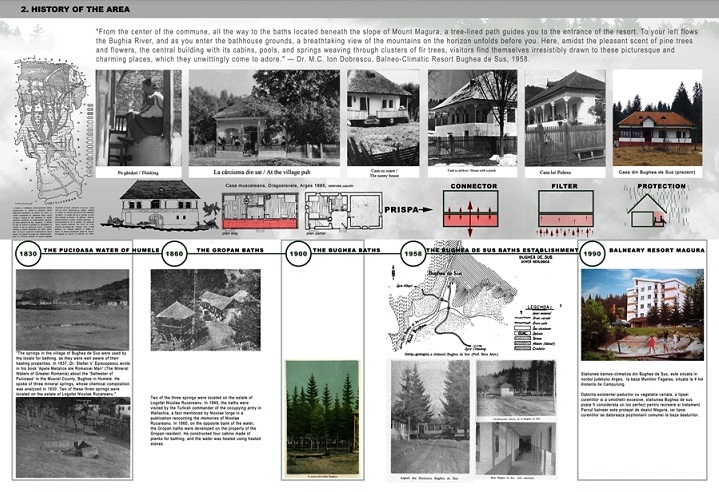 History of the Area
"As I embark on my architectural journey, I carry these unique insights with me. Architecture, to me, is an intricate fusion of art and functionality. My early encounters with materials have cultivated a profound appreciation for the synergy between design and practicality in the architectural realm. I am eager to channel this perspective into my architectural endeavors, contributing to innovative, sustainable, and purposeful designs that make a difference," She added.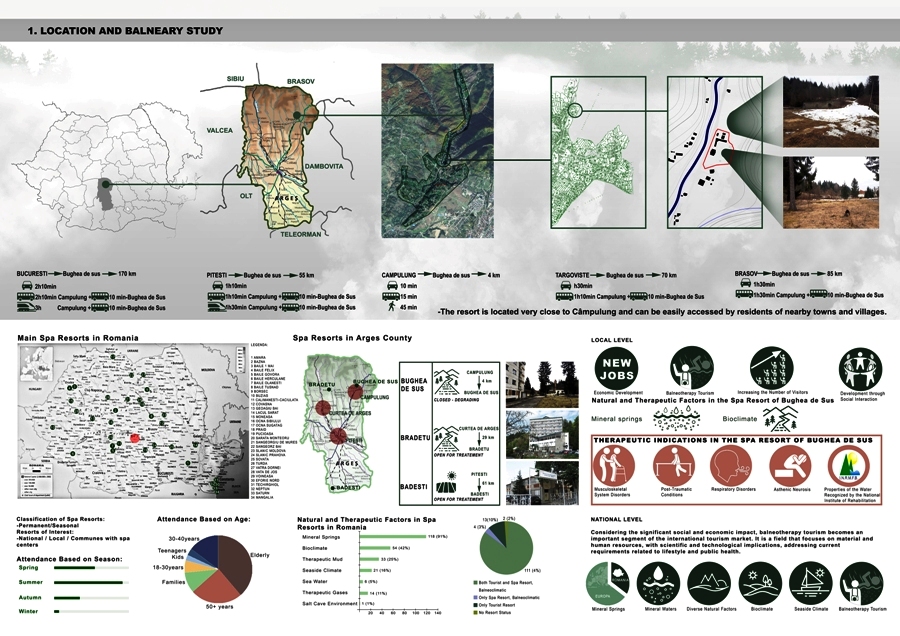 Location – Balneary Study
Johnny D has a lengthy interaction with Lorena Minciunescu to explore her journey into architecture and her thesis 'Revitalizing Măgura Bath Complex, Romania'.
What was your childhood ambition? Did you always wanted to become an architect?
As a child, I enjoyed painting, drawing, and sewing. I aspired to become a fashion designer (smiles). However, my interest in architecture began to emerge during my first year of High School. By the end of my second year, I had started preparing for a career in architecture.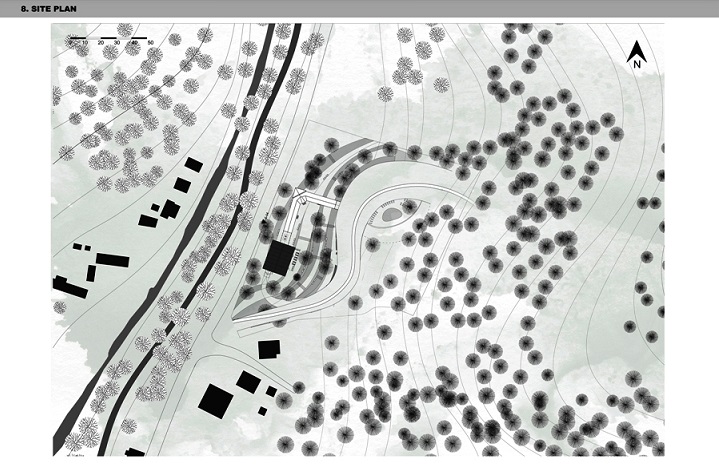 Site Plan
How has architecture influenced your life as a student?
Architecture has had a profound influence on my life as a student. I recall that during my first year of college, I was thrilled to discover that I shared common interests with everyone around me. We had numerous projects and many sleepless nights, which made it challenging to socialize outside the university. However, these sleepless nights working on team projects also forged strong friendships that I believe will last a lifetime (smiles).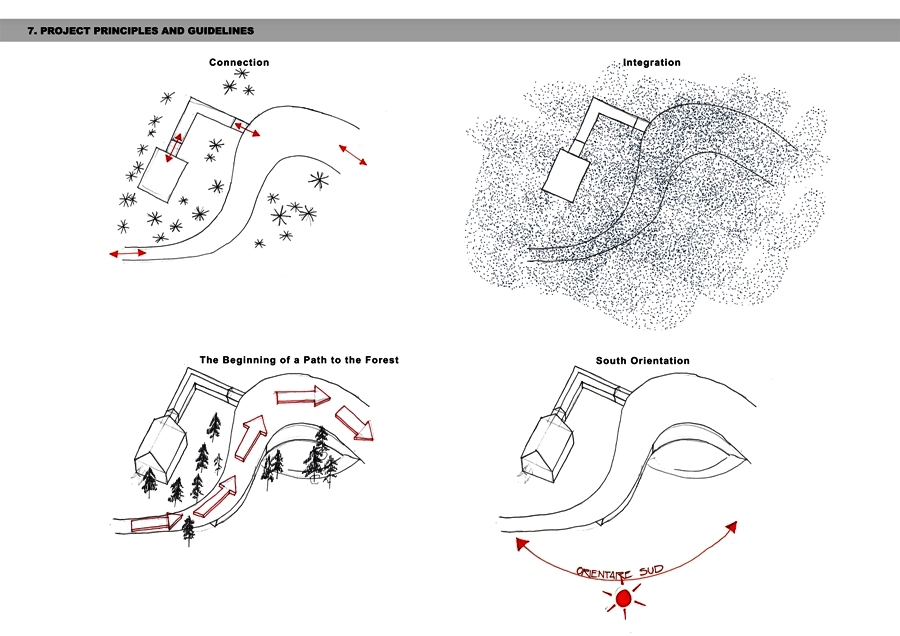 Project Principles and Guidelines
Briefly tell us about your University and the Integrated Masters' Course.
The "Ion Mincu" University of Architecture and Urbanism in Bucharest is a beautiful institution filled with creative and visionary individuals. Throughout the academic years, activities are organized around the studio, with principles guided by the studio professor. It is worth mentioning the studio professor, because they have the opportunity to shape the students; some professors emphasize concepts, while others prioritize technical elements.
All other courses complement and solidify an architecture student's knowledge. During my masters' years, I had the privilege of learning from professors who placed a strong emphasis on conceptual thinking and graphic representation, with technical aspects as supplementary. I appreciated this approach, because I believe that conceptual and critical thinking are best cultivated during one's university years, while technical aspects can be more deeply explored in the period following graduation.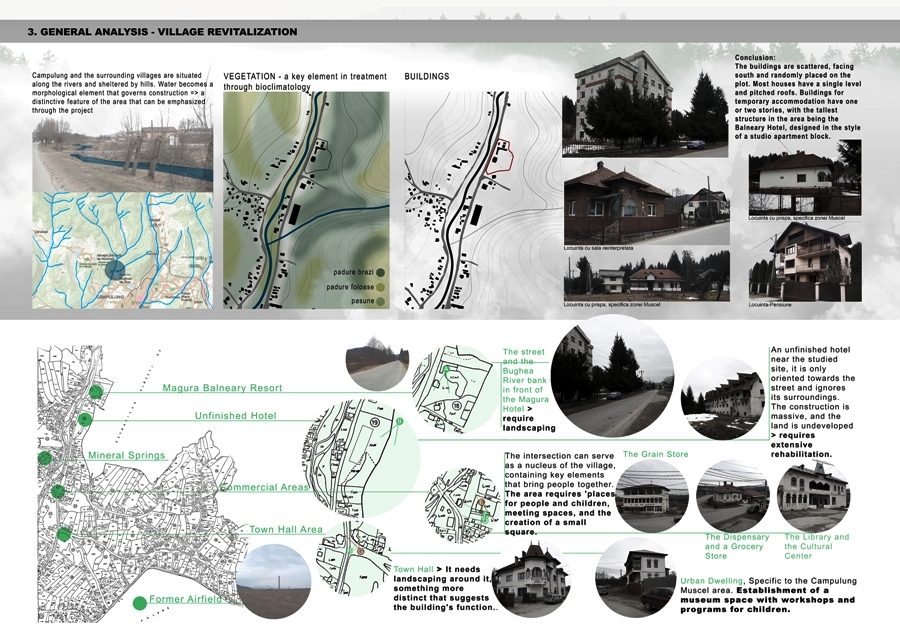 General Analysis – Village Revitalization
Briefly describe the significance of your project.
In the current context of the Muscel County, the legacy of the Communist era still looms large. A significant portion of the area has remained somewhat frozen in time. When the local industry declined and the State-owned properties transitioned into private hands, the Muscel region faced economic challenges. Development stagnated and the buildings began to deteriorate. This fate befell the Magura Bath Complex. Despite its proximity to the city, Bughea de Sus has seen little development. My project aims to revitalize the area, attract tourists, restore the renowned Măgura Bath Complex and boost the region's growth as a Spa destination.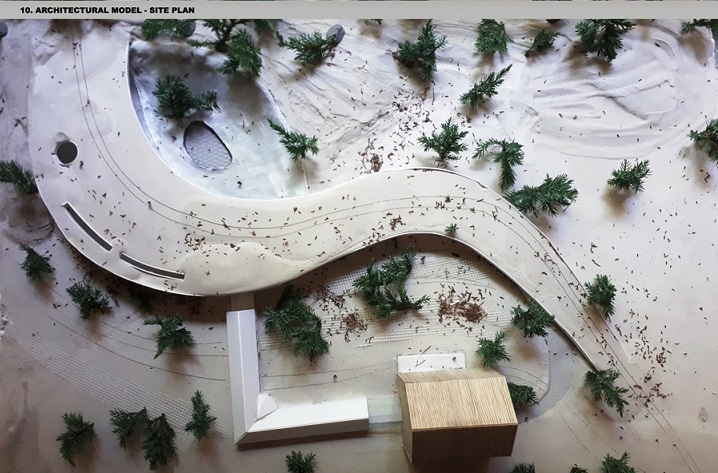 Architectural Model – Site Plan
The Balneary Resort Măgura, located just 4 kilometers away from Câmpulung in Bughea de Sus, Argeș County, is nestled in an area surrounded by lush forests and majestic mountains. The resort was known throughout the country, especially in the Muscel County, for the therapeutic qualities of its sulphurous mineral water offering benefits for the respiratory and locomotor systems. Moreover, the climate is conducive to bioclimatic treatments.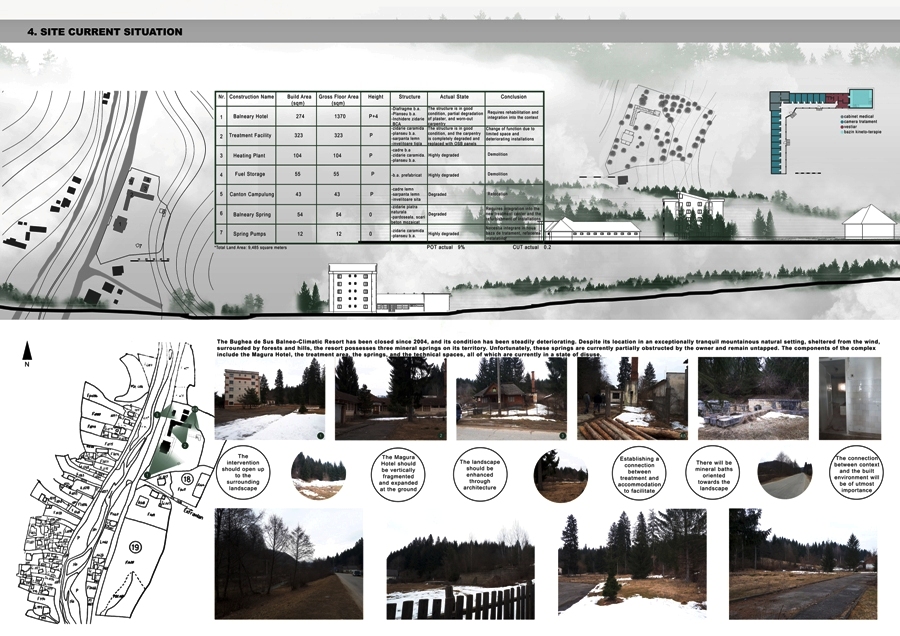 Site – Current Situation
By preserving the existing buildings and implementing sustainable renovation practices, I aim to minimize resource consumption and reduce the environmental impact of the project. Inspired by nearby rivers, I designed a curved building that harmoniously integrates the complex's courtyard with the surrounding forest, ensuring efficient utilization even during the winter months.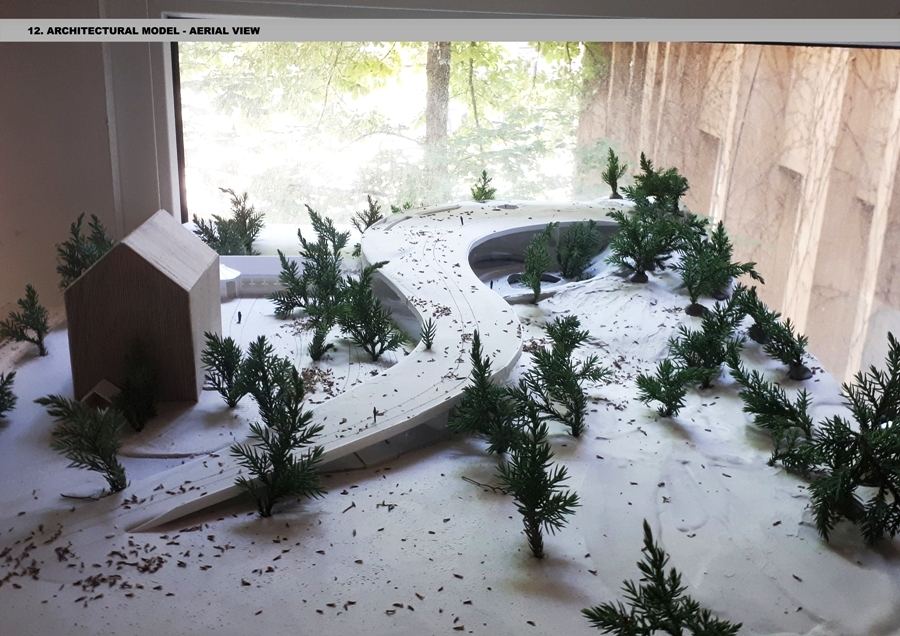 Architectural Model – Aerial View
Which National or International architect has inspired / influenced you? Please specify as to why?
The renowned architect Zaha Hadid has profoundly inspired and influenced my architectural journey. What truly resonates with me is Hadid's fearlessness in embracing unconventional shapes, redefining architectural boundaries and igniting imagination. Her designs challenge conventions, presenting a dynamic vision that captures the essence of creativity. Moreover, Hadid's dedication to sustainability and eco-consciousness align with my own architectural values. She showcased that avant-garde design can harmoniously coexist with sustainable practices, thereby exemplifying the fusion of creativity and environmental responsibility.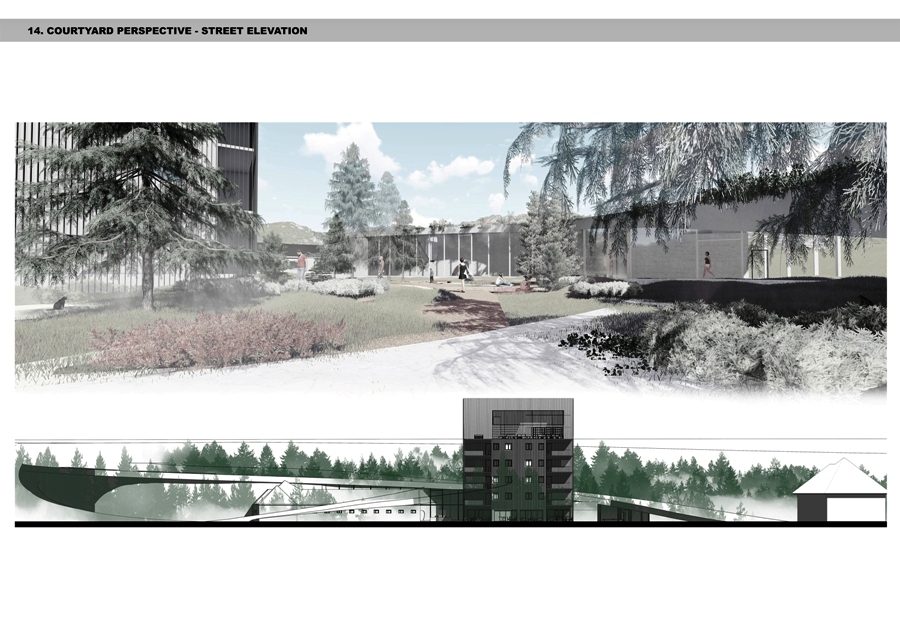 Courtyard Perspective – Street Elevation
As an Intern, what is the most important lesson(s) you have learned from senior architects, while being a part of a project?
As an intern working with senior architects, I learned that effective teamwork and communication are paramount in architecture. It is a collaborative effort that demands active listening, idea sharing and problem-solving among team members. Clear communication with colleagues and clients are crucial to avoid misunderstandings. Translating client's needs into architectural solutions are a pivotal skill. In essence, I learned that architecture succeeds through collaboration, communication and openness to ideas and feedback.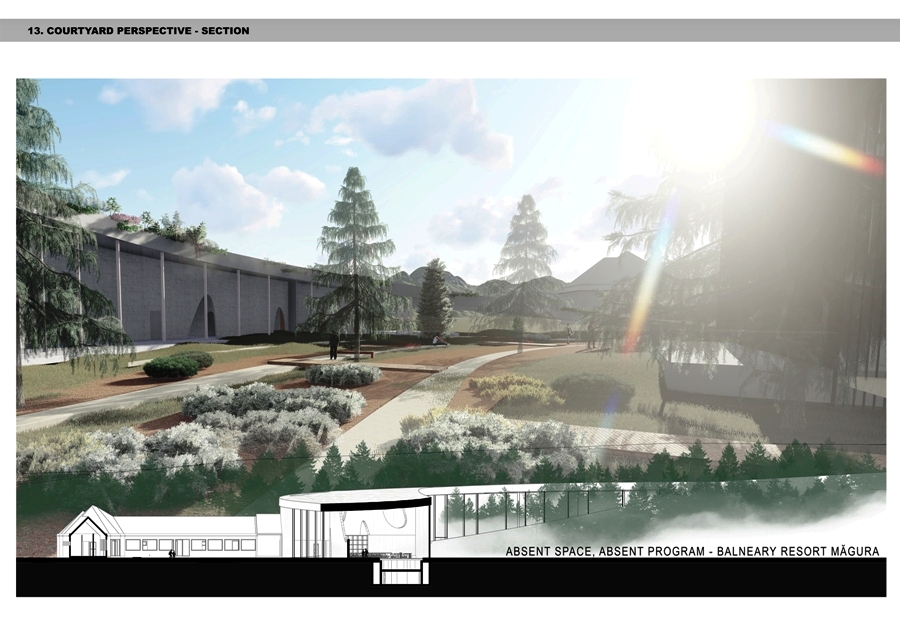 Courtyard Perspective – Section
Will the younger generation of architects make innovative changes to mitigate the catastrophic effects of Climate Crisis? Elucidate your perspectives.
I believe that I am part of the generation that will bring significant changes in the context of Climate Crisis. Young architects have easy access to information and the way we have been educated as architects enables us to leverage that information effectively. I see it as a collective effort and it only takes one person to raise the issue of climate change in any architectural context.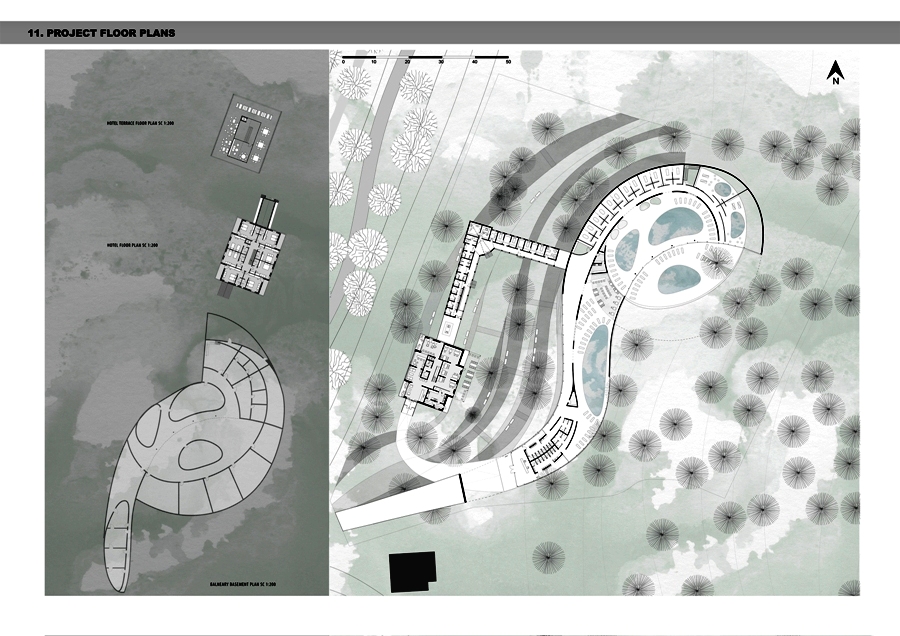 Project Floor Plans
Furthermore, young people have firsthand experience of the effects of climate change due to the rapid changes we have witnessed in recent years. We are the ones, who will experiment and adapt most to these changes. Our unique perspective and ability to utilize available information will be instrumental in driving innovative solutions to mitigate the catastrophic effects of the climate crisis.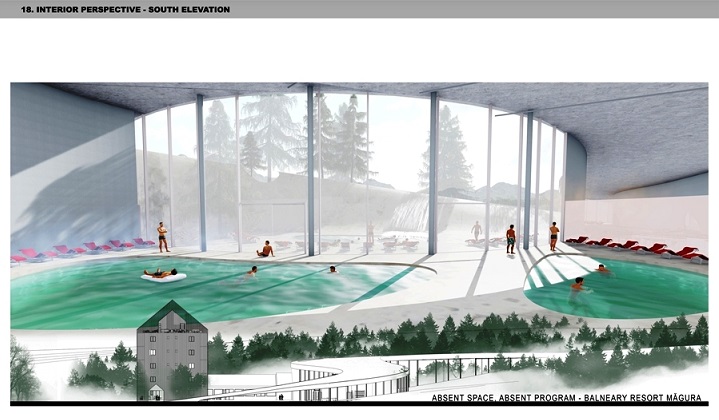 Interior Perspective – South Elevation
Which significant aspects of the global platform 'zerobeyond – the new frontier!' did you liked the most, and why?
In the current context of my profession as an architect, it is quite rare for experienced architect communities to give voice to young architects, we are perceived as a negligible quantity. What I appreciate most about the global platform 'zerobeyond – the new frontier!' is that it provides a voice to the youth and instills hope that they can bring about significant changes in the future.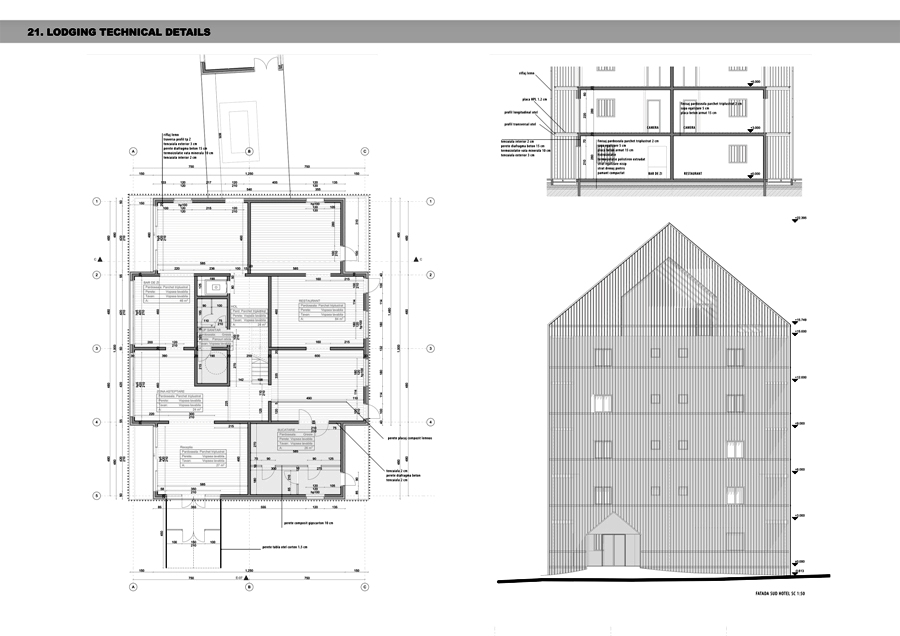 Lodging Technical Details
Local charm of cities has diminished due to Modern Architecture as every city looks alike and similar. How should architects / urban planners / landscape architects modernize cities, while maintaining the local charm intact?
To modernize cities while preserving their local charm, architects, urban planners, and landscape architects must first enhance their understanding of the current context and educate clients on the benefits of respecting local nuances. Establishing closer collaborations with local authorities, possibly through architects' unions, can facilitate effective communication and ensure that development aligns with local regulations and heritage. This synergy can result in innovative solutions that combine modernization with the preservation of a city's unique character, making them more attractive and functional for residents and investors alike.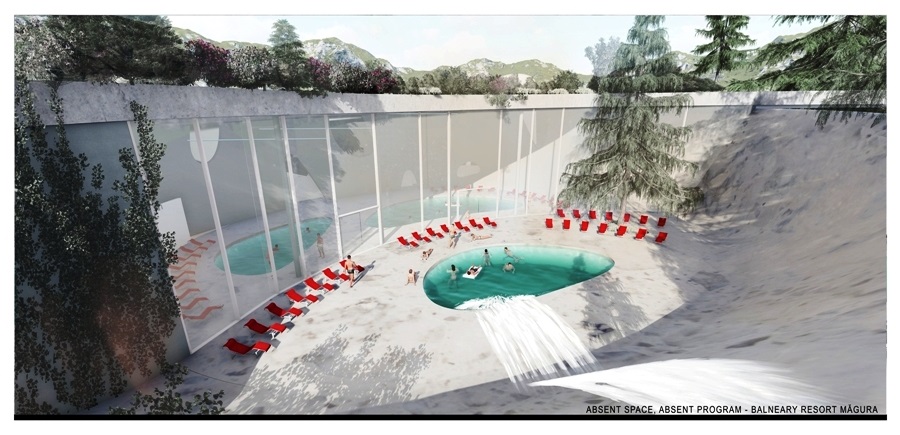 Exterior Bath View
Looking at the past in the current present, what are the futuristic architectural changes you would like to see in your home city / town? Elucidate the reasons for your vision.
In my hometown Bucharest, there is a rich historical value as it was the first Capital of Romania. Historically, due to its location at the base of the mountains, it used to be a therapeutic and leisure city for a significant part of the bourgeoisie. However, in the post-Communist society, which has been predominantly work-oriented, people seem to have forgotten how to appreciate the beauty of the place. What I would like to see are the old buildings rehabilitated and made accessible to the residents.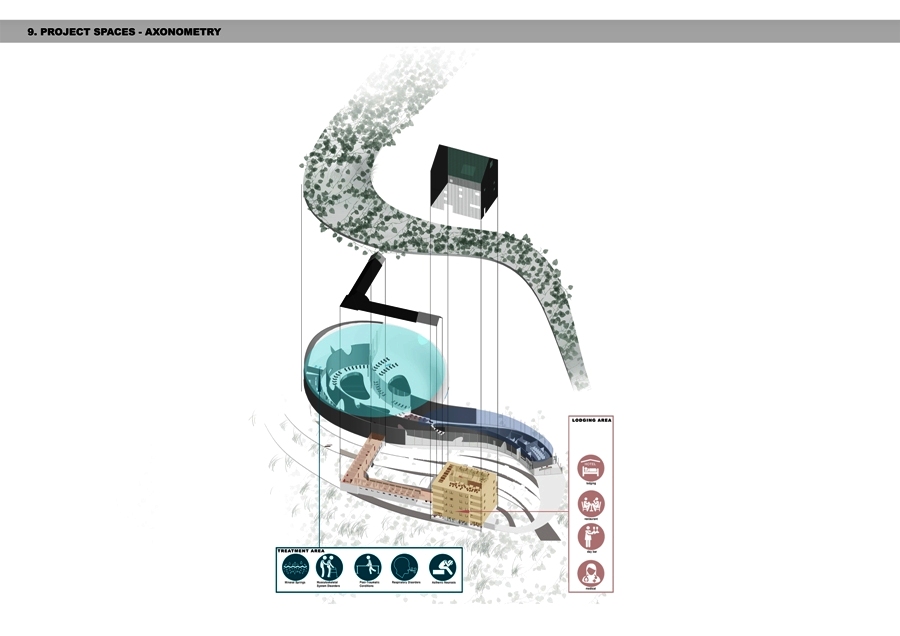 Project Spaces – Axonometric View
I envision numerous architectural hubs that rekindle a sense of community and communication among people, places where children can play, where people can engage in conversations and spaces for exhibitions that spark dialogues and theatre performances. These changes would not only preserve the historical significance of the town, but also breathe new life into it, fostering a sense of belonging and community engagement.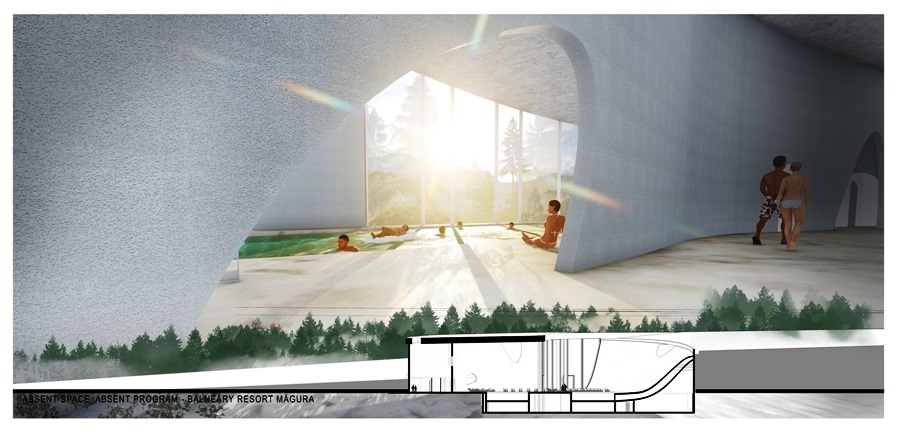 Interior Perspective – Section
Image Courtesy: Lorena Minciunescu