New design creations are the results of young and fresh creative brains. We have featured some of the most astounding design creations in our GEN Z Series by young student-architects, who have put their imaginations into the realm of architecture with new ideas for a better world. They are more aware about the environmental crisis at hand and have based their design creations to build a better future world.
From India, the GEN Z Series travels once again to my mother's motherland Indonesia. Meeting Eugenia Theoviliadea, a 2022 B. Arch graduate from Universitas Katolik Parahyangan, Bandung, Indonesia was an experience I cherish for her respectful and professional approach. Soon after her graduation, Eugenia joined Caceres Tous Studio in Bali as a Junior Architect. She loves to explore the places' characteristics related to architecture while travelling to enhance her knowledge and get inspiration.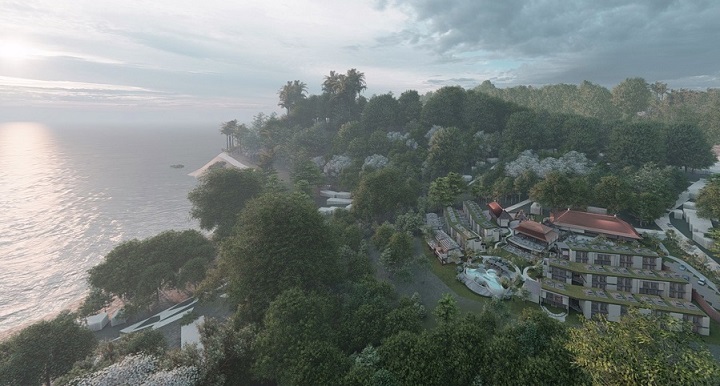 Eugenia Theoviliadea enthuses, "I am more interested in sustainable architecture, especially passive design and design technologies that are used to achieve minimal building energy." The architect with a 'can-do-attitude' leaves no stones unturned to enhance her learning curve and knowledge. She adds, "Realizing the high demand of parametric design in industry, I learned myself BIM using Revit. A year later, I opened an online private course for students (smiles). Subconsciously, I love teaching and impart knowledge to youngsters." Her family is her strength, who has supported her to achieve her passion in architecture.Eugenia made her parents proud by becoming the first architect in her family.
Johnny D interacts with Eugenia Theoviliadea to explore her journey into the architecture world and her thesis 'Anahata Resort'.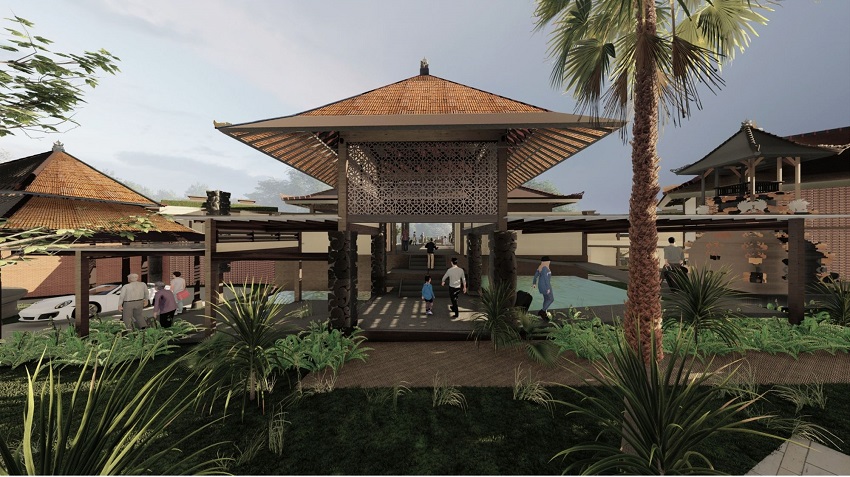 What was your childhood ambition? Did you always wanted to become an architect?
During my childhood, I remembered clearly if anyone asked a kid, 'What is your ambition?' Every kid would say a doctor, because it is a stable job with lots of income and that is what Asian parents wanted their child to be. They want their child to have a good and secure life. My elder sister graduated with a Major in Medicine. I thought that is certainly not my way. Ideally, I am not the one who would sit for hours studying (smiles). However, I have always loved to draw since I was a kid. The first time I drew a 'Plan', when I was waiting for lunch in a restaurant. At that moment, I felt as if I was in Utopia (smiles)! I had imagined having my own restaurant and tried to design with the flow of activity around me, what it would look like without knowing it was part of the architecture (smiles).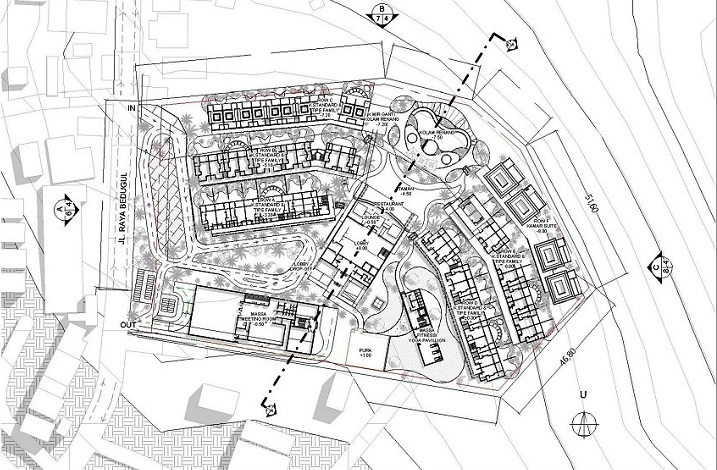 How has architecture influenced your life as a student?
Architecture has influenced and taught many things to me. Prominent among them are the habit of staying up late at nights and being always curios when I chose architecture major. Once I commenced my architecture course, I started having a good time management and realized 'time' is a priority. So, I trained myself to obediently do what has been planned and be always on time. Architecture also taught me to understand and clarify client's requirements, communicate design ideas and how people can easily understand it. I have been working to improve my communication skill and it is very useful in the working environment.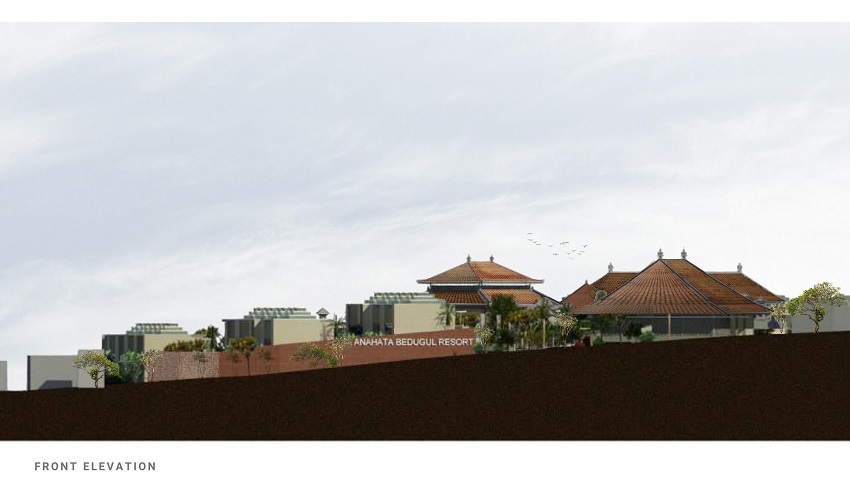 Architecture always departs from problems and how to solve it in creative ways. As an architecture student, we are trained to propose concept of problem solving idea, offering more valuable for human life, so that is what makes work of architecture meaningful and interesting. I am aware that the role of architects has a very large influence to be agent of change, because we are the ones who design how a human container will function and develop over a long period of time.
Briefly describe the significance of your project.
'Anahata' means 'the Centre Point' in spiritual and symbolizes healing. It also comes from the context of the site, Bedugul, which is located in the middle of Bali. The design concept is based on the idea of a blossoming lotus flower, which is the universal symbol for 'heart chakra'. The aim of the resort reflects to the progression of openness / self-disclosure, like a flower, from the heart of the building to its ends – from the earth to the sky.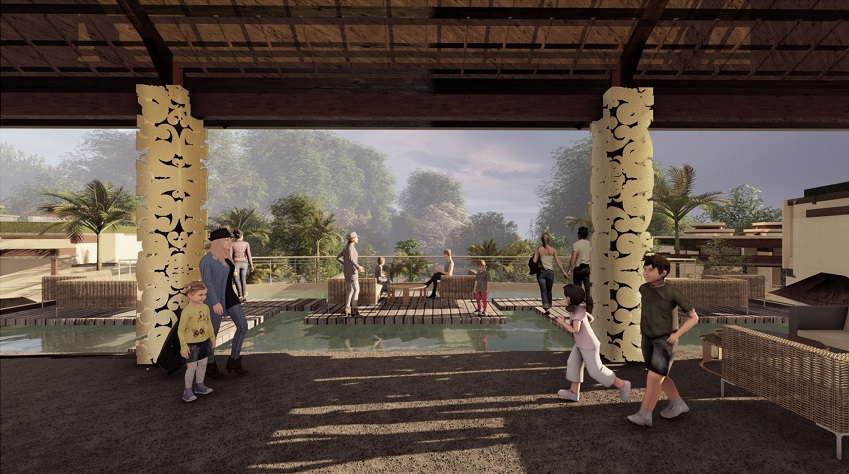 The concept of mass arrangement departs from determining the direction of north (Mount Agung) -south, west-east, which is then mapped in the 'Tri Angga' and adapts 'Nawa Sanga' (Balinese zoning concept of 'utama-madya-nista'). Resort zoning is divided into public (lobby), semi-public (restaurant and bar), semi-private (swimming pool and gym), and private (resort rooms). It has been adapted to localforms, according to the function of the building.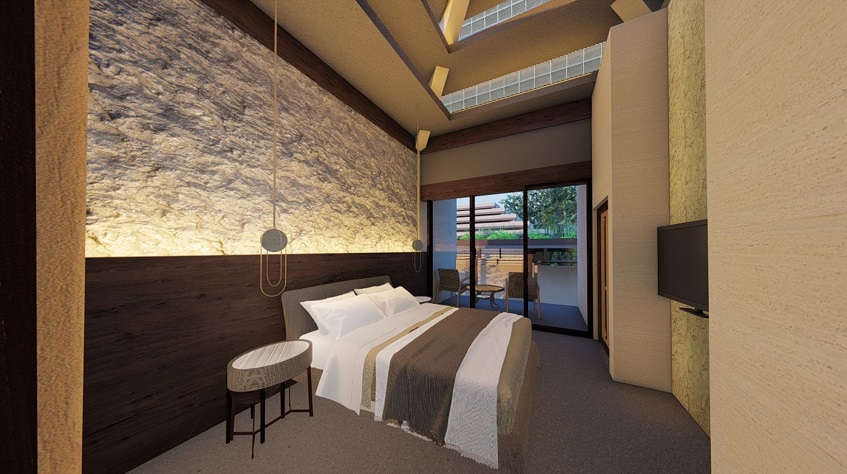 The variation in the atmosphere is carried out through a progression in materialities from warmer and enclosed spaces, to lighter and open-concept layouts. The roof of the resort room is inspired by the 'meru' (stacked) roofs of the Ulun Danu Temple. Using glass block as lighter material, where sunlight can be refracted and transmitted into the room, while the heat absorbed by natural stone wall releases it to warm the night as a form of energy saving.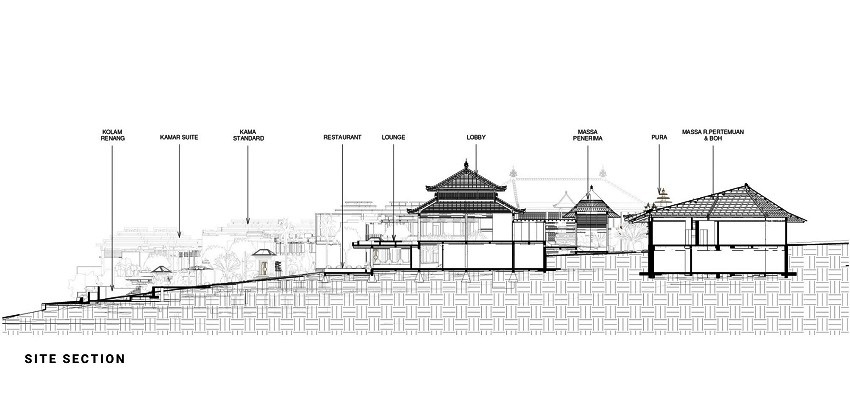 Which National or International architect has inspired / influenced you? Please specify as to why?
I am inspired by Antonius Richard from RAD+Architecture, who was also alumni from Parahyangan Catholic University and Principal architect from my latest internship. His approach on how to design something visually unique and experimental, yet 'out-of-the-box' by maximizing passive design in the context of the tropical climate in Indonesia is awe-inspiring!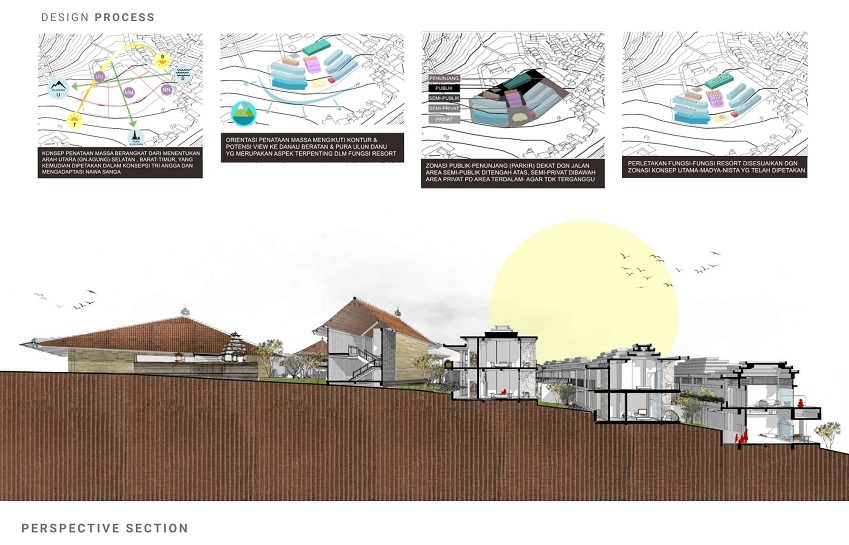 As an Intern / Junior Architect, what is the most important lesson(s) you have learned from senior architects, while being a part of a projects?
During college, we were required to work on a project in a very short time, whereas in the world of work, a project can be completed in nearly a year at the fastest. I would be lying, if I did not feel bored with working on the same project continuously for a long time, but I also learned from others' work ethics to being consistent and focus on details. Asking questions! At first, we may be hesitant to show a lack of knowledge in a certain area to seniors, or feel uncomfortable interrupting someone time and again to ask for help, but they would much rather take the time to explain than guessing and make a mistake, because unlike in school, a mistake can cost someone real money and time.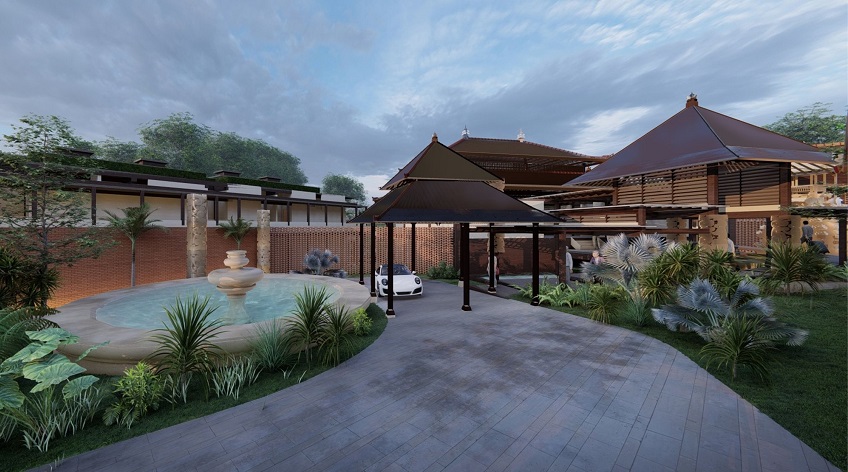 Cities are getting inundated in a massive proportion due to flawed drainage and sewage systems apart from Climate Crisis. What are your views about flawed urban planning and remedies to rectify to make cities flood-proof?
Jakarta, the capital city of Indonesia is the world's most rapidly sinking city. It is estimated to be submerged by 2050. The main reason is because the city is covered with concrete. Even millions inhabitant use deep pump to extract the water stored in aquifers' layer. The more amount of water is extracted, the more it deflates, causing the soil to compact and collapse, and the ground above to sink further. The rainfall that would naturally fill up the aquifers is not being absorbed because of concretization.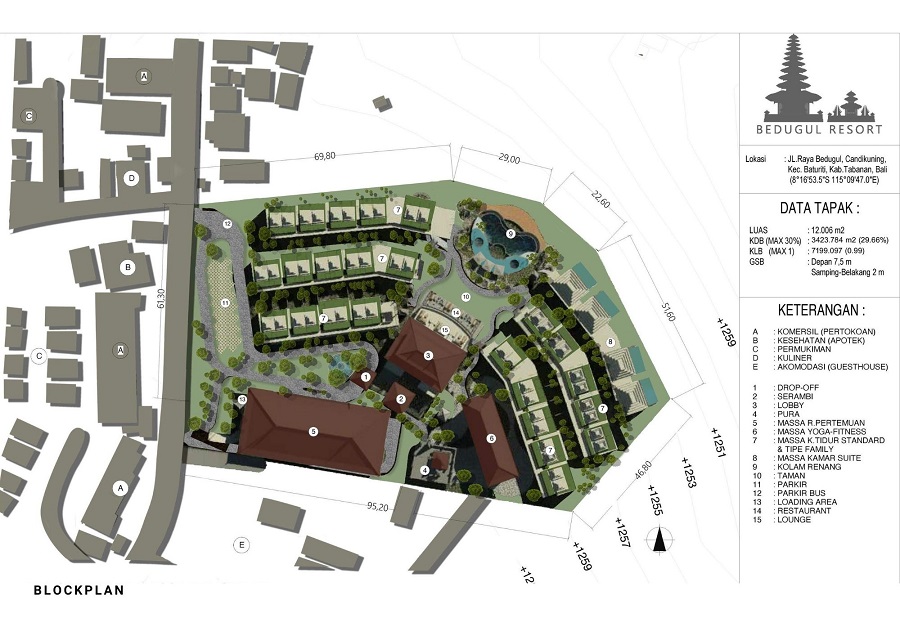 Dutch colonialism took a toll on the city's flawed urban planning by making Jakarta feel like a Dutch city with narrow townhouses along a grid of canals using concrete to channelise river and use dykes to protect city from being flooded. Those grey infrastructures are actually killers of the natural system.
Cities must be transformed into Sponge Cities. The basic idea is to allow the natural water flow to come back by maximizing green spaces and using permeable materials for hardscape. City should remove the flood wall, retreat dykes and create eco-friendly terraces, where land and water meet, depending on different levels of flood. So during the monsoon season, it is for the flood and on the other hand, during dry season it becomes a park for everyday use.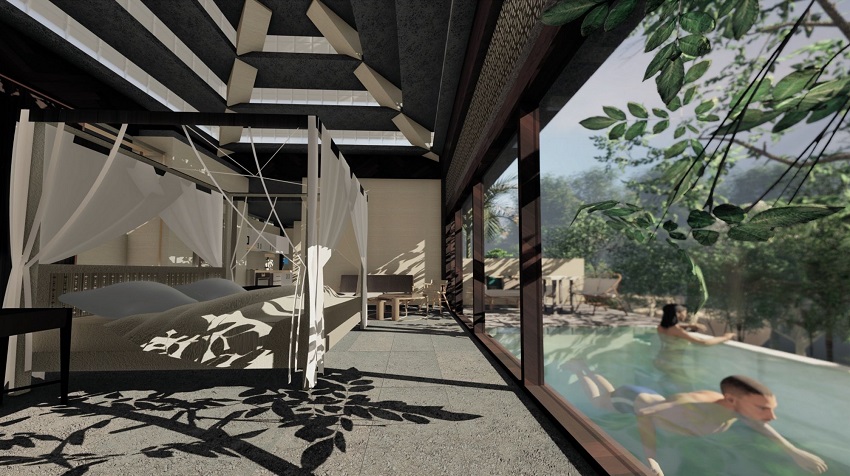 Briefly write about your University and Course.
Architecture Department of Universitas Katolik Parahyangan is well-known for excellence since a long time. The main reflection of the quality of a university is its alumni's reputation, who have returned to contribute to teach, as well as, full- time faculty with a wide variety of approaches to teaching design. The learning process is interactive discussion and use of models to have experience. All the courses are interesting, but what stood the most, and could be focus for my further education, is sustainable architecture and urban planning.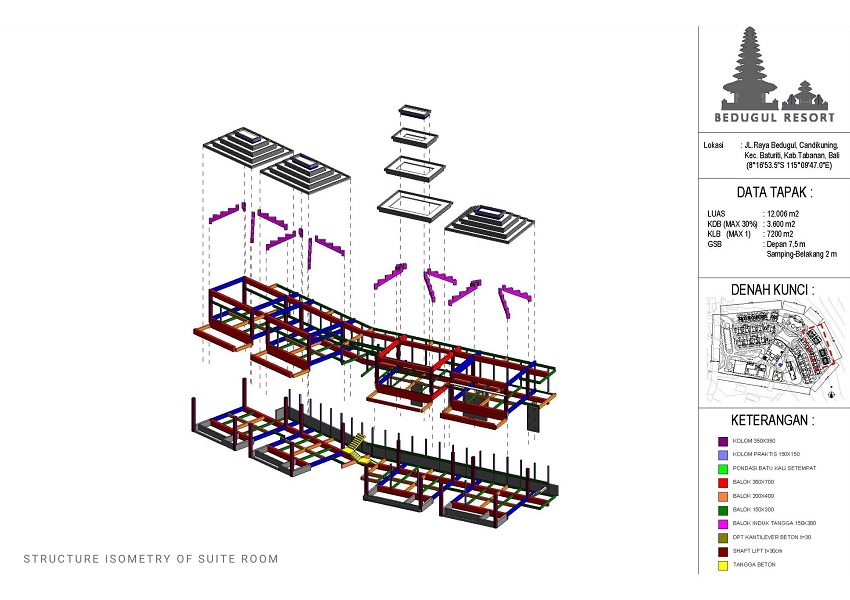 Which significant aspects of the global platform 'zerobeyond – the new frontier!' did you liked the most, and why?
I love architects' Interviews the most in 'zerobeyond – the new frontier!' It is really interesting to know more about their stories and perspectives that is really inspiring for me, so as to always keep on learning more, pursue my interests, and 'enjoy exploring diverse world of architecture' as Kim Hyo Man said in his interview.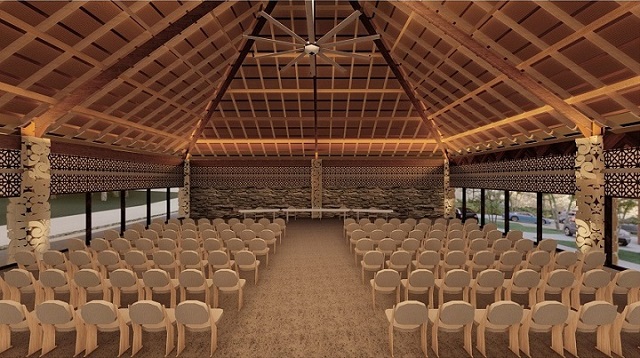 Local charm of cities has diminished due to Modern Architecture as every city looks alike and similar. How should architects / urban planners modernize cities, while maintaining the local charm intact?
In my opinion, every city must have certain characteristics. It can be from something old or new habits that are formed. Architects should consider edit when designing. The use of materials, construction techniques can be collaborated or referred to local charm.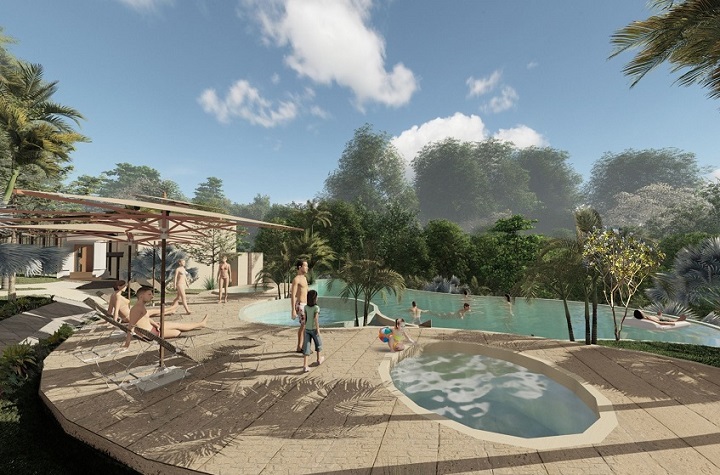 How would you differentiate Indonesian Architecture from the Western Architecture?
Indonesian and Western Architectures are completely different due to climatic differences. While Indonesia is exposed to the sun all year around, Western nations seek for sun. Indonesian architecture is known from the largest proportion of the roof for trapping heat space, breathable walls and houses on stilts, where the spaces below are usually used for livestock. These characteristics are used in various regions of Indonesia in different forms of each region in respect to use of materials, ornamental or motifs and how it is build refers to their cultural systems.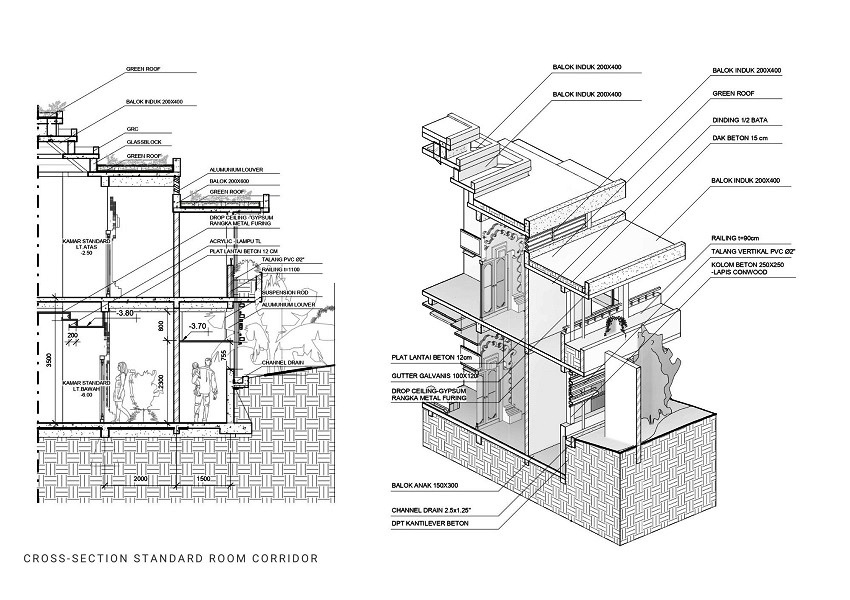 On the other hand, Western Architecture uses a lot of glass to maximize sun penetration, thick wall layer due to seasonal requirements, small space layout to minimize heating energy, etc-etc. However, Western Architecture is also adopted in Indonesia due to Dutch colonialism for the nobility. It makes perspective of Indonesian, who can afford to build houses in a European style, to show their status.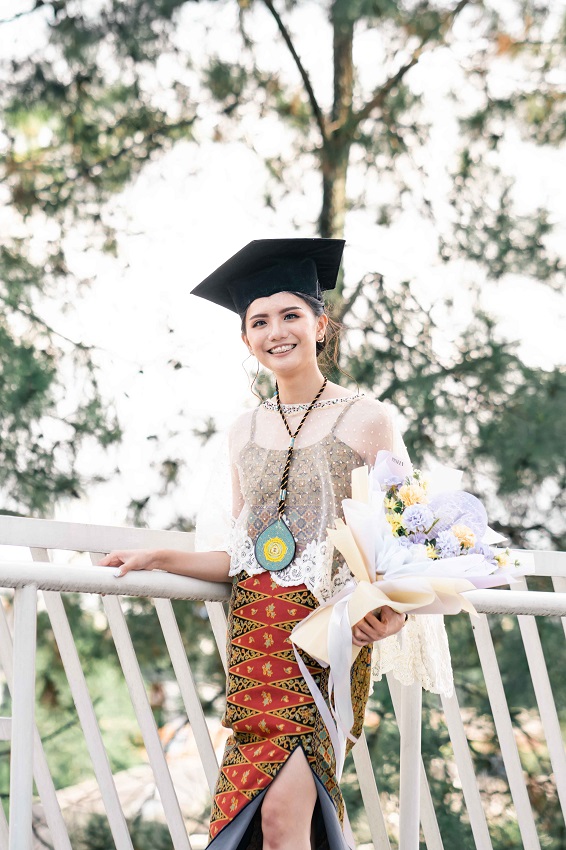 Image Courtesy: Eugenia Theoviliadea