"Earth will very soon become 'the watery grave' for all, period!" – Johnny D, Editor-in-Chief – www.zerobeyond.com, 7th August 2022
During my childhood, I was very fond of listening to my mother's tales about her motherland Indonesia. My mother hailed from Indonesia and had many interesting and some very frightening tales to tell. I remember, as an inquisitive kid, I used to ask various questions after her stories. Once she was telling me the frightening tales of severe floods. How the whole family frantically ran towards the nearby mountains to be on the safe side.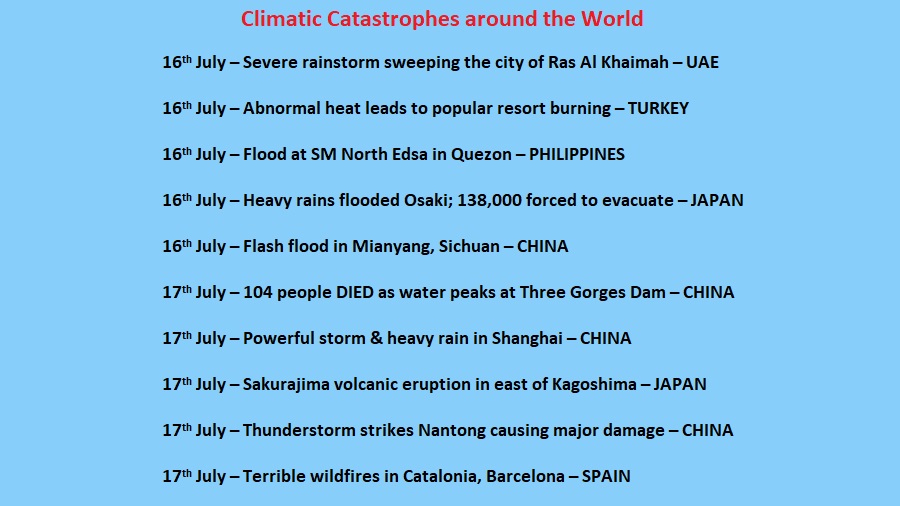 Now, when I recollect those frightening stories of survival of my mother, grandmother and their family – a shiver runs through my spine. I still remember very vividly I had asked her 'which among the three, namely, wind, fire and water, is the most dangerous?' As a kid, I presumed 'fire' as the most dangerous among the three. But, that night my mother explained that 'water' is the most dangerous among the three. She told me the story of the floods, now I know it must have been a Tsunami mother must have escaped from.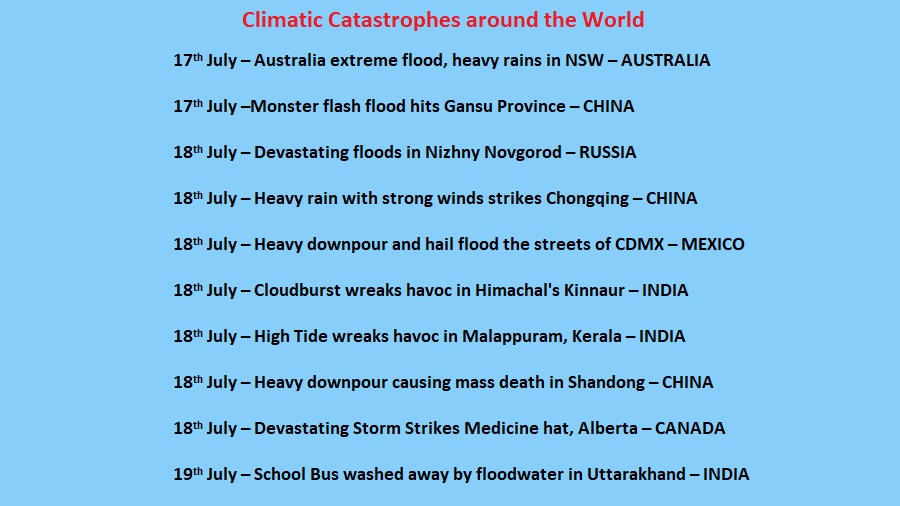 My mother had told me that when the water comes, it comes so suddenly that there is absolutely no time to run or even think. Water just gobbles everything on its path with so much power and speed that no one can really fight against its strength. We have all seen the catastrophic effects of Tsunami that engulfed India and Japan. During my research works, I have seen houses, cars, trucks, bikes and even fire engine washed away like paper boats on videos that is so frightening and sad for all the lives lost and properties damaged.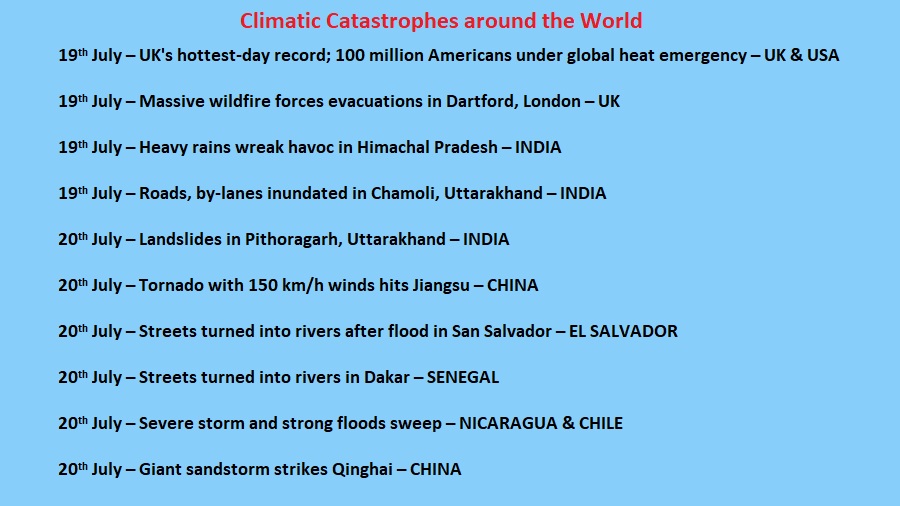 If the month of June 2022 was mild, July was devastating in massive proportion as nation after nations were inundated with severe floods, hailstorms, hurricanes, tornadoes and wildfires around the globe. Floods in China, Australia and India continue to keep destructing and taking lives one city after another with catastrophic effects. Millions of people displaced, properties worth billions of dollars lost and thousands of lives lost from June onwards. There is simply no stopping!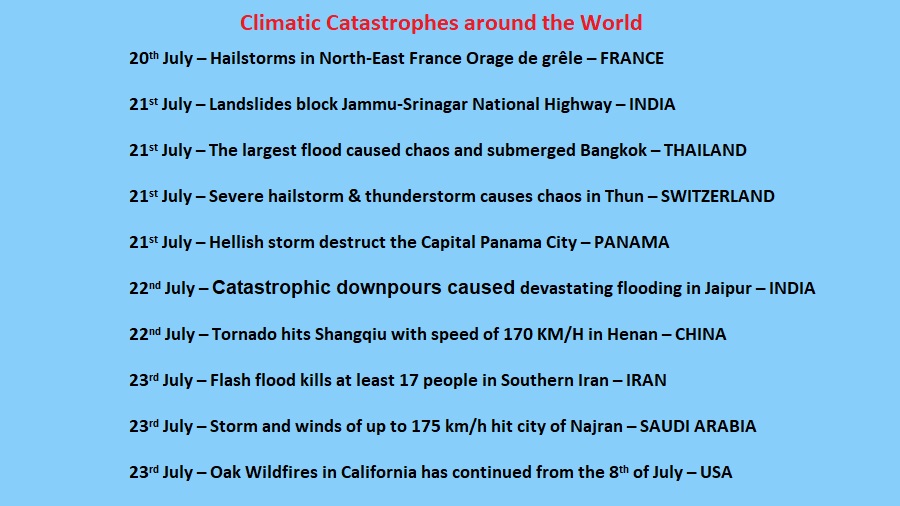 In just the second half of the month of July, 'Floods or Flash Floods' created havoc with ferocity in UAE, Philippines, Japan, China, Australia, Russia, Mexico, India, El Salvador, Senegal, Chile, Nicaragua, Thailand, Iran, USA, Austria, Qatar, Uganda, Oman and Pakistan. 'Record Temperatures' was experienced in UK, USA and many parts of Europe. 'Hurricanes, Thunderstorms, Cyclones' devastated people in China, Canada, Nicaragua, Chile, Panama, Saudi Arabia, Poland, Iran, Serbia and Kosovo.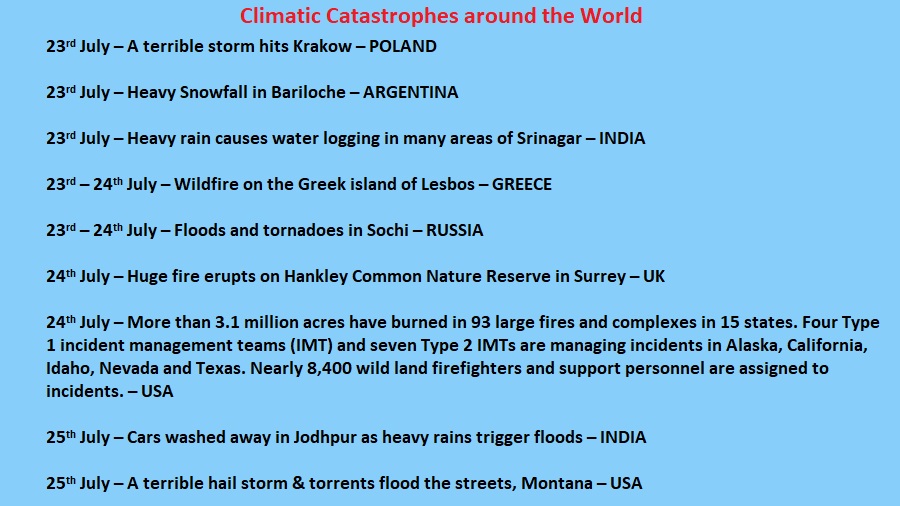 Unprecedented 'Hailstorms' were experienced with severity in parts of France, Switzerland, Italy, USA and Spain in the last 15 days of July 2022. Argentina experienced 'Out of Season Heavy Snowfall' out of the blue. 'Wildfires' continued to burn thousands of hectares of forests in Turkey, Spain, UK, USA and Greece engulfing many houses. Landslides were recorded in many parts of India, Austria and Iran. Japan saw volcanic eruption, while Luzon in Philippines had to face massive earthquakes.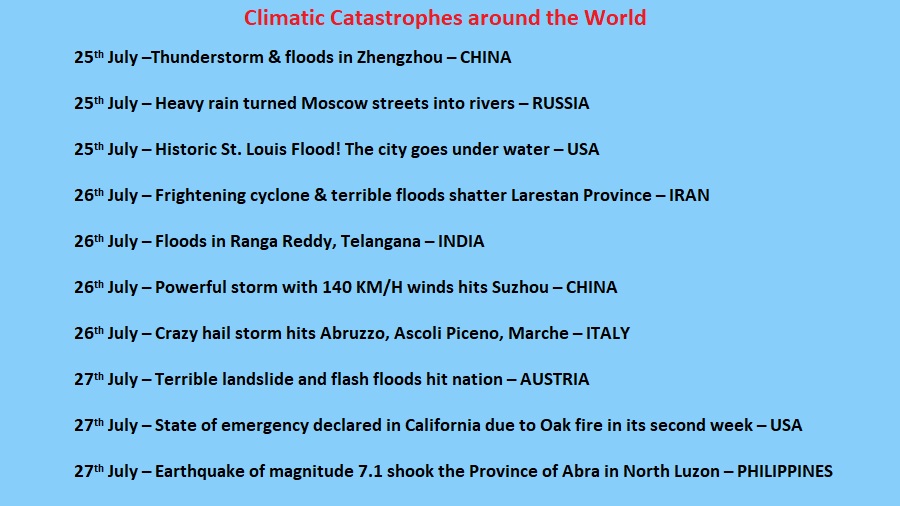 No nation in the world is safe anymore! There is certainly no escaping from 'Climatic Catastrophes' as you have seen almost most of the developed nations are paying the price of 'greed'. One young soon-to-be-architect from the southern State of Kerala shares her experience of 2018 floods during our interview.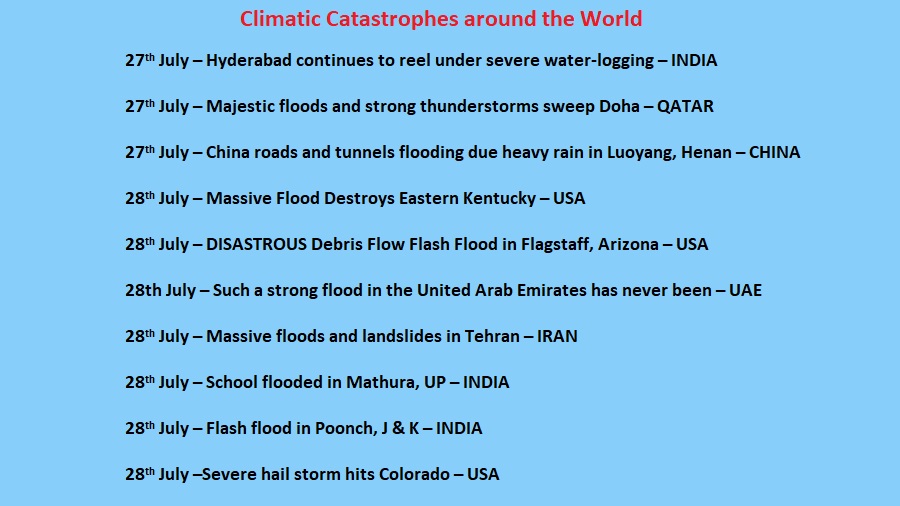 "As a native of Kerala, I have seen first-hand the effects of climate change – the loss of lives and property during the 2018 floods left me feeling helpless, prompting me to select a major in disaster mitigation and management as an elective in my 9th Semester. I learned how important it is to identify disaster risks and what steps we can take to lessen the effects of such disasters during the course.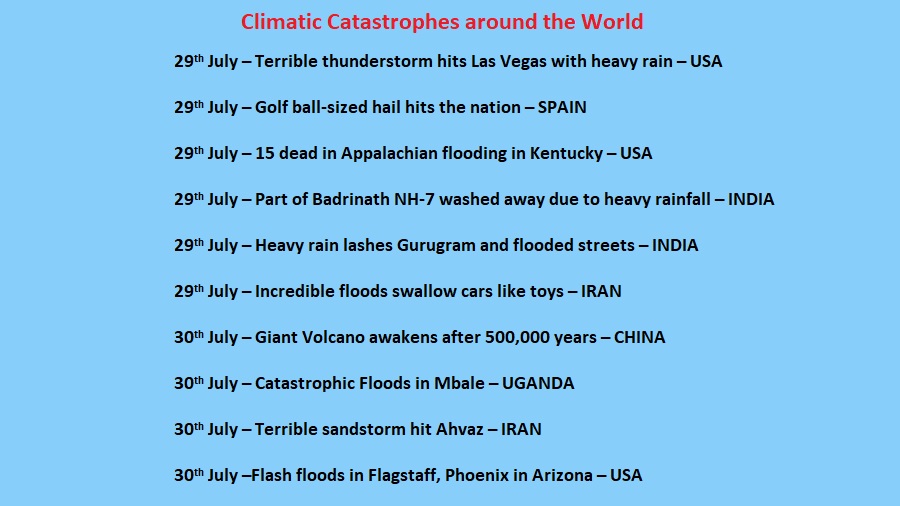 A strong well-distributed organizational framework is required to handle the various disasters that terrorize a country as big as India. At the grassroots' level, we, as designers can adhere to building codes and land use regulations to ensure that the new developments are proposed in a risk-free zones and existing structures are retrofitted to minimize greater losses.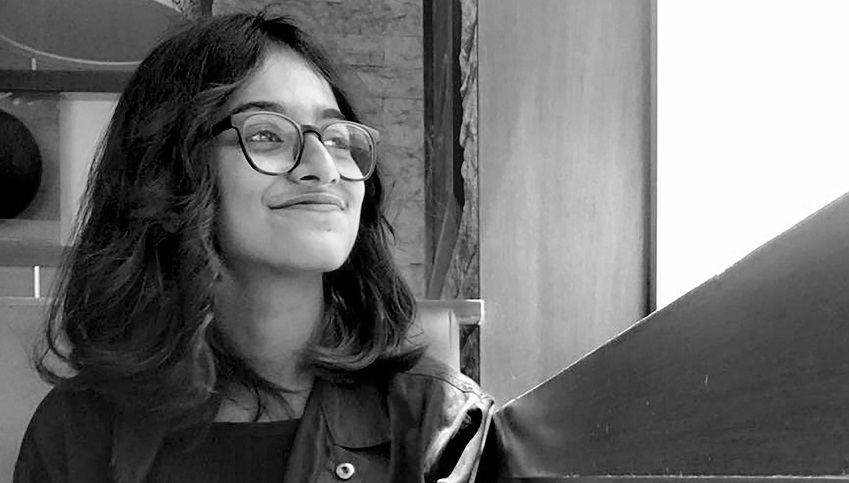 Simple actions like preventing construction in wetlands and regular de-silting of riverbeds to prevent floods, creating ecological buffers and green shore belts to break the high velocity cyclones and tsunamis, and practicing various retrofitting techniques are all steps we can take as a community." – Feby Susan Philip – Architecture Graduate @College of Architecture, Trivandrum, Kerala, India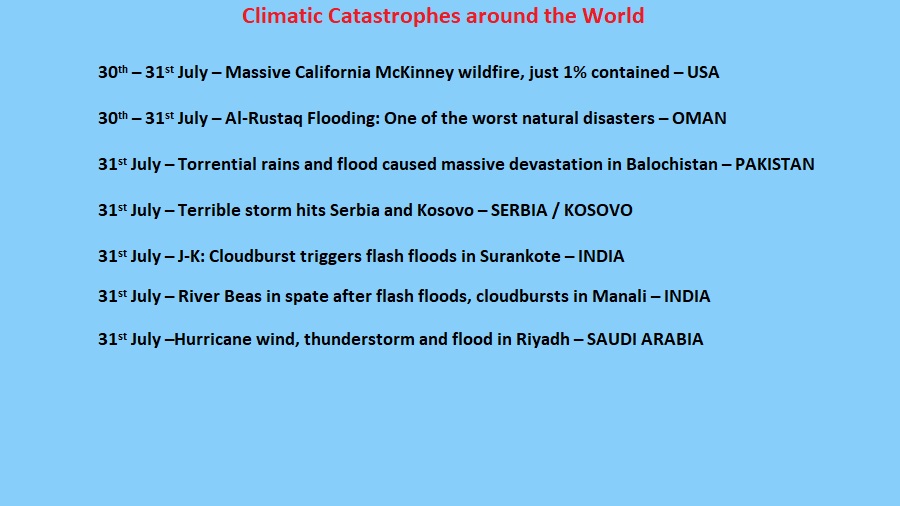 Another young architect from Bangalore rightly points out, "The impact of urbanization and intensive population density has led the world in the contrary direction. This is further leading to an unforeseen damage that we would be held responsible for by our future generations. The dreadful need for luxury is forcing humans to exploit the natural resources available to us. The cities are getting over-populated and rural open areas are getting urbanized as well. The constant greed shown by humans has impacted in the creation of heat islands globally. This is further contributing to the frightful occurrence of global warming.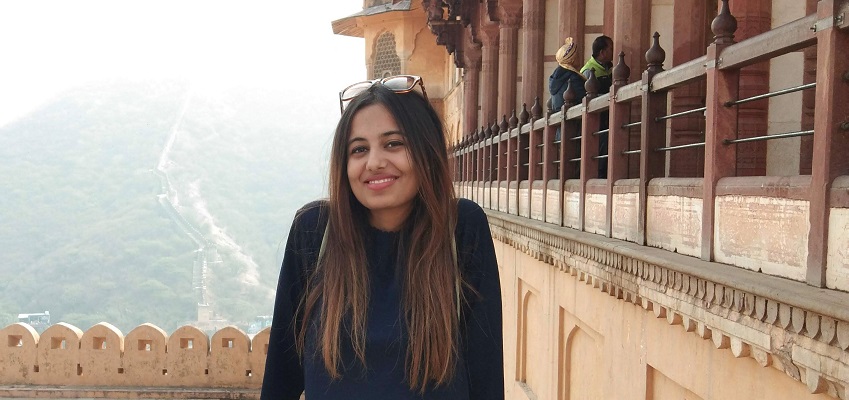 In order to preserve the survival rate in the years down the lane, we are at a crucial 'do-or-die stage' that requires immediate action. This can be simply done by being aware of our needs and greed and finding an alternative switch for the same. When it comes to the construction industry, sustainable materials are definitely the future! Hence, we must invest time on efficient research right from this very moment, so as to replace our usage of elements that harm the Earth." – Priyanka Shingrani – Intern @Khosla Associates, Bangalore, Karnataka, India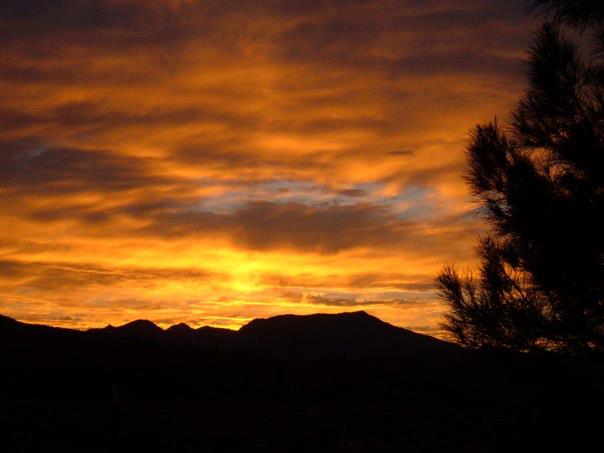 Whenever I look at joyous toddlers being playful with their parents, I really feel pity and sorry for their near future. One question always haunts me, 'How will they survive with every day climatic catastrophes getting severe and massive day by day?' Architects of the World – please demand and request your respective State Leaders, Policy Makers, Urban Planners and Incorporations to put a stop to their greed and act, act immediately to save our Planet Earth for the safe future of the toddlers, who have just come into this world!
To be continued….
Feature Photo: Gabriella Napolitano