Slava Ukraini! In the last one and half plus years, the world has marveled at the indomitable spirits of the Ukrainians. Countries opened their arms to welcome the Ukrainians – women and children in their homes and nations due to the unwanted invasion. One such brave and creative Ukrainian architect Valeriia Zavhorodnieva had to leave her home to find heartwarming hospitality in Ireland. Valeriia Zavhorodnieva reveals, "I had to seek refuge in Ireland, due to the war. I wish to express my deep gratitude to the wonderful people of Ireland for embracing me, during this challenging time (sighs)." In its editorial, 'zerobeyond – the new frontier!' proscribe war(s) of every kind in the world.
Valeriia Zavhorodnieva adds further, "I had never imagined that millions like me would have to leave their beloved home Ukraine like this. It is still hard to believe! Determined to face the new challenges that life has brought my way, the course of my life has taken a dramatic turn, leading me to a path filled with both obstacles and opportunities. Ireland has welcomed me with its stunning landscapes, mystical castles and a rich cultural heritage. I consider myself fortunate to have the chance to bring my architectural visions to life in this beautiful country (smiles)."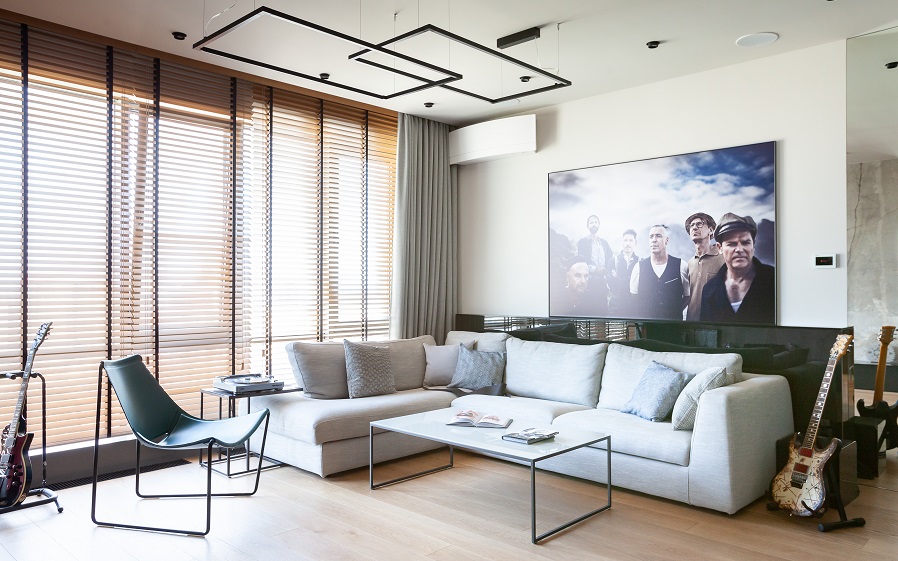 Living Room
Valeriia Zavhorodnieva completed her High School from the renowned leading institution for visual arts in Ukraine – State Art High School, named after Taras Shevchenko. A bright and talented Valeriia got through two reputed institutions – the National Academy of Fine Arts and Architecture, and Kyiv National University of Construction and Architecture. In dilemma, she followed her heart to join the National Academy of Fine Arts and Architecture. Having completed her 6-year degree course in the year 2000, Valeriia freelanced as an Interior Designer for 6 years. In the year 2006, she established her own studio Futurum-Fractal.
Valeriia Zavhorodnieva comes across a very warm and passionate soul, whose love for architecture and interior designing is truly infectious. I have really learned a great deal while interacting with Valeriia Zavhorodnieva. In this exclusive interview, she shares her life's journey with Johnny D and her project 'Kyiv Apartment' – the last project Valeriia completed before leaving her beautiful home and nation.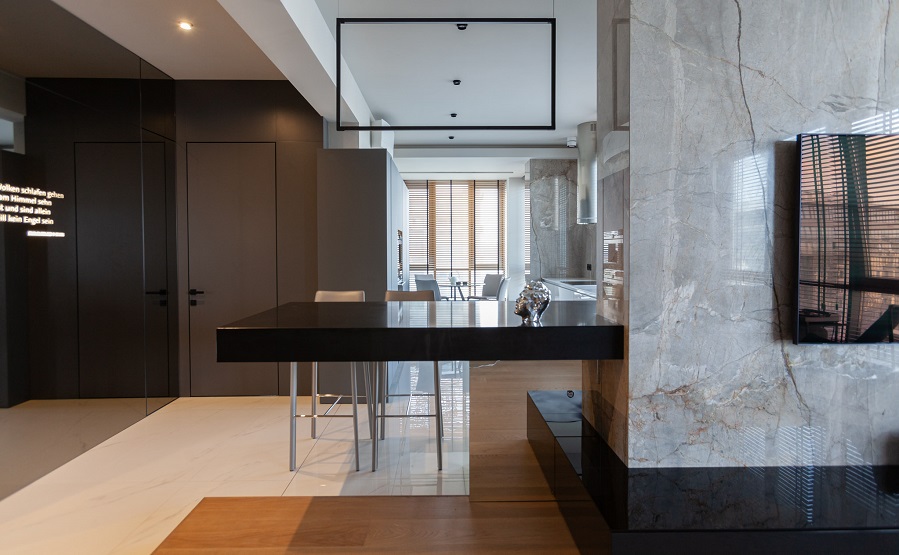 Impressive Perfection
What was your childhood ambition? Did you always wanted to be an architect/interior designer?
My father was an air force pilot. My childhood revolved around aerodrome. Amidst airplanes, I discovered the grandeur and enchantment of aerodynamics during my growing up years. The aesthetics of every curve, every contour became a source of fascination and inspiration for me. I simply could not tear myself away from their magnificent forms and aesthetics. I was totally immersed in my own world with aircrafts. Interestingly, my childhood games revolved around construction and building (smiles) with friends. However, my fascination for designing tensioned fabric structures laid the foundation early in life.
Back then, I never really thought of becoming an architect. I was surrounded with people from the air force. Later in life, I had planned to study painting and moved to Kyiv. As destined, I ended up at the architectural faculty and I just loved it! Now, I am delighted to have the opportunity to bring my ideas to life by creating minimalist interiors that my clients love.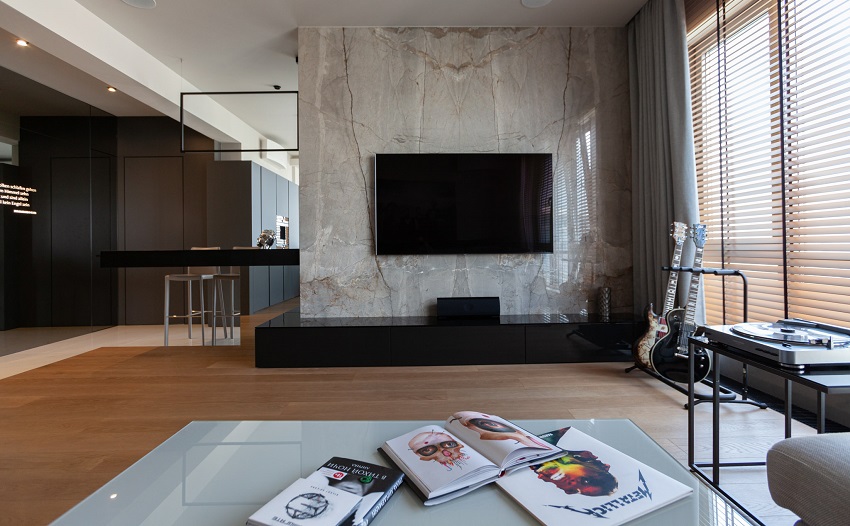 Spacious Interiors
What are the projects you are currently working on in Dublin?
Currently, I am in Dublin, preparing to validate my education in Ireland. Before the onset of the war, my team and I were engaged in designing a bookshop with a unique café. Our mission was to create a cozy atmosphere for book enthusiasts, where every visitor could enjoy not only books but also a pleasant ambiance.
We sincerely appreciate our client's support and trust; even amidst the conflict, we managed to successfully complete this design project. The project has entered the next phase. Our client has begun bringing the concept to life. We are witnessing our creative vision becoming a reality. We take great pride in contributing our share of beauty and aesthetics during such challenging times for our nation.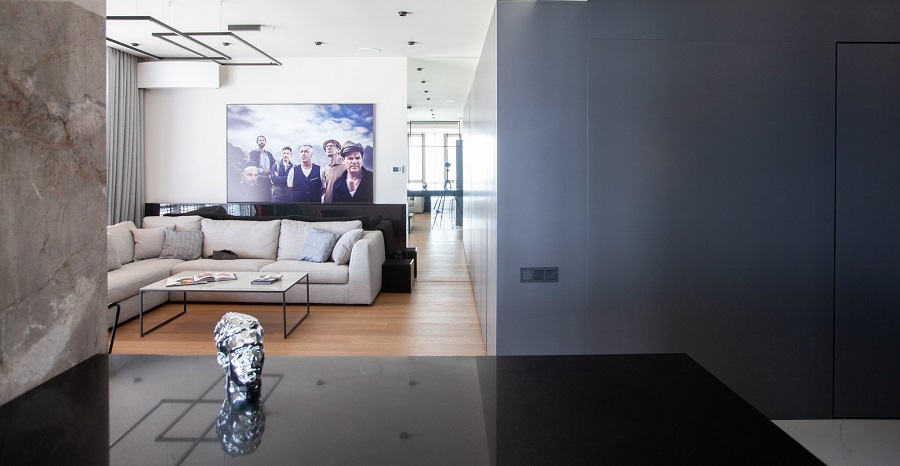 Rockstar's Memorabilia
What really goes in your mind, when the client states the first brief?
My first step always involves an on-site visit after the client's brief. I strive to immerse myself in the surrounding environment, where the design is intended to take place. It is crucial for me to create not only volumes, but also an atmosphere that can be translated into the space, so that the users can feel to experience a special aura. Then, I analyze the client's brief along with my impressions, trying to envision the project through the eyes of the client and future users. Finding a balance between functionality and aesthetics is vital, as these aspects intertwine in all of my projects.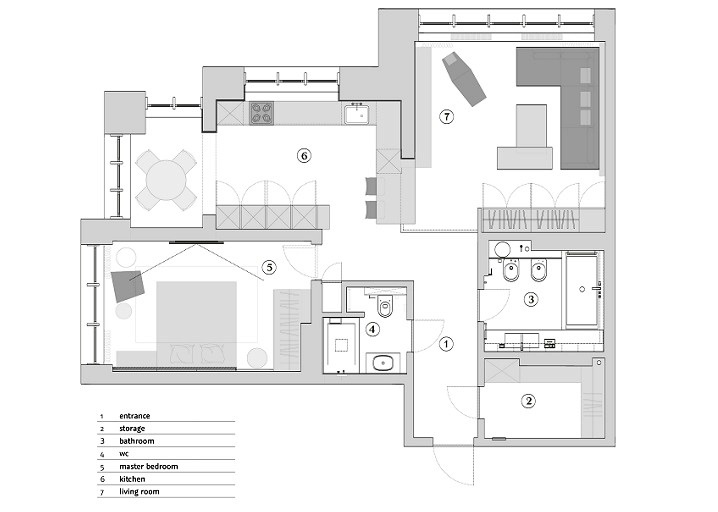 Layout Plan
What was the brief of the 'Kyiv Apartment' project?
The 'Kyiv Apartment' project was completed just before the war. It involved interior designing of a small apartment with a captivating view of the Dnipro River in Kyiv. The primary goal was to create a comfortable space for a true Rock n' Roll with a limited budget and aligning with the aesthetics and needs of a young individual. The client was deeply immersed in the spirit of rock music. He had an extensive collection dedicated to Till Lindemann's artistry – Autographed books, custom-made guitars, figurines, disc-shaped clocks, vinyl records, guitar picks, and many other items became marvelous decorative elements that brought the space to life with the soul of rock music. With close collaboration with the client, we carefully selected the finest elements to create an ideal space that resonated with his unique style and passion for rock music.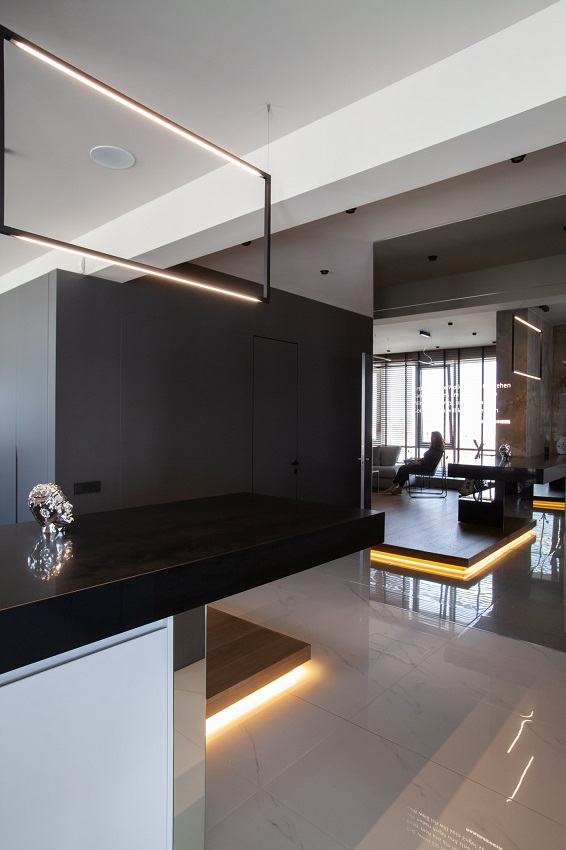 Design to Impress
What were the major challenges to execute the project on the real grounds?
Executing the project presented several significant challenges. Placing the kitchen near the guestroom was the initial plan. However, we made the decision to relocate the kitchen to another part of the apartment. This resulted in raising the floor level in the guest room. Though challenging, this decision added a distinct multi-level accent to the interior, visually dividing the spaces of the kitchen and the guest room. The bar-counter design with robust metal structures laid with stone with prominent protrusion created a floating effect, adding a captivating allure to the space.
The use of natural marble for wall cladding contributed significantly to creating a unique atmosphere. The kitchen area gracefully transitions into the guest room, adorned with solid marble slabs resulted in a stunning effect. Moving the marble slabs to the 25th floor apartment was very challenging. The artistic touch was achieved by decorative lighting in the form of text on a graphite mirror. It features a lyrical excerpt from a song by the band 'Rammstein' in the German language. The 'Kyiv Apartment' project was honoured with the 'INTERIUM 2021 Award' at the Interior Design Competition.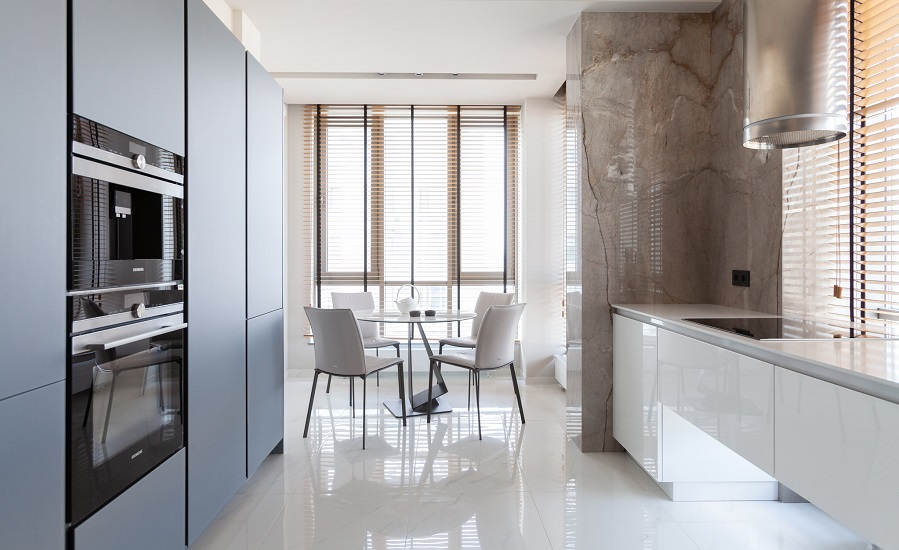 Kitchen and Dining
How did your team overcome them creatively?
Our team displayed high levels of creativity and collaboration. Aligning all the companies involved and ensuring the seamless execution of their tasks was thoroughly discussed with each team. We developed detailed plans and took into account every aspect of the project. Additionally, we had to organize a technical cabinet for access to the technical aspects of the project and skillfully conceal it. Dealing with a three-meter mirror delivery at such a height presented unique challenges, but our team successfully handled it with great finesse. The award was a testament to our team's dedication to innovation and a creative approach to execute unique and exceptional spaces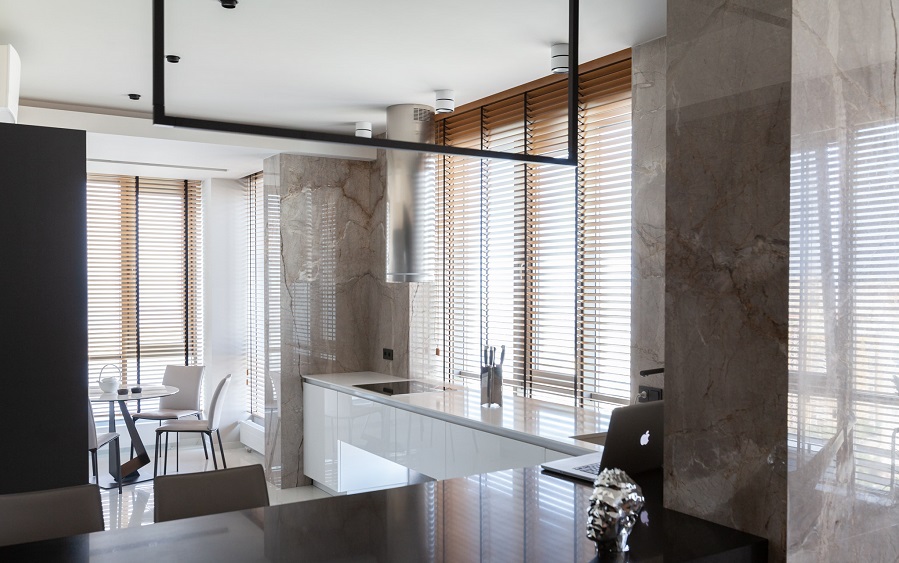 Ample of Natural Light in Kitchen
How would you describe the 'Significance and Elegance' of the 'Kyiv Apartment' project?
I believe that with the 'Kyiv Apartment' project, we successfully captured an atmosphere that corresponds to the requirements and aesthetics of the youth. In many minimalist details and color palette, you can see shades of German restraint and the ambiance of the Rammstein ensemble. Our team and clients were completely satisfied with the development of the design concept. The minimalistic details and color choices reflect the German restraint and character of the Rammstein ensemble, adding a special charm to the project. The project effectively conveys the aesthetics and ambiance that cater to the needs and preferences of the young rock star.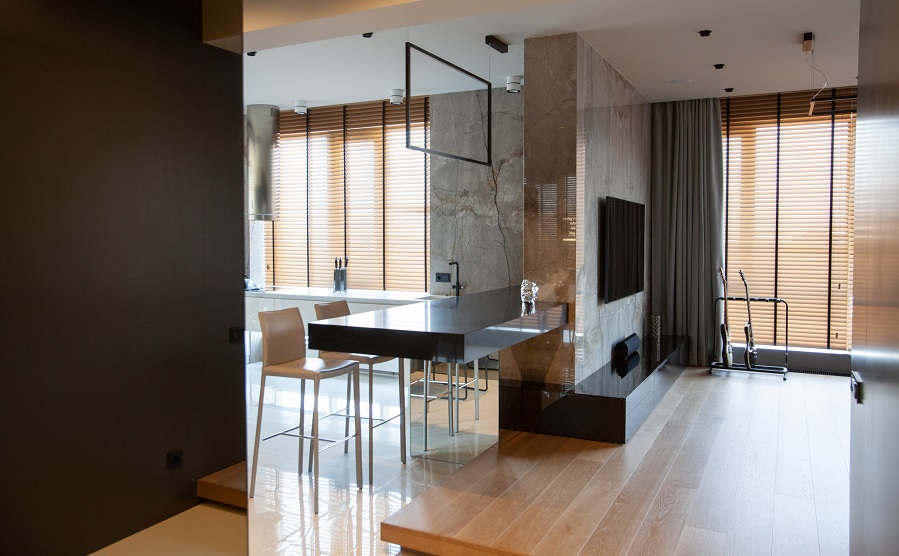 Solid Granite Bar Counter
Please mention 5 major 'Sustainability' features you incorporated in the project.
Unfortunately, my small project did not allow for such sustainability and eco-friendly solutions. Every project has unique limitations and opportunities, so approaches to sustainability may vary based on specific conditions and clients' objectives.
What is the total area of the project, estimated cost, and design-to-finish time period of the project?
The apartment's total area is approximately 85 sq. m. Our team was involved in the design and construction process for about a year. The project's cost is confidential on client's request.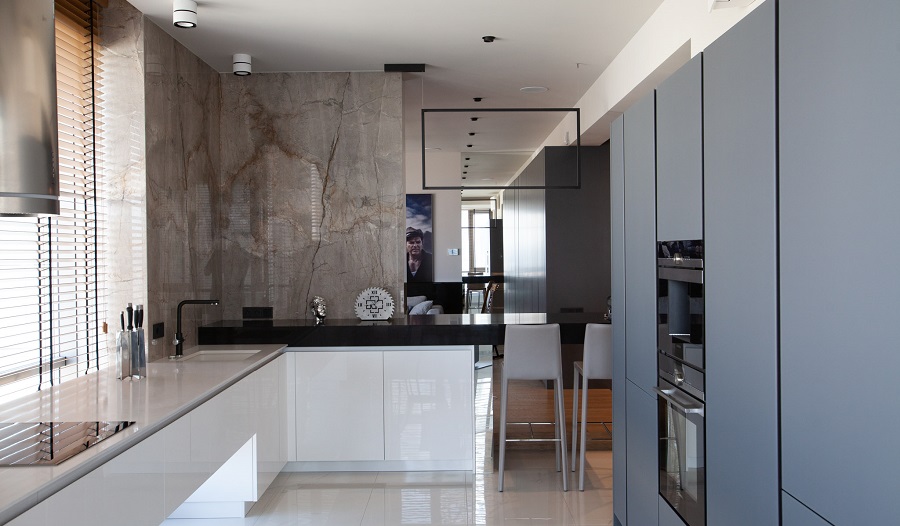 Spic and Span Kitchen
How do you see urban planning and architecture in cities changing to overcome climate catastrophes?
Speaking of the concept of sustainable and future-oriented urban environments, more radical ideas by Buckminster Fuller come to mind. "Cloud Nine" is a concept of floating, self-sustaining cities hovering above the water surface. These cities were envisioned to be environmentally sustainable, utilizing advanced technologies for efficient resource usage and reducing negative impact on the environment. I find this idea appealing due to its uniqueness and boldness. Fuller saw it as a crucial step in urban planning and overcoming challenges related to the climate crisis. Such flexible cities, capable of adapting to changing conditions, would enable them to tackle climate challenges, including potential flooding.
In connection with the concept of sustainable urban development, it is also essential to consider the ideas and projects of Jacques Fresco with his resource-based economic model and rational resource utilization. He advocates focusing on creating sustainable and balanced resource usage for urban development. By combining Fuller's concepts with Fresco's ideas, a harmonious urban environment can be created, promoting sustainable development and ensuring rational and efficient resource usage for future generations.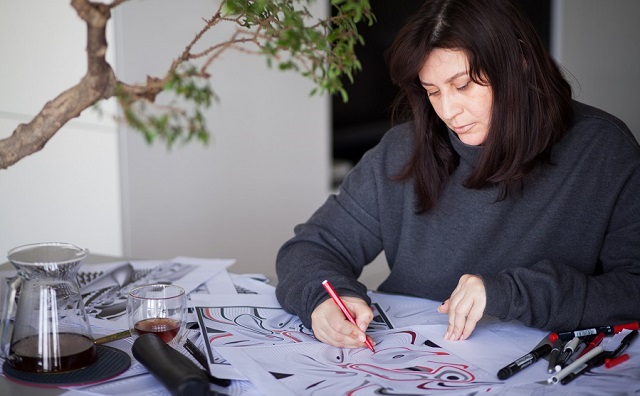 Valeriia Zavhorodnieva in Concentration Mode
If you are given the responsibility to rectify Urban Planning of an existing city to overcome floods due to Climate Crisis, what major steps would you take to implement in your planning design to make cities flood-proof?
To rectify urban planning and make cities flood-proof in the face of the climate crisis, the following major steps, using the latest scientific advancements, can be taken in the planning and design:
Green Infrastructure: Implementing green corridors, parks, vegetation barriers and natural water bodies to enhance water absorption, and reduce flood risks.
Sustainable Drainage Systems: Utilizing modern technologies to develop efficient drainage systems capable of swiftly diverting water away from urban areas.
Raised Architecture: Reevaluating building heights and adopting raised architecture to minimize the risk of water infiltration into structures.
Water Awareness Campaigns: Conducting informative campaigns to educate the population on responsible water usage, aiming to reduce the environmental impact.
Permeable Pavements: Introducing permeable pavements on roads and sidewalks to reduce surface water runoff and promote soil absorption.
Artificial Basins: Constructing and adapting artificial basins capable of retaining and controlling large water volumes during floods.
Flood Modeling: Employing advanced flood modeling methods for preliminary assessments and planning protective measures.
Expert Collaboration and Communication: Involving experts from diverse fields to develop a comprehensive approach to flood management and actively engaging with the community to raise awareness and gain support.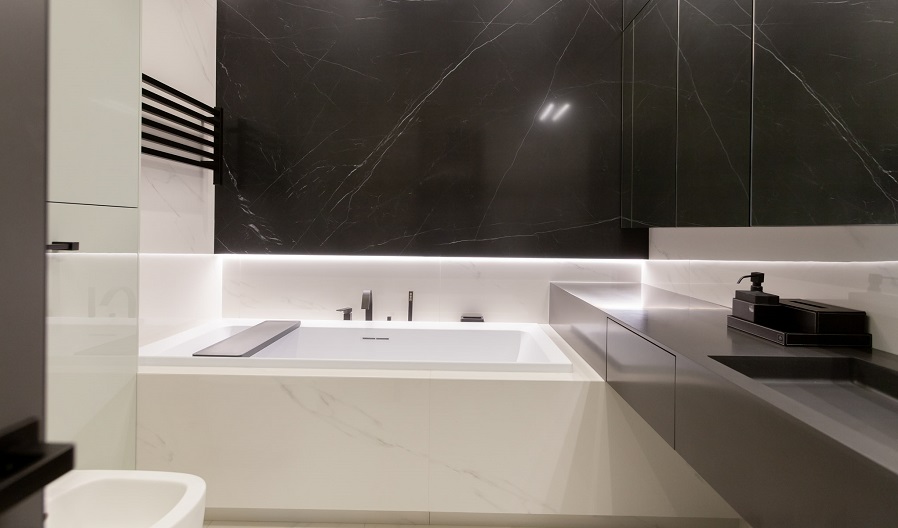 Luxe Bath
Post-war, how do you see Ukrainian architecture shaping the nation in its full glory once again?
The post-war period will be a time of rebuilding and transformation. I have no doubts that Ukrainian architecture will once again flourish in all its glory! The desire to create and build after a war is going to be stronger. History shows that cities always recover and transform as culture develops post-war. Ukrainian culture will play a key role in creating an even much stronger nation. Even before the war, Ukrainian architects have always sought to create the best designs and aesthetics.
In such difficult times like today, when cities are facing destruction, architects are developing new plans and projects. People refuse to accept the destruction and are creating their future through these projects. Our bookstore project is currently being realized. We are grateful for the opportunity to bring it to life, even in this challenging time. We believe that such projects can bring hope and restoration to post-war Ukraine.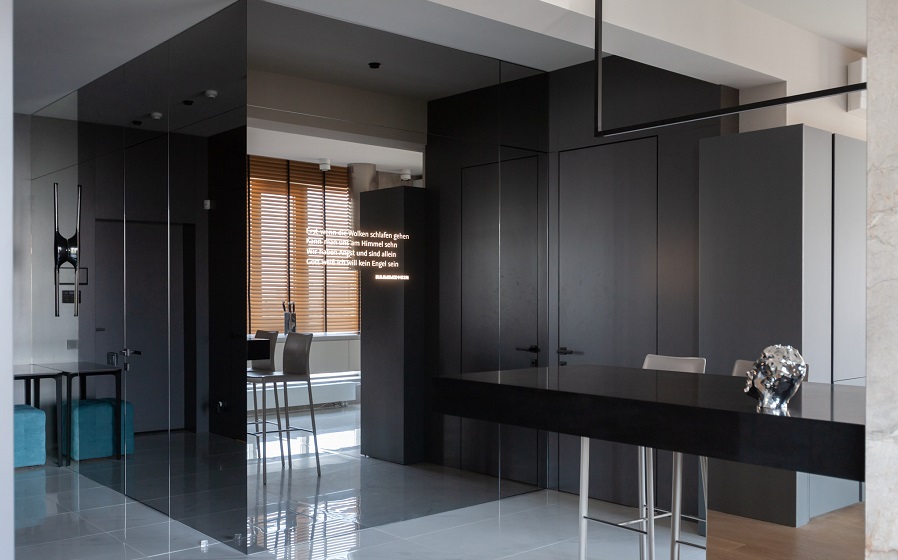 Design-to-Conceal
Which significant aspects of the global platform 'zerobeyond — the new frontier!' did you like the most, and why?
The global platform 'zerobeyond – the new frontier!' has several positive aspects that I particularly like:
Inspiration: Interviews with successful designers and architects can be inspiring to others, showcasing their creative achievements and experiences, motivating readers to pursue their own goals.
Diverse Content: The website offers a variety of content, including interviews, articles and photo features, thereby ensuring an engaging experience for global readers and visitors.
Connection with Authors: The platform allows for commenting and exchanging thoughts with content creators, fostering an active community and encouraging interaction among participants.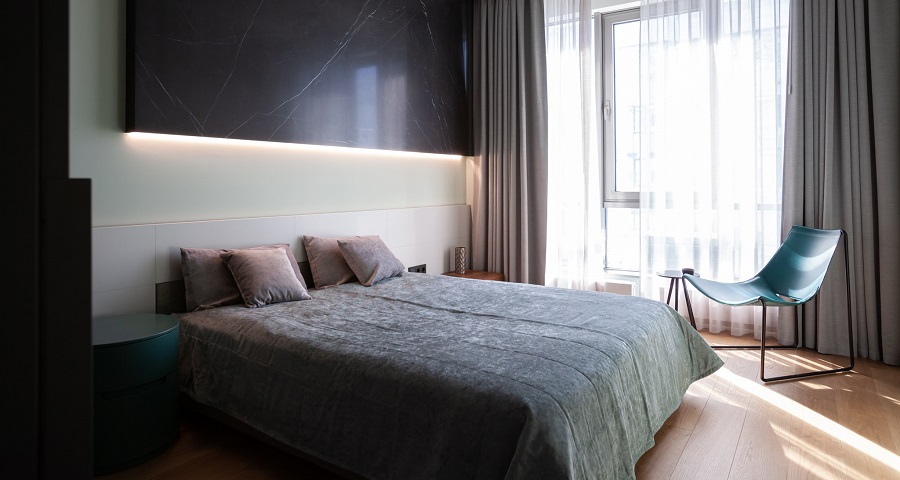 Comfort in Simplicity – Master Bedroom
How would you describe Valeriia Zavhorodnieva as a leader and a person?
My clients always express love and gratitude for my design creations. The highest praise for my work is that my clients say 'they cannot get rid of their guests, because I have created such comfortable spaces. The guests do not wish to leave after experiencing such cozy ambience. I always enjoy the process of creating unique spaces for people that make their lives more comfortable and inviting. It is a kind of special magic!
I believe, my profession allows me to make the world a better place. No matter how challenging the tasks are before me, I always find optimal solutions that lead to the best outcome for my clients and users. My dedication and passion for design inspires me to come up with new creative solutions and further excel in my profession.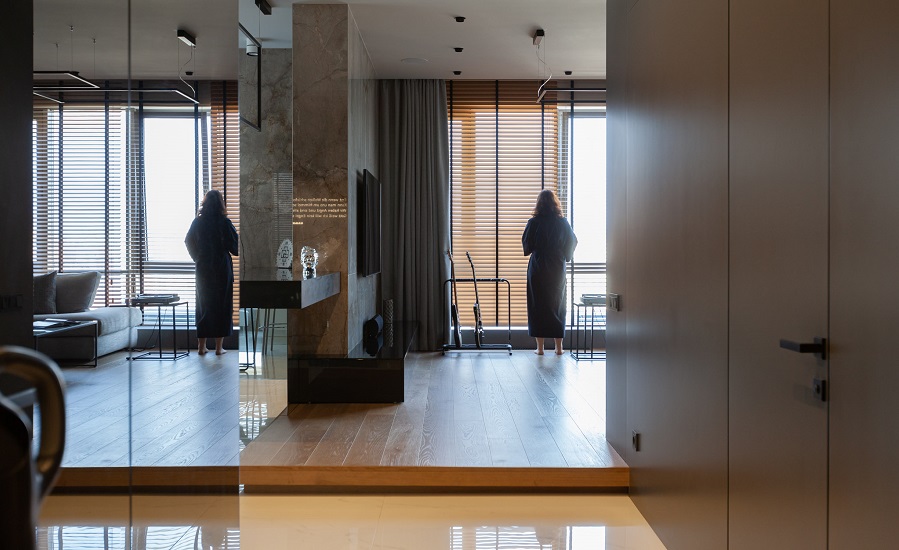 Mirror adds Depth to Interior Space
AI in Architecture – is it 'the' shortcut to creativity or a boon to architecture?
I have always been fascinated by new technologies. Since childhood, I wondered why there was not a small TV on our wrists, when computer capabilities were far from making it possible. My fascination with technology always drove me to explore the latest programs that helped bring my ideas to life. In my projects, I actively utilize parametric design by using software like Rhino and Grasshopper.
I am also deeply intrigued by mathematical aesthetics and continuously explore the possibilities of artificial intelligence. I believe that AI is a valuable tool in architecture, especially when it comes to calculations and creating unique elements. However, I am convinced that we should not entirely rely on it. Your uniqueness as a creator will always be with you, especially if you constantly refine your skills. AI can be a helpful assistant, but it can never replace the creative vision and personal touch of an architect, at least not in the near future.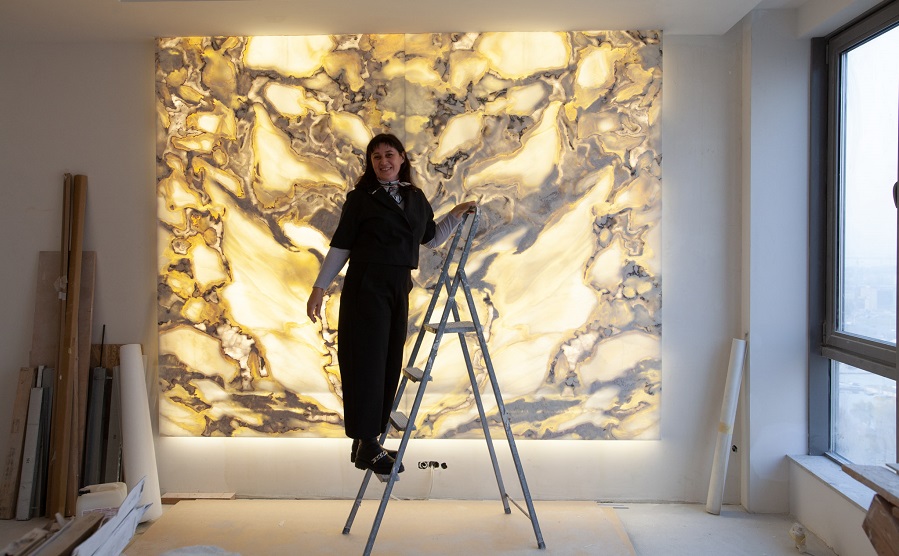 Design and the Designer
Please state recent awards' win by your Studio.
– 2021 INTERIUM Award;
– 2019 International Furniture Forum Award;
– 2016 Interior of the Year Award; and
– 2014 Interior of the Year Award.
Image Courtesy: Futurum-Fractal