Around the world, renowned architectural firms always have an interesting backgrounds to become a force of reckon in the present times. Sweco – Swedish Consultants, formed in the year 1997 too has an interesting historical background dating back to 1958. In the year 1958, FFNS – Falck/Fogelvik/Nordström/Smas AB was established by four architects. In the year 1997, VBB Group – Vattenbyggnadsbyrån AB acquired FFNS and thus Sweco was formed for international projects. From 1958 to its present times, Sweco has become a leading international architecture firm with more than 18,500 experts within architecture, engineering and environmental services working from multiple offices and studios around the globe.
Sweco Architects operates from seven studios, namely, Stockholm in Sweden, Kobenhavn S in Denmark, Berlin in Germany, Helsinki in Finland, Oslo in Norway, Poland and the Netherlands. Sweco Architects' Sweden branch is led by renowned and accomplished architect Ulla Bergström. She is the Division Director, Architecture of Sweden branch overseeing the whole regions. Her expertise and leadership lies in promoting sustainable practice in complex projects, while leveraging digital tools to streamline architectural processes. Ulla Bergström is a prominent figure in the field of urban development in Sweden. She is currently a Board Member of Nordisk Byggdag since October 2016 and Stena Fastigheter since August 2019. She was also a Board Member of Innovationsföretagen from October 2013 to October 2020.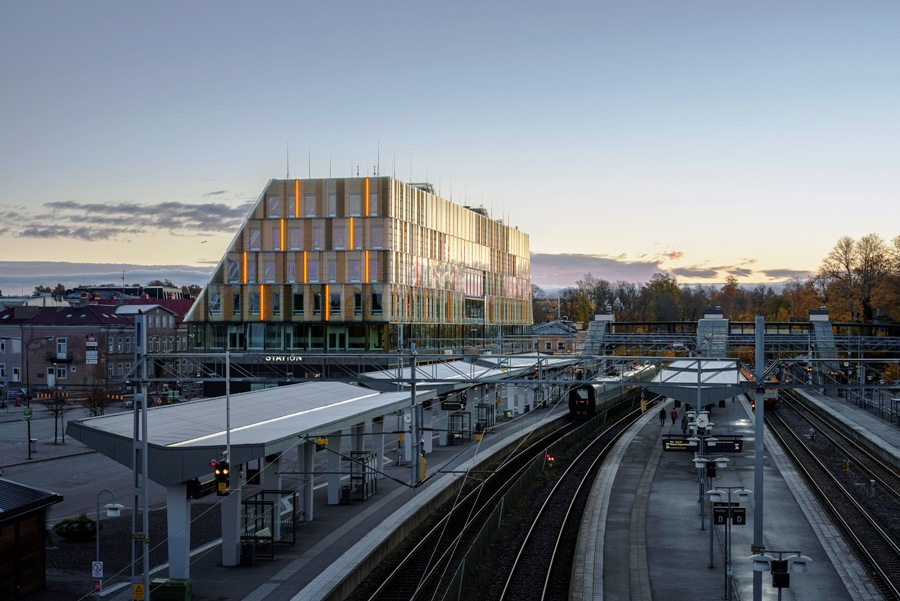 Scintillating View from one of the Railway Bridges, Looking East
In the year 1994, Ulla Bergström graduated with Masters in Architecture degree from KTH Royal Institute of Technology, Sweden's largest technical university. Interestingly, soon after her Masters Ulla joined FFNS in October 1994. A year later in 1995, she joined White Arkitekter and worked for 25 plus years. In December 2020, she joined Sweco Architects. A year later in 2021, she was promoted to lead Sweco Architects' Sweden branch as Designschef / Division Director, Architecture.
Johnny D interacts with Ulla Bergström at great length to explore her illustrious career, meticulous skills and magnificent leadership in executing 'Växjö Station and Town Hall' project, one of the largest wooden buildings in Sweden with such a complex mix of uses.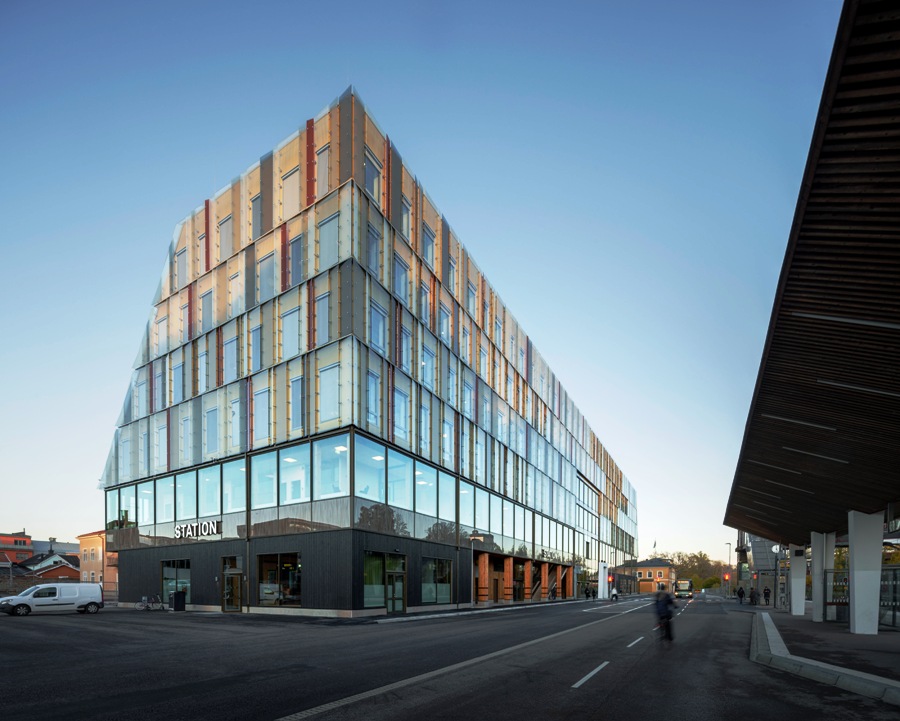 Wooden Masterpiece
What was your childhood ambition? Did you always wanted to be an architect?
During my childhood, I discovered great pleasure in drawing. I closely studied things and people, creating my own world with my pencil. When I was seven, two new boys moved into my neighborhood. We soon became best friends (smiles). Their home had a unique interior style, different from what I was used to. I vividly remember the first time I saw their father's magnificent drawing table, filled with all kinds of pencils. He was an architect and the first person to introduce me to the idea that drawing ideas and dreams could be a profession. That defining moment made me realize that I wanted to become an architect like him.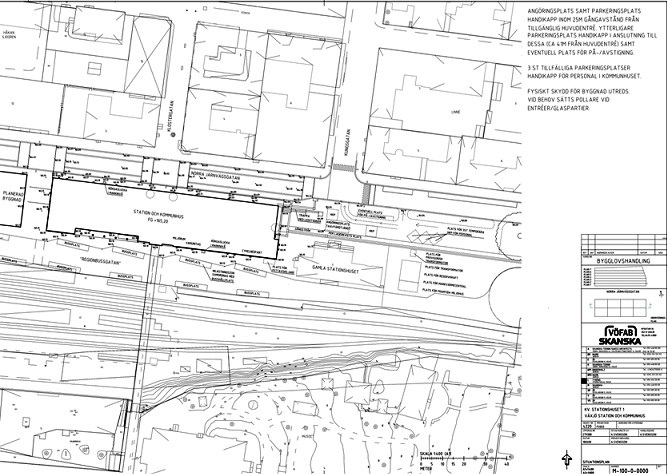 Site Plan
Before Sweco Architects, you worked for 25 plus years with White Arkitekter. One project that you led is close to your heart – Please state the reasons.
The concept of architectural formation is central to my approach. I work across all scales – from interior to façade, to understand and create the desired experience. Since architecture is a complex process that involves various competencies, I believe that having a shared vision and engagement is crucial to achieving the right goals in a project.
What role do you perform as the Division Director, Architecture at Sweco Architects?
As the Division Director, my role is to ensure that architects contribute their expertise to the early stages of planning sustainable societies. In today's world, collaboration and learning from different perspectives are more important than ever to find innovative ideas with a global impact. I joined Sweco Architects, because I firmly believe that we can achieve greater things by working together across different disciplines. Sweco is Europe's leading architecture and engineering consultancy, and I see how architects play a significant role in translating the complexities of building sustainable societies into tangible experiences through visualizations and models.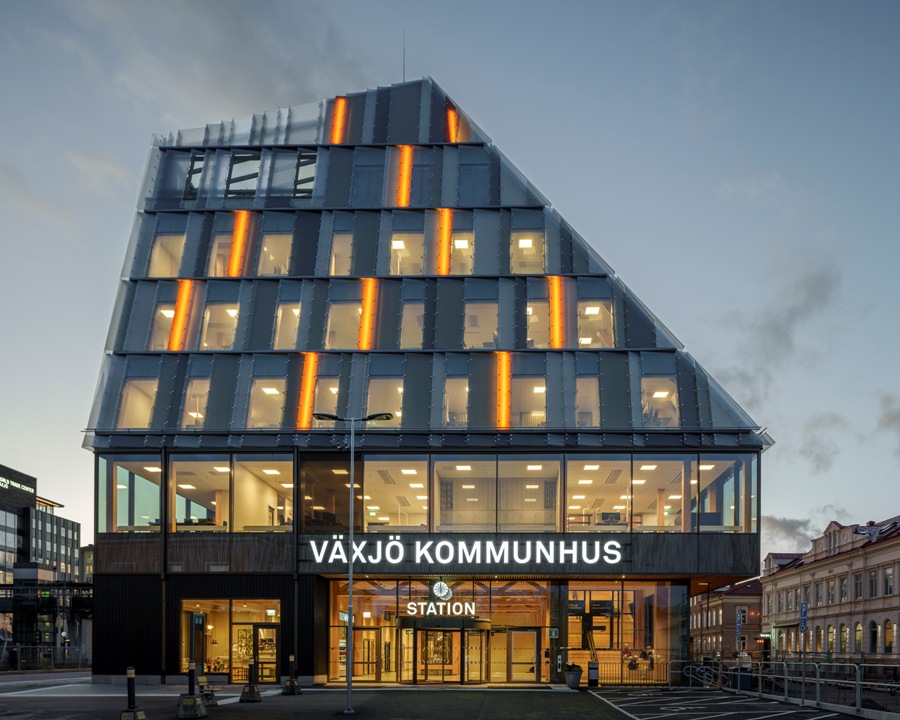 Illuminated Beauty
What are the various projects Sweco Architects is busy with in various cities and countries under your leadership?
We are focusing on contributing to the UN agenda and achieving climate neutrality by 2030. Urban planning is an area where we excel and we are expanding our scope to encompass entire cities to make a real impact. The establishment of green industries in northern Sweden is another hot topic for us. We are involved in planning industrial establishments like the wooden industry building 'EcoHelix', as well as developing new infrastructure and sustainable transportation.
Additionally, we are a major global player in exporting Scandinavian knowledge through the 'SymbioCity' initiative. The 'SymbioCity Approach' is a conceptual framework developed to address urban environmental challenges by promoting a people-centered, inclusive approach based on practical experiences and best practices from Swedish local governments.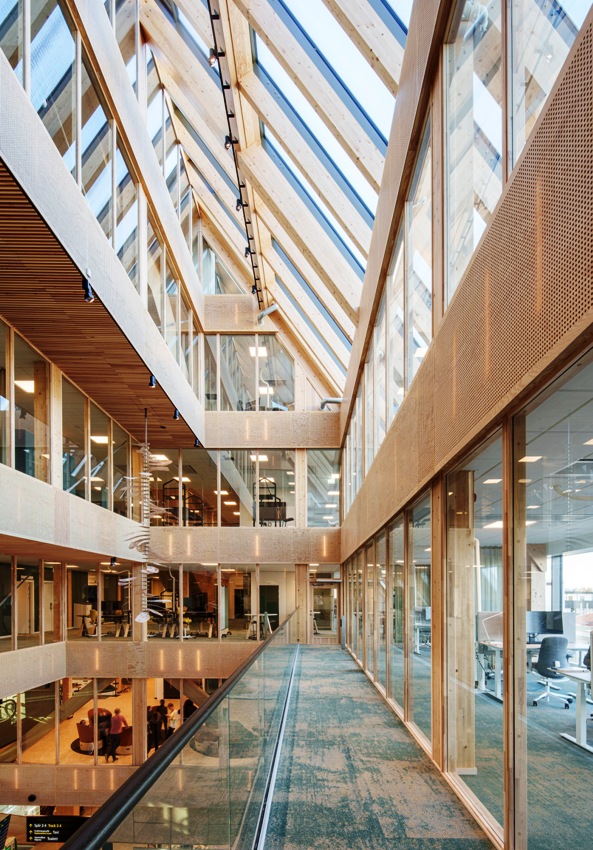 Connecting Bridge on the Upper Floors in the Town Hall
What really goes in your mind, when the client states the first brief?
When I hear the first brief, two parallel tracks unfold in my mind. One track is that of the Division Director and the other is that of a creative individual.
Upon hearing the brief, I immediately start envisioning what the project could be and how we can create a space that encompasses everything related to it. I develop a vision that I want to test and refine together with the team. Simultaneously, I listen attentively to understand the needs and create the right conditions for the project, ensuring a balanced mix of people and personalities. I believe in establishing the foundations that enable the team to approach the project with a curious mindset, surpassing limitations and finding creative solutions.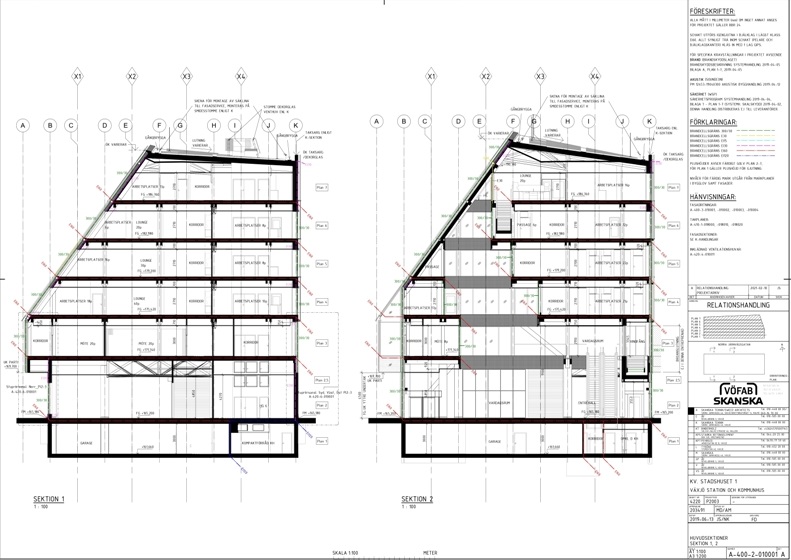 Sections 1 and 2
What was the brief of 'Växjö Station and Town Hall' project?
The initial brief for the 'Växjö Station and Town Hall' project was presented in a competition. White Architects created the winning competition proposal and program documents. Sweco Architects initially became involved in developing construction documents for the building's implementation. Eventually, our role expanded to encompass the entire project design, including building permits and system documents. In collaboration with Skanska, Sweco has worked on the overall design and detailed planning, accessibility, and signage, while other architectural firms have focused on the interior of the municipal building and the shops within the station. 'Växjö Station and Town Hall' project was superbly led by Sweco's architect Niklas Kummer.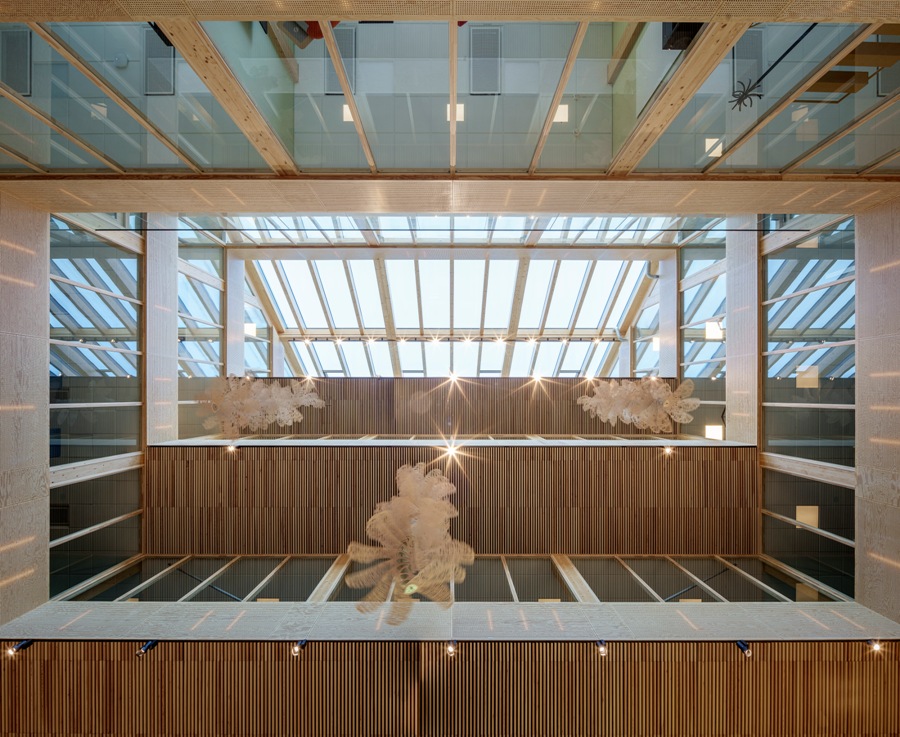 The Atrium as viewed from the Ground Floor
What were the major challenges to execute the project on real grounds?
One of the main challenges of this project was building one of the largest wooden buildings in Sweden with such a complex mix of uses. The building houses everything from the City Hall to a travel center, offices, restaurants and shops, all under one roof. Designing large wooden rooms, addressing vibrations caused by train traffic and managing the sound aspects with a double glass façade posed significant challenges.
Sustainability was a key focus throughout the project, influencing all design work. The new station and municipal building is Miljöbyggnad Gold certified, which entails stringent requirements for materials and energy consumption. From a life cycle perspective, using wood was more economically advantageous and had a lower carbon footprint compared to traditional concrete structures. Furthermore, the use of wood created a cleaner and less noisy working environment during the construction of the station.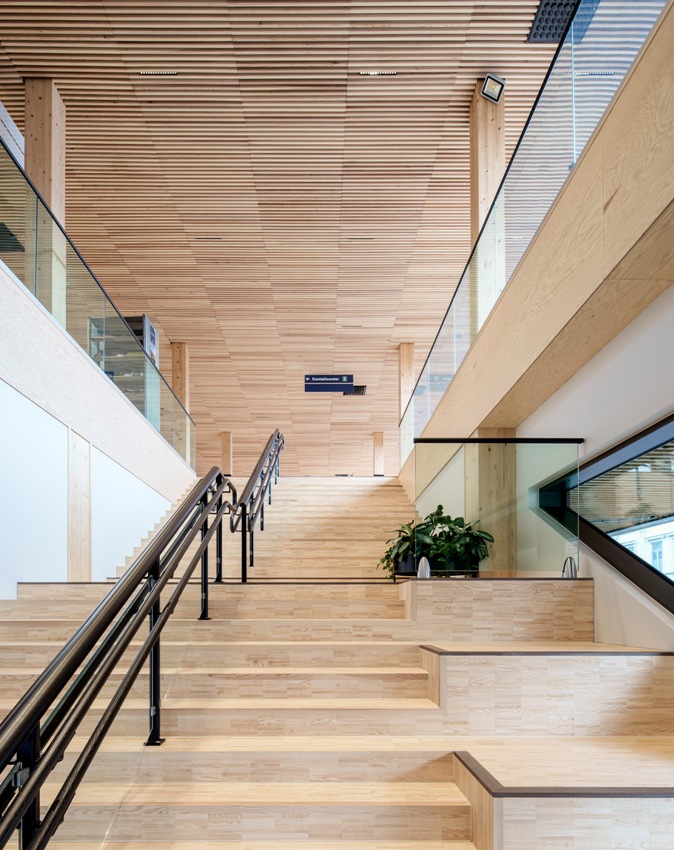 Staircase leading up to the Reception Area
How did your team overcome them creatively?
Throughout the project, we embarked on a learning journey in timber construction technology. It was an exciting process from our initial efforts to the completion of the building. The project brought together the creativity and problem-solving skills of everyone involved. The building features a timber frame made of cross-laminated timber elements and a column-beam structure, also constructed with wood.
How would you describe the 'Significance and Elegance' of 'Växjö Station and Town Hall' project?
The 'Växjö Station and Town Hall' project represents a harmonious fusion of functionality, aesthetics and integration with the environment. Its emphasis on light, connectivity, architectural expression and night-time presence adds to its significance and elegance as a civic landmark. It connects the old town's lower buildings with taller structures across the railway, creating a new urban space between the Station and the Cathedral. The building's form is adapted to its function and location, reflecting its contents and surrounding context. The project's planned expansion in the city center demonstrates a commitment to balanced urban development. Overall, the project showcases significance and elegance through its design, integration with the cityscape, and contribution to the urban fabric.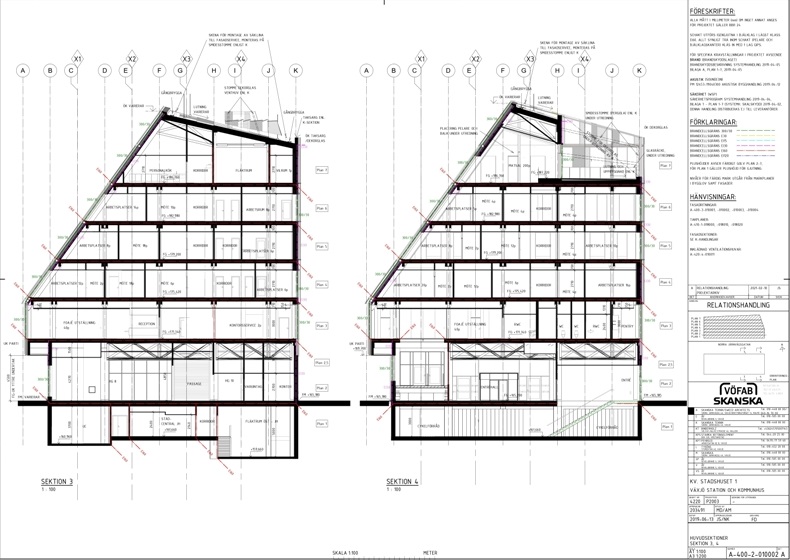 Sections 3 and 4
Please mention 5 major 'Sustainability' features you incorporated in the project.
Solar panels for renewable energy generation;
Certification with Miljöbyggnad Gold, signifying high standards for materials and energy consumption;
Utilization of a wooden frame, offering economic advantages and a lower carbon footprint compared to traditional concrete structures;
Consciousness about the social aspects of sustainability, creating a large and open 'living room' with wood to foster a warm and welcoming atmosphere;
Accommodating both a station and a municipal building and addressing the challenges of a timber building, under one roof ensuring compliance with fire safety, accessibility, sound, and occupational health requirements.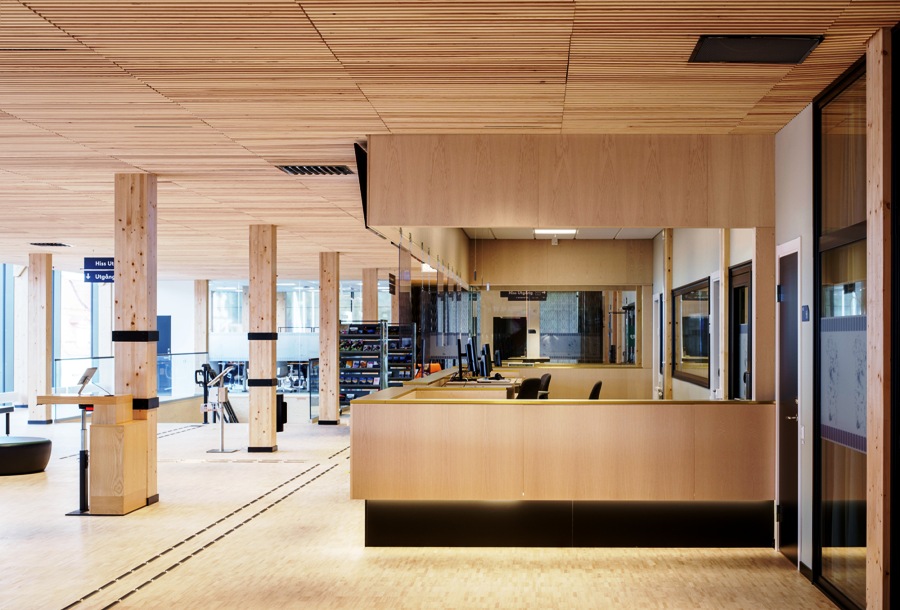 Town Hall Reception Area
What is the total area of the project, estimated cost and design-to-finish time period of the project?
The 'Växjö Station and Town Hall' project spans an area of 16,700 sq. m. The design-to-finish time period for the project was 2017-2021.
How do you see urban planning and architecture in cities changing to overcome climate catastrophes?
We see our cities are at the forefront, when it comes to making a transition on a large scale. By leveraging their qualities as innovation hubs and financial centers, they can find new ways forward to create value from what was previously seen as waste.
Calculations made by Sweco's experts show that a transition to a circular economy could mean cities reducing their energy needs by 75%, while reducing carbon dioxide emissions by 97% compared to today. The key lies in a systems perspective that enables the sharing of resources, energy and transportation across sectors and borders.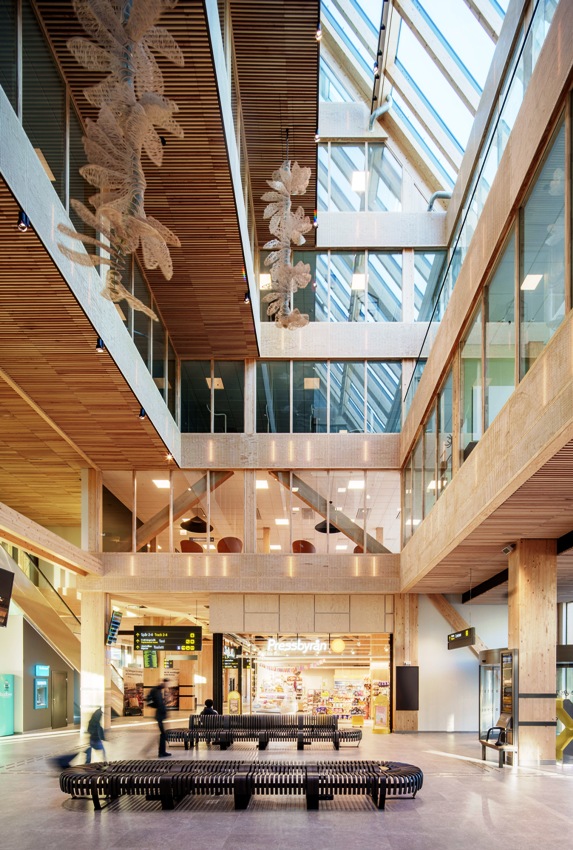 Beauty and Elegance of The Atrium
Our concept image of the circular city is consistent with EU's major initiative for 100 climate-neutral cities by 2030:
– Co-living and multi-purpose buildings, activating unused space.
– Consider the concept of urban planning as analogous to an ecosystem's metabolism.
– Enhanced and shared walking and cycling facilities. Most of these facilities will be equipped with solar panels and photovoltaic cells capable of generating renewable energy.
– Engineered water and wastewater solutions that combine urban design and biology, creating urban symbiosis.
– As much as 90-100% of buildings and materials in the cities remains preserved and untouched.
– Every city should have its own material bank and resource flow mapping.
– Youth are included and have an important say in urban planning.
One example project to showcase this is called 'Näringen', located in northern Sweden in a city called Gävle. The district 'Näringen' will be the city's largest transformation project in history. It will consist of 6,000 new residential units and 450,000 sq. m of commercial space, forming the future district, which is also set to become the most sustainable in all of Europe.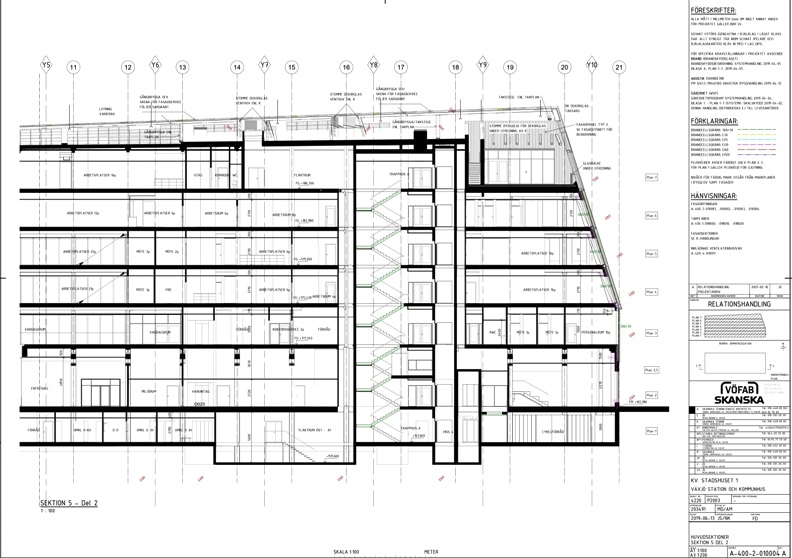 Section 5
Flawed Urban Planning and age-old drainage and sewage systems has taken a toll on cities of the world – Your valuable insights to overcome this major issue, so as to make cities flood-proof, safe and livable once again.
My main insight is that addressing these challenges requires smart innovations through collaborative approaches and cross-disciplinary dialogue. As architects, we play a crucial role in facilitating this dialogue and presenting concrete solutions to address the complexity of these issues. To make cities flood-proof, safe and livable, incorporating flood protection measures, parks and greenery are essential. These elements provide stability and help cities build resilience in their urban planning. Architects serve as trusted advisors in the early stages of city planning, offering valuable insights.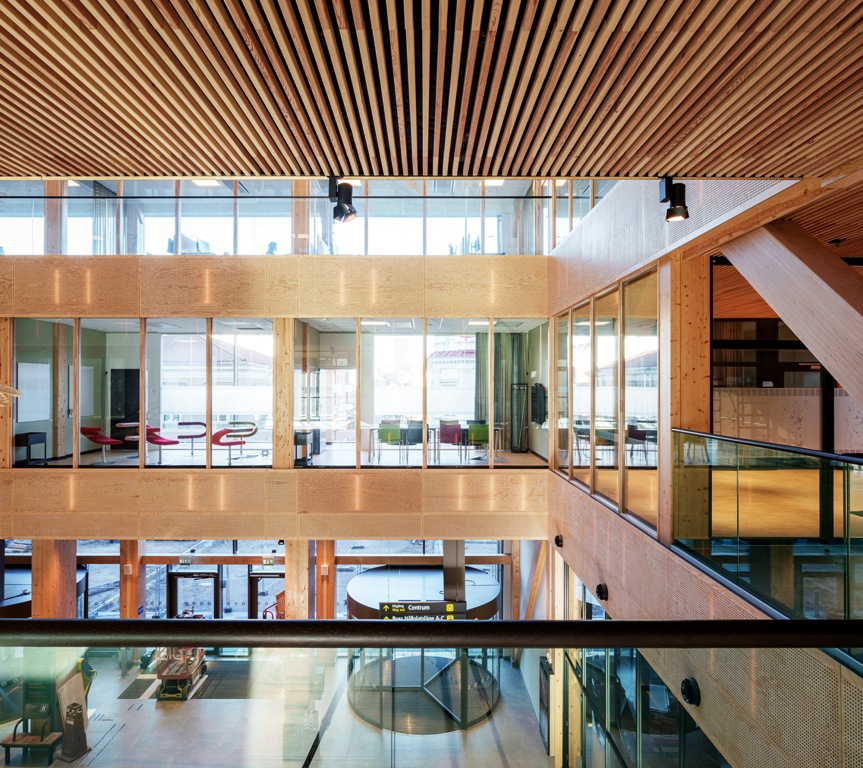 View from the Upper Level in the Station Area
For example, in our 'NorraDjurgårdsstaden' project, a sustainability profile area serving as a testbed for sustainable urban development, Sweco has contributed solutions that promote vibrant and attractive urban environments, increased resource efficiency, and reduced climate impact. Our contributions include ecological and land surveys, renovation of old buildings, design of commercial premises and housing, lighting and design of streets and parks, design of various types of roads, and stormwater solutions that are ecologically sustainable and contribute to urban greenery.
Which significant aspects of the global platform 'zerobeyond – the new frontier!' did you liked the most, and why?
By bringing together designers from different backgrounds, 'zerobeyond – the new frontier!' fosters a sense of global community and empowers individuals to collectively contribute to a sustainable future through their creative endeavors.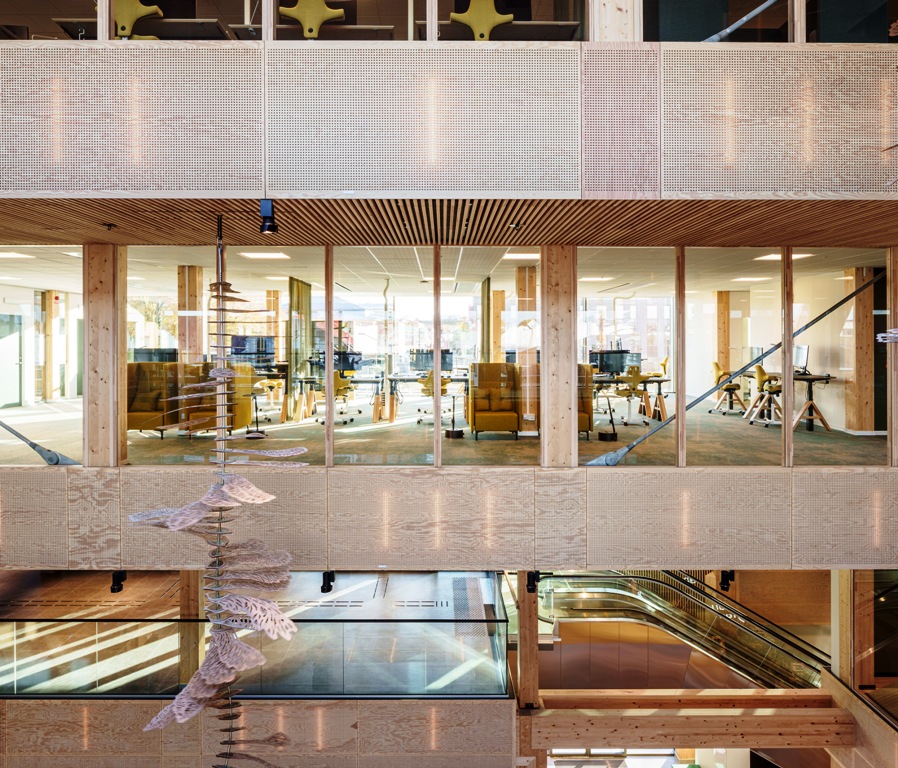 Working Spaces and Meeting Rooms in the Town Hall
How would you describe Ulla Bergström as a leader and a person?
I hope that Ulla Bergström is an engaging and visionary leader, and surround myself with intelligent challengers. I value diversity and cultivate an open and tolerant environment. I am genuinely interested in people and curious about their actions and well-being in different contexts. My determination drives me in everything I do, whether it is cooking or building our division. Overall, I am a leader striving to create inclusive environments by combining engagement, vision and empathy (smiles).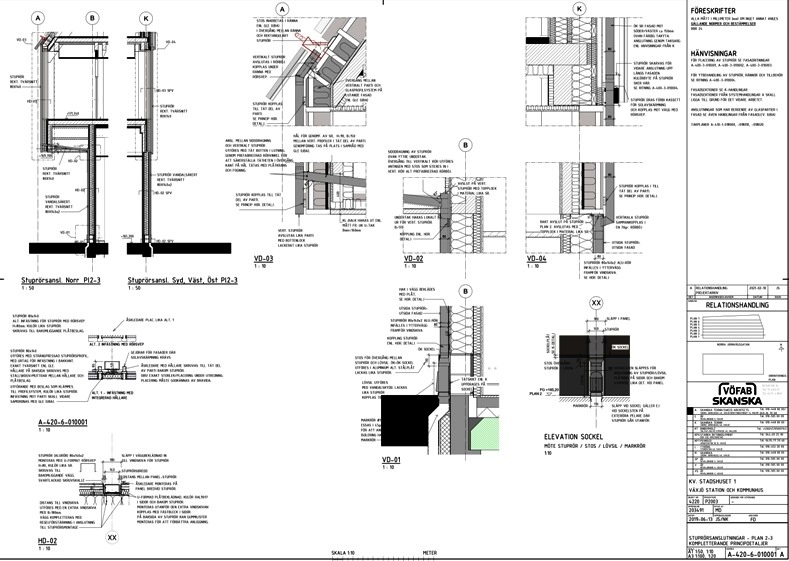 Structural Detailing
AI in architecture – is it 'the' shortcut to creativity or a curse to architecture.
I think AI can be a key to sustainable urban development. Artificial intelligence has the potential to make Swedish urban development both competitive and sustainable. However, the path forward in this disruptive and challenging phase of technological advancement is not to hit the brakes. To achieve our goals and ensure future generations have access to sustainable and attractive housing and living environments, Swedish politics needs to prioritize the needs of the civil engineering sector and take clear leadership in research and development for the future.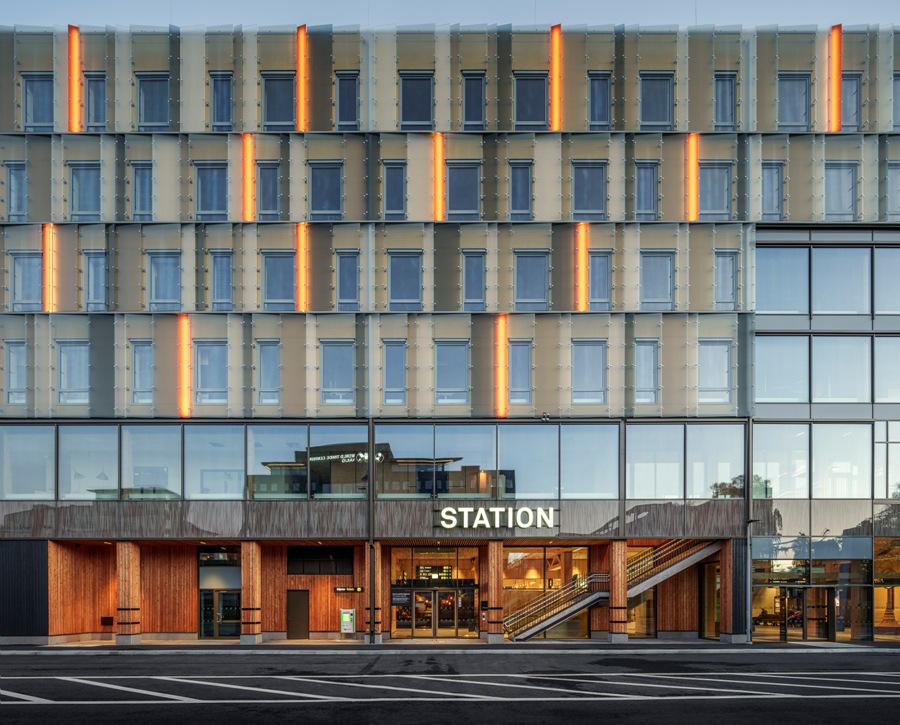 Magnificence of Southern Façade
Please state five recent awards' win by Sweco Architects' Sweden Branch.
– Svenskaljuspriset for 'Royal Swedish Academy of Sciences';
– First Prize in the international Timber Construction Competition Prize Tirol 2023, awarded by the Austrian organization ProHolz for 'Växjö Station and City Hall';
– MUSE Design Awards for 'Baoshan in China';
– Årets bygge 2023 for 'Greenhausat Oceanhamnen';
– World in Property Award 2021 for'Vision Finnslätten inVästerås'.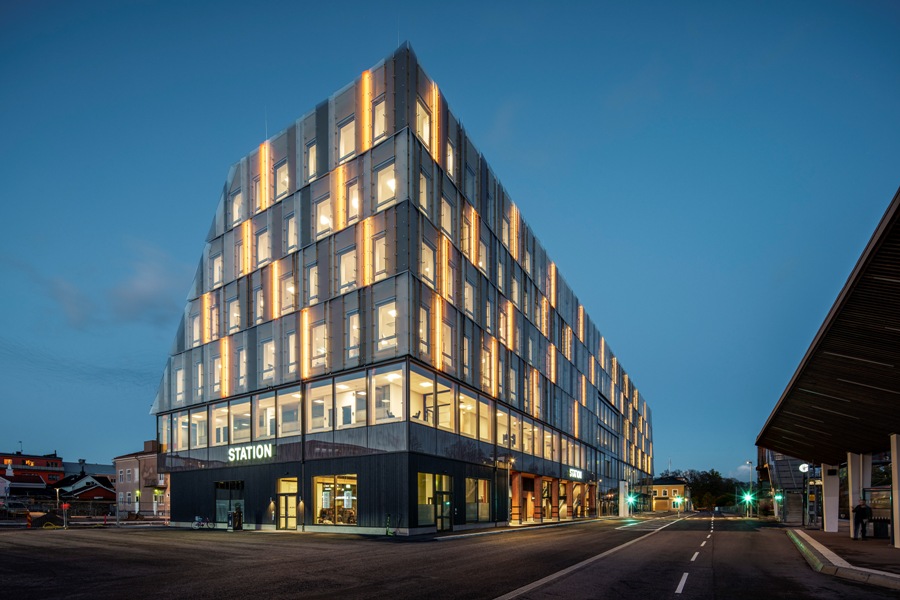 Design Elegance
Photographer: Felix Gerlach
Image Courtesy: Sweco Architects