California-based Atelier Manferdini is a renowned multiple award-winning design, art and architecture studio established by Italian architect- structural engineer-artist and academician Elena Manferdini in 2004. Gifted and born with an artistic excellence, Elena Manferdini's projects are renowned for its artistic flavor and inimitable masterpieces of architecture and design. She has created a niche with her eloquent style that marvels the world at large.
Atelier Manferdini's projects are spanned across the United States, Europe and Asia, particularly in China. Meticulous in her approach, Elena strongly believes in educating the younger generation with her experience and innovative thinking. She has been teaching at SCI-Arc – Southern California Institute of Architecture since 2003. Elena Manferdini is currently the Graduate Programs' Chair at SCI-Arc. Her talent has fetched her multiple prestigious awards in the last 17 plus years.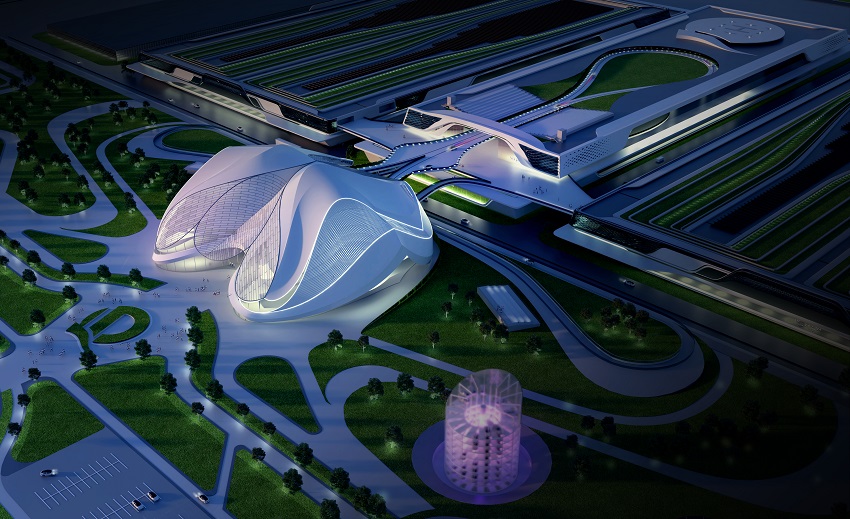 Elena's unparalleled talent has seen her work on various museum installations and object designs. Elena Manferdini is a revered figure in the academic circle among her peers and students. She has been acknowledged with prestigious appointments like the Howard Friedman Visiting Professor of Practice at the UCB – University of California Berkeley. She has taught the younger generation as a Visiting Professor at University of Pennsylvania, Seika University and Cornell University with great success. In the year 2013, she was honoured with the 'Educator of the Year Presidential Award' given by the AIA Los Angeles.
Elena Manferdini shares with Johnny D, her artistic journey from the Italian city Bologna to enter the architecture field to her projects and her passion as an architect, artist and academician.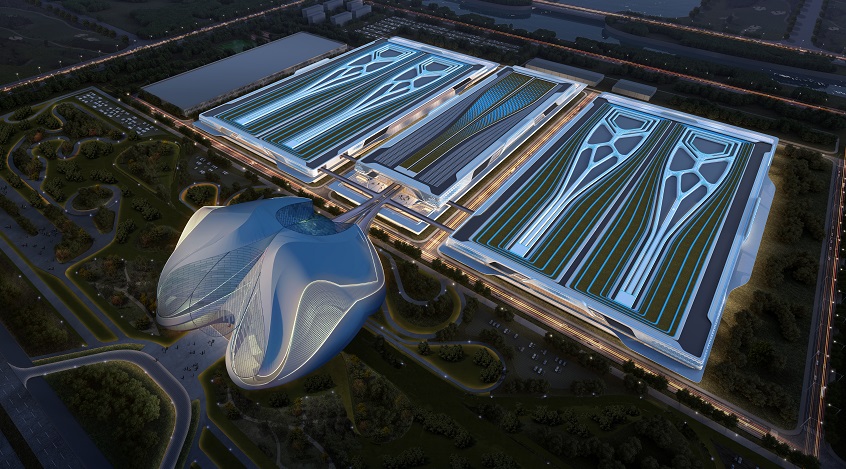 When you look back at your childhood ambition, did you always wanted to be an architect?
I spent my early years in Bologna, an Italian city that even today preserves its medieval characteristics. I lived immersed in a rich visuals and material culture of buildings that for Centuries have shaped Italy's public and private life. Because of the early exposure, I have always been a person drawn and attracted towards visual arts. In retrospection, I recognize that being in close contact with architecture since my early years has shaped my visual language.
Architecture was a career choice I made only at the age of 22. I moved to Los Angeles to attend UCLA. I was originally trained in Italy as a Structural Engineer. When I started my exchange program, I came into contact with the progressive design trajectories and faculty working at UCLA AUD at that time, and eventually I decided to become an architect.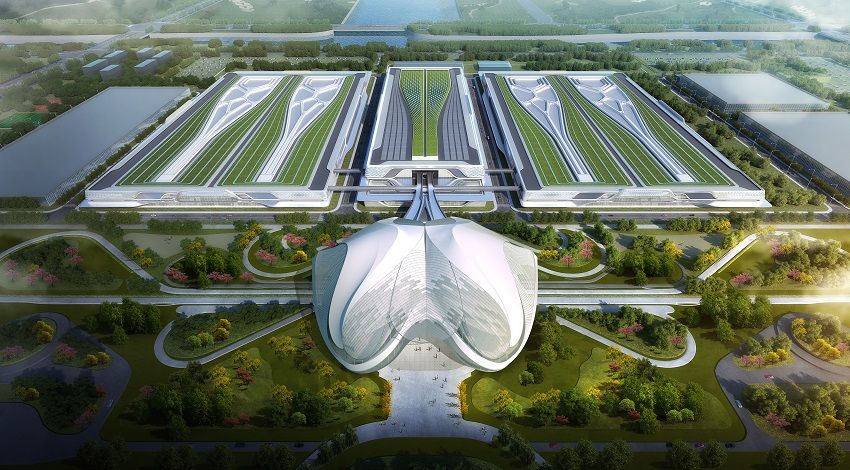 In the last 17 plus years, you have etched your name in the world of architecture with your amazing projects. Share with our esteemed readers the turning point of your career.
The turning point in my career was my move from Italy to USA. In 1997, I left Bologna, my hometown, as an exchange student with a scholarship from UCLA to attend their architectural graduate program. As soon as I arrived in Los Angeles, I realized that the city was and still is a hub for architectural creativity and experimentation. The excitement was palpable!
In the beginning of my studies as an architect, I was exposed to early generations of the digital revolution in architecture – something that greatly influenced me during my formative years, and is still part of my working methodology today.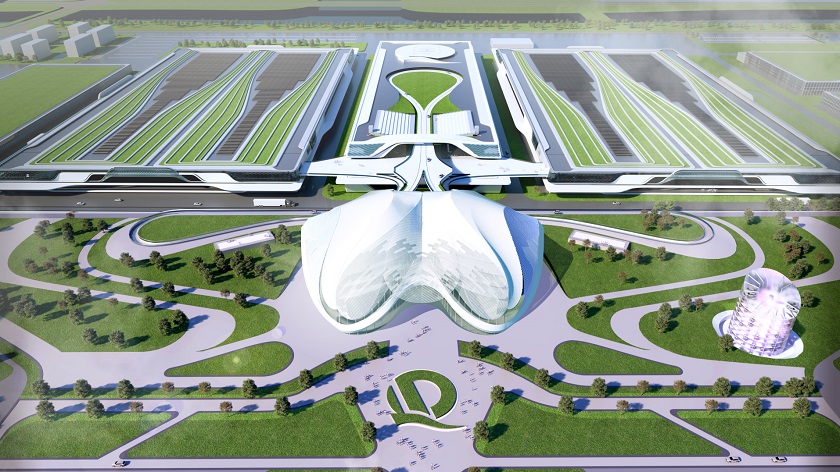 Which was the first project you gave the artistic flavor to surprise the world? What was your client's reaction after you completed the project?
In the year 2015, the 'Zev Yaroslavsky Family Support Center Civic Artwork' project in Los Angeles was my first project. The two public artworks Atelier Manferdini designed for the San Fernando Valley Family Support Center welcomed the Center's visitors at the entry of the building.
The project was a lifetime achievement for many individuals, and among them Zev Yaroslavsky, who believed in bringing together the seven departments (Public Social Services, Child and Family Services, Child Support Services, Health Services, Probation, Mental Health, and Public Health) that were spread over the LA County region, inhibiting accessibility.
The artwork's role was to create a more 'human' space where both clients and staff felt valued. This specific public art project has been selected and recognized as part of the 'American for the Arts 2016 Public Art Network Year'.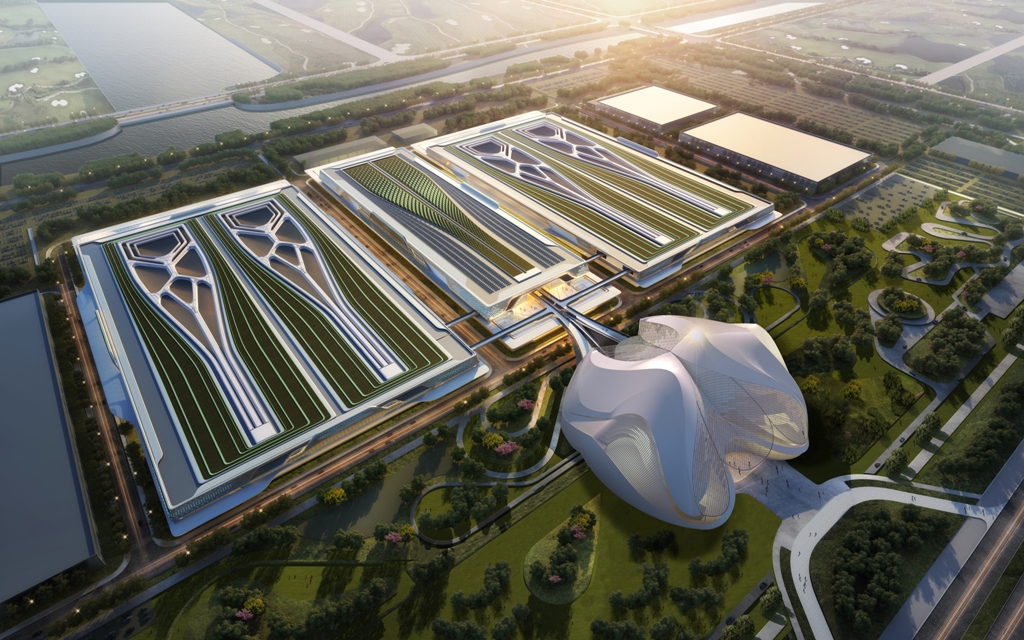 Please share some interesting facts about the three projects – 'Evergrande Car Experience', 'Evergrande Stadium' and 'TocoHause'.
'EVERGRANDE Car Experience Center', Guangzhou, China invited competition @ Atelier Manferdini with Xuberance Architects in 2019. The mission of the competition was to transform a car factory in an entertainment attraction. Atelier Manferdini's proposal creates an extension of the newly designed electric car factory of Evergrande and transforms it in an attraction for the city. Taking advantage of the facing landscape, we converted the project into a natural park open to the community. The new factory extension invites the public to experience the production of electric car for a sustainable future.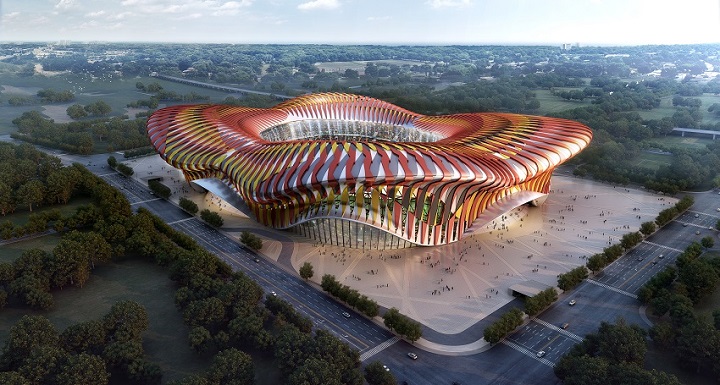 From a public ground floor to a private restaurant on the last floor, the building operates as a spiraling elevator of activities, from educating the visitor in the role of natural resources to test driving the cars on the roof of the factory. The experience of buying a car becomes an opportunity for cultural growth and entertainment. Project was shortlisted and invited to the second phase of the competition.
The design proposal for 'EVERGRANDE Taobao Football Club Stadium' in Guangzhou, China was a two-phase invited competition for the schematic design. Developed in collaboration with Xuberance Architect – Shanghai, the joint team got shortlisted for the second phase.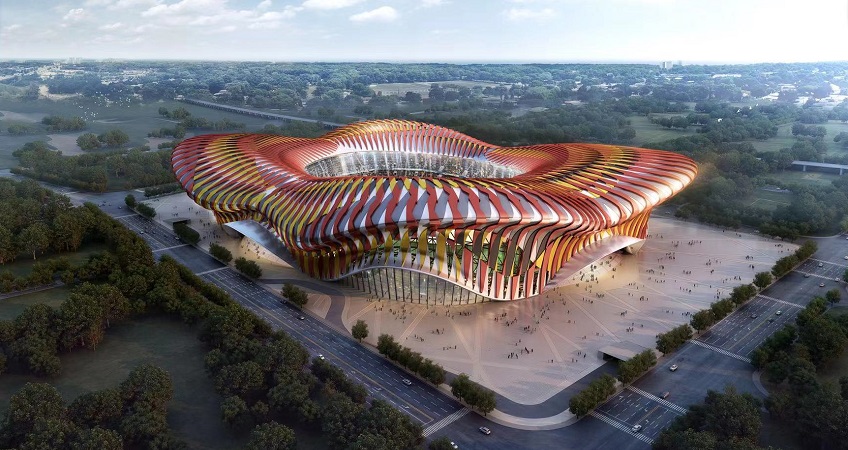 Intending to produce a new landmark for the city and an icon for the Guangzhou Football team, the design envisions a luminous space of celebration and pride enveloped in the team colors. The stadium's circulatory system is designed so that public and commercial programs can be active also, in the absence of an event inside the sports' facility.
Atelier Manferdini redesigned the façade of 'ToCoHaus' in Chinatown, Los Angeles in the year 2018. The interior surface finish and the garden roof deck and mezzanine raised roof of one of the most iconic buildings in the heart of Chinatown LA.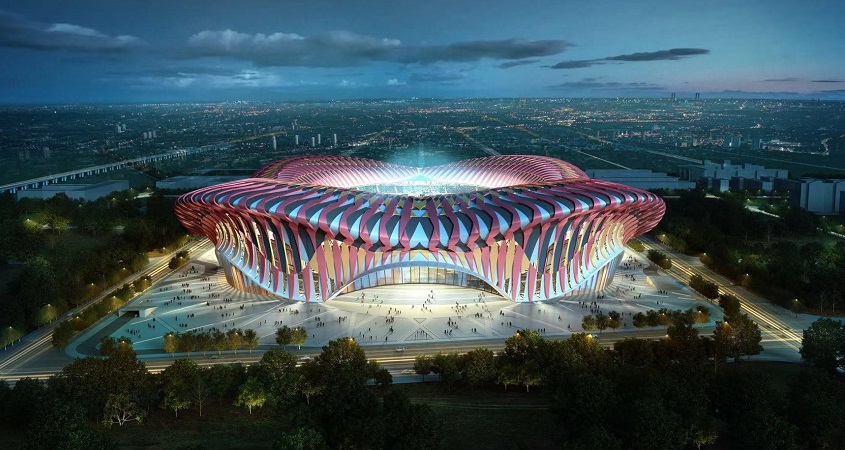 As a Professor, what is the most significant lesson you impart to younger students? Why?
I think that a fundamental role the architect has is to reshape, even if partially, what we understand as being the status-quo; to actively pursue the idea that something else could be out there. That is a very important act, a subversive one almost, stemmed by the understanding that political problems cannot be solved by an atrophied collective imagination. And such collective imagination has to be continuously trained. And this is what architects do at their best.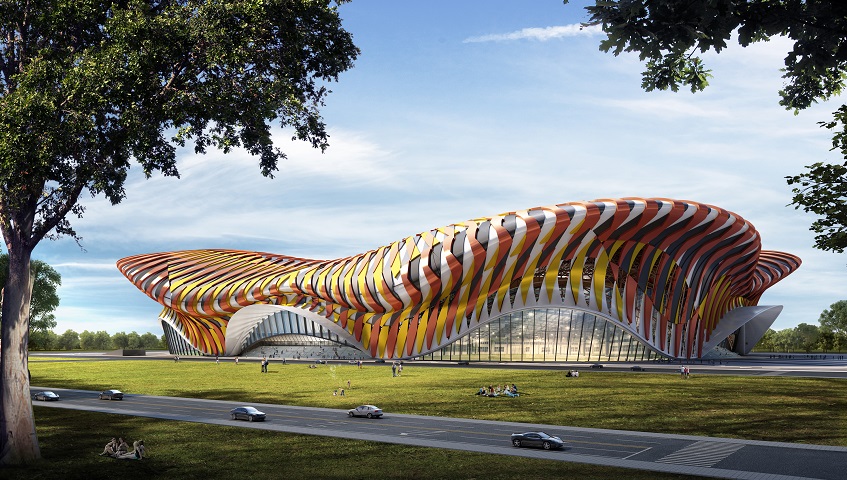 What are the various projects you are working on in various cities and countries?
Most of my current projects are in the USA or CHINA. Atelier Manferdini is currently busy with 350 Cordova gardens façade design, Pasadena, CA; Dominion Energy substation façade design, Arlington, Virginia; Fenton Paseo 7 in Cary, North Carolina; Astroath (Beijing, 2021) design of fine jewelry collection FLORA; and Gilmore (Los Angeles, 2021) re-design for Plaza Mia in historical China Town district are just to name a few.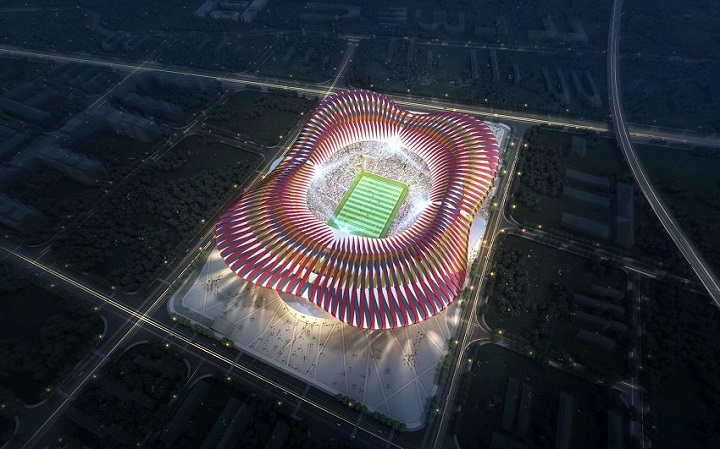 Describe the difference between Elena Manferdini – the architect-designer from the artist and the academician.
The two activities are complementary. It is clear that Atelier Manferdini practice and SCI-Arc pedagogy are linked and enriched by my role as a designer and educator. Being part of a community dedicated to architectural education like SCI-Arc provided a venue for intellectual exchange crucial for my career growth. Being part of an institution that validates and encourages risk-taking in design has been important; that kind of intellectual freedom within a school permeates one's practice as well. Elena Manferdini is a leading voice in contemporary design culture, speaking, writing, and promoting discourse around design today.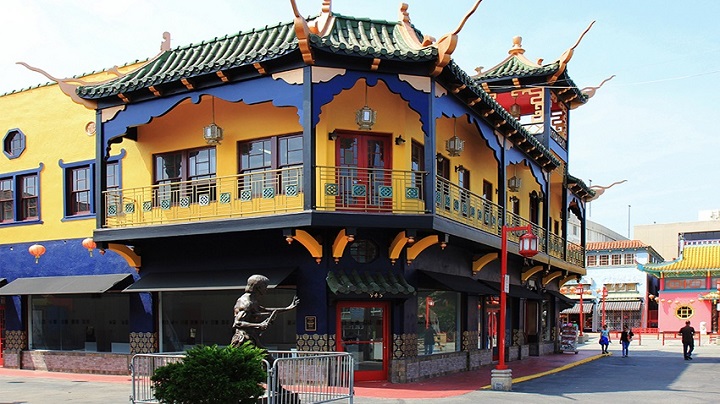 Describe the emotions, when you receive an award.
Awards validate the work of many individuals invested in a project and a career. The people who trusted me with their resources and skills are the ones I am happy for, when I receive an award, as architecture is never an individual journey. Intellectual and design values are nurtured by strong, self-confident communities. Great achievements are found in the giving and receiving of care of many.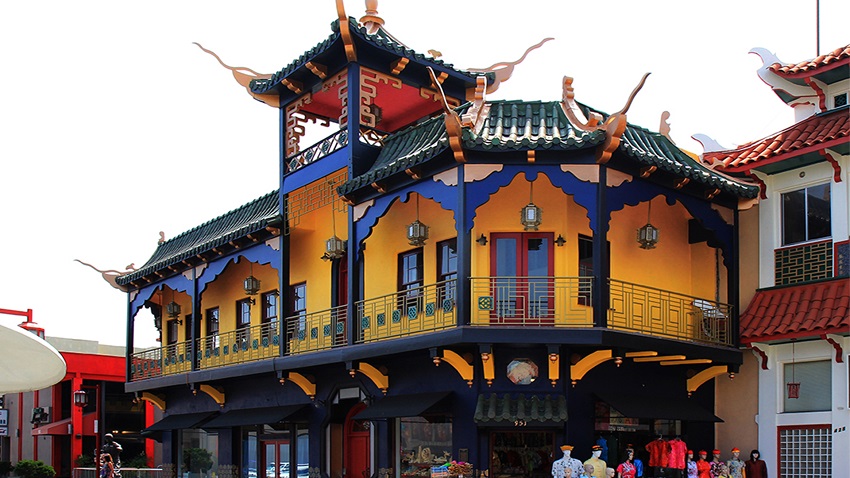 State five awards that you cherish the most in the last 17 plus years.
2019 ICON Award at LA Design Festival;
2018 Green Building Award for 'Alexander Montessori School' project in Miami, Florida;
2018 AIA Sustainable Building for 'Alexander Montessori School' project in Miami, Florida;
2016: 'Inverted Landscapes' Public Art Project was selected and recognized as part of the American for the Arts 2016 Public Art Network Year;
2013: Awarded the 2013AIA|LA Presidential Board Honor Award in the field of Education given by American Institute of Architects in Los Angeles; and
2011: USA Artist Grant Recipient for Architecture and Design.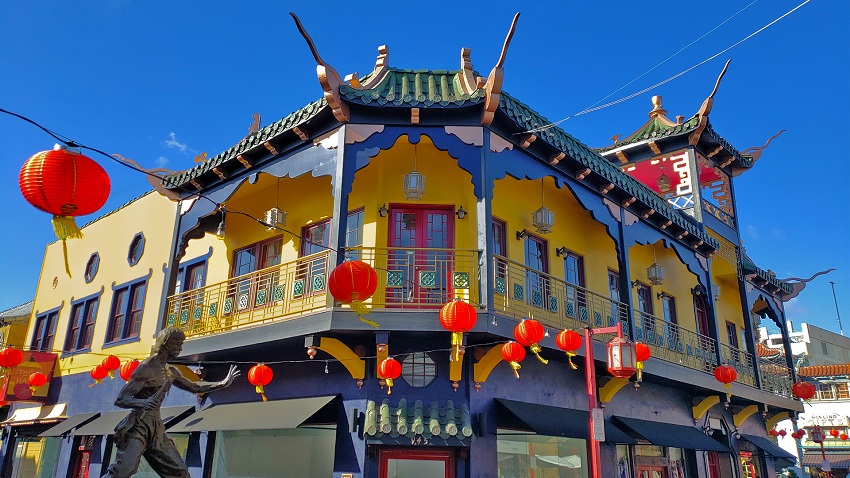 Image Courtesy: Atelier Manferdini