War is the "Worst Action (of) Repression"! War is certainly not the solution to win hearts of the world! 'zerobeyond – the new frontier!' will always proscribe War!
On the 7th of March 2022, I had written the above statement in my 'Editorial' titled – W A R: Worst Action (of) Repression! For the Ukrainians, the year has perhaps been their longest and deadliest they have encountered or witnessed so far. However, their indomitable spirit with their courageous leader has shown to the whole what it takes to defend their motherland at all cost.
To mark the first anniversary of their courageous spirit to withstand the deadly onslaught in the last 365 days, 'zerobeyond – the new frontier!' pays tribute to all those who lost their lives defending their motherland. The GEN Z Series travels to Latvia to meet Ukrainian architect Anastasiia Konotopenko, who graduated from KNUCA – Kyyivsʹkyy Natsionalʹnyy Universytet Budivnytstva I Arkhitektury / Kyiv National University of Construction and Architecture in the year 2019. KNUCA was formerly known as Kyiv Civil Engineering Institute. It happens to be the largest and most important building, and architectural university of Ukraine in its national Capital Kyiv.

Anastasiia Konotopenko comes across as a very warm person and exudes great confidence. Needless to say, like every single Ukrainian, she is courageous and enthuses, "Ukraine's future is very promising! I strongly believe that the whole world will be convinced of this after our victory." Anastasiia started working from her fourth year at University with AIMM. She has also led a team of two architects while working at Project 7. Currently, Anastasiia is working as an architect with Sarma Norde Architects in Riga, Latvia.
Having being displaced from her motherland, Anastasiia's spirit is much stronger than before the invasion. She elucidates, "As an architect, I see it as my mission to create high-quality, functional, and aesthetic spaces for people. I believe that the format reinforces the content, as well as the surroundings and affects the outcome." The lengthy interaction with Anastasiia is perhaps one of my most important interviews till date, because she did not flinch even for once and answered all my questions with superb confidence. I salute Anastasiia Konotopenko and all the Ukrainians for showing the whole world what 'courage' means, when it comes to protecting one's motherland.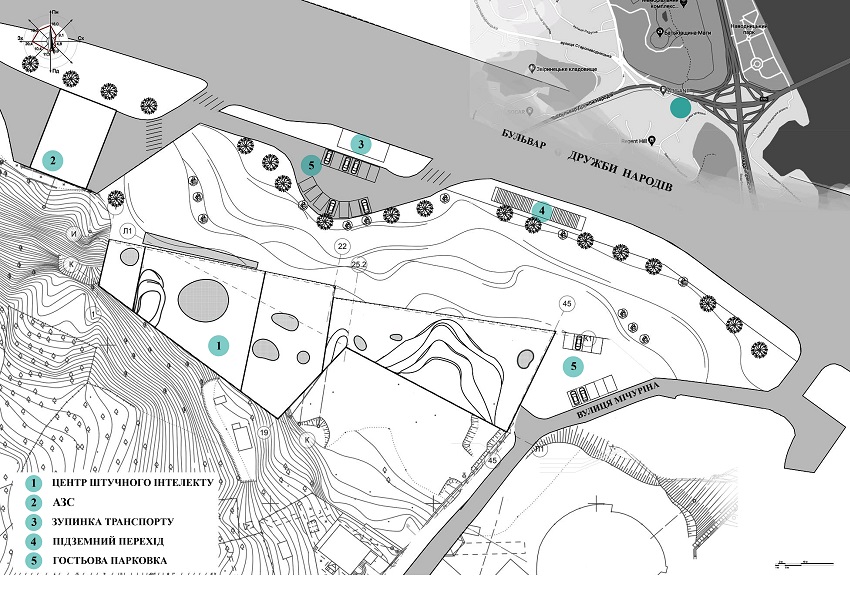 What was your childhood ambition? Did you always wanted to become an architect?
Honestly, I never had a dream of becoming an architect as a child. I wanted to be an actress (smiles) and then a surgeon. They were such different dreams. But, whenever I used to play with dolls, my favorite part was making them a house and arrange all furniture. During a discussion with my parents about my future plans, the goal of becoming an architect seemed like the perfect choice. I realized that since I was 5, I had attended art classes.
How has architecture influenced your life as a student?
Аt the time, I knew 100 percent that architecture was what I wanted to do. Being an architecture student is not an easy task, but at the same time you find like-minded people, the same creative, cheerful and hardworking guys. In my opinion, architecture has taught me and continues to do so, to look at the world through new filters, notice those details that I have never seen earlier, read the scenarios of the life of buildings and people who live there, just walking around the city.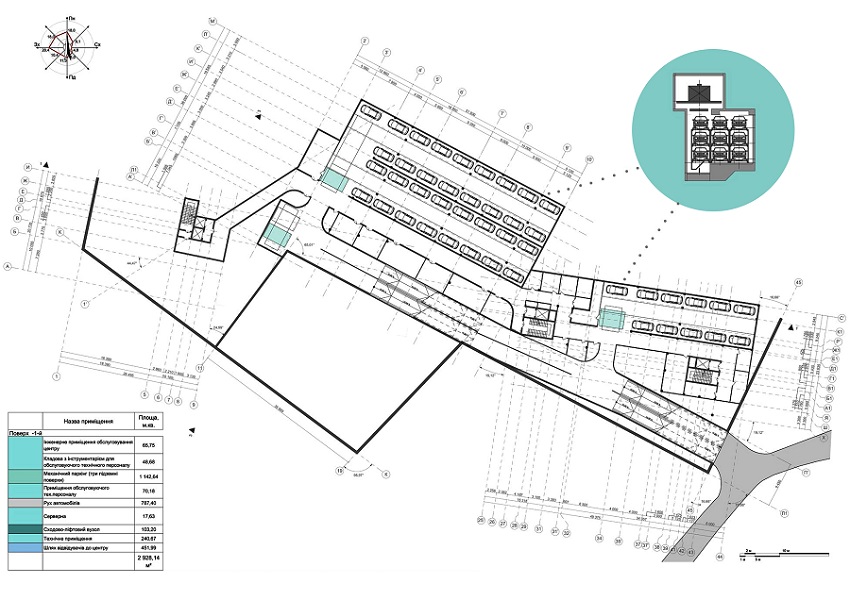 Briefly describe the significance of your project.
For successful development, the city must attract and retain young people, the progressive generation. Therefore, out of turn, the object of 'Center for Artificial Intelligence' is aimed at modern conscious in the IT sphere and the progressive people. AI – Artificial intelligence is on the rise and affects various fields of human activity, thereby creating new means and methods for solving previously so-called impossible problems. Modern architects in their work make use of AI and implement in their projects for creating new perspective(s). They spend a lot of time gathering information and IT research. If you use AI at the same time, you can not only save money and time resource, but also can consider several possible options for the development of design.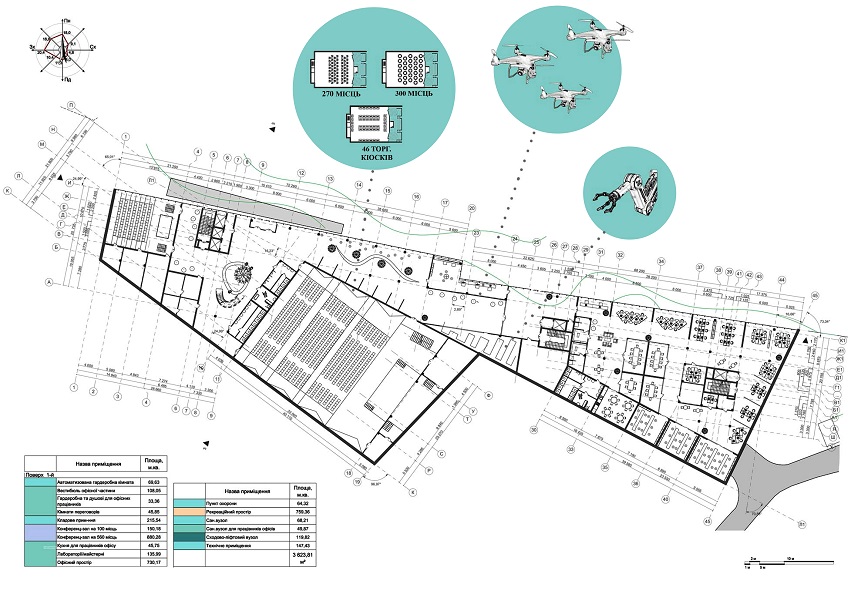 AI can occupy its niche at the stages of planning and construction. Thanks to AI, for it can interpret the analysis of large volumes of information about materials, the surrounding environment of the building, as well as, create an estimate of cost and profitability in the shortest possible time. New problems require modern solutions. Modern similar centers often mix various necessary and profitable functions for efficient use of space. Nowadays, it is important to design such architecture that will have an advantage due to transformation and adaptation to the world and its fast high-tech movement.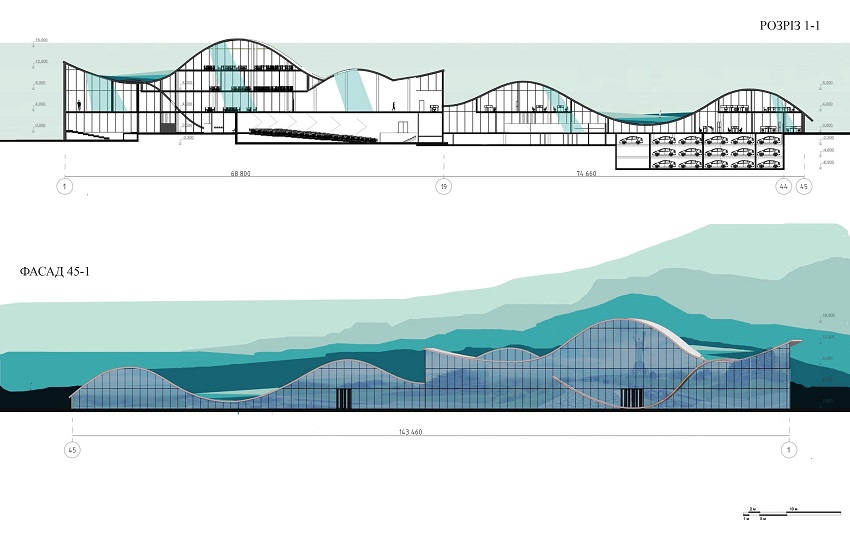 Which National or International architect has inspired / influenced you? Please specify as to why?
To be honest, I never had any idol(s) in the field of architecture and even now, I do not have one. However, I can be inspired by an architect's vision to solve a problem in the form of a building. It may sound confusing, but that is the way I see it. For example, I love Japanes architect Sou Fujimoto's attitude to wooden structures, I love how Zaha Hadid connects the inner and outer spaces, I like how Brazilian architect Marcio Kogan presents his work through video, I also love the aesthetics of Studio Snohetta and I can go on and on (smiles). This is the attitude as to how I respect various things in life.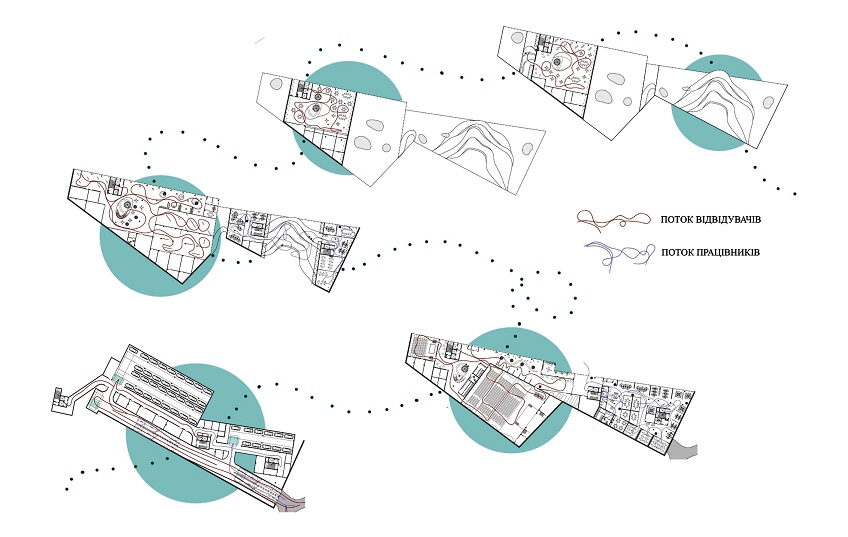 As an Intern / Junior Architect, what is the most important lesson(s) you have learned from senior architects, while being a part of a project?
First of all, you need to remember that you work in a team and understand your role here. If you have a question, ask it! It is impossible to know everything, so the main thing is to know where to find the answers. One of the best methods in work is from the general to the particular. I use this method almost every time as it helps to reach good and logical decisions.
Cities are getting inundated in a massive proportion due to flawed drainage and sewage systems apart from Climate Crisis – Your views about flawed urban planning and remedies to rectify to make cities flood-proof.
It is very ambiguous to choose one way to solve the problem. I believe that it is necessary to approach the question according to the context. If this is a city with highly developed engineering systems, it may be easier to solve there due to the modality of flexibility and the use of technology. If we talk about less developed locations, it would be wise to approach the issue comprehensively and change the entire system.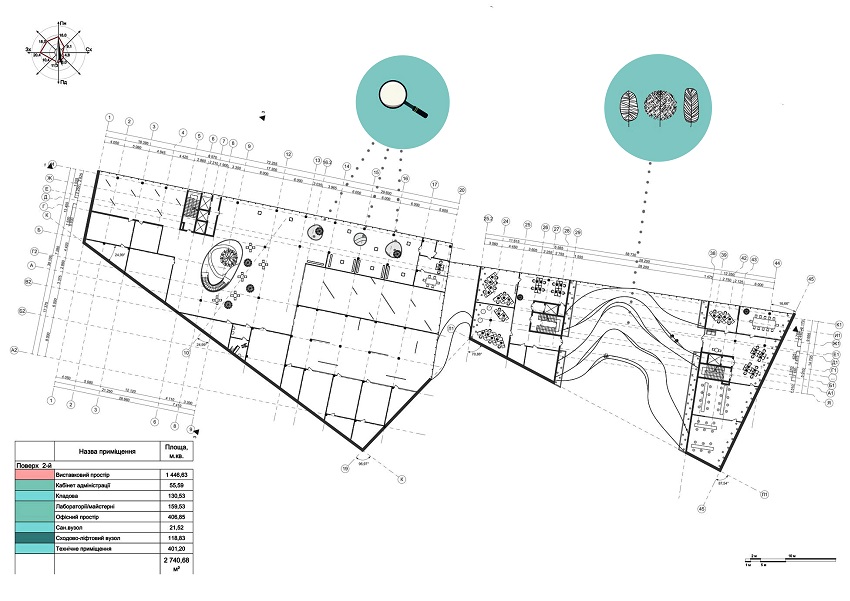 Briefly write about your University and Course.
I studied at the Kyiv National University of Construction and Architecture. I am very grateful to the teaching staff for their knowledge and experience. In my opinion, this hardened me and prepared me to enter the field of architecture. The university may not be the best ranked university in Ukraine, but according to my top rating, it is the best (smiles). It was here, where I met my friends. I have fond memories of the times I spent there.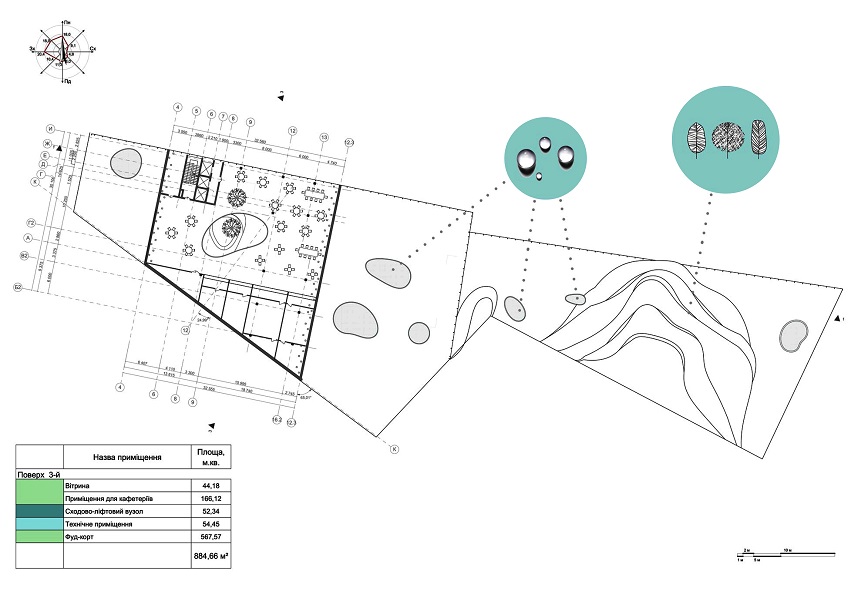 Which significant aspects of the global platform 'zerobeyond – the new frontier!' did you like the most, and why?
Personally, I believe 'zerobeyond – the new frontier!' is significantly contributing by providing global platform for current students or those who are interested in architecture. It provides cool opportunity to find information, get to know each other, see the experience of other students or renowned architects, as well as, an opportunity for participants to have the experience of an interview in an architectural publication.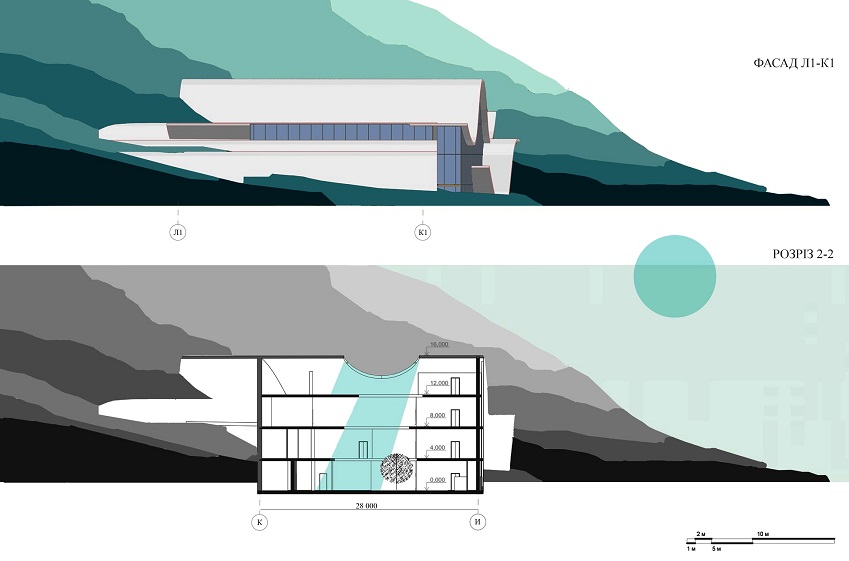 Local charm of cities has diminished due to Modern Architecture as every city looks alike and similar. How should architects / urban planners modernize cities, while maintaining the local charm intact?
In my opinion, it is not quite so. It is normal that cities are being built and changing to more modern buildings, because we are changing and everything around us is changing too. The main point is to prevent the creation of chaos in building this. The legal and regulatory bodies of each country or city should already come into effect here. And this is one of the main requirements, to find these correct levers of regulation and to prevent the intrusion of garbage scoundrels into the urban space.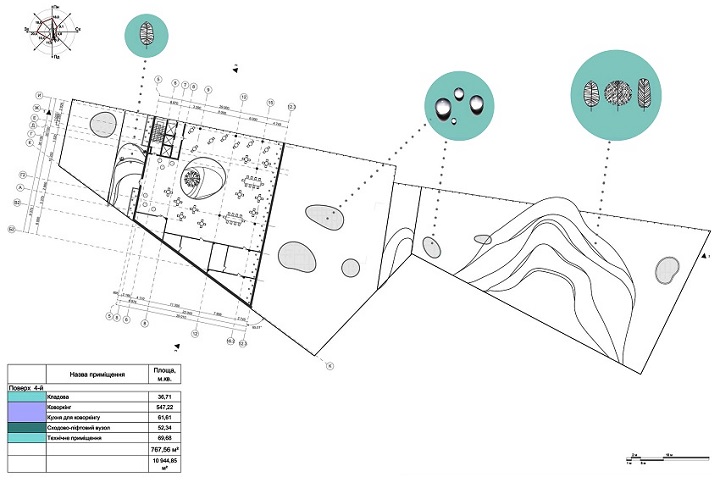 How would you describe Ukrainian Architecture?
This is a tough question right now, because of the war. I would describe Ukrainian Architecture as a young girl, who is just at the beginning of her youth. She is beautiful, inspiring and somewhere not quite mature yet, but she is very promising. And I believe that the whole world will be convinced of this after our victory!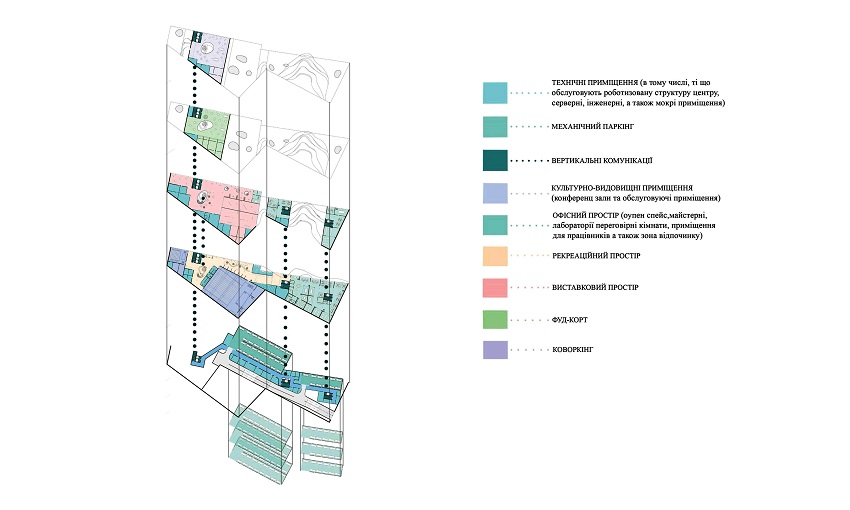 Honours and awards related to architecture, if any.
2017 – Participant "Steel Freedom";
2018 – Winner of Students' Competition "Steel Freedom"; and
2018 – XXVII Review of the Diploma Competition 2018 – Winner in the Category: Public Buildings.
Image Courtesy: Anastasiia Konotopenko