The Interior Design firm Timothy Corrigan Inc was established in the year 1998 by Timothy Corrigan in Los Angeles. His design creations are chic, elegant and timeless. He is considered as one of the leading interior designers in the world. Timothy Corrigan's work is showcased in some of the world's most extraordinary properties, with clients including European and Middle Eastern royalty, Hollywood celebrities and corporate leaders.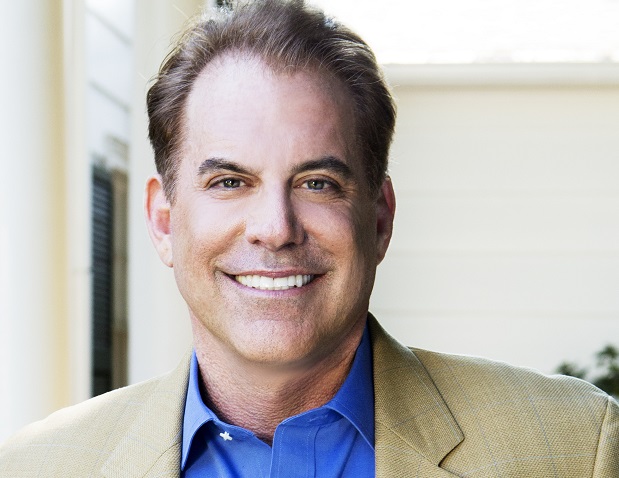 Timothy Corrigan Inc is based in both Los Angeles and Paris. His firm has completed projects around the world. He enthuses, "We have extensive experience designing interior spaces for older and historical properties, as well as fully new construction." His distinctive design philosophy of comfortable elegance in architecture, restoration and interiors has made him very popular with his clients.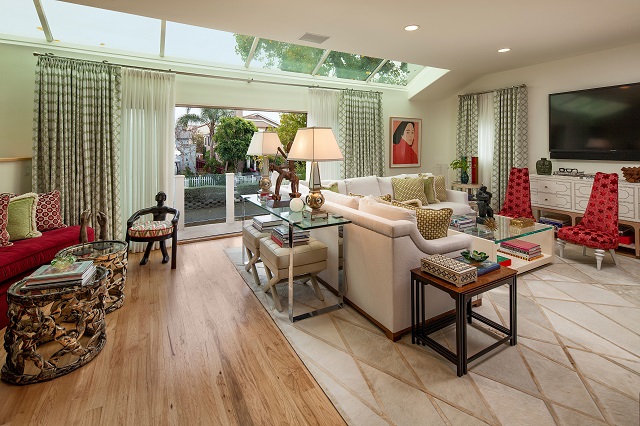 CARROLL CANAL House on the canals in Venice Beach, California is John G. Branca's pride. He is a partner with the Los Angeles Law firm Ziffren Brittenham LLP. Branca is recognized as one of the nations pre-eminent entertainment attorneys.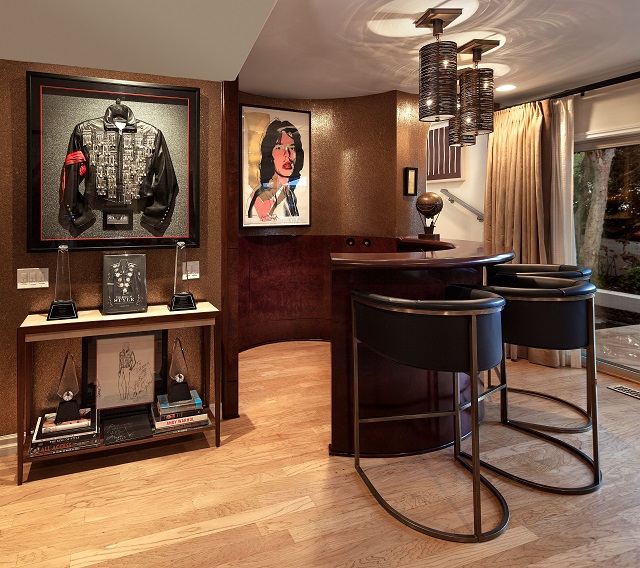 John G. Branca's client roster included 24 members of the Rock & Roll Hall of Fame: The Rolling Stones, The Doors. Fleetwood Mac, The Bee Gees and Aerosmith. A number of Branca's deals have set the template for the music industry for how promoters package concerts, merchandise, sponsorship and sales of various rights. While the bulk of his career has been spent among music megastars, he still gets bug-eyed with excitement when it comes to memorabilia, which is evident as one moves through the house.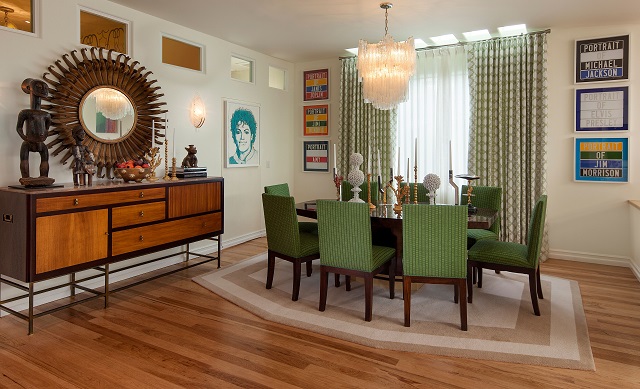 A starburst mirror, (c. 1970) reflects the owner's Hemba and Baule sculptures. The Baule horse and rider (exhibited at the Los Angeles County Museum of Art – LACMA) sits on an Edward Wormley cabinet. Flanking the mirror is a pair of frosted Murano leaf sconces, Italian (c. 1960).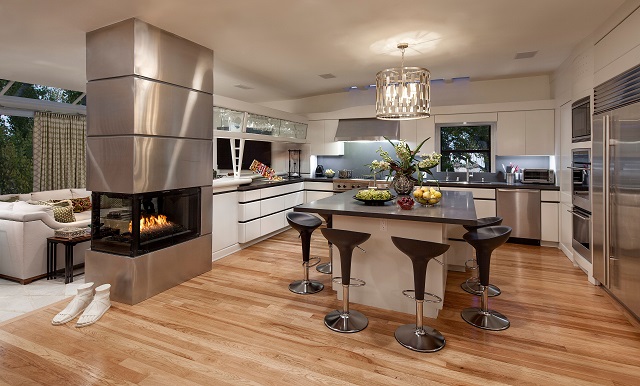 A silver leaf pendant lamp hangs above the island surrounded by Magis Bombo barstools in the spacious open kitchen. Cracker Jack sculpture by the counter makes a statement. A pairs of marble feet keep warm by the stainless steel fireplace.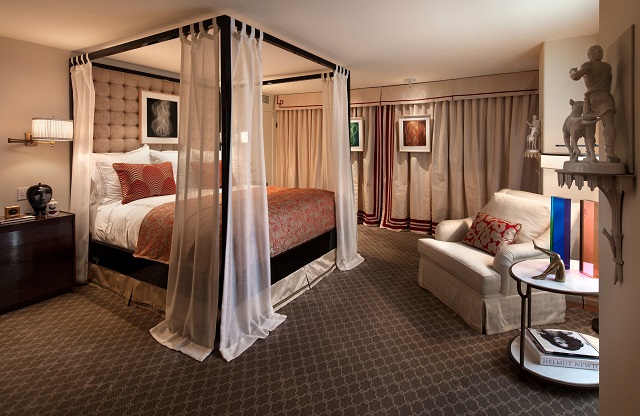 Timothy Corrigan has been honored by the Institute of Classical Architecture and Art, the French Heritage Society, and is the recipient of the Design Icon and Star of Design awards.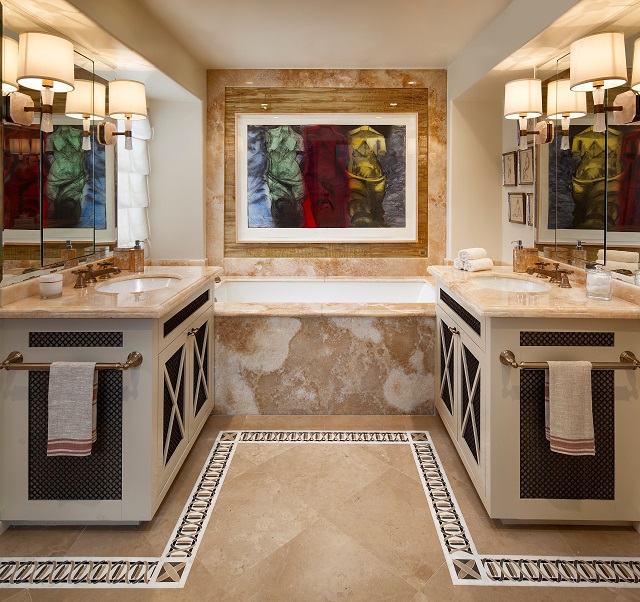 Timothy Corrigan has had two best-selling books, published by Rizzoli: 'An Invitation to Chateau du Grand-Lucé' that chronicles the restoration of his landmark Chateau in France, and his second book, 'The New Elegance: Stylish, Comfortable Rooms for Today' features 11 of Timothy's projects around the world. The book highlights the building blocks for successful decoration.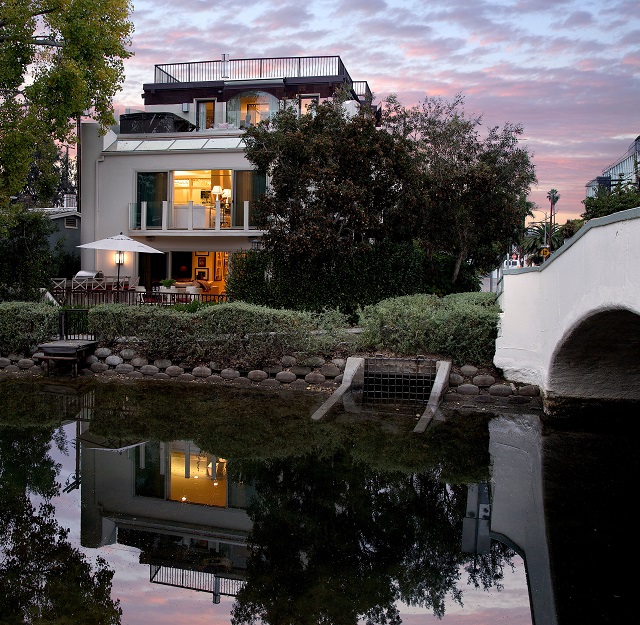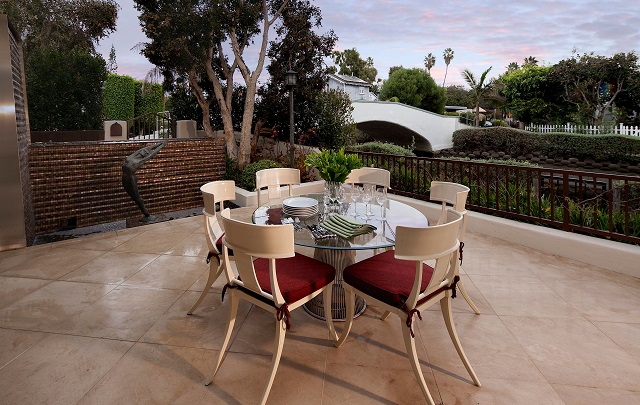 The patio off the media room overlooks one of Venice's famed canals and a sculpture by contemporary Irish artist, Janice Ridley.
Image Courtesy: Timothy Corrigan Inc.