In the world, every individual is a long-long story of life's interesting experiences and amazing journey. Baku-born Leyla Naib Jabbarli is one such amazing story. In the year 2008, Leyla Naib graduated from Lomonosov Moscow State University with a Bachelor's degree in Computational Mathematics and Cybernetics. However, during her graduation studies, she made a switch to start her career as an Interior Designer with Avante in Baku, Azerbaijan. After a year's stint, Leyla Naib joined AB Construction in Baku as an Interior Designer. Her passion for creativity and inclination for landscaping even saw Leyla Naib work as a Landscape Designer with Gardenia Garden Centre, Baku for a brief stint.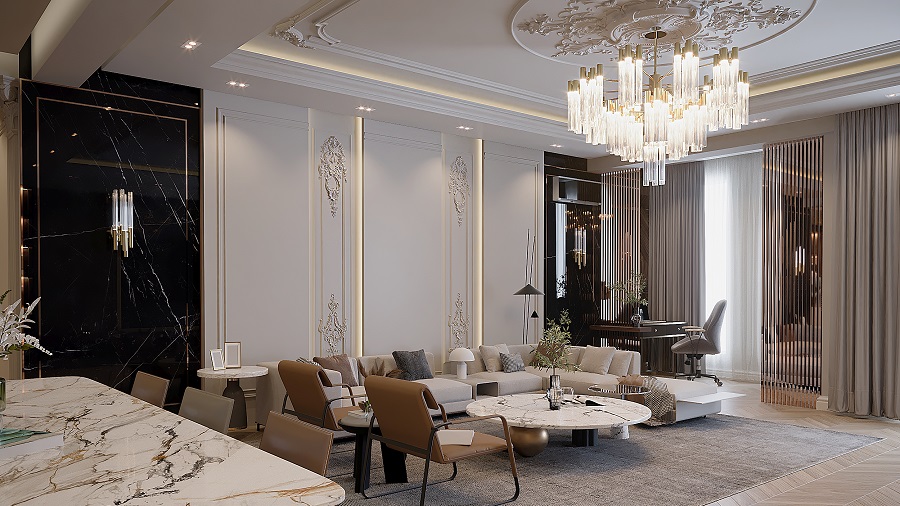 Living Room
In the year 2012, Leyla Naib Jabbarli started working as a freelance Interior Designer. In the year 2015, she joined Alanya Hamdullah Emin Paşa University in Antalya, Turkey to complete her graduation in Interior Design. After her graduation in 2017, she joined hands with Turkish firm Arte Proje as an Interior Designer in Antalya. A year later in April 2018, Leyla Naib established her own studio Jabbarli Design in Baku. Jabbarli Design specializes in high-end luxury interiors. Leyla Naib Jabbarli's design creations have not only made a name for her niche in her hometown Baku, but also in Turkey, United Arab Emirates and Russia.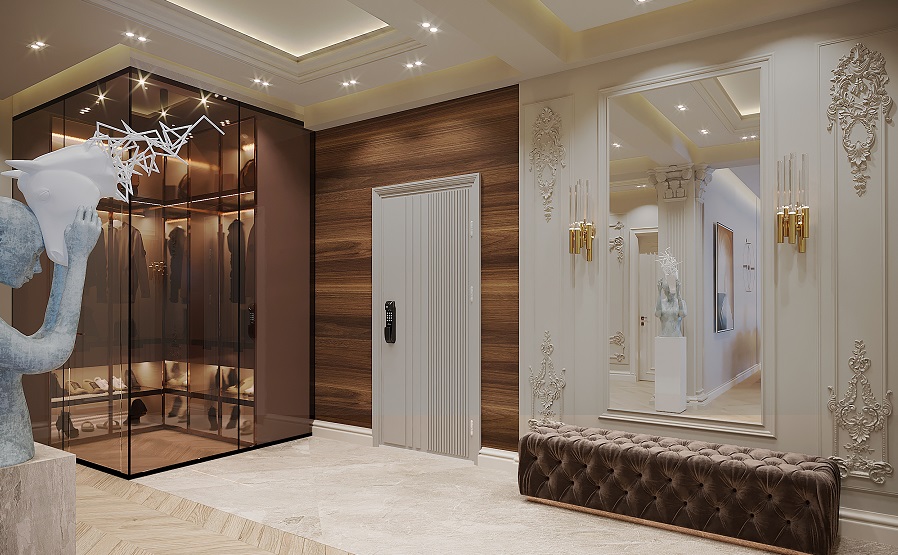 Fabulous Entrance
Leyla Naib Jabbarli comes across as a highly meticulous personality. Her design creations exude her meticulousness and her eye for detailing is truly impeccable. A warm person by nature, interacting with Leyla Naib Jabbarli has been a great joy to explore what goes beyond an interior designer's secret of success.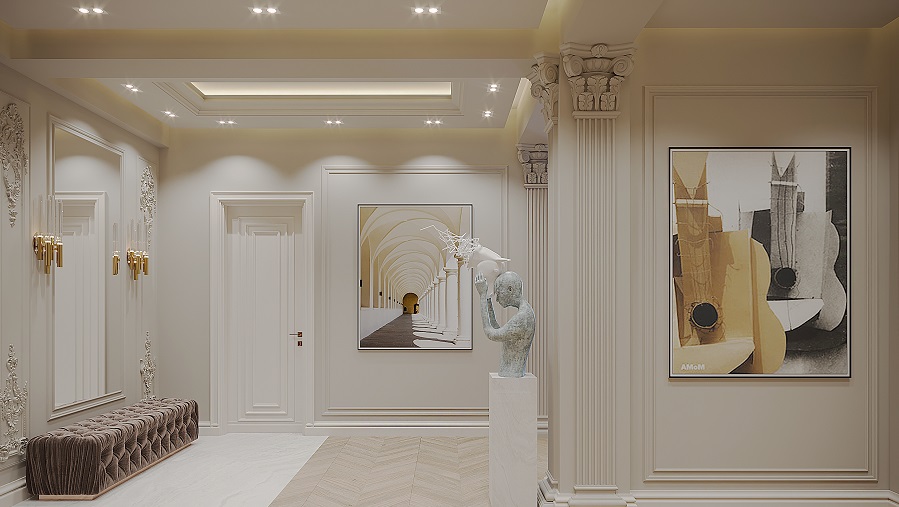 Connoisseur of Art
What was your childhood ambition? Did you always wanted to be an interior architect?
As a child, I always dreamt of becoming a fashion designer. I used to draw different outfits and dreamt someday I would become a fashion designer and take part in competitions as a jury (smiles). After a while, I came across a computer for the first time. Instantaneously, I developed an interest in Computer Technology. My research led me to an article in a book about computer programs, in which I discovered about 3Ds max. I realized it can be used to model an interior.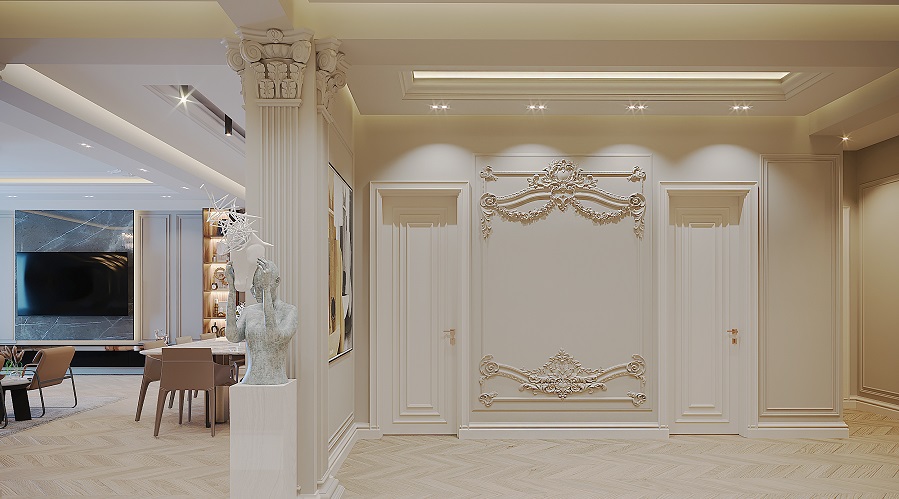 Intricate Finish
I became very interested and started reading books about interior design. This is when I decided to become an Interior Designer (smiles). As an Interior Designer, my dream has come to be true. As a successful designer in my country, I have designed and executed multiple residential projects in Russia. I have lived in Turkey for some time and designed many projects there. My dream of taking part in modeling competitions as a jury has also come true finally (smiles). Recently, I have begun to cooperate with the United Arab Emirates.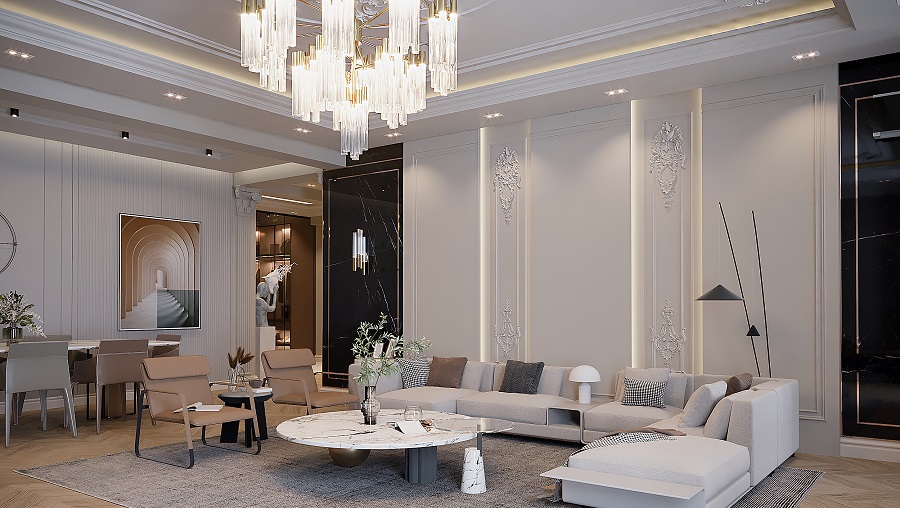 Grandiose Interiors
What are the projects you are currently working on in various cities / countries?
At the moment, there are commercial projects in Azerbaijan such as a restaurant, a boutique hotel and in the UAE there are studio apartments for rent. Some more projects are also in the pipeline in other Muslim countries.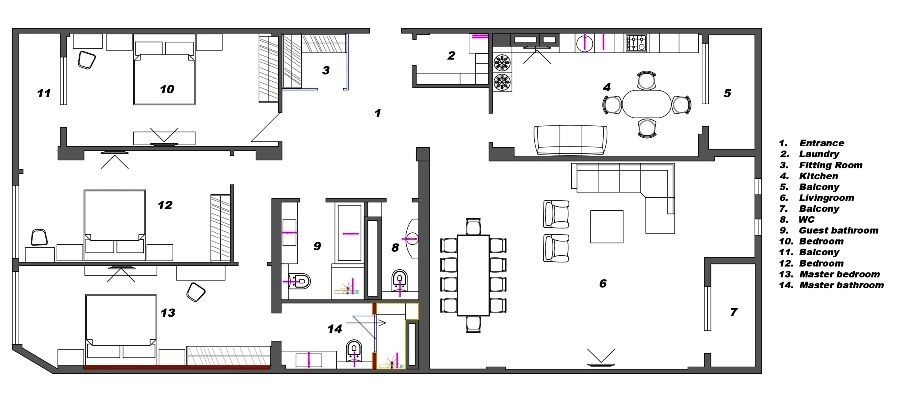 Layout Plan
Please list 5 of your 'Best Projects' close to your heart. Describe each of them in two to three sentences.
There are projects that are very dear to me, they are like child to me, from scratch to small accessories I chose everything myself:
AZINCO: The task was simply to improvise. The client was very pleased with my work. He gave me complete freedom in the selection of materials and I worked on this work with great pleasure. The end result was a dream apartment.
House Trend: Many people liked the design creation of the house and a lot of them approached me to design on similar lines. The result was several of these identical houses. In the courtyard of this house I made luminous paths, which everyone loved. We used this detailing in all our country projects and landscapes.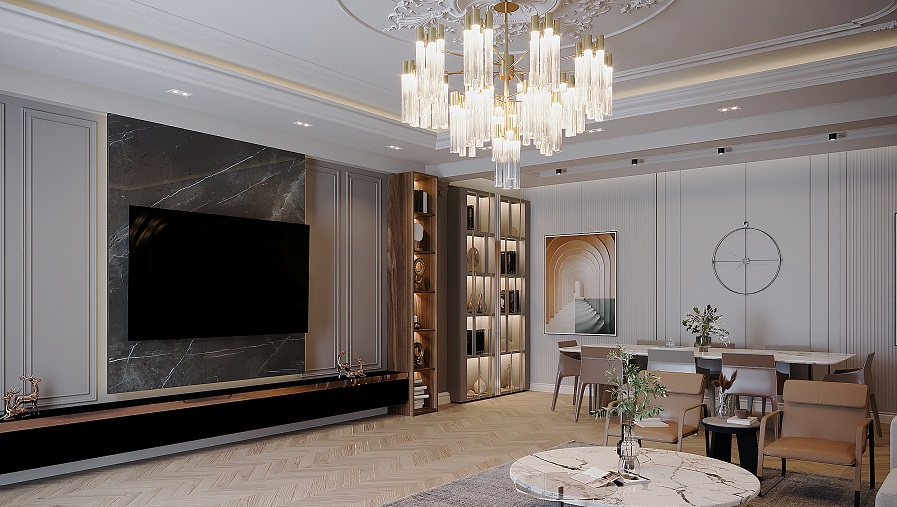 Living and Dining
Three-storey Yacht in Turkey: There was this yacht, which was an old model. We renovated it completely to convert it as a new modern one. From the exterior to the interior looks, everything was redesigned and refurbished.
Three-storey House in Turkey: The clients were from Kazakhstan and did not understand Turkish language, so they contacted me. By the end of the project, we became good friends. The work was completed with love.
Dubai Project: It was a memorable one indeed! The project, a studio apartment was simple, yet it was memorable experience because of the client, who was a very cheerful person. It is very important for me to work with positive people, because then the end result becomes extraordinary.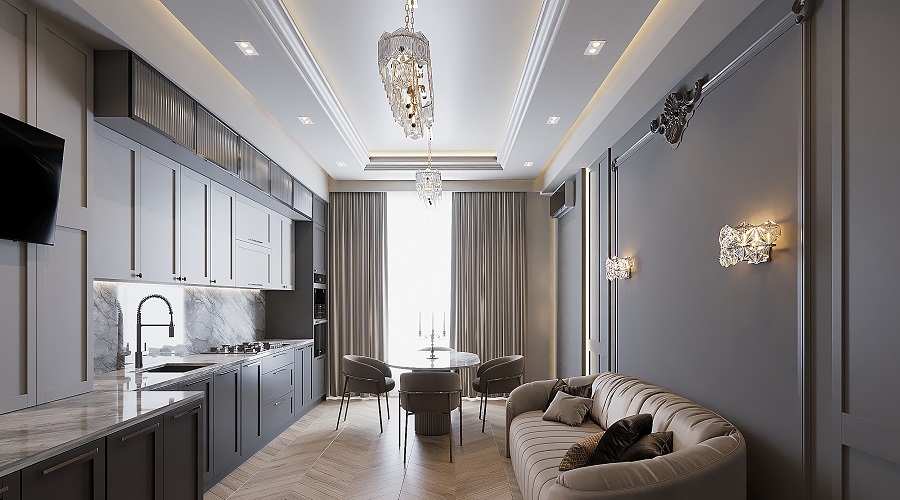 Spacious Kitchen
What really goes in your mind, when the client states the first brief?
First of all, I try to see and understand what kind of character a person is and I start to see what the client says, I visualize.
What was the brief of the 'Azinko' project?
The essence of the project was to create an interior for the permanent residence of a large family, so that, it is modern, cozy and at the same time not too much classic.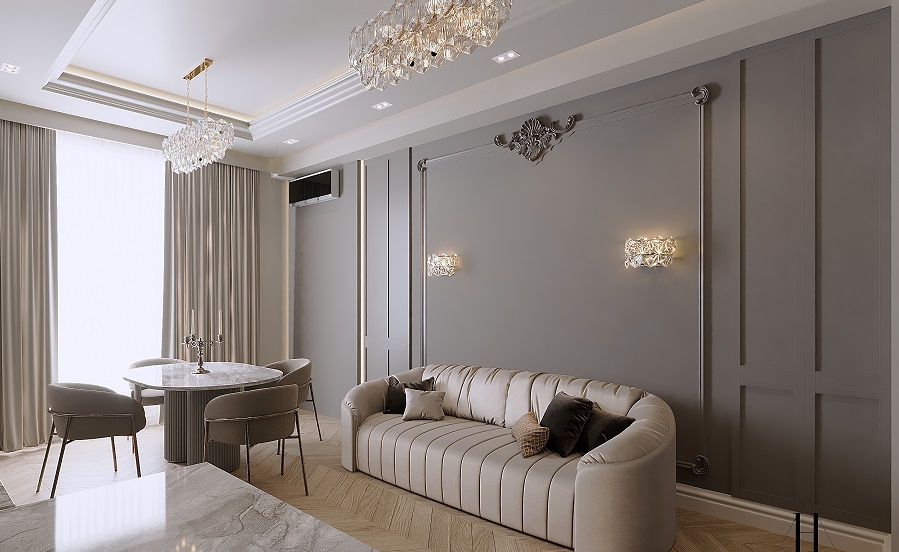 Exuding Luxurious Excellence
What were the challenges to execute the project? How did your team overcome them creatively?
There were no difficulties, as everything went according to the plan. The only thing that the customer required was that ceiling height should not be less than 3 meters.
How would you describe the 'Significance and Elegance' of 'Azinko' project?
The apartment has a little secret luxury in the furniture elements and on the walls, where in certain parts there is stucco, which shows its high price and respect.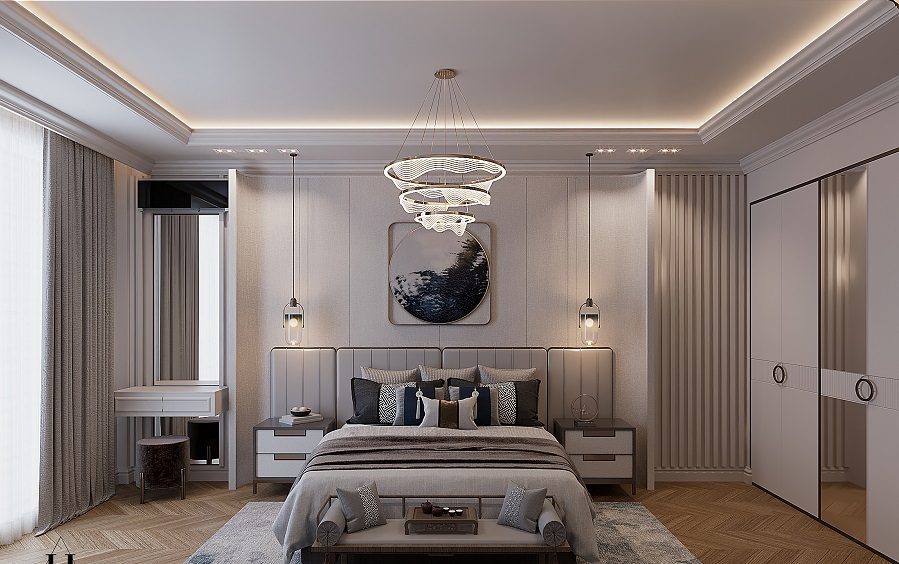 Bedroom
Please mention 5 major 'Sustainability' features you incorporated in the project.
The usage of materials, lighting, plumbing and heating was incorporated based on the sustainability factors.
Was it a conscious effort to make use of minimum colours, while keeping the interior predominantly white? Elucidate your perspective.
I try to use only one color in all my projects; at most I can afford to use one color in three tones. And this sets me apart from many other designers in the country.
Every designer leaves a signature in her / his design creation(s). What is your signature style?
My corporate style is diverse yet distinct by not using a template. Having your own unique style to make the interiors as comfortable as possible is my main objective as a designer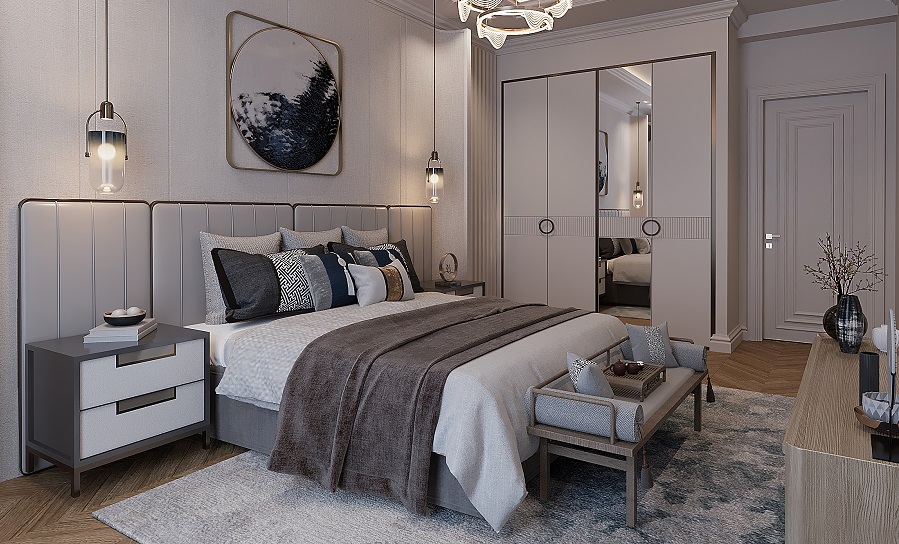 Luxe Comfort
What is the total area of the project, estimated cost and design-to-finish time period of the project?
The total area of ​​the project is 220 sq. m. Implementation period covers 6 months. The budget is confidential on client's request.
How would you describe the interior style in Azerbaijan?
In Azerbaijan, the trend is modern with classic elements. Lofts are in trend. I also love modern minimalism with rounded corners, as it provides the empty interiors to look comfortable and with freshness.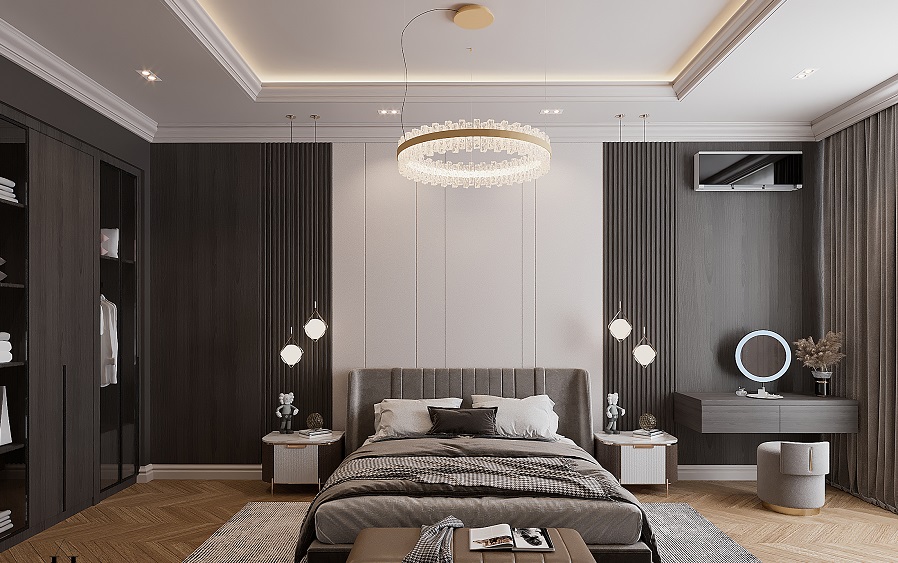 Master Bedroom
Which significant aspects of the global platform 'zerobeyond – the new frontier!' did you liked the most, and why?
I liked that 'zerobeyond – the new frontier!' has designers and architects from all across the countries. It provides us a chance to recognize the best creative people around the globe.
How would you describe Leyla Naib Jabbarli as a leader and a person?
Leyla Naib Jabbarli has been a leader since her childhood (smiles). In my work, I can sometimes be tough and at the same time soft. However, I like to maintain balance and not deviate from the lead. As a person, I do not always like to talk. I prefer to remain silent in my free time and save some energy. I love and value my family, but I never relax (smiles). There are still many big plans in life and for this I need to constantly move in order to achieve my goals. Therefore, in my free time I prefer to relax alone.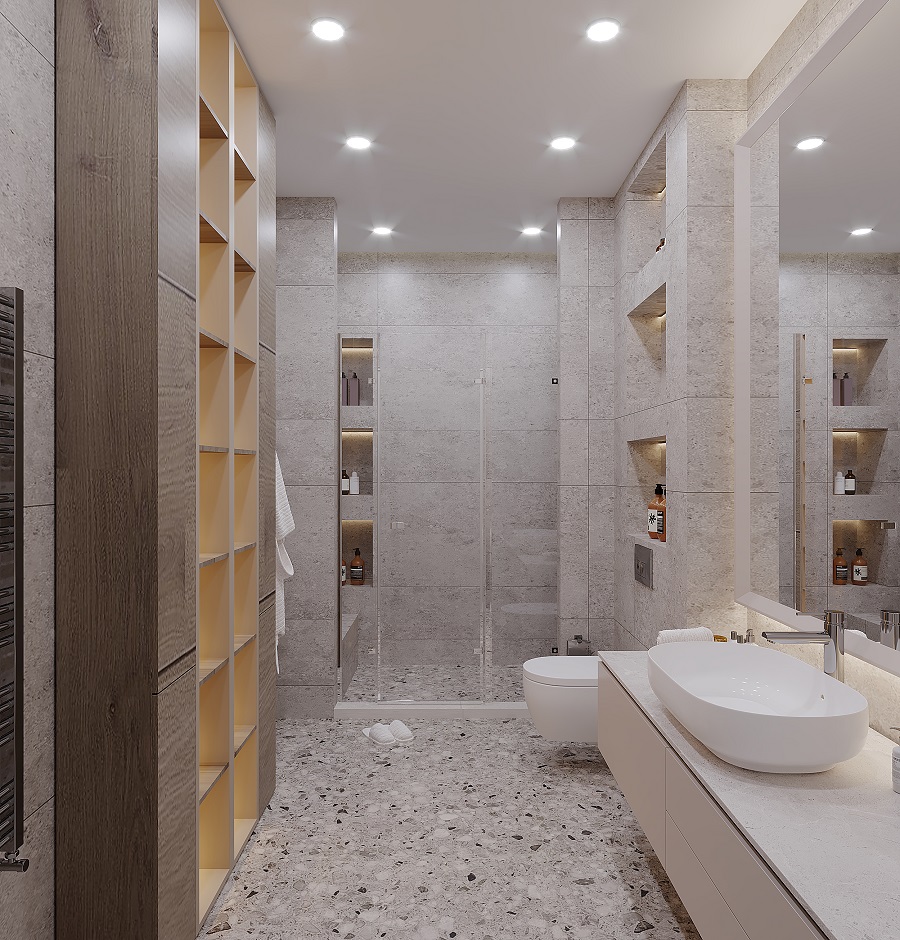 Master Bathroom
Please state recent awards' win by your Studio.
2022 – National Buta Awards, television decoration;
2021 – Diamond Globe Awards, Best restaurant projects;
2020 – Gold Face Awards, achievements and business activities during the year; and
2018 – Azerbaijan Best Awarding ceremony, Best Fashionable Interior Designer & Architect.
Image Courtesy: Jabbarli Design