In the year 2010, Răzvan Bârsan established Răzvan Bârsan + Partners in Bucharest, Romania. The architectural and design studio's design creations have received many national and international awards in the last 13 years. In the year 2000, Răzvan Bârsan graduated from Universitatea de Arhitectura si Urbanism "Ion Mincu" – Colegiul de Arhitectura si Urbansim with a Bachelor's degree in Architecture. His passion for architecture, design and aesthetics is remarkable. He enthuses, "Architecture is my first love and I stand by it without hesitation (smiles)."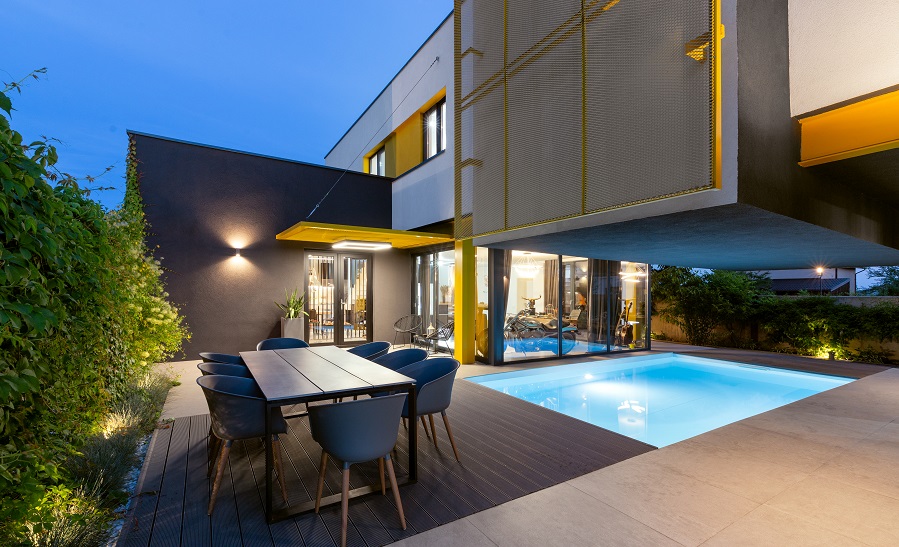 Flight House
Johnny D interacts with Răzvan Bârsan to explore his creative journey and his 'Flight House' project.
What was your childhood ambition? Did you always wanted to be an architect?
I was passionate about many things, like art and music. I did not set out to study architecture. I think, I stumbled into architecture or architecture found me. But looking back, this business and lifestyle has been inspiring and rewarding.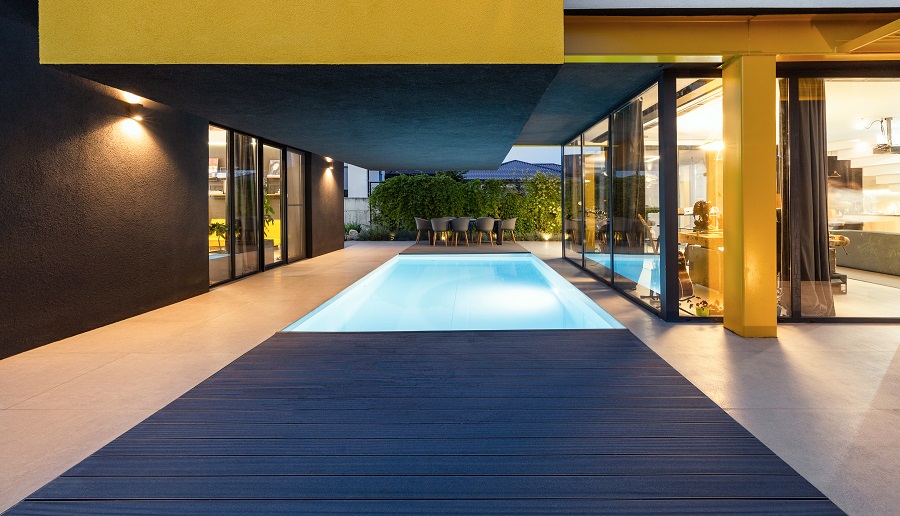 Scintillating Pool View
What are the projects you are currently working on in various cities / countries?
We are currently designing unique residential and mixed-use ensembles with office and commercial application. In the past three years, we have been focusing on developing exclusive projects for the luxury market, generally larger investments reaching around 120.000 sq. m per project, in key locations – Bucharest, Romania and the seaside cities. Our main focus is on creating an integrated design, mixing residential buildings with attractive facilities – commercial, pedestrian and play areas and other outdoor designs that create a true community for the user. We have also been trying to reach the market in Dubai and UAE.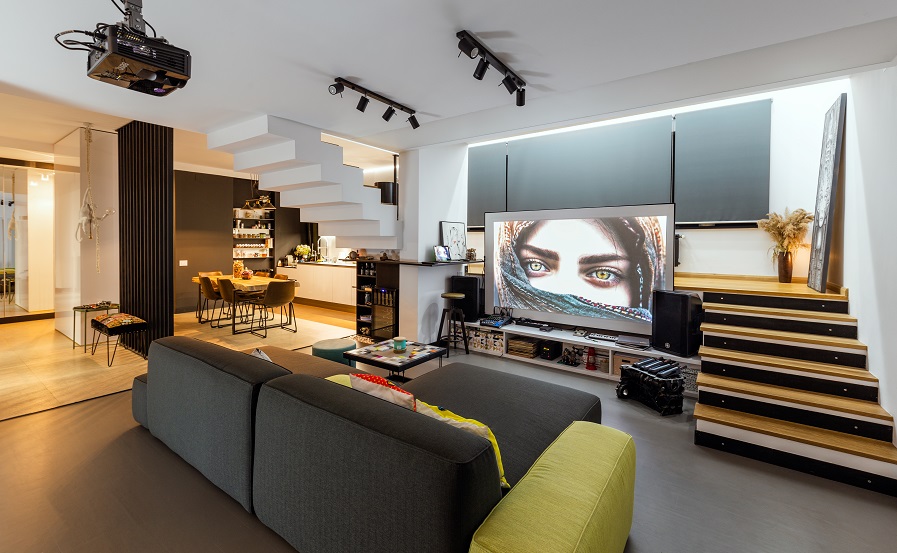 The Living Room
Please list 5 of your 'Best Projects' close to your heart and describe each of them briefly.
Above Residential is a unique concept in Bucharest, Romania. It is a high-end residential complex mixing sustainable technologies with luxury apartments.
Histria Towers is a daring project in the seaside city of Constanta, trying to revive an old industrial area with notable office and residential buildings.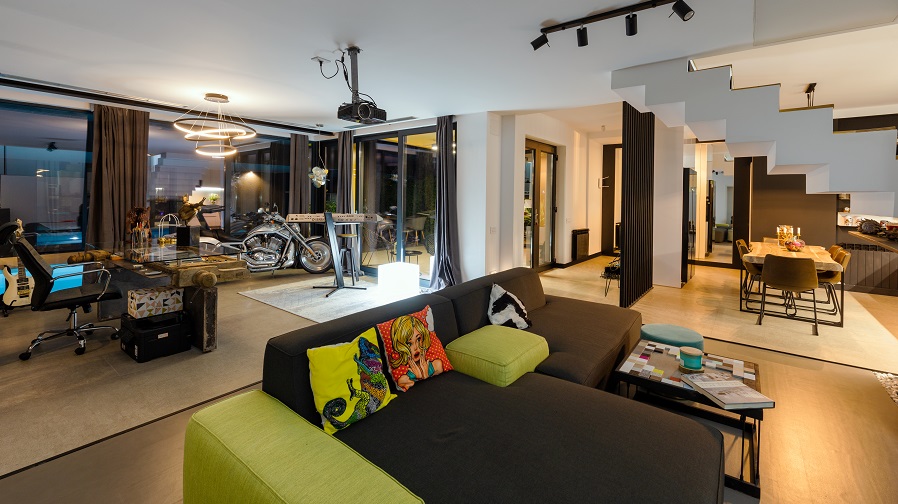 Spacious Interiors
Metaverse experimental designs is a side project we are developing, with emblematic designs that find applicability either in remote corners of the globe or taking advantage of the new technologies we use, including AI.
Skytower Interior Design is the tallest skyscraper in Bucharest.We have revived the building's interior and managed to create a design in touch with technology.
What really goes in your mind, when the client states the first brief?
I think the first thing that comes to mind is, "How wild can we go", do we have budget restrain or can we create a concept that really stands out.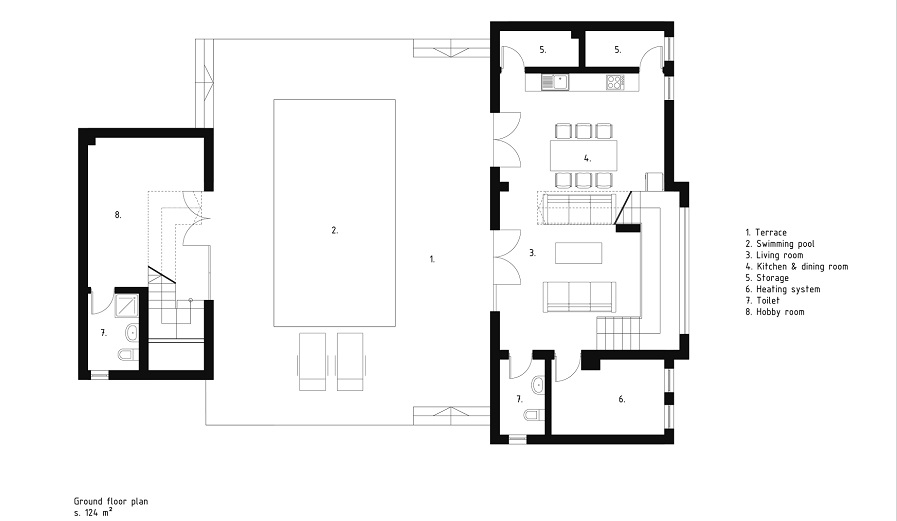 Plan – Ground Floor
What was the brief of the 'Flight House' project?
Make the house into a statement and to create a unique yet functional design for a young couple.
What were the major challenges to execute the project on the real grounds?
We used a great team of builders, suppliers and consultants. There were no significant challenges as such.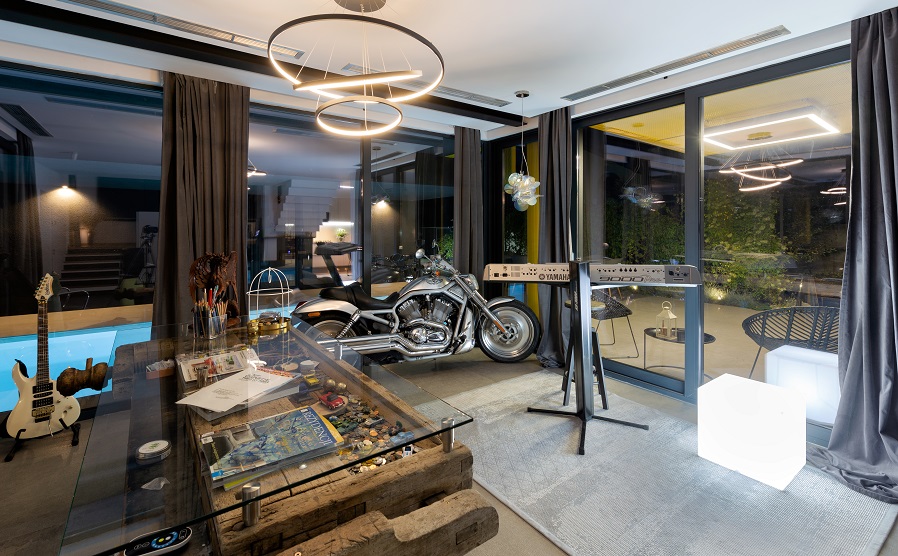 Collection of Memorabilia
How did your team overcome them creatively?
Some features were improvised on the site, usually with non-conventional strategies. We are talking here about the façade metal structures.
How would you describe the 'Significance and Elegance' of 'Flight House' project?
The ground floor, with its two volumes, connected by the blue of the pool is an elegant way to transform an otherwise ordinary space.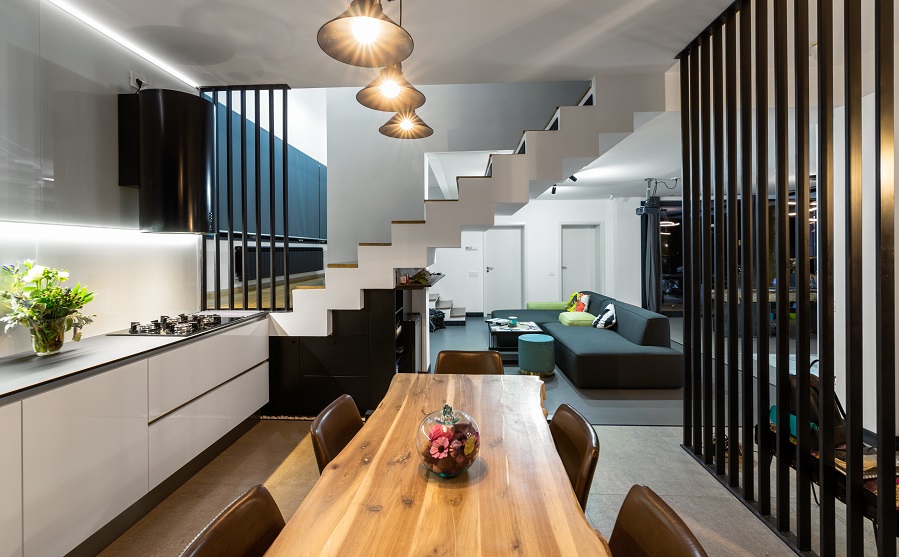 Dining and Kitchen
Please mention 5 major 'Sustainability' features you incorporated in the project.
The technical equipment for the electrical and heating, with a focus on solar energy is the sustainability features we incorporated.
What is the total area of the project, estimated cost and design-to-finish time period of the project?
A total area of 400 sq. m and a final execution price of 400.000 Euros. From design-to-construction, it took us a total of three years.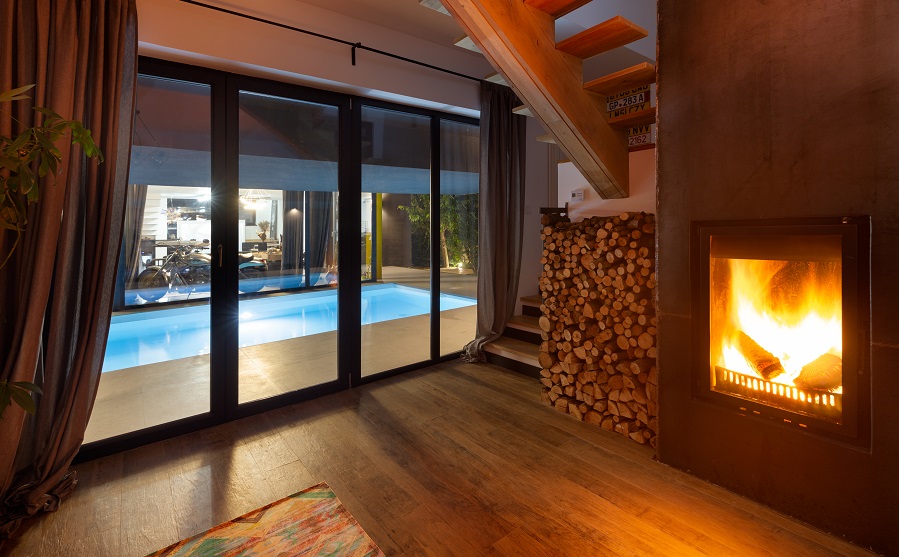 Arresting Fireplace View
How do you see urban planning and architecture in cities changing to overcome climate catastrophes?
First of all, when you shift the perspective towards the user, you tend to use a lot more green space, sustainable technologies and avoid an agglomeration of buildings. A really good thing that is happening in city halls right now is imposing requests for almost zero consumption utilities – heating, cooling being a major damaging factor. Another strategy that can work wonders is to expand the pedestrian areas and create through design fluid pathways that do not include let us say vehicles.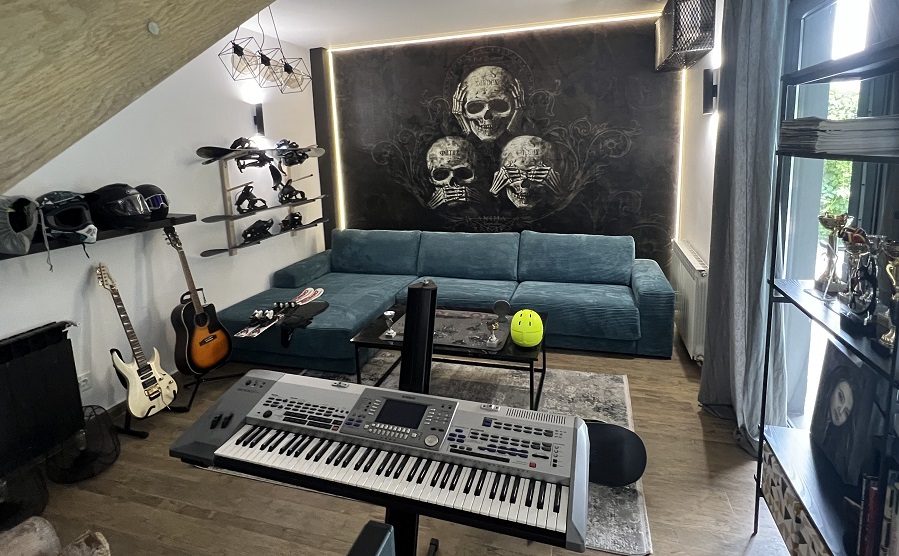 Hobby Room
If you are given the responsibility to rectify Urban Planning of an existing city to overcome floods due to Climate Crisis, what major steps would you take to implement in your planning design to make cities flood-proof?
I would study the relationship between a city's climate (natural climate or future tendencies) and build accordingly. If a material or a structure is not fit for a certain temperature, do not use it. In regards to flooding, a lot of clients are paying huge prices for waterfront properties that are in essence destroying banks or shores. I think an efficient strategy would be to allow large pedestrian areas near the shores and build within a considerable distance from shores. And these pedestrian area should be reinforced with the help of new available technologies.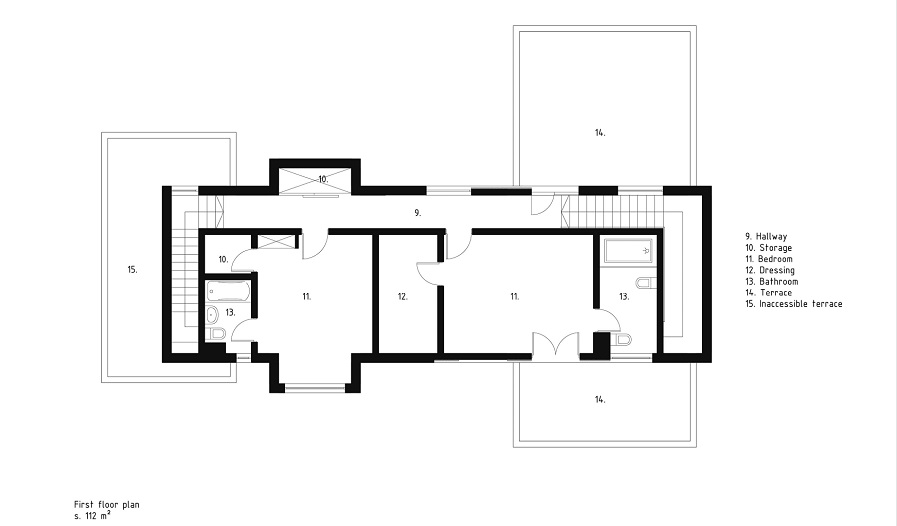 Plan – First Floor
Which significant aspects of the global platform 'zerobeyond – the new frontier!' did you liked the most, and why?
The focus of 'zerobeyond – the new frontier!' on the existing crisis in architectural design, how we should really consider the future of architecture and suitability, instead of profits is the aspect I like the most.
How would you describe Răzvan Bârsan as a leader and a person?
I am a true leader, who takes risks all the time in design and in business and adapting to so many complex situations, clients and project conditions (smiles).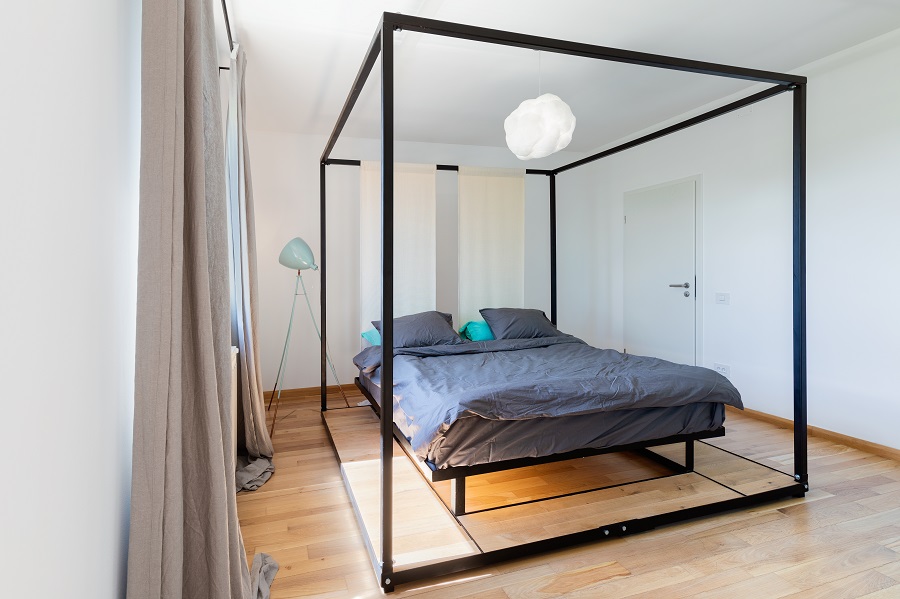 Master Bedroom
Please state five recent awards' win by your Studio.
2022 ACDA Architecture, Construction & Design Awards, for "Water to Wine" for concept category;
2022 LUXURY LIFESTYLE AWARDS, Best Luxury Residential Renovation Development for "H VICTORIEI 139";
2021 THE TIMES Investing in Property, Best Project "Central District Lagoon City";
2020 THE TIMES Investing in Property , The exclusive Project "Crown Towers"; and
2020 Forbes, Best Office Buildings Award "H Victoriei 109".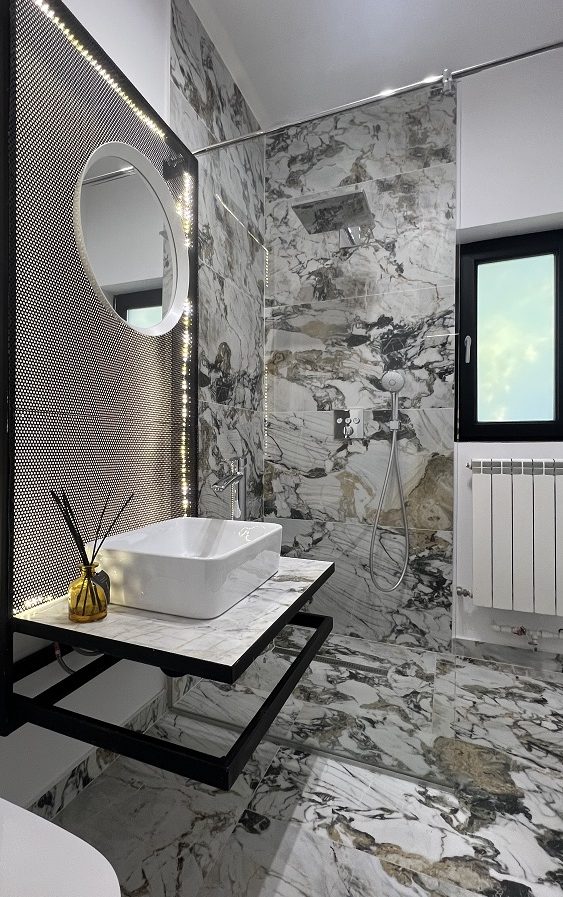 Luxe Washroom
Image Courtesy: Răzvan Bârsan + Partners