In the year 2008, two creative individuals joined hands to establish their architectural studio NFO in Zagreb, the Capital city of Croatia. As destined, Nenad Ravnić and Kata Marunica met at their University's Professor Goran Rako's office Radionica Arhitekture after they graduated as architects in 2006 from Sveuciliste u Zagrebu – University of Zagreb. At Radionica, the two worked on multiple projects and they realized their distinctive characters complement each other.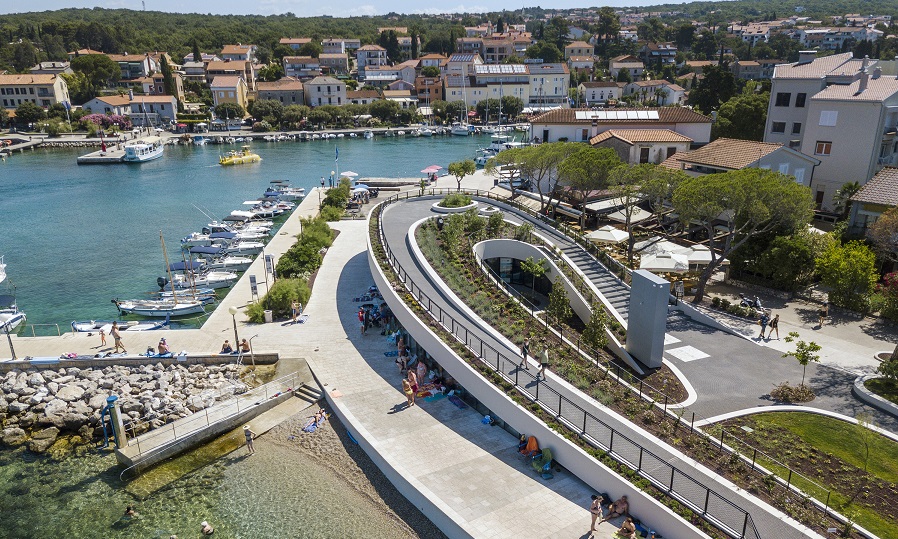 During their formative years, Kata and Nenad participated in various architectural competitions and went onto win an amazing 30 awards. 12 of those 30 awards were the top winner's awards. Their creative talent went onto see some of the competition winning projects being realized and nominated for prestigious annual awards like 'Croatian Chamber of Architects', the 'Zagreb Society of Architects' and 'Mies Van der Rohe Foundation'. In the last 14 years, NFO has grown into a renowned multiple award-winning architectural studio in Croatia.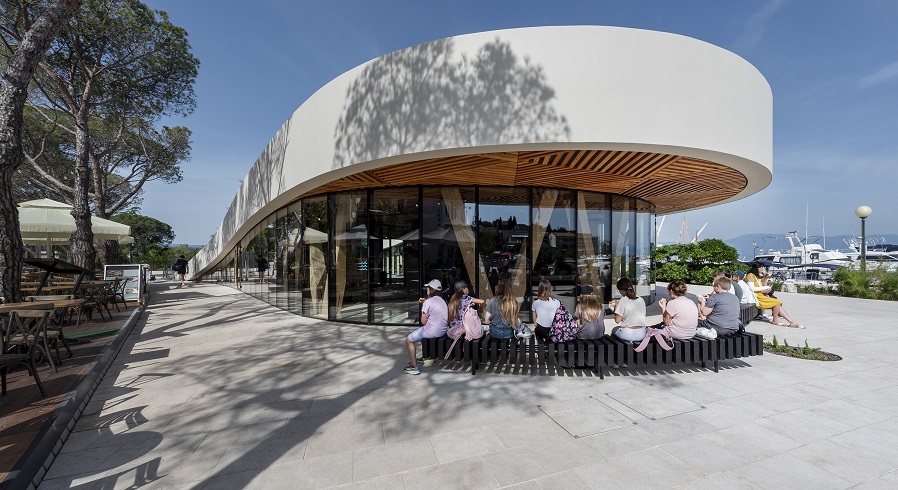 Kata Marunica comes across as a meticulous and warm individual. Her cool demeanour is truly infectious to people who interact with her. Kata Marunica speaks with Johnny D about her journey and the recently completed project 'DUBoak – Maritime Heritage Interpretation Center'.
What was your childhood ambition? Did you always wanted to be an architect?
From an early age of my teen, I thought architecture was a perfect combination of logic and art. I loved spatial games and enjoyed drawing 3-D objects. I drew my first imaginary house on PC 286 in Paintbrush (smiles).

Please share how NFO was established by Nenad Ravnić and you?
Nenad Ravnić and I met at our University's Professor Goran Rako's office. We worked on several projects together and realized that we have similar ambitions. We realized our different characters happened to be a good combination to better our creative outputs.
Initially, we started working on smaller projects, the ones we had time to do in our spare time after working hours. As the scope of the potential growing work, it seemed necessary that we should establish our own practice. Little did we know that after summer of 2008, financial crash will come that will affect our market for the years to come. All of our projects stopped and we had to face the reality of poor jobs or no jobs at all. Luckily, it pushed us toward architectural competitions. In fact, in those years of crisis we managed to get our first bigger contracts that later on enabled us to keep a firm foot in the architectural field.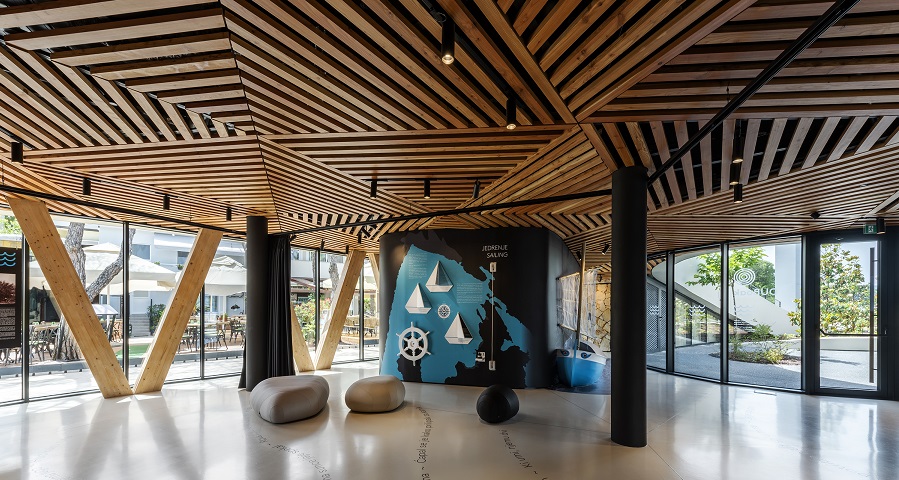 Our office now consists of several younger partners – Frane Dumandžić, Marin Piršić and Filip Vidović, who are also sharing similar values as Nenad and me. At the same time, they also bring new things that we lacked.
What really goes in your mind, when the client states the first brief?
We wonder, how much of the initial enthusiasms and presented plans will survive until the end of the project (smiles). Architecture and construction are a long term process and most of the "damage" is done, because mental and financial strength for the whole package is lacking. It is really important to recognize client's character, because that is what determines the future of the project.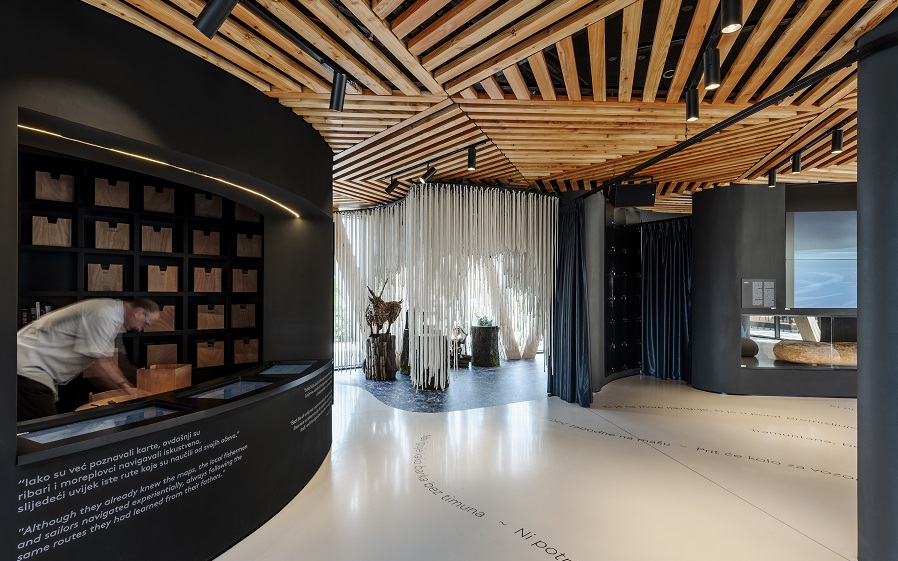 What was the brief of 'DUBoak – Maritime Heritage Interpretation Center' project?
Start of the brief was actually planted in the brief of architectural competition for the entire Malinska Coastline. Malinska is a small town on Krk Island. Local municipality had a vision to make a strategic document for public space development of the coastal area that was neglected for a number of years. We were very intrigued by that competition and luckily won it.
At that time the goal was to create some sort of closed public space that could serve for various purposes for the locals and also for tourist population that exponentially increases during summer months. We debated about community center, tourist board centre etc. In the end, it was decided that it will be a combination of interpretation centre for maritime heritage, local fishing and sailing associations and public space for various gatherings.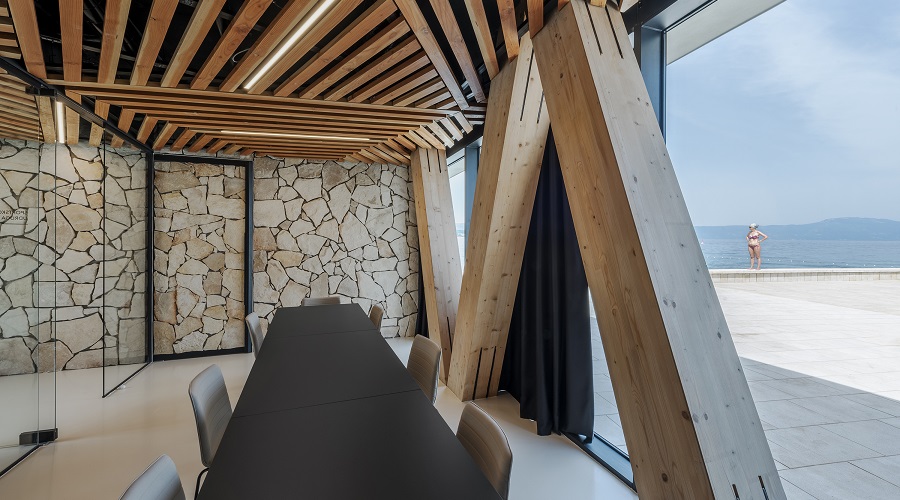 What were the major challenges to execute the project?
Time and money, as always are the biggest challenge for every architect. We were lucky that the investor was "on our side" most of the time and shared the same vision with us. That was so crucial for the project to "survive" in more or less the same that we imagined it to be.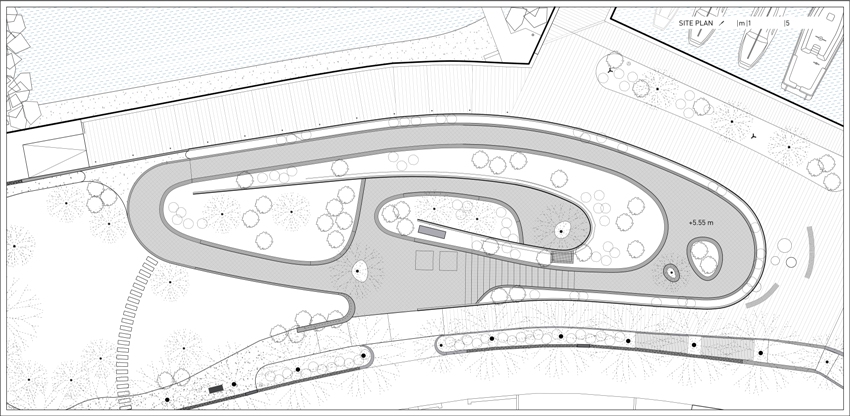 How did your team overcome them creatively?
We invested huge amount of time. It was essential not to let go of the project in the time of pressure of time and "alternative solutions" that were usually offered during the construction. Other important thing was that the community was supporting this project, because local municipality organized several workshops with citizens of Malinska, where they were included in important functional decisions and design process.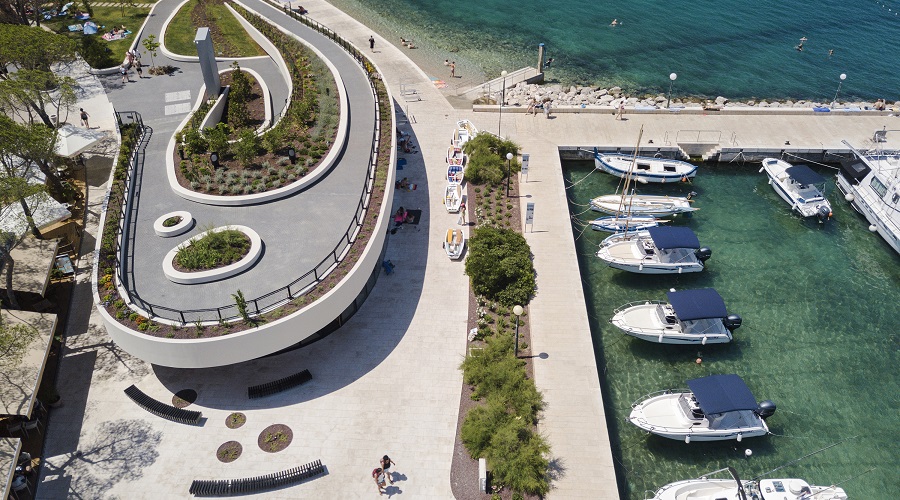 How would you describe the 'Elegance and Significance' of 'DUBoak – Maritime Heritage Interpretation Center' project?
Significance of such Centre was clear long time ago as Malinska did not have such space, so we knew it will be used, which was the first condition for the project to be successful. The other important issue was "replacing" the land that we took for our construction by creating a park on the roof of the centre. It went onto become 'the' new focal point in Malinska (smiles).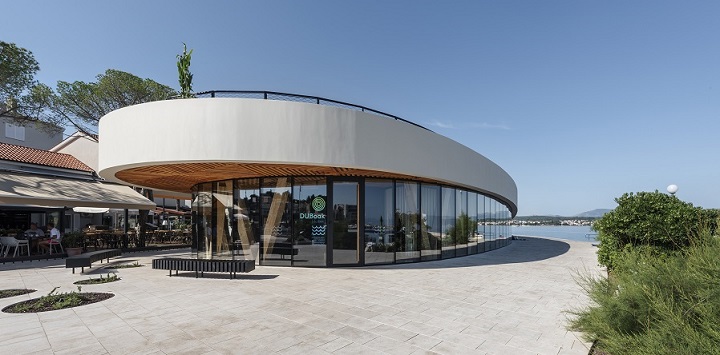 Please mention 5 major 'Sustainability' features you incorporated in the project.
Malinska is a coastal city and we were very much aware of the sea levels, so the first point was to build a higher ground for the Centre. As mentioned above, we also tried to replace the "lost" ground by activating the roof and planting local plants. Maybe the most important feature of "sustainability" was the brief that was not just focused on the interpretation centre (that is mostly used by seasonal tourists), but also for the demanded space for local fishing and sailing associations and that assured that centre will be used to preserve local way of life and customs.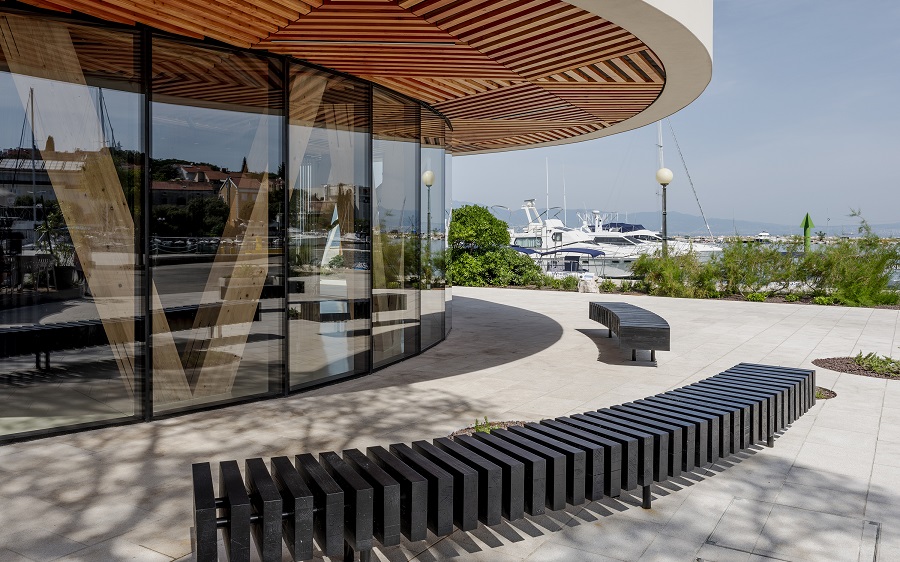 What is the total area of the project, estimated cost and design-to-finish time period of the project?
Design-to-finish was a bit longer, because everything started during 2015 competition. During several years, the project was refined and the construction started in late 2019. With the arrival of Covid19 pandemic, everything was running late. Finally, the construction was finished in the spring of 2022. Plot area of the project is just above 1,040 m2 with gross surface area of 352 m2.Estimated cost is somewhere around 1,750,000.00 Euros.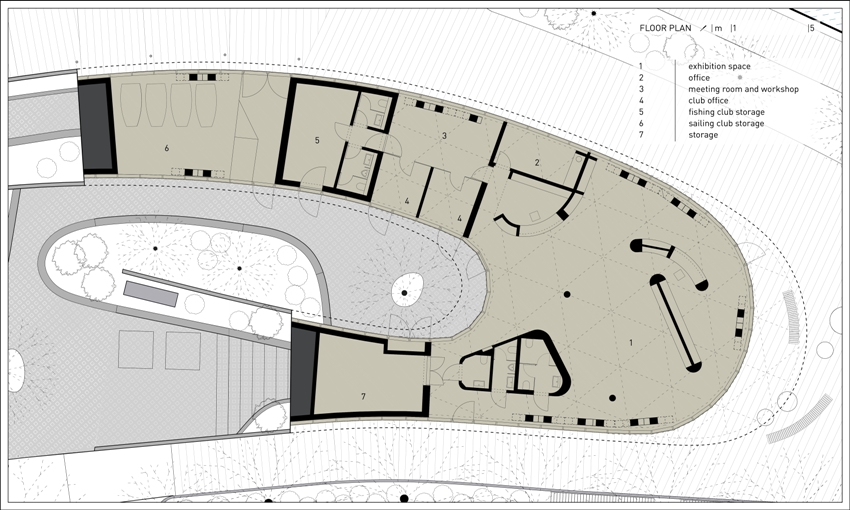 'Smart Cities' have become 'Inundated Cities' in recent years. How do you see architecture in cities changing to overcome climatic catastrophes?
It is a huge problem that we are not quite aware in our everyday life. There is a lack of strategic spatial planning documentation that addresses this issue that should be the basis for action on local levels. Sometimes, it seems like that issue is so big that nobody really dares to address it. As architects without global regulation, except in experimental architecture summer schools with students, we can only work on small scale, which is really ridiculous considering the scope of the crisis.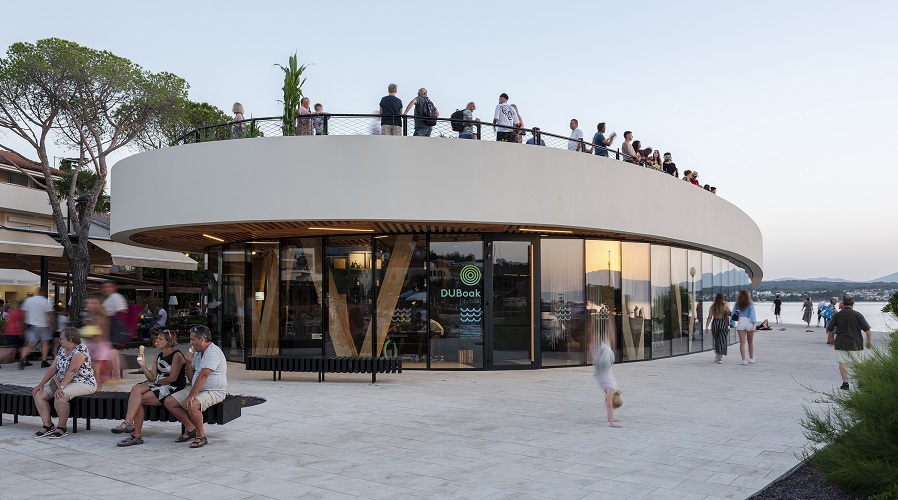 Flawed Urban Planning and age-old drainage and sewage systems has taken a toll on cities of the world – Your valuable insights to overcome this major issue, so as to make cities flood-proof and livable.
I believe that overbuilding in combination with climate changes took a toll in Croatia. Huge pressure of money and tourism and lack of strategic planning brought us now to a place, where such huge infrastructural projects became too big to handle for the local municipalities and get stuck with patching patches of poor infrastructure. I am really not sure of the outcome (sighs)!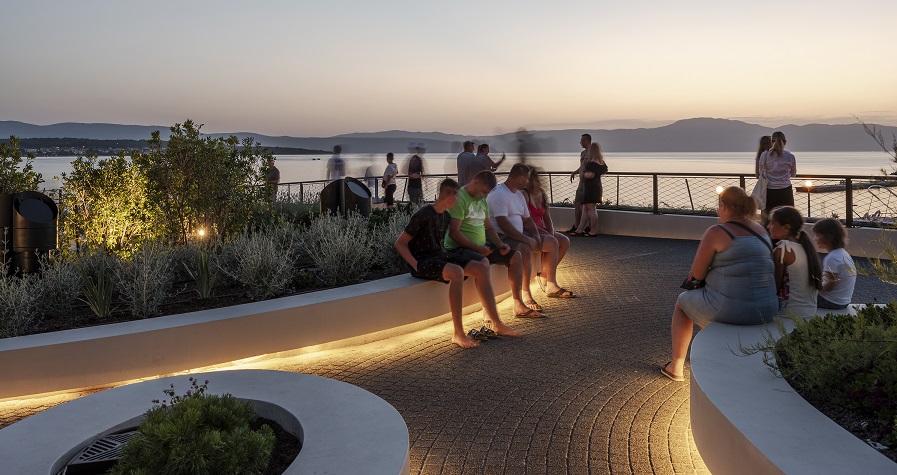 Which significant aspects of the global platform 'zerobeyond – the new frontier!' did you liked the most, and why?
It is great to see 'zerobeyond – the new frontier!' growing and sharing interesting insights from all around the world. It is necessary for this kind of projects to develop even more.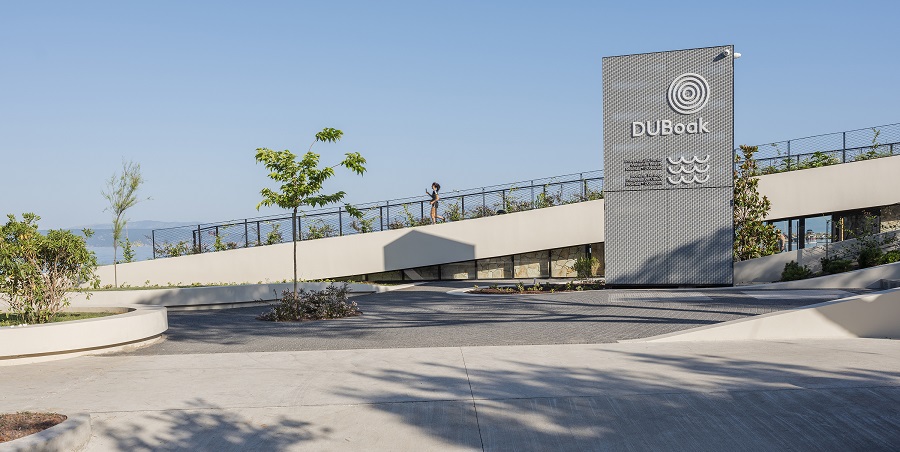 What are the various projects NFO is busy with, in various cities and countries?
Croatia is a small market and we are working on several projects at the moment. Our focus is mostly divided to heritage projects' reconstruction after the earthquake that hit regions of Zagreb and Banija, projects in tourism such as 'Viewpoint Smričnjak' on a hill looking over city of Šibenik and several wine facilities, as Croatia is a wine region. I would like to emphasize one small but special project, a 'Lapidarium' in old quarry tunnel in city of Topusko.

How would you describe Kata Marunica as a leader and a person?
It is a same person always. If you are committed to your work, you cannot hide your personality. It would be too hard. In NFO, we share a pretty horizontal view on leadership and believe that this is the way to encourage creative processes.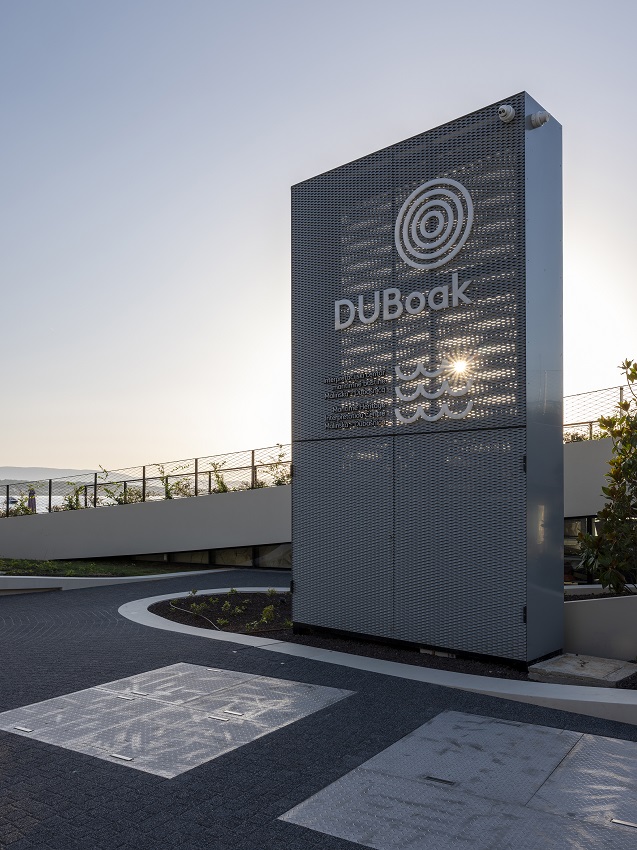 NeuroArchitecture is fast catching up with architects around the world. Your views as to why architects should make use of NeuroArchitecture.
It was always around in a way. Maybe it was not called 'NeuroArchitecture'. In our design we often use the word 'ambience', which actually refers to emotions that we want to evoke in future users. Of course, something like that is not easy to accomplish. I presume, it is great that there is more emphasis on scientific research in that domain.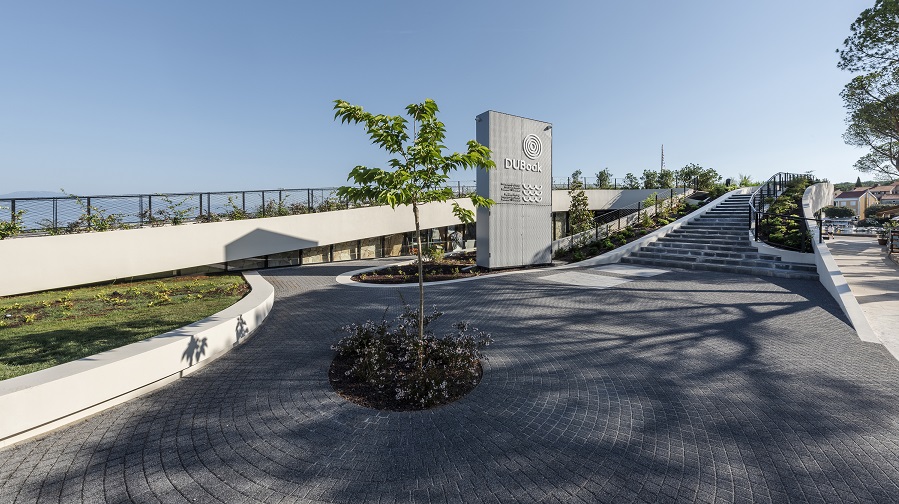 Please state 5 recent awards' win by NFO.
2022: BigSee Award – 'Paleo Park' Project;
2020: Award Architectural Competition – Winner – 'Viewpoint Smričnjak' Project;
2019: Award Architectural Competition – Winner – 'Koprivnica Center' Project;
2019: Croatian Chamber of Architects Annual Award – Nominated – 'Stella Maris Swimming Pool and Reception' Project;
2019: EU Mies Van der Rohe Award – Nominated – 'Broken Landscape'.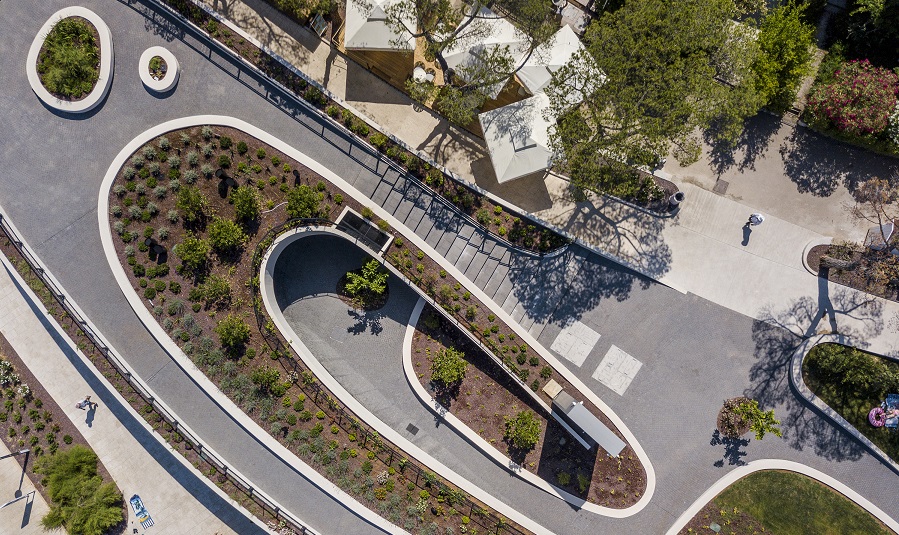 Image Courtesy: NFO