The GEN Z Series travels to the picturesque city of Bucharest in Romania to meet Cristiana Czerwinski – a bright, young and talented creative 2022 graduated Masters' student from 'Ion Mincu' University of Architecture and Urbanism, Bucharest. Cristiana enthuses, "Throughout my 6-year academic session, I secured scholarships maintaining an excellent academic performance, prominent being the Erasmus Scholarship at TU Wien – University of Technology Vienna." Interestingly, she wanted to be a musician during her High School days and pursued Music Major. Cristiana Czerwinski had won many awards in various music competitions. She excels in classical guitar.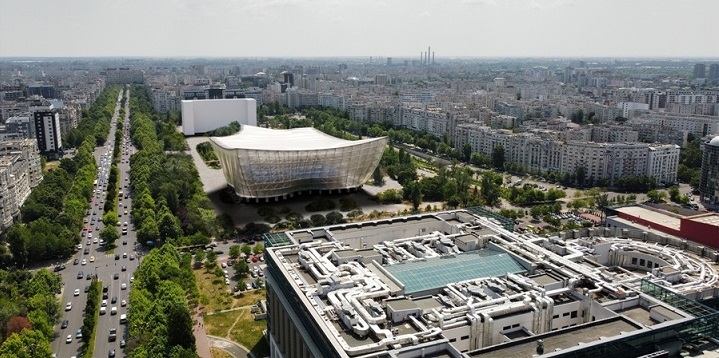 Aerial View
Hailing from an army background, Cristiana Czerwinski is first in the family to enter the architecture field. She reveals, "My father served as a Colonel in army. My mother is in nursing profession. My parents' encouragement to pursue architecture has been unflinching. Their guidance to pursue my dreams with passion has shaped me for who I am today (smiles)." At such a young age, when she was student herself, Cristiana turned into a visionary in 2021 by starting a small business focusing on interior design. She started mentoring younger students to learn AutoCAD, all the while excelling in her academic and professional spheres.
Johnny D interacts with Cristiana Czerwinski to explore her journey into the architectural world and her final year thesis providing solutions to integrate the Philharmonic Square in Bucharest, Romania.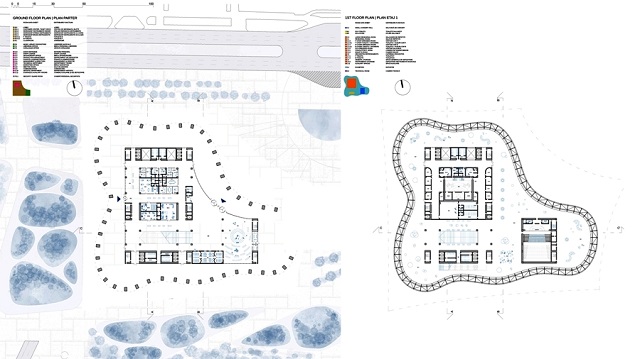 Plan – Ground Floor and First Floor
What was your childhood ambition? Did you always wanted to become an architect?
As a child, I enjoyed making miniature doll houses for dolls out of empty cereal boxes, developing a natural curiosity for spatial compositions. Initially, I leaned towards music, while my affinity for drawing and crafting quietly persisted. Looking back, my childhood activities were the foundation for my future as an architect (smiles). I even sketched rudimentary architecture plans for my dream house and envisioned redesigning my neighborhood. I found myself more attracted towards drawing, spending hours immersed in architectural drafting.
After High School, I recognized a shift in my aspirations and joy I found in sketching. A chanced encounter with the word 'architect' ignited a spark of curiosity that led me to research the profession. The pieces clicked into the place, I had been unknowingly nurturing – a passion for architecture since my formative years. The realization became my compass because I was choosing the road less traveled, guided by the feeling that architecture was my true calling (smiles).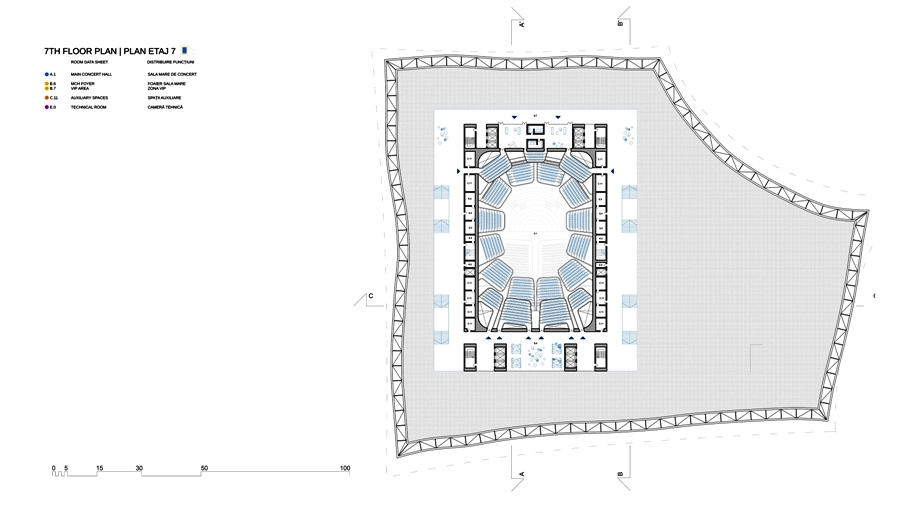 Plan – Seventh Floor
How has architecture influenced your life as a student?
Architecture has deeply impacted my student life. It has guided me to openness of fresh ideas and valuable critique. Patience cultivated through the discipline's demands has refined my dedication towards complex improvements. The essence of architecture has driven me to extract wisdom from varied domains, enhancing my adaptability and design perspectives. My academic journey has not only benefitted my architectural principles, but also a comprehensive cross-disciplinary understanding about the subject.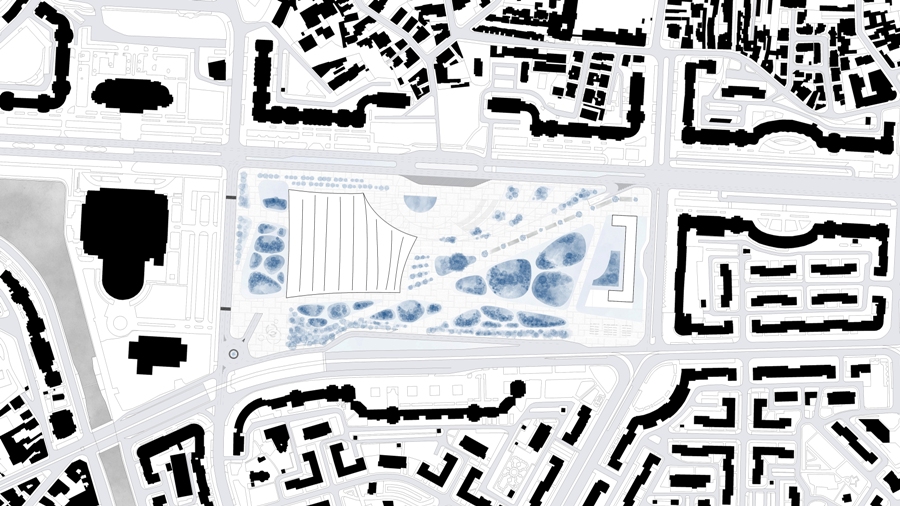 Situation Plan
Briefly tell us about your University and the Course.
'Ion Mincu' University of Architecture and Urbanism features a rigorous 6-year program focused on architecture, while providing foundational knowledge across various disciplines including urbanism, landscape architecture, interior design and restoration. This comprehensive curriculum with 4 bachelor's years and 2 master's years reaches its peak with the diploma final project, along with a dissertation closely integrated. The program's well-rounded approach ensures graduates are equipped with a broad understanding of the field.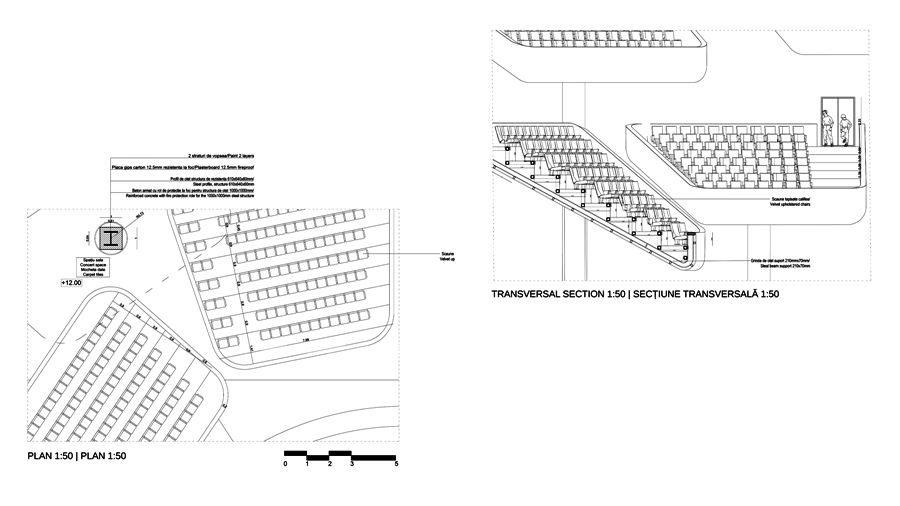 Vineyard Concert Hall Arrangement Detailing
What major differences did you observed at Technische Universitat Wien as an exchange student compared to your 'Ion Mincu' University of Architecture and Planning?
During my learning phase at TU Wien, I noticed significant differences. In Vienna, the workload was lighter, with 30 credits per year, while Bucharest required 30 credits per semester. Even with a lighter workload, I found myself learning a multitude of new things I had not been exposed to before. The major distinction was the assessment – TU Wien relied mostly on midterms and presentations, reducing exam stress and promoting genuine learning. The freedom to select diverse courses added to the enjoyable experience. Both universities enriched my journey and I value the education they each offered.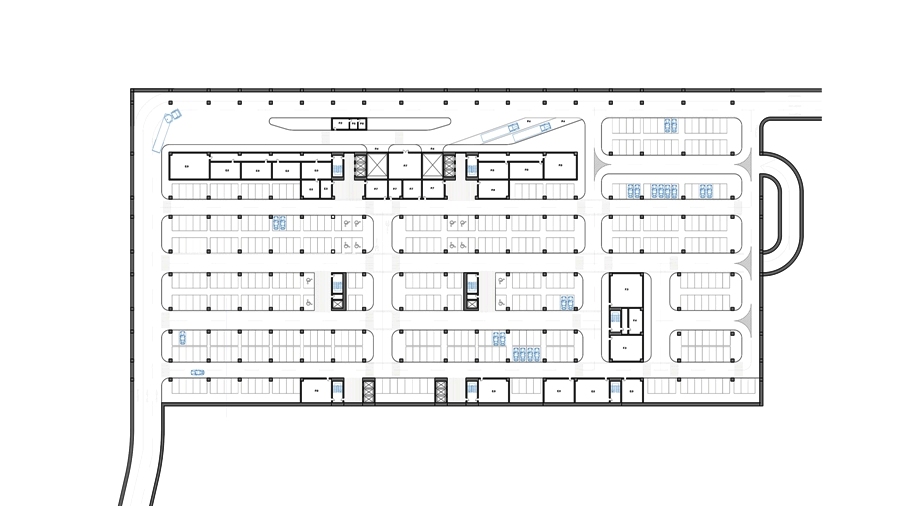 Plan – Basement
Briefly describe the significance of your project.
Situated in Bucharest, Romania, the project covers 116,000 sq. m. The master plan harmoniously integrates the Philharmonic, square, park, and a hotel within the city's fabric. An esplanade introduces sustainability as a central green space. Careful path placement honors historical roads lost to 80s' demolitions, thereby creating a tangible connection to the site's history. This approach ensures the Philharmonic, which is the main focus of this project, becomes an integral part of the city's narrative. The unique Philharmonic design aims to be a landmark, while includes concert halls, a 2-level backstage, a music library, an exhibition area, and workshops for both music and instrument repair.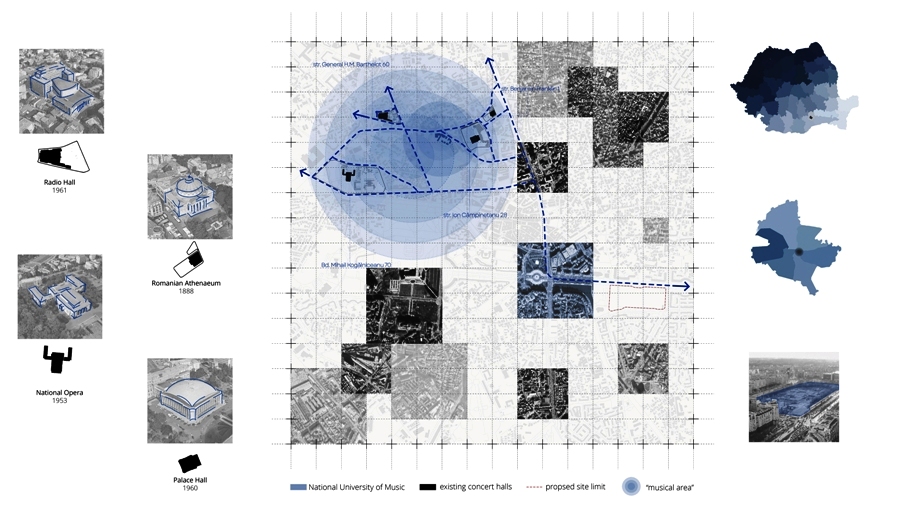 Existing Concert Halls in Bucharest
Notably, I chose to design a shared space between the music exhibition and performers' lounge. The aim was to bridge the divide between performers and audience, fostering interaction and shared experiences. The dual-concert hall approach includes a 2,200-seat Main Hall designed with the audience experiences of a 'vineyard', while having the acoustics of a 'shoebox'. Within the shoebox form, terraces of audience seating are placed in a vineyard-style arrangement. The outer ETFE shell encapsulates these spaces, while multiple access points and levels made by a monumental staircase reflect the performance's complexity.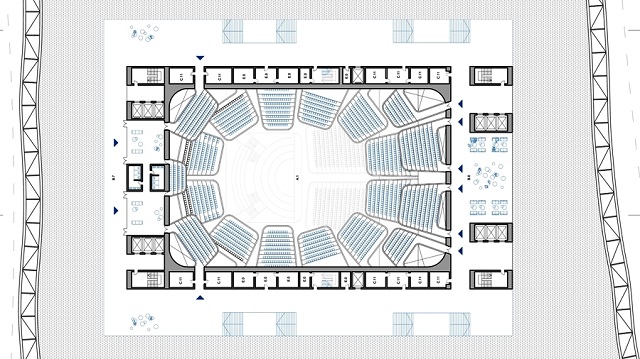 Main Concert Hall Detailing
I wanted to achieve a captivating silhouette of the activity within, allowing the movement patterns of the people who ascend and descend the grand stairs, to be read from the outside, illuminating the building's interior life – the dialogue between inside and outside mirrors the building's integration with the city. The longer paths of the stairs create an architectural narrative, urging people to engage with their surroundings before a concert. This project aspires to create a harmonious and engaging space that enriches the urban and cultural landscape.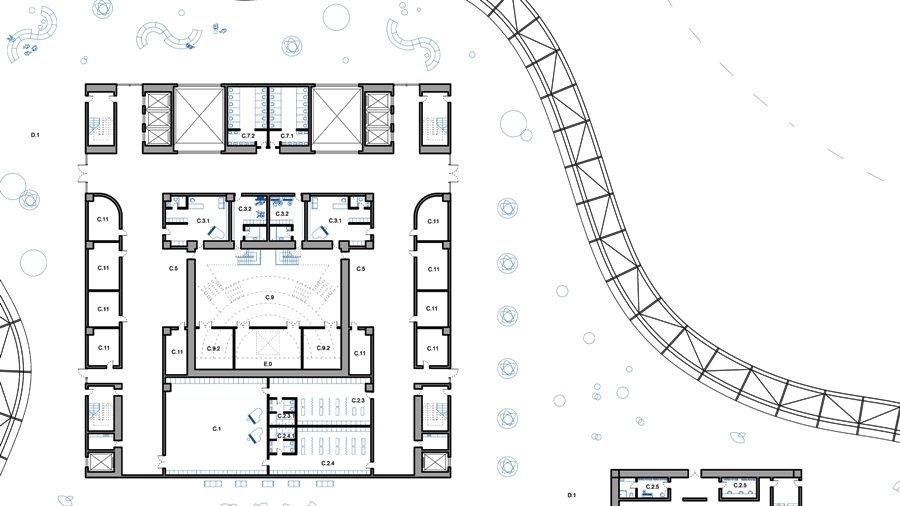 Music Exhibition Detailing – 1
Which National or International architect has inspired / influenced you? Please specify as to why?
I wish and want to draw attention to one of the architects, who has deeply inspired me – Dragoș Perju, my design studio teacher. In spite of different opinions on details, he prioritized guiding me towards the right aesthetic, while preserving my ideas. His approach through experimentation has allowed me to discover and develop my own architectural style. His clean, modern approach continues to inspire, drawing attention to simplicity while encouraging individuality.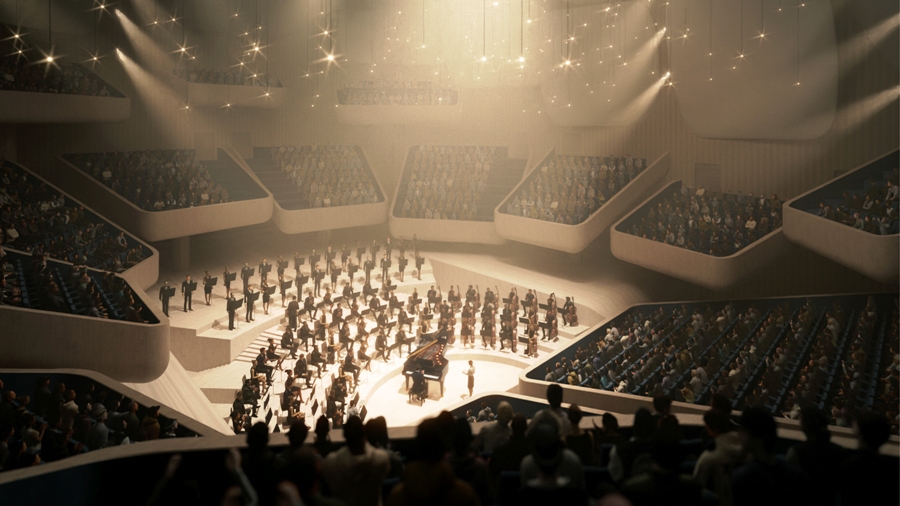 Main Concert Hall
As an Intern, what is the most important lesson(s) you have learned from senior architects, while being a part of a project?
During my internships, senior architects taught me the well-known lesson of collaboration. Engaging with diverse perspectives enriched problem-solving and design outcomes. They focused on attention-to-detail, seamless teamwork and effective communication as essential components for a successful project.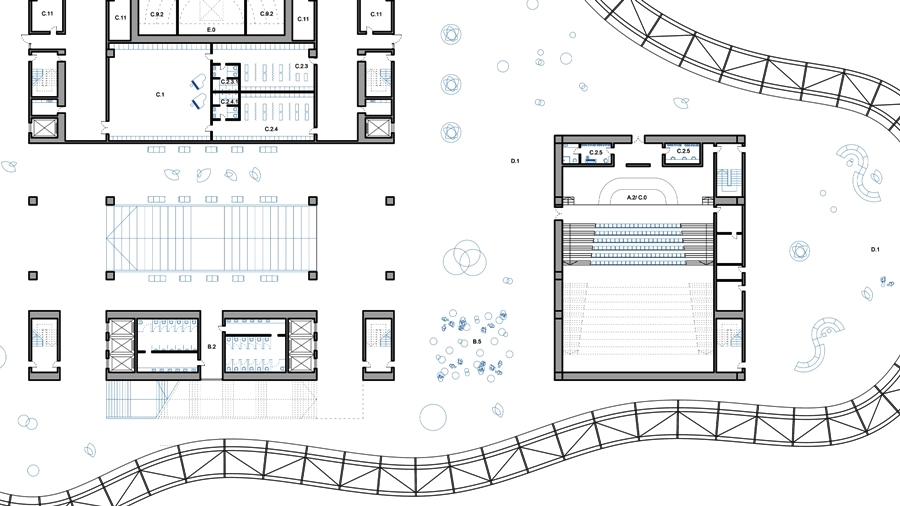 Music Exhibition Detailing – 2
If you are given the responsibility to rectify the Urban Planning of an existing city to overcome floods due to Climate Crisis, what innovative design features would you implement to make cities flood-proof?
While my expertise lies in architecture rather than urban planning, I can provide architectural perspectives on flood mitigation. My first thought goes to flood-resistant elevated structures or rooftop gardens, because they offer dual benefits of aesthetics and rainwater absorption.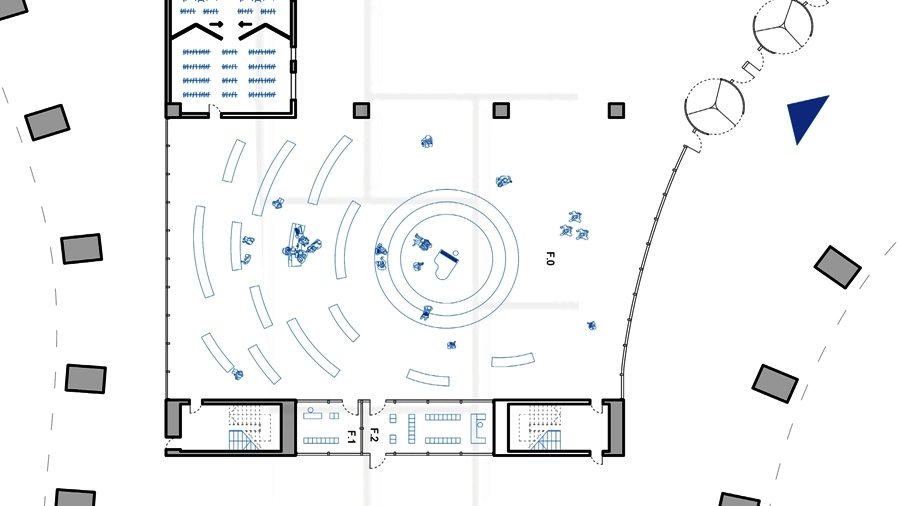 Music Library Detailing
Which significant aspects of the global platform 'zerobeyond – the new frontier!' did you liked the most, and why?
I really like that through showcasing renowned professionals alongside lesser-acknowledged creative and students promotes inclusivity. 'zerobeyond – the new frontier!' also highlights on sustainability, climate awareness and young architects' perspectives aligns with contemporary concerns. As a final point, I find it interesting and unique how the platform stands out for its community-driven approach, making it a valuable resource for industry insights.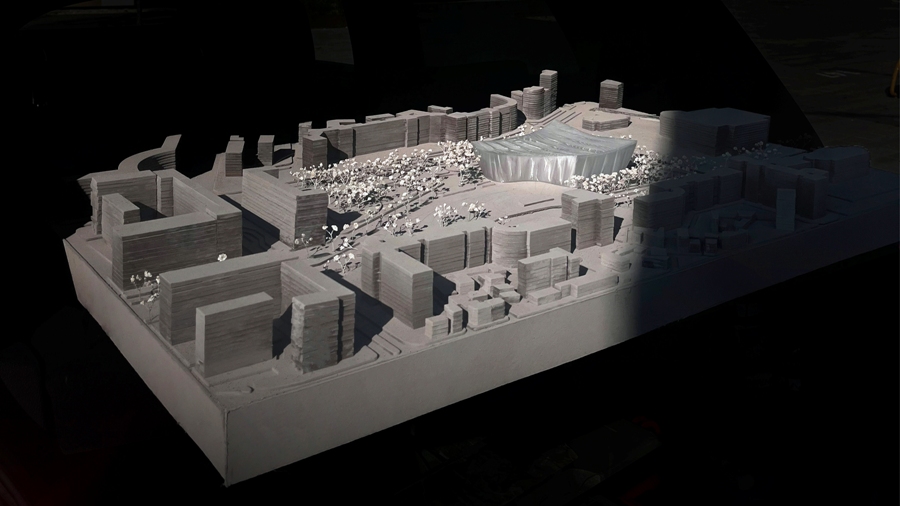 Project Model
Local charm of cities has diminished due to Modern Architecture as every city looks alike and similar. How should architects / urban planners / landscape architects modernize cities, while maintaining the local charm intact?
From my point of view, to modernize cities while preserving local charm, architects should adopt a contextual approach. Integrating modern elements with the essence of the area's culture, history and architecture are vital. Prioritize adaptive reuse of existing structures, incorporate traditional materials and emphasizing sustainable designs. By blending innovation with respect for heritage, architects can create together distinctive urban landscapes that celebrate both modernity and local identity, counteracting the effects of generic modern architecture.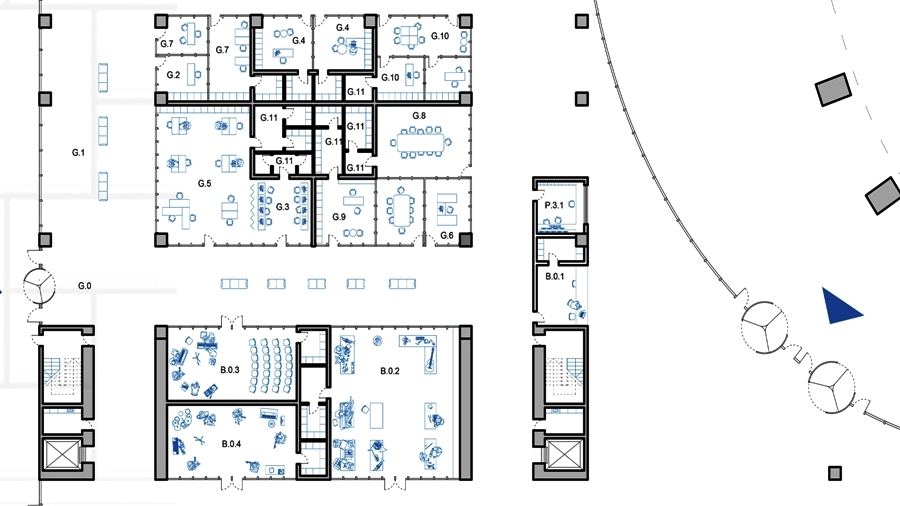 Workshops' Zone Details
Looking at the past in the current present, what are the futuristic architectural changes you would like to see in your home city? Elucidate the reasons for your vision.
Considering Bucharest's trajectory, I envision a futuristic architectural landscape characterized by a harmonious blend of historical preservation and new designs. The city currently struggles with a visual conflict: neglected, aging structures, placed side-by-side against modern aesthetically pleasing buildings. To foster a more cohesive urban environment, I propose a progressive approach, starting with prioritizing the restoration of buildings, respecting the city's past and cultural heritage.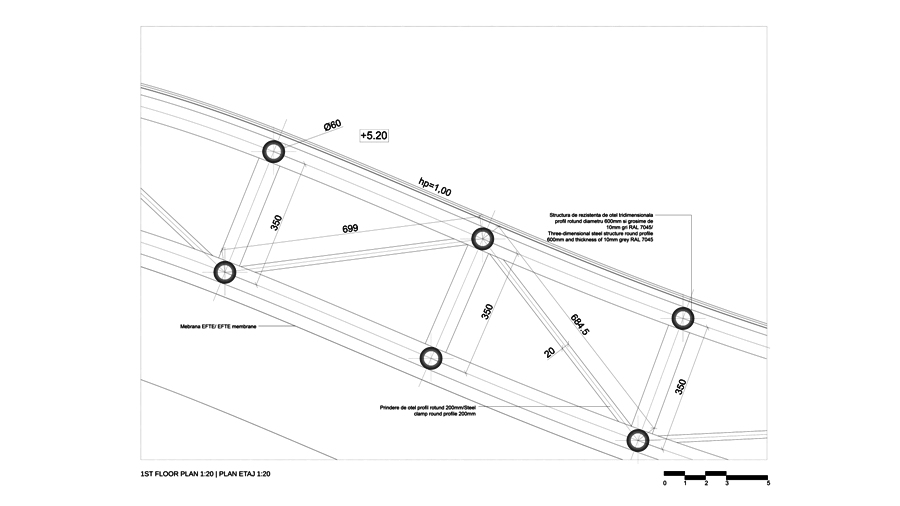 Shell Structure Detailing – 1
This approach would not only preserve history, but also promote a sense of continuity. With solid foundation of restored landmarks, only then, I think the city can then begin an exploration of contemporary architecture. From my point of view, with this idea set in mind, my city can evolve into an urban environment that radiates a dynamic balance between past and future, while honoring its unique identity.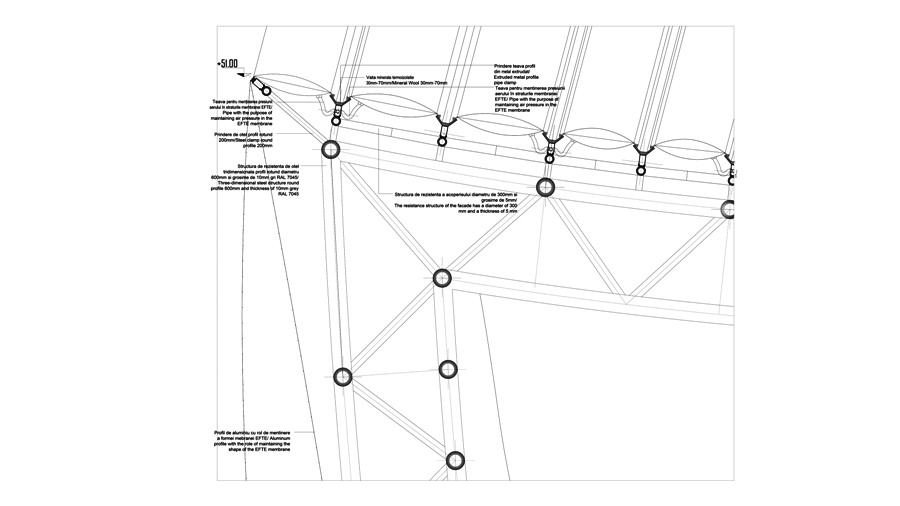 Shell Structure Detailing – 2
Image Courtesy: Cristiana Czerwinski