The GEN Z Series travels from Milan to University of Liverpool to meet a Masters' student Smrithi Parkkat. She hails from India's Garden City Bangalore. The former Indian Naval Officer's daughter completed her Bachelor in Architecture from Gopalan School of Architecture and Planning in 2019. Smrithi's mother, a housewife, brought up her two daughters to achieve greater things in life with a strong foundation. Her father worked as an Engineer in Bangalore post-retirement.
After her graduation, Smrithi reveals, "I worked for nearly three years before pursuing my Masters. At Studio Verge as a Junior Architect, I gained some invaluable experience in sustainable and alternate construction techniques, such as rammed earth and cob construction. After two plus years, I moved to a mid-size architectural firm Studio Chintala in Bangalore. I had the good opportunity to collaborate with international firm Nelson Worldwide on a variety of commercial and industrial projects. I gained valuable knowledge about international architectural practices."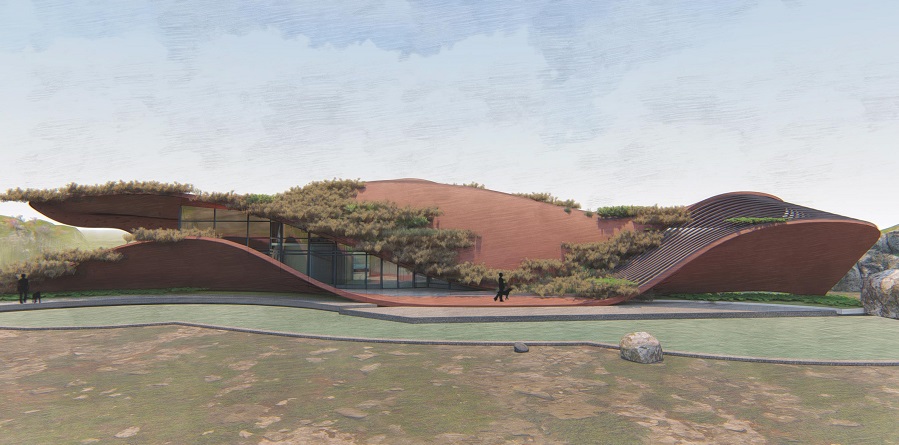 Visitors' Centre
Smrithi Parkkat interacts with Johnny D to talk about her challenging journey in the field of architecture and her Masters' thesis 'Hilbre Island: Building in the Natural Context'.
What was your childhood ambition? Did you always wanted to become an architect?
Growing up in Bangalore – the Silicon Valley of India shaped my perspective more than I could have imagined. I saw the city changing and evolving from a picturesque city dotted with colonial buildings to a heavily industrialised town strewn with multiple IT Parks. Amidst the chaos and development, I saw myself finding art and seeking it everywhere I went. As a slightly shy and bookish girl with introverted tendencies, I kept to myself and observed my surroundings, constantly romanticising the city and loving it with all its flaws.
I have loved art, architecture, design and photography as I was growing up. Bangalore is truly an inspiration for art lovers and artists. I always knew I wanted to do something creative, because I had a strong background in Physics and Mathematics. I started leaning towards Architecture, which at the time felt like the perfect combination of logic and creativity (smiles).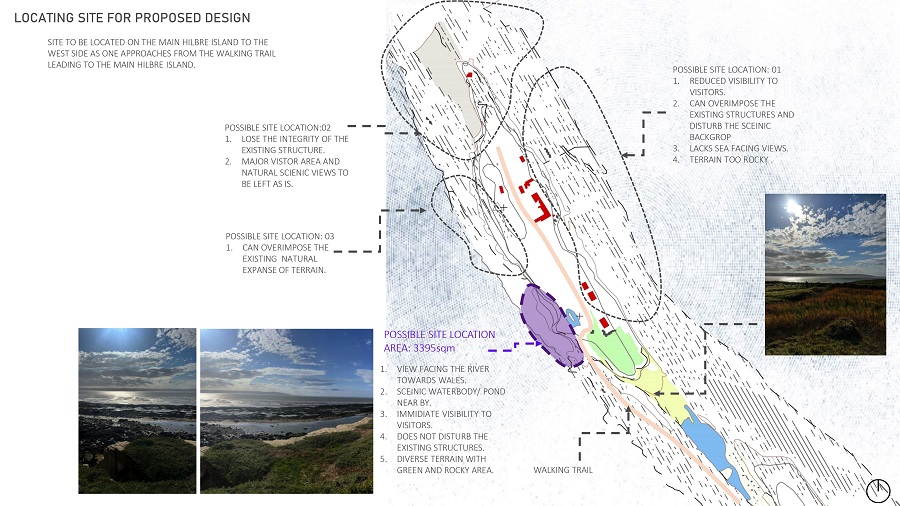 Locating Site for Proposed Design
How has architecture influenced your life as a student?
As a student, you are constantly searching for inspiration for your projects. Most of the people do not realise that ideation and getting to your concept in architecture is the hardest part. Architects spend most of their time trying for options after options, till one reaches a place of satisfaction. Architecture can be marvellous! It is hard to realise at times that the simplest design outputs have the most complex ideas behind. Training in architecture can really open your mind into the workings of the real world and you start appreciating all the small things in life.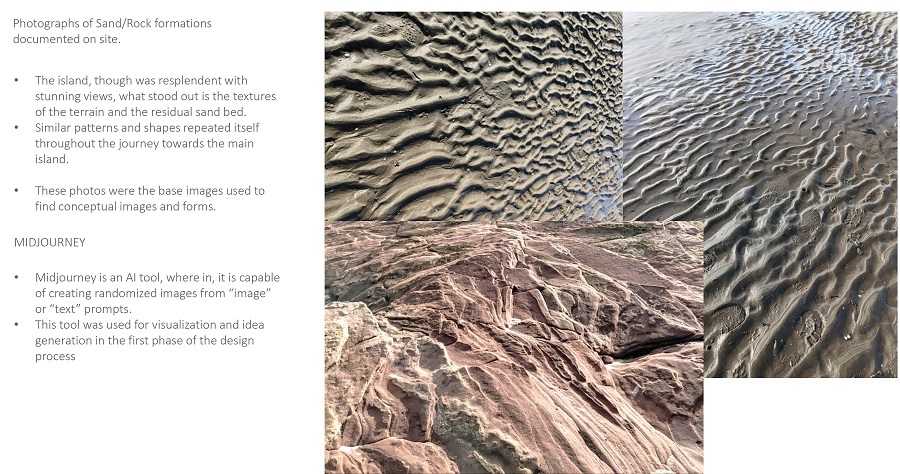 Conceptualisation
What major differences and challenges did you experienced when you joined University of Liverpool after completing B. Arch from Visvesvaraya Technological University, Bangalore?
Going back to university after working for three years was slightly daunting with constant barrage of self-doubt and apprehension, while also meeting extremely talented students from all over the world. Moving to a different country comes with its own challenges. However, I must appreciate how welcoming University of Liverpool has been with constant services and help for international students.
The main difference is that the Masters' Course had a plethora of optional modules such as Design, Parametric Fabrication, BIM and Sustainable Architecture. With major focus on architectural advancement and real world applications, the focus is completely different from a Bachelors' program. The university also boasted great facilities including workshops, 3D printing suites and robotic labs.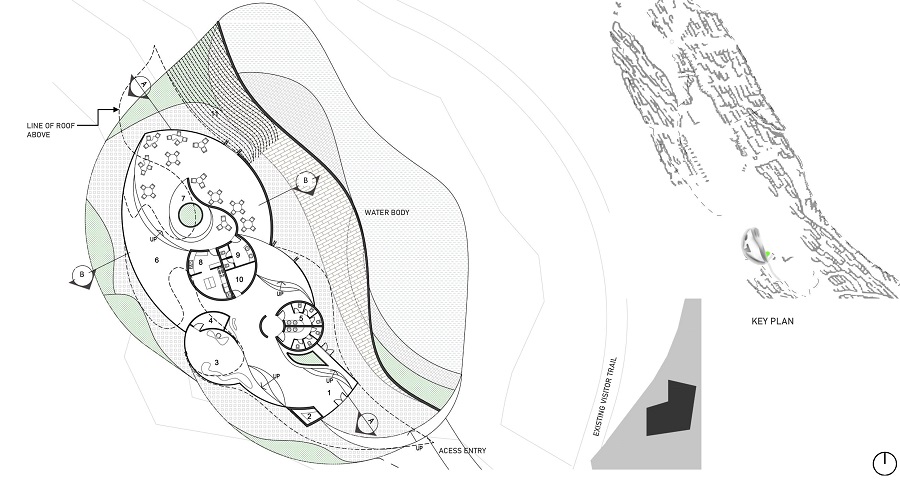 Plan
Briefly tell us about your University and Masters' Course.
I am currently pursuing MA in Architecture at the University of Liverpool. It is a 12- month program. My main focus is on design and parametric fabrication. The program, for the first time this year, also incorporated explorations in AI – Artificial intelligence and how it can be used for concept generation in architecture. The university is fantastic with students from diverse backgrounds, and highly motivating and engaging professors. With one of the best libraries, I have ever seen, it has great infrastructure.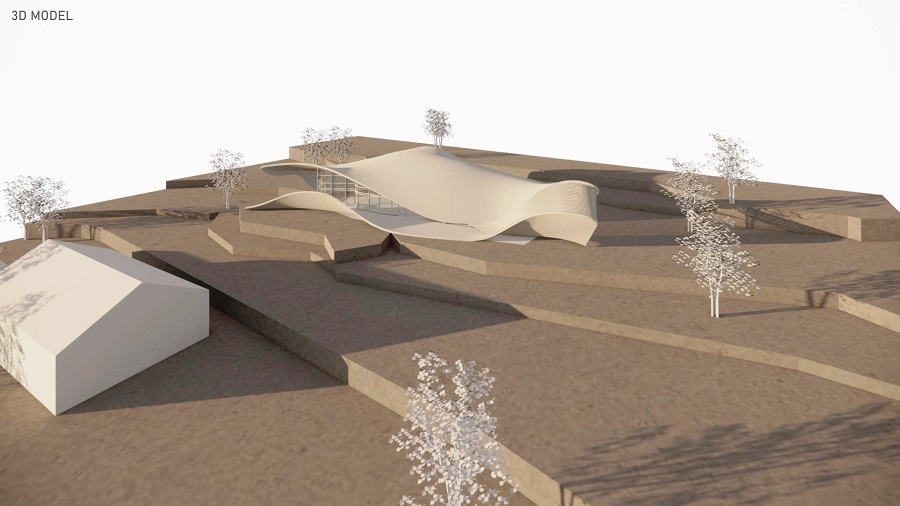 3D Model
Briefly describe the significance of your project.
The project I have submitted was a unique journey for me. As part of the course module we were encouraged to use AI for image generation, keeping nature as the main theme. The process was exhilarating and awe inspiring to see AI's capability of creating unique abstract images. These images were rationalised, and drawing inspiration from them massing models were developed, which in turn was used to create a program of spaces and turn it into a functional building. Through this project, a new workflow for architects has been unlocked. I look forward to exploring it further.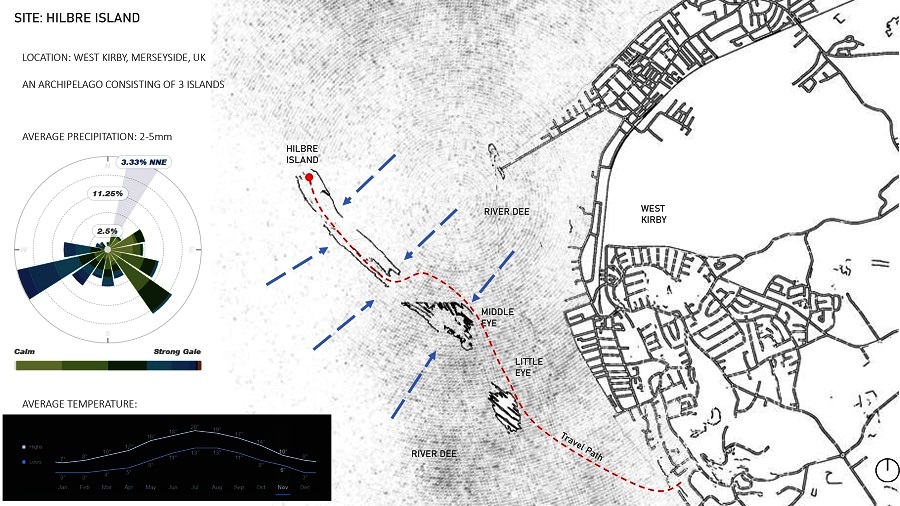 Site Analysis
The proposed project is a Visitor Centre which is to be located amidst an island. The theme 'Hilbre Island: Building in the Natural Context' was to investigate the relationships between natural context, materials, structure and geometry, in order to design a medium-size building on the islands' Merseyside. The unit is focused on advanced design methods, generative/computational design techniques and biomorphism. Digital form-finding techniques were used with nature as a design driver, incorporating the AI platform 'Mid-journey' as a form-finding mechanism, and then switching to parametric design tools in coherence with material-structural performance and the natural context.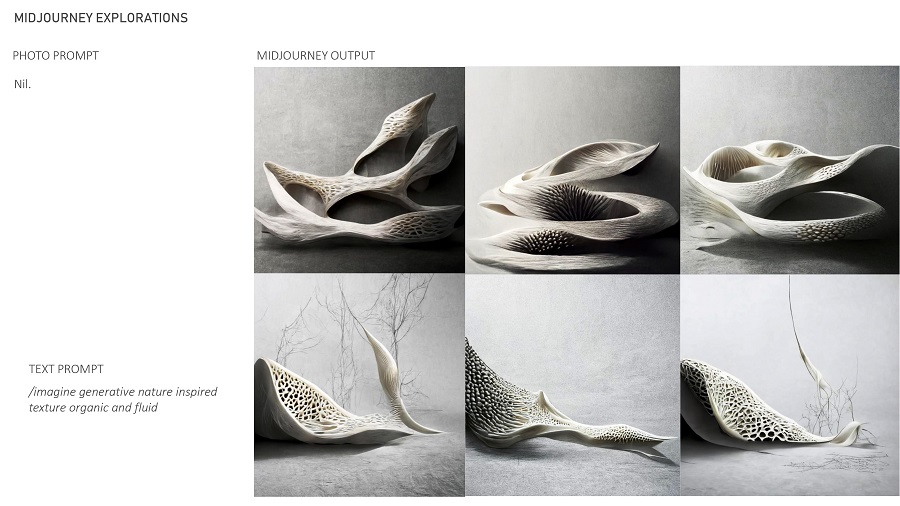 Mid-Journey Explorations
Which National or International architect has inspired / influenced you? Please specify as to why?
It is impossible for me to pick one architect. I look at various architects for inspiration for different things such as: modern star architects like B.V Doshi, Charles Correa and F.L Wright are great sources of inspiration for their immaculate design strategies. More contemporary architects like Vinu Daniel, Sanjay Puri and Bjarke Ingels for their unique approach to design. I also draw great inspiration from women architects like Zaha Hadid, India Mahdevi and Chitra K Vishwanath, each of whom have a style that is very unique to them.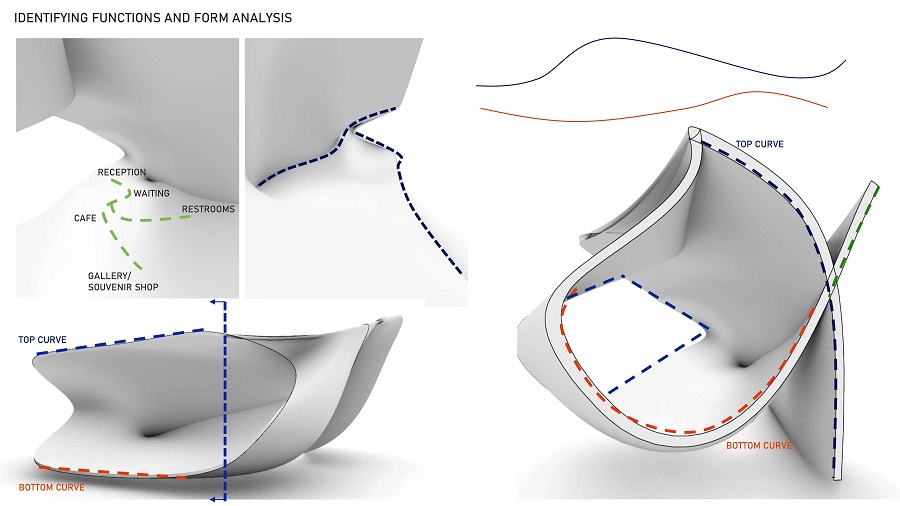 Analysis of Form and Functions
As an Intern, what is the most important lesson(s) you have learned from senior architects, while being a part of a project?
Working as an intern is an incredible opportunity for student-architects to get a taste of the real world. Sometimes juggling multiple projects and site coordination can become overwhelming, while constantly trying to come up with better design concepts for each project can become very challenging. One thing that I learnt from my senior architect is while facing a saturation of ideas or a 'designer's block', it is always good to take a break from the project and perhaps get other things done. She would say 'let the project brew a little' (smiles).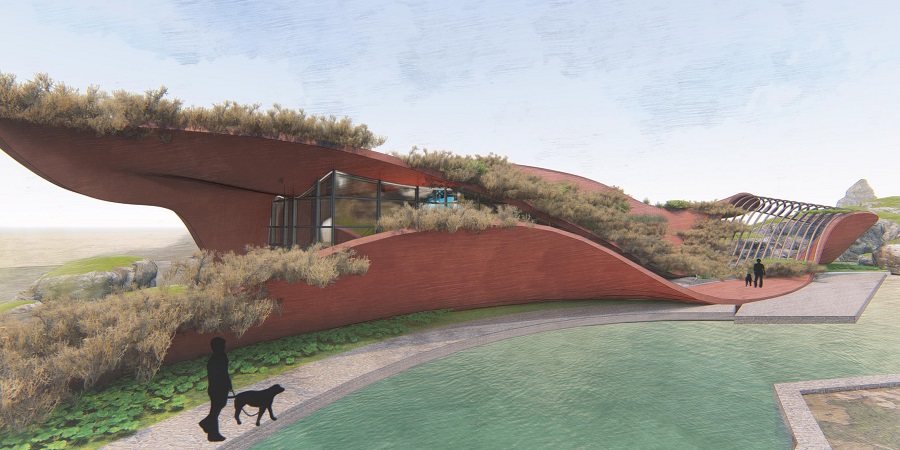 Visitors' Centre's Rear View
Cities are getting inundated in a massive proportion due to flawed drainage and sewage systems apart from Climate Crisis – Your views about flawed urban planning and remedies to rectify to make cities flood-proof.
This is a very common problem in India, especially in highly dense urban cities like Mumbai, Bangalore and Chennai. It is unfortunate that even after devastating consequences of the previous years, the issue still persists. In my view, most of these problems can be rectified. Talented designers and engineers are at disposal, yet there has been no change. Perhaps the greatest hindrance is the convoluted bureaucratic society we live in.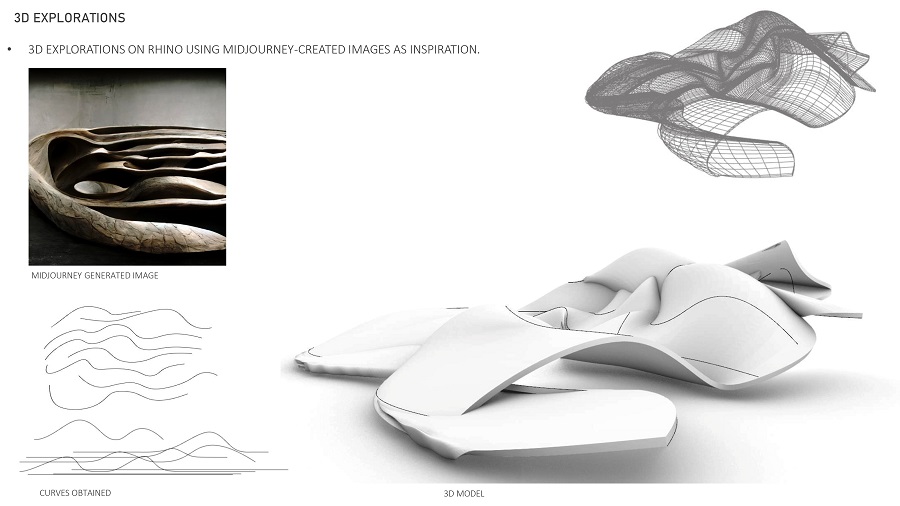 Concept Findings – 1
Which significant aspects of the global platform 'zerobeyond – the new frontier!' did you liked the most, and why?
I enjoyed reading the 'World Architects on Climate Crises' series. I find its content extremely relevant and informative.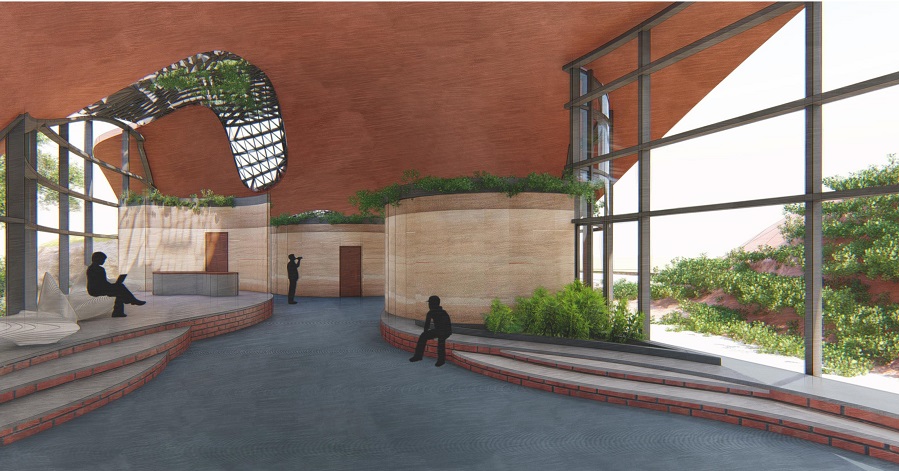 Reception Area
Local charm of cities has diminished due to Modern Architecture as every city looks alike and similar. How should architects / urban planners / landscape architects modernise cities, while maintaining the local charm intact?
There will always be progress and evolution, which cannot be put to a halt. As architects and urban planners, we do have a great deal of responsibility not only while designing, but also to educate potential clients on the consequences of relentless building strategies. It is always important to understand the site context. Sourcing local materials and adopting vernacular building techniques is far more sustainable than conventional form of construction.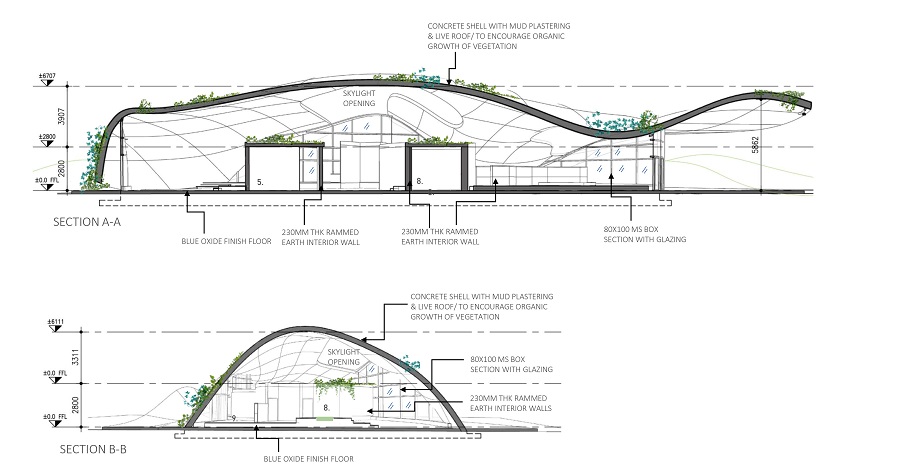 Sections
By understanding the ethos of a place and making use of its resources, a sense of culture can be imbibed through architectural planning, while still achieving the desired functionality and aesthetic appeal. 'Modern' does not have to always mean concrete and steel.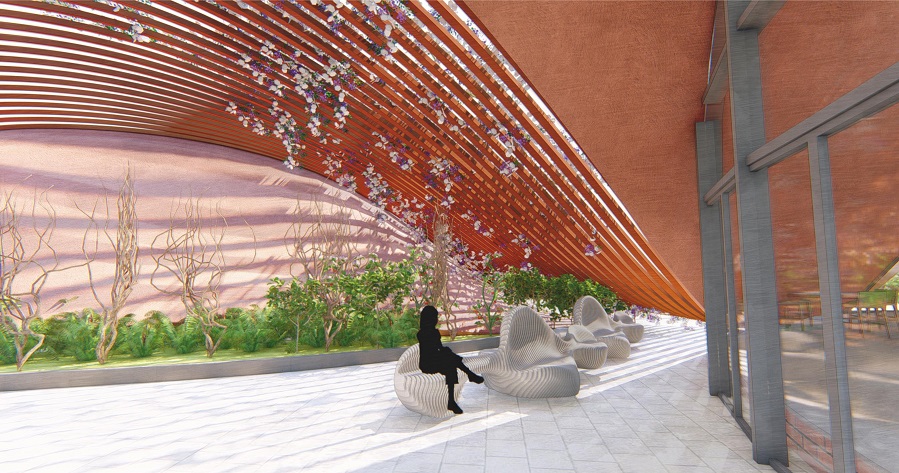 Café Extension
Looking at the past in the current present, what are the futuristic architectural changes you would like to see in your home city? Elucidate the reasons for your vision.
I would like greater emphasis to be given to the strategic planning of the infrastructure of the city and to put a stop to unscientific roadways and flyovers causing excessive bottle necks and choke points. By creating environments that are pedestrian and cycle-friendly, the city can and will encourage people to abandon personal vehicles. To have more green spaces and finally have better regulations, when it comes to building construction.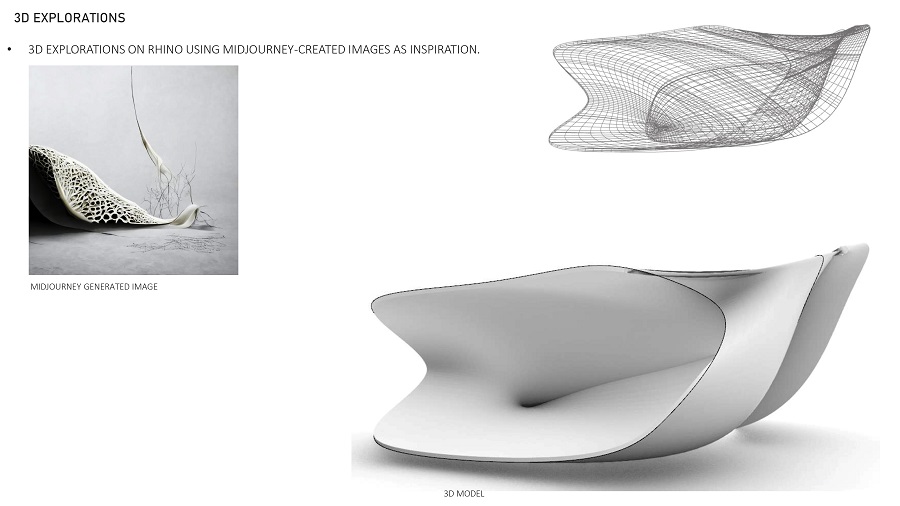 Concept Findings – 2
Image Courtesy: Smrithi Parkkat