The amazing exploration of 'zerobeyond – the new frontier!' takes us to an endless journey of creativity of young minds. It is prodigious to meet super talented individuals from all around the world, who are bound together in the world of design creations. Each student / student-architect I meet enlightens me with their creativity to empower me with unexplored territories, thereby enlarging the space of my knowledge about the world.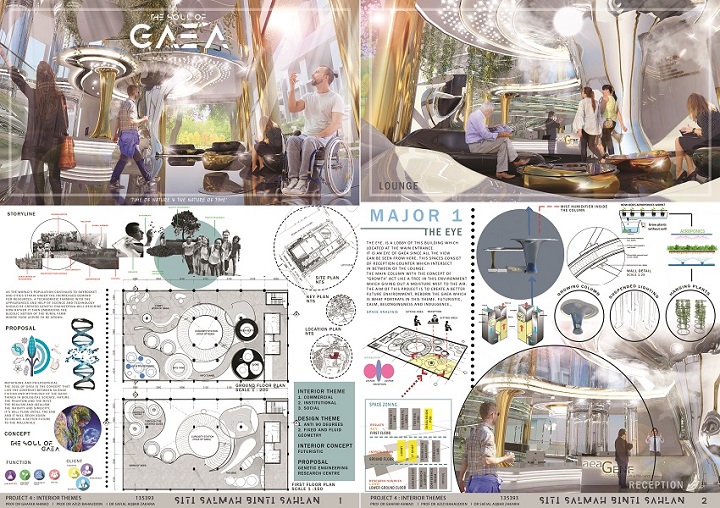 The GEN Z Series travels from India to Malaysia to meet one of the most creative interior designers I have interviewed so far. Sasa Sahlan hails from the small city of Muar Johor in Malaysia. She happens to be youngest of the three siblings. Sasa inherited the art of design from her late father, who was a talented artist. She reminisces fondly, "I still remember how he always used to help and teach me how to paint the sky and trees for my school's project (smiles)."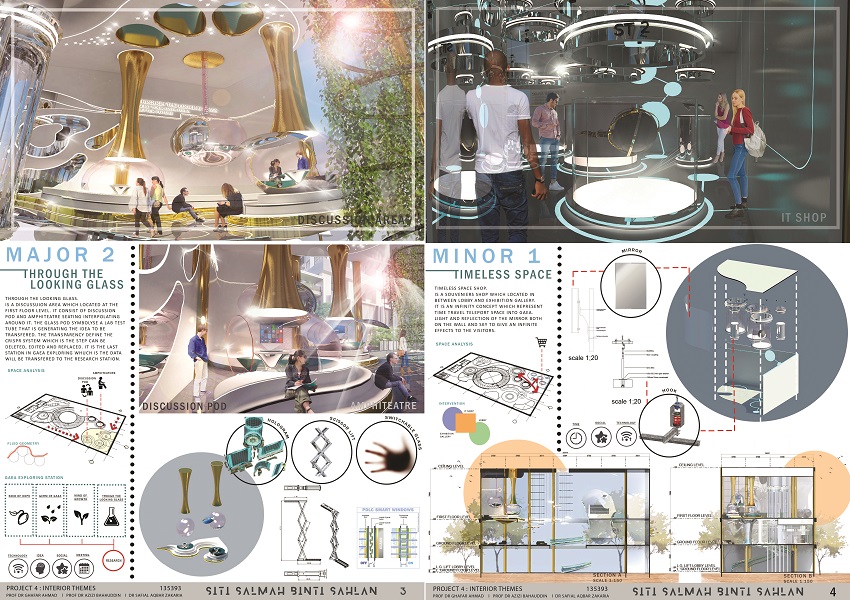 In the year 2016, Sasa Sahlan graduated with a Diploma in Architecture from Ungku Omar Polytechnic. She then pursued her Bachelor's degree in Interior Design and graduated in the year 2019 from USM – Universiti Sains Malaysia. The beginning of 2020 saw Sasa Sahlan joining Majdes – Majidah Design in Kuala Lumpur as an Interior Designer. She comes across as a very sweet, humble, respectful and meticulous in her approach towards her work and interaction.
Johnny D interacts with Sasa Sahlan, the multiple award-winning interior designer from Malaysia.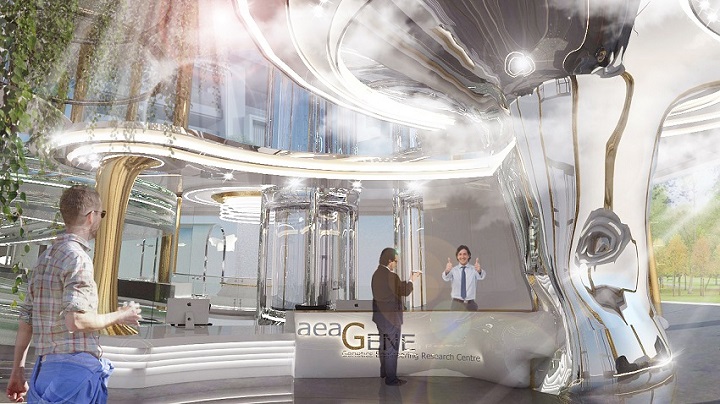 What was your childhood ambition? Did you always wanted to become an interior designer?
When I was a kid, I have always filled my days with drawing, sketching and model-making. I used to take active part in Art competitions (smiles). First, I wanted to become a fashion designer, as I grew up with my parents' small tailoring business. When I was in High School, my family and I designed to build our own house. I was involved in helping my late father with the floor plan, outsource the materials, and deal with the carpenter and construction workers. That's when I was falling in love with it. Finally, I knew I wanted to be an architect. After High School, I pursued my study in Architecture for 3 years. Later, I got the opportunity to do my specialization in Interior Design courses for another 3 years. I am in love with interior designing.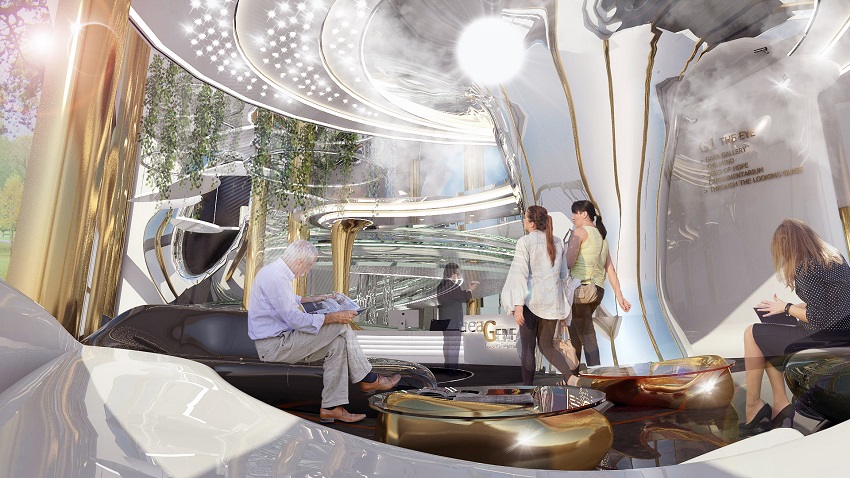 As an Intern, what is the most important lesson(s) you have learned from senior architects / interior designers, while designing and be a part of executing a project?
The most important lessons that I have learned from my seniors is to focus and think about the detail construction, the material used and the relation of the design with the end user.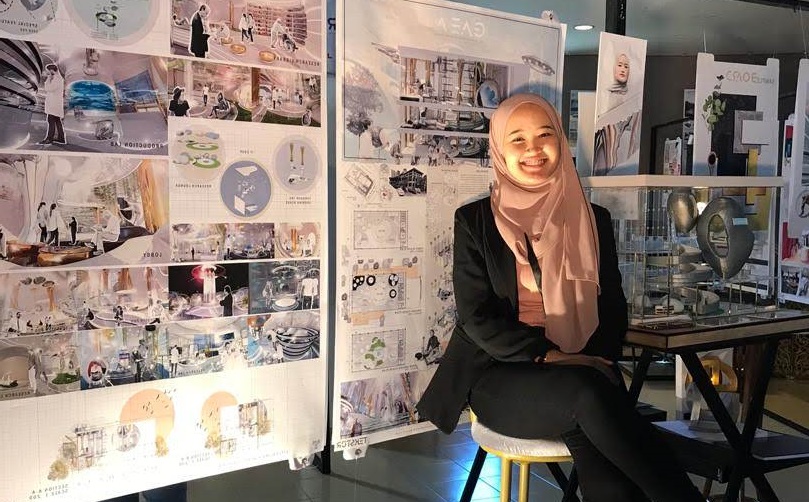 As an Interior Designer at Majdes, what role do you perform?
I am a junior Interior Designer in Majdes – Majidah Design, Kuala Lumpur. My role is to help seniors with the design making, 3d model and rendering, and the detail drawings for every construction. I also help to supervise the construction site and liaise with the contractor from time to time to make sure that the project is being successfully executed as per our working schedule.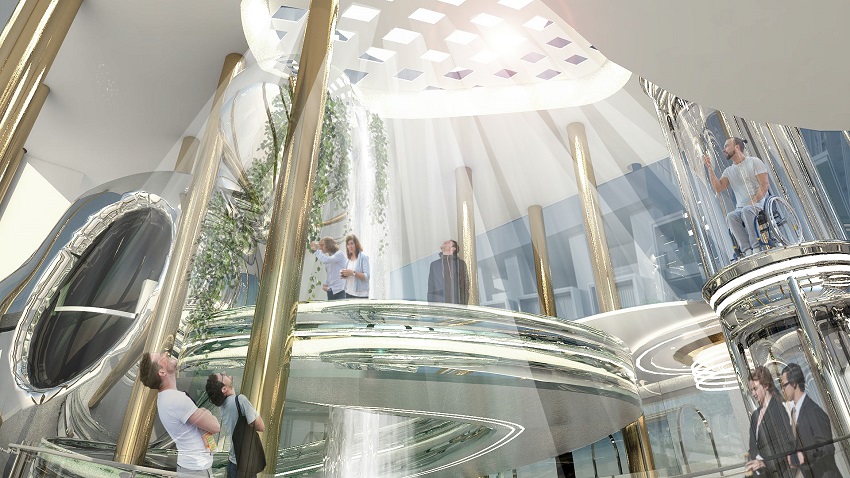 Briefly describe the significance of your project GAEA.
As the world population continues to skyrocket and cities strain under the increased demand for food and resources, farming and nature will only crave for land and spaces. A commercial centre to educate young generation about science and technology of technocratic farming with the help of genetic engineering will be beneficial to create a sustainable futuristic vertical city.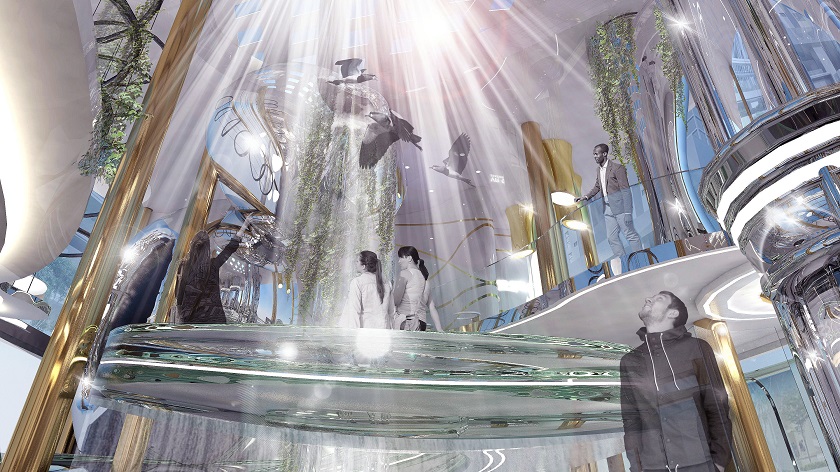 The soul of GAEA is the concept that lies in the contrast between the science fiction and the fantasy. GAEA comes from ancient word, 'land' or 'earth' the ancestral mother of all life and the goddess of nature. The 'soul' represents the inner self and the spirit for the places, while GAEA represents the biology, and the nature.
GAEA – Genetic Engineering Research Centre is a multipurpose area with 3 areas: the first one is the Social and Commercial Area; the second is the Educational and Learning Area, and the third is the Research Area. Hence, the centre is created to become the 'GAEA' – the goddess to shower, reborn and heal the earth with nature.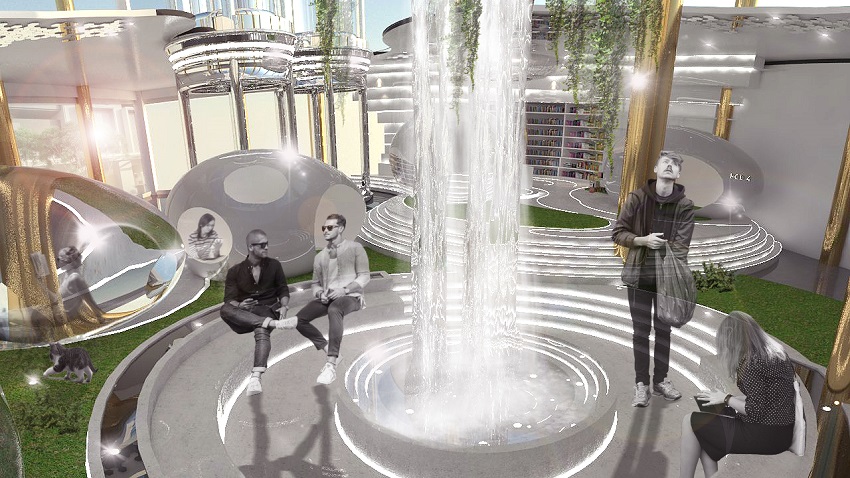 How has interior design influenced your life as a student and an individual?
Interior design has changed my life in so many ways. I have to admit, my journey in this world has never been easy. It taught and shaped me to become a discipline, fast, observant and appreciative individual (smiles). Now, I tend to observe not only the design, but also how people connect and react to the design itself.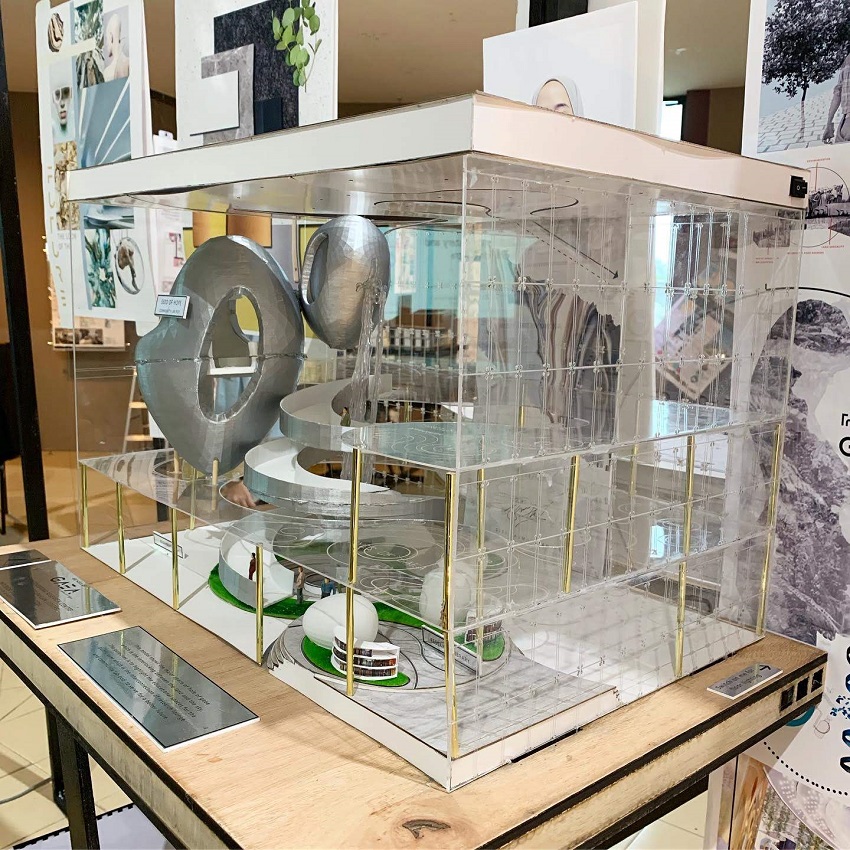 Which National or International interior designer has inspired or influenced you? Please specify as to why?
To be honest, I am greatly inspired and love Zaha Hadid. I have always loved her design concept of flowing, curve and smooth. Zaha Hadid had interpreted, "Architecture is how the person place herself in the space and fashion is about how you place the object on the person." For me, interior design is how you place the objects around you. An interior space should not only make you comfortable and work, but also it should make you amaze to make you think.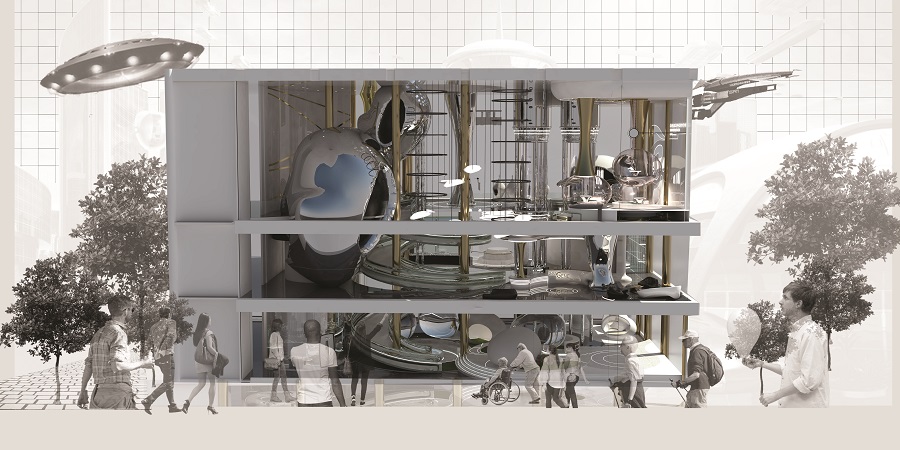 How would you differentiate Malaysian interior designing from Western or European designing.
The most common interior designing is contemporary, mid-Century, Scandinavian and minimalist, yet it would be different with Malaysian Interior Designing. Malaysian culture may be construed as an amalgamation of various ethics and religious influences. Most of the Malaysian Interior might be influences to the Peranakan, Baba Nyonya, Javanese, Feng Shui, and even Islamic in some parts of the designing elements.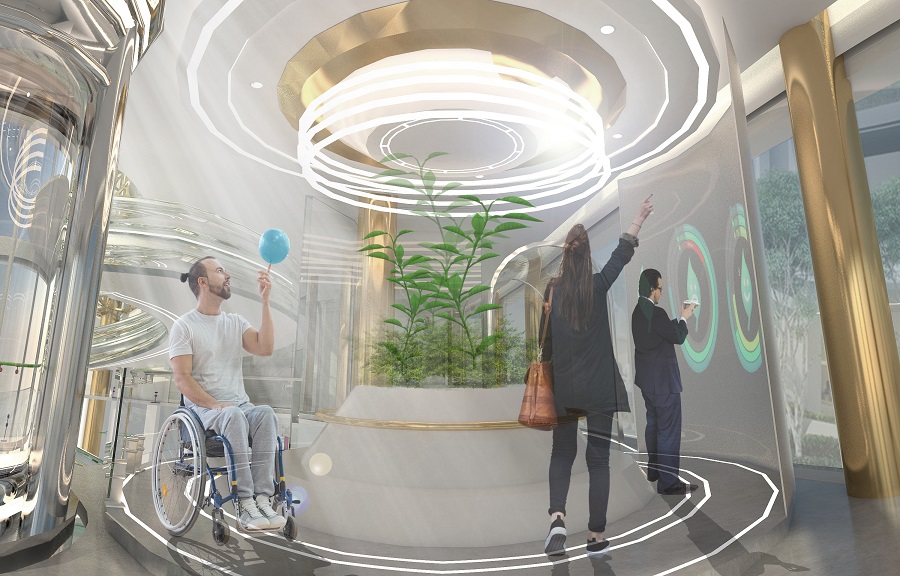 In terms of the material uses, Malaysian Interior Designing uses a lot of tropical influences, such as the use of lot of timber, rattan and bamboos. In my final year project, GAEA – Genetic Engineering Research Centre, I would love to emphasize a universal concept and put the element of local in a Philosophical way.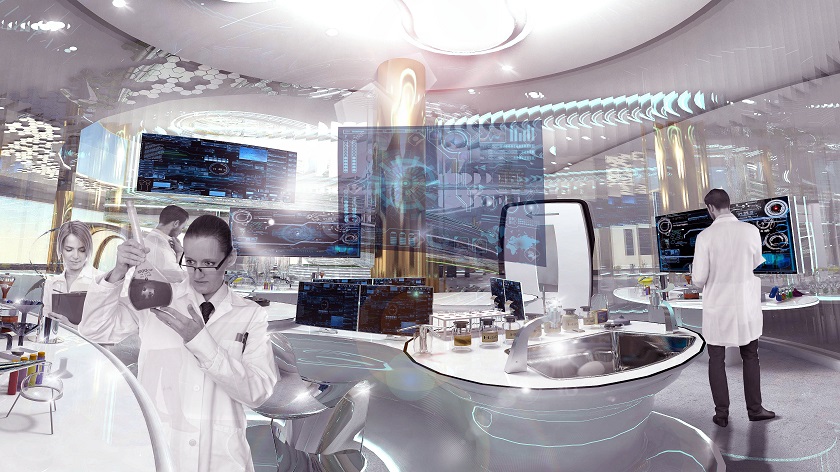 'Climatic Catastrophes' have become a daily occurrence in recent times. How will interior designers and architects of the present generation minimize the effects of Climate Crisis?
Interior designers and architects actually play a big role to minimize the effects of Climate Crisis, especially the type of material used to prevent the increased in temperature, carbon and production. It is important for architects and designers to have a high level of problem solving to practice a sustainable and green building index approach in their designs.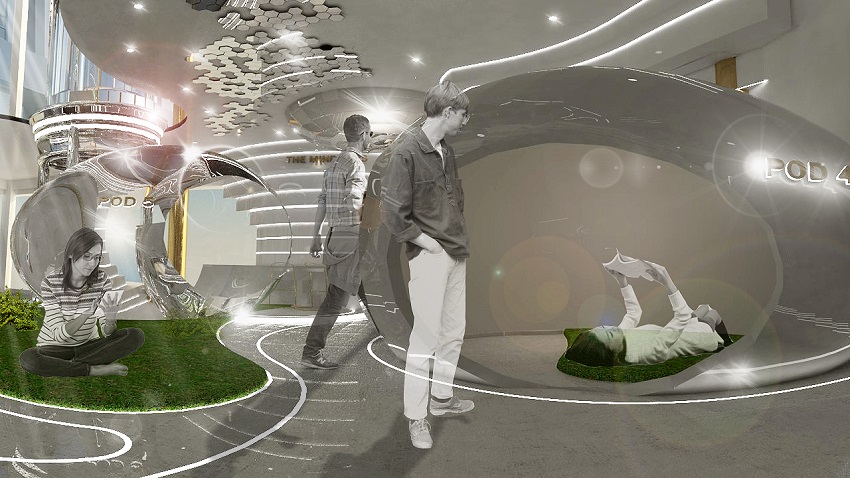 Briefly write about your University and 3-Year Course.
I graduated with my bachelor's degree in Interior Design from USM – Universiti Sains Malaysia. It is one of the Top 10 Universities in Malaysia. My 3-year course student life has been great! USM is known as a 'University in the Garden', because it is surrounded with a lot of trees, lake and beautiful sunset scenery, and is one of the factors I always focus on biophilic and sustainable approach in my designs.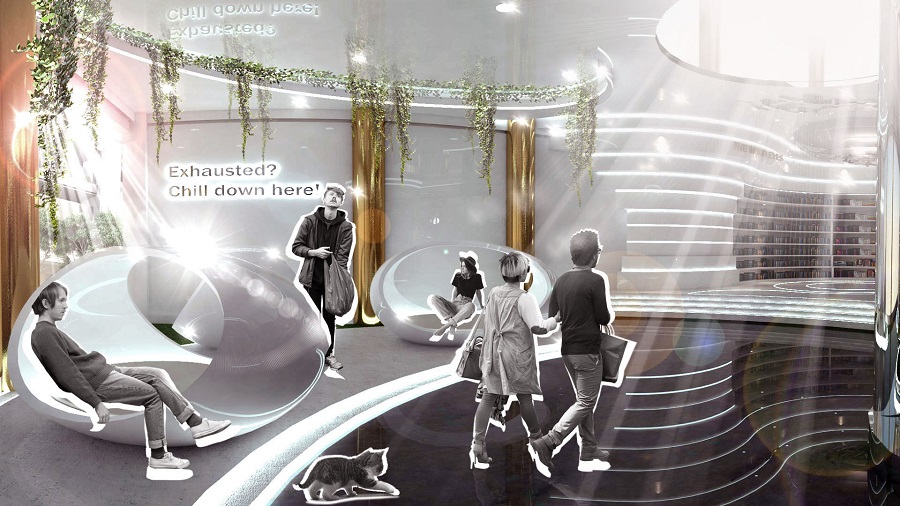 I am grateful to have a very philosophical lecturer, who always pushed us to the limit, while encouraging me to involve and lead a lot of events and activities – such as 'Interior Designer Student Saturday', 'Dancing performance', 'Sketching and Sculpture Competition', and even take part in 'International Architectural Student Day'.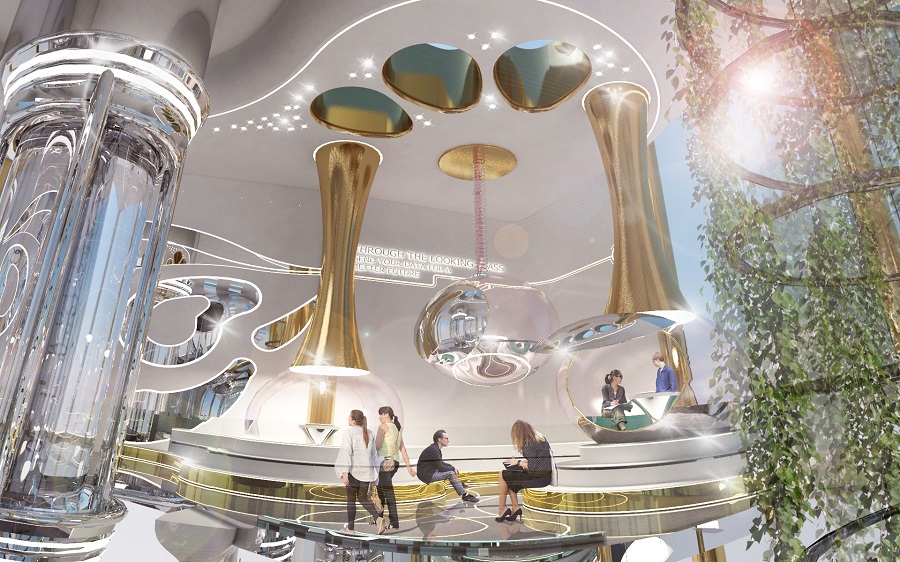 Which significant aspects of the global platform 'zerobeyond – the new frontier!' did you liked the most, and why?
I like the diversity that are showcased in 'zerobeyond – the new frontier!' consisting of professional practitioners, students and Gen Z interviews. I believe there are a lot of things to learn from the younger generations and they could be the change for a better world one day. I appreciate and am grateful to be given the opportunity to be featured in this amazing platform.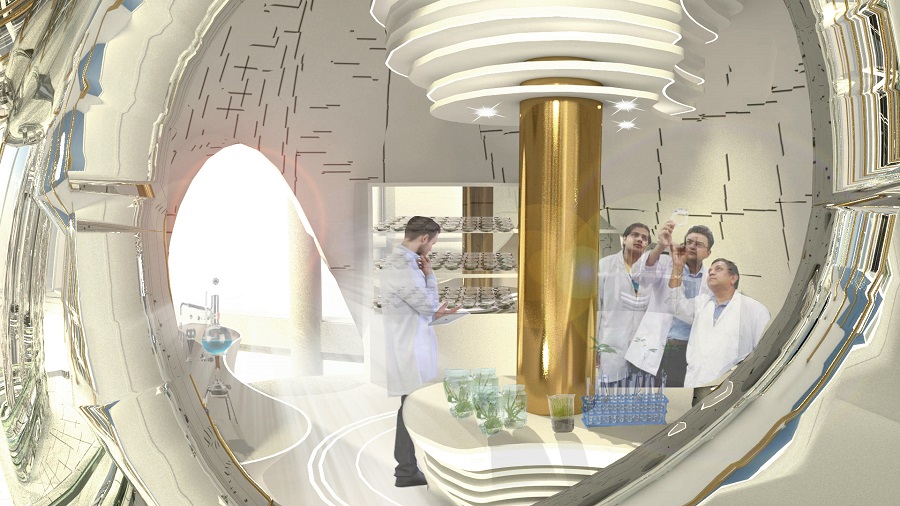 Honours and awards related to interior designing.
2019 – MIID Design Competition Award
2019 – Best Design Final Year Project Award;
2017, 2018 and 2019 – Dean List Award;
2017 and 2018 – Best Design Award;
2017 – Top 12 Autodesk Malaysian Design Competition Award; and
2017 – Best Student Award.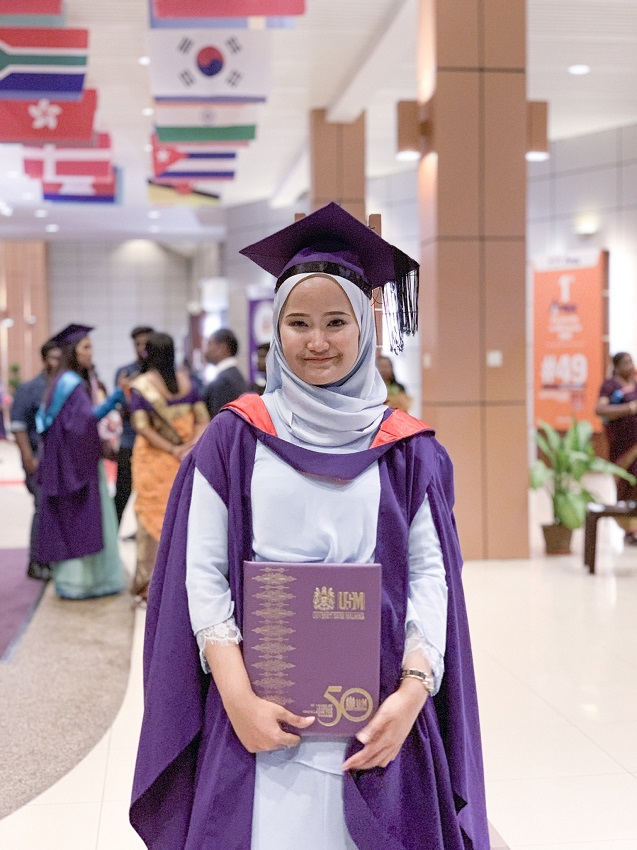 Image Courtesy: Sasa Sahlan