Hydroponic farming is one of the fastest technological advancements in our modern world in recent times. However, growing terrestrial plants without soil is as old as 1627, first published in the book Sylva Sylvarum or 'A Natural History' by Francis Bacon, printed a year after his death.

As per Wikipedia, Hydroponic became known, in a big way, to our modern world in the year 2007. Eurofresh Farms in Willcox, Arizona in its 318 acres sold a whopping 200 million pounds of hydroponically grown tomatoes. A decade later, Canada developed large-scale commercial hydroponic greenhouses growing cucumbers, tomatoes and peppers. The global hydroponics market is likely to grow to US$724.87 million by 2023.

CRA – Carlo Ratti Associati, headed by Dr. Carlo Ratti has designed the world's first FARMSCRAPER, a 51-storey structure named Jian Mu Tower to be built in Shenzhen, China. The innovative design will merge urban agriculture with architecture for a better future. The 218-metre high building will be producing crops that will be able to feed 40,000 people every year. The building will house office spaces, a supermarket and a food court.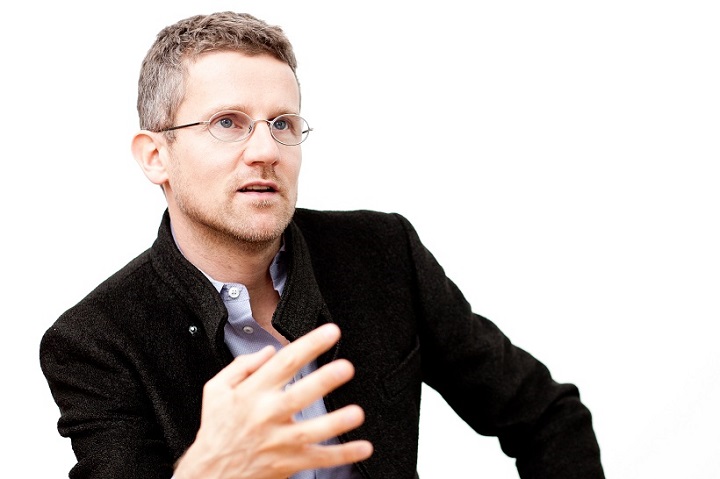 Dr. Carlo Ratti has been working tirelessly and constantly to improve lives for the younger generation with innovative inventions ad design creations. Jian Mu Tower façade features a vertical hydroponic farm extending the entire height of the building. The magnificent design creation was conceived for an international competition organized by leading Chinese supermarket chain Wumart. The building's design makes it possible for the building's tenants to cultivate, purchase and consume fresh vegetables and fruits directly inside the tower.

While releasing the design concept, Dr. Ratti revealed, "Small-scale urban farming is happening in cities all over the world – from Paris to New York to Singapore. However, Jian Mu Tower will take it to the next level. Such approach has the potential to play a major role in the design of future cities, as it engages one of most pressing architectural challenges today – How to integrate the natural world into building design! In addition to producing food, the Jian Mu Tower's farm also helps with solar shading – a key issue in tall buildings."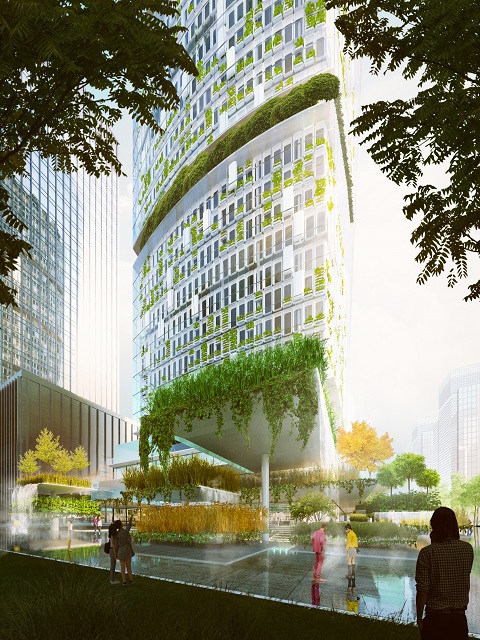 The tower dedicates 10,000 sq m of space on its façade to the cultivation of crops. The vertical hydroponic farm will produce an estimated 270,000 kilograms of food per year, enough to cover the needs of roughly 40,000 people. Jian Mu Tower will establish a self-sustained food supply chain, encompassing the cultivation, harvest, sale and consumption of crops, all inside the same building. The tower occupies the last plot available in Shenzhen's Central Business District.

The tower's name is significant because it has been derived from the mythical symbol of the 'jian mu tree' which, in ancient Chinese folklore, connects heaven and earth. According to Chinese belief, the earth is square in shape while heaven is believed to be round. Dr. Ratti's CRA has designed the tower to echo the principle with its rectangular base that gradually morphs into a tubular form, as it rises. The 51 levels offer 90,000 sq m of space in total.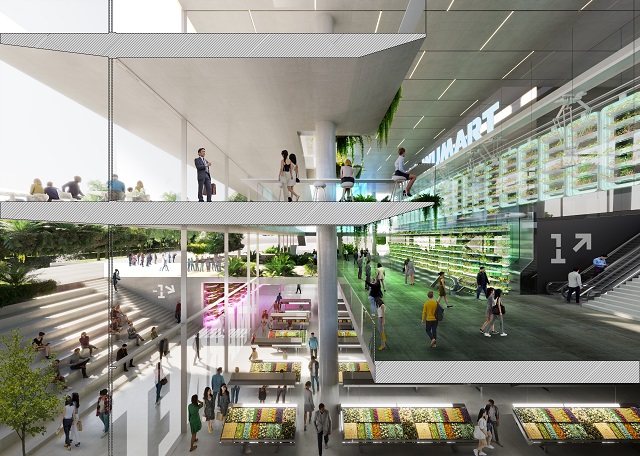 The building's natural and artificial elements work alongside one another in many other ways, apart from the vertical farm. A series of landscape terraces house a wide variety of flora including water lily, fern and lychee on the tower's outside. Office worker will be able to utilize the inner gardens for social interaction and relaxation. The landscaping inside the tower with greenery all around will allow the tenants to immerse themselves in natural surroundings.

The greenery on the building's surface will effectively reduce solar irradiance in indoor area and the need for air conditioning. The terraces will also promote biodiversity and take advantage of Shenzhen's abundant precipitation in their sustainable irrigation system. Furthermore, workers can use a mobile app to customize the micro-climatic conditions of their offices.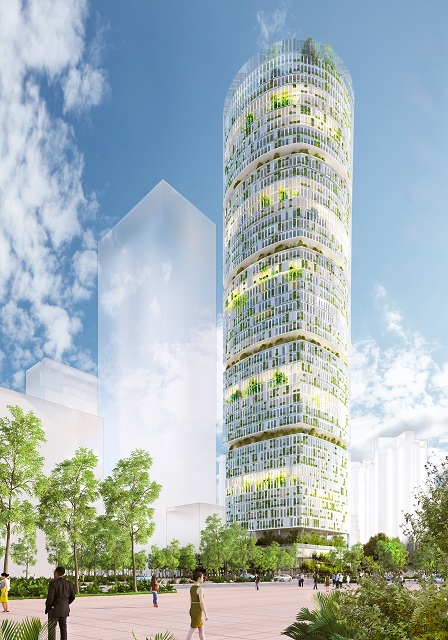 CRA has joined hands with ZERO – an Italian-based company that specializes in innovative approaches to agriculture. The tower's farm is optimized to produce everything from salad greens to fruits to aromatic herbs, while remaining efficient and sustainable. An AI-supported 'virtual agronomist' is tasked with the farm's day-to-day operations, managing irrigation, nutritional conditions, and other matters.

CRA has also designed VITAE, a building complex sharing a similar sensibility in Milan. The project is under construction for Covivo and is anchored by a 200-metre-long vineyard accessible to public. In Singapore, Dr. Ratti has collaborated with Bjarke Ingels Group to the CapitaSpring Tower for CapitaLand. The 280-meter high building is getting ready for its opening this year. It features an indoor forest that stretches across several levels. Finally, the Shenzhen skyscraper's proposition for a smart supermarket was preceded by the Future Food District at the 2015 Milan World Expo, designed by CRA for Coop Italia, Italy's leading supermarket chain.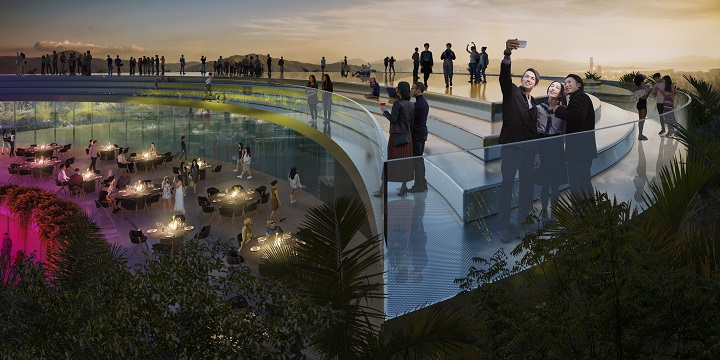 The project by CRA – Carlo Ratti Associati team was led by Dr. Ratti, Chiara Borghi, Mario Daudo, Rui Guan, Chenyu Xu and Antonio Atripaldi as the partner-in-charge. Italo Rota was the creative lead.

Image Courtesy: CRA – Carlo Ratti Associati