Meeting multifaceted academician and a creative individual is truly enlightenment personified. The knowledge they possess and the expertise they have often open closed doors to enlighten the world around them. I have always been in awe of such personalities! Interacting with them is truly joyful and a chance-of-a-lifetime to learn new topics. Dr. Sally Hamarneh – the Senior Advisory Board Member on Public Space at City Space Architecture, Bologna, Italy is one such amazing soul.
In the year 2004, Sally Hamarneh graduated with a degree in Architectural Engineering from Damascus University. She completed her Master's degree in Urbanism from Ecole Spécial d'Architecture in Paris in 2012. In the year 2018, Sally Hamarneh graduated to become Dr. Sally Hamarneh by completing Doctorate in Science of Information and Communication from L'Université Paris 8. Like mother, like daughter – Sally's mother and brother are architects. Her father was into medical electronics' field.
Dr. Sally Hamarneh reveals, "Throughout my career, I have lived and worked in various countries, including Syria, Jordan, Qatar, Tunisia, the UK, Italy and France. My professional journey has been diverse, spanning academia, award-winning architectural firms, prominent research centers, international organizations, and NGOs. For more than 15 years, I have dedicated myself to interdisciplinary research on public spaces, writing, artistic endeavors, lecturing, teaching, and urban consulting. My fascination with City Space Architecture began during Habitat III in Quito, Ecuador, in 2016 when "Stand Up for Public Space" was launched by Luisa Bravo, the highly active and productive President of the organization."
She adds, "CSA – City Space Architecture has been actively engaged in events, such as the World Urban Forum (9th in 2018, 10th in 2020 and 11th in 2022), the UN General Assembly in 2022, and as a partner of UN-Habitat (the United Nations Human Settlements Programme). We are also listed in the UN Department of Economic and Social Affairs' Civil Society database and participate in the United Nations General Assembly of Partners (GAP) as a member of the Research and Academia Partner Constituent Group. We recently celebrated our 10th anniversary from 2013 to 2023."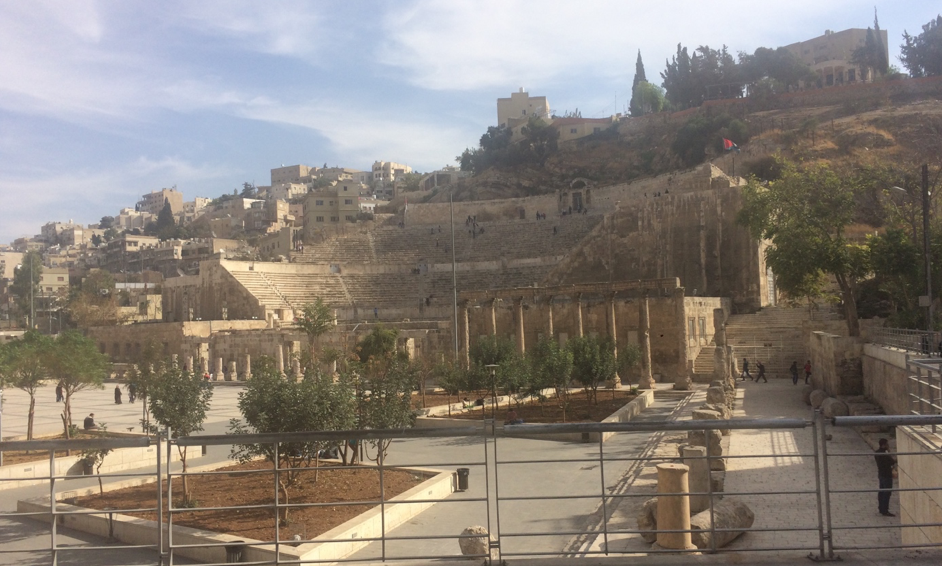 Hashemite Plaza 2016 – Historic Square in front of the Roman Theatre is empty
Johnny D interacts with Dr. Sally Hamarneh to explore her amazing journey, doctorate thesis, and the significance and importance of 'Public Square' in urban landscape.
What was your childhood's ambition? Did you always wanted to be an architect?
During my childhood, I had quite a range of career dreams. At different times, I wanted to be an artist, a dancer, painter, musician, writer, scientist and a pharmacist (smiles). It was like having a new dream every week. Surprisingly, I was good at all of them.
What is interesting though, is that architecture was always there in the background. My mom and brother were architects, and my dad was into medical electronics. At first, I resisted the idea of following the family tradition. But as I got older, I realized that architecture was this perfect mix of creativity and science that I had been looking for, all along. So, even though it was not my childhood dream, it just felt like the natural choice as a fusion of art and science (smiles).
Elucidate briefly your Doctorate thesis 'The utility of public squares as a media, an indicator for social cohesion in cities during the digital age'.
In my doctoral thesis, I embarked on a multifaceted exploration combining my background as an architect and urbanist with a keen interest in information and communication sciences, exploring the dynamic relationship between public spaces and media evolution, from newspapers to the digital revolution.
The genesis of my research was a set of fundamental questions: Why do people continue to gather in public spaces within their cities, despite the pervasive influence of social media? What unspoken human needs drive this persistent phenomenon? And, critically, how can we assess the contemporary relevance of public squares in meeting these needs?
To tackle these inquiries, I chose the realm of information science. My conceptual framework viewed the urban environment as a living system of information, with public spaces serving as primary conduits for the exchange of information, whether be it private, communal, or public in nature.
One of the central arguments of my thesis revolved around the notion that public squares function as unique channels for communication, akin to traditional media, but with distinct advantages over their digital counterparts. Unlike online interactions, which can be exclusive and divisive due to features like "hide" and "block", public squares remain inclusive and accessible to all, at all times. Consequently, they play an indispensable role in contemporary societies by mitigating the risks of societal division and actively fostering unity. My doctoral thesis sought to illuminate the enduring importance of public squares as pivotal mediums for communication and, more broadly, as critical indicators of social cohesion within our ever-evolving cities. This significance persists even in the midst of the digital age, highlighting the timeless role of these spaces in shaping our societies.
Furthermore, my research illustrated that by examining how these spaces are utilized, we can glean valuable insights into the development of national-level debates, whether they evolve peacefully or escalate into conflicts.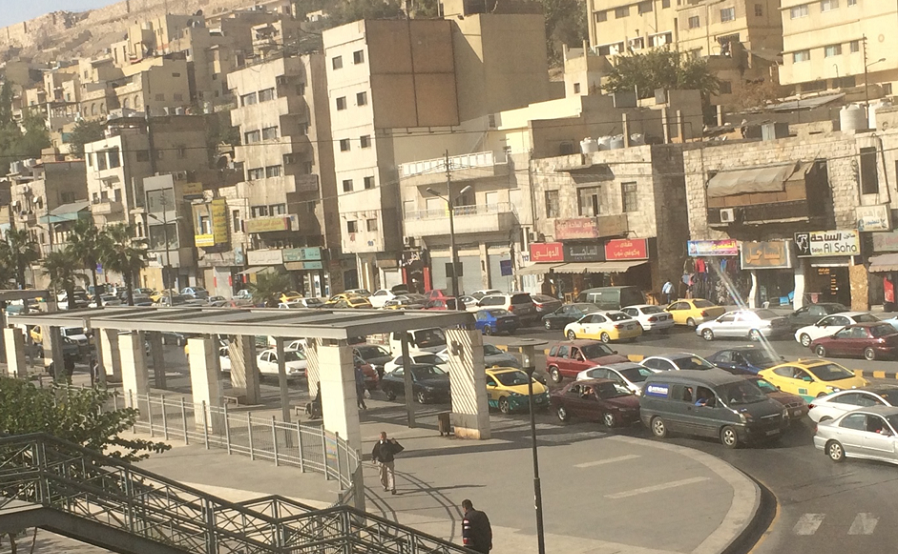 Hashemite Plaza 2016 – Crowded and busy surroundings
Please elaborate on the four qualitative methods: conceptual, empirical, empirical-comparative and grounded theory analysis of your thesis.
In my interdisciplinary research, I employed multi-methodology approach, four key qualitative methods:
Conceptual Elaboration: This phase tackled contemporary questions about the impact of social media on the need for physical public spaces in cities. It involved investigating the historical evolution of media from print to digital and how this affected the notion of a "public space" each time.
Empirical Elaboration: Here, I sought answers to practical questions about assessing the usefulness of newly developed or renovated public squares. This part involved creating a method to evaluate the effectiveness of such spaces in modern urban contexts.
Comparative- Empirical elaboration: This method involved studying two historic squares in different cities, Paris and Amman, both of which underwent renovations during the era of social media. By comparing these cases, I aimed to identify similarities and differences, gaining insights into the sustainability of social cohesion in urban areas and the democratization process.
Grounded Theory Analysis: Grounded theory was the overarching approach that guided my research. It involved systematically analyzing data, codifying, classifying, linking, integrating, modeling, and theorizing to develop a comprehensive understanding of the utility of public squares in contemporary cities.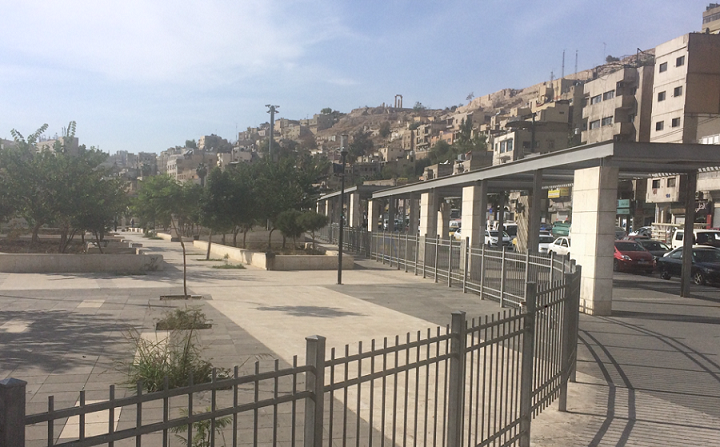 Hashemite Plaza 2016 – Pedestrian axes are cut by the metal fence
Since time immemorial, 'Public Square' in every nation has played a significant role in shaping respective nation's history. However, in recent decades 'Public Square' has turned more into commercial zones – Your views.
This transformation becomes evident when comparing cities constructed in the 19th Century to those developed in the 20th Century. Public squares fell out of favor, considered outdated due to the high cost of city centre real estate and concerns about gatherings potentially turning into protests.
In the 19th Century, under the influence of print media, cities placed a strong emphasis on creating spaces that encouraged discussions about the latest written news. Cafes, boulevards, and public square thrived, fostering social interaction and enhancing urban vitality. In contrast, urban strategies of the 20th Century, shaped by the advent of radio and television, took a more car-centric approach. The rise of authoritarian regimes during this period, exacerbated by the widespread use of car radios, led to a controlled flow of information. Furthermore, urban planning itself was utilized as a tool of propaganda, with cities designed primarily for automobiles rather than pedestrian circulation. Fears of gatherings evolving into revolts prompted the avoidance of urban areas that could accommodate large, uncontrolled assemblies.
Rapid urbanization of important cities around the world has witnessed the absence of 'Public Square' in most of the countries, with cities getting dense and over populated. How do you see things changing with policy makers and urban planners to design more Public Squares?
The absence of public squares in rapidly urbanizing cities is a concern, but there is a promising shift in how policymakers and urban planners address it. Recognizing the historical and social significance of these spaces, there s a growing effort to re-imagine and revitalize them, essential for vibrant and inclusive cities.
Addressing the legacy of the 20th Century urban planning that prioritized cars over pedestrians is crucial. Since the '60s, academics, researchers, practitioners and activists have called for change, highlighting the environmental and social impacts of car-centric city centers.
In 2015, the United Nations responded to this call by launching its 'Sustainable Development Goals for 2030', with Goal 11 focusing on creating inclusive, safe and sustainable cities. Promoting safe, inclusive, green public spaces is a key part of achieving this goal.
Public squares, integral to public spaces, deserve special attention for their unique role in fostering inclusiveness and tolerance in urban environments. These shifts in mindset and goals promise positive changes in the design and revitalization of public squares in our cities.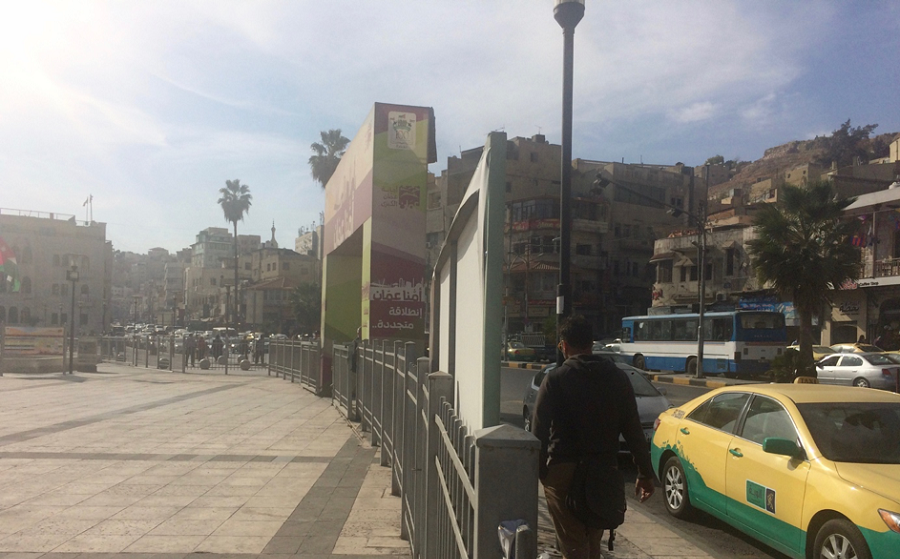 Hashemite Plaza 2016 – Circulation is cut between outside and inside the Square
"Aujourd'hui l'espace public doit être pris en compte, dans la mesure où il est l'indice d'un processus de démocratisation au sein des sociétés industrielles organisées en État social." – Jürgen Habermas, 1962 – Please elucidate.
Jurgen Habermas profoundly shaped my understanding of 19th Century public space in his 1962 book, 'The Structural Transformation of the Public Sphere'. He viewed public space as a communication platform, illustrated by his examination of 19th Century Parisian bourgeois society. Within their homes, they created "the salon", a space for socializing and discussions, often centered around newspapers. This innovation, initially within families, contributed to the concept of democracy as a whole.
Habermas further developed this concept in 1981 with his famous "theory of communicative action", emphasizing ethical discussions as a foundation of democratization.
By drawing a parallel between Habermas's 19th Century salon and the 21st Century public square, I underscore the enduring importance of localized public spaces. Just as we would not neglect a living room in a modern house, public squares should be cherished as venues for social interaction and diverse perspectives. They play a crucial role in fostering open dialogue, idea exchange, and community-building in democratic societies.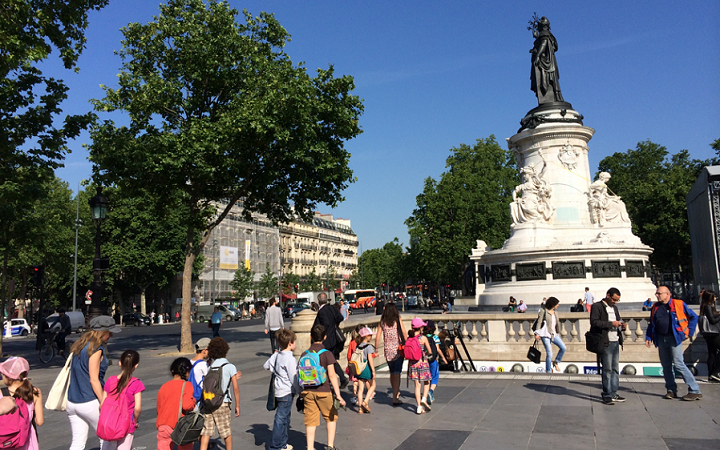 Place de la République, Paris June 2014
Please share light about the two public squares in France and Jordan, both reformed during the 2010s', constants confirmed the social need of massive territorialized communication in today's societies, while the variables exposed how each city reacts to meet this need – mentioned in your thesis.
Paris embodies 19th Century urban planning, while Amman represents 20th Century urban development. In the 21st Century, both cities initiated extensive projects to revitalize their historic public spaces, emphasizing pedestrian-friendly city centers and creating large public squares accessible at all times. Republic Square in Paris transformed from a bustling crossroads into one of Europe's largest pedestrian squares, becoming a hub of inclusive interaction and a public salon.
Conversely, the redevelopment of Hashemite Square in Amman between 2010 and 2014 resulted in different outcomes. While both projects aimed to prioritize pedestrian freedom and safety, they diverged in utility due to unique usage conditions. Amman's transformation shifted from an open public square to a space limited to artistic and cultural events, neglecting essential social needs, especially in a heavily car-congested area.
Although the projects appeared identical on paper, the method showed how Paris prioritized essential needs, fostering social cohesion through free communication. In contrast, Amman prioritized security measures, avoiding inclusive long-term discussion leading to social tribalization.
Comparing these cases underscores the importance of aligning urban projects with social needs and maintaining accessibility for inclusive interaction. This is particularly critical in the digital age, when public squares play a pivotal role in promoting social cohesion, as an inclusive territorialized media, essential today more than ever for democratization, and peaceful discussions, thereby preventing violent confrontations.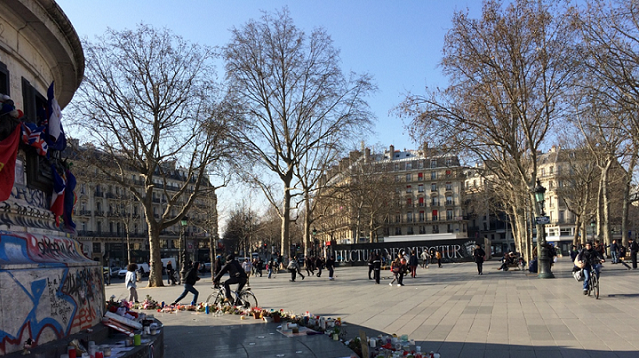 Post-2015 Terrorist Attack – Place de la République – She is rocked by the waves, but does not sink
Urban master planning has become more challenging for urban planners and architects all over the world. With climatic catastrophes happening on a daily basis, what suggestions would you ascribe for better urban planning?
I wish I had a straightforward answer or a magic fix, but personally, I am inspired by Henri Lefebvre's wisdom from the 1960s "the right to the city". He talked about the importance of sustainable urban development that focuses on meeting essential social needs and made it clear that we should differentiate between what is genuinely crucial (sustainable) and what is just a passing trend (ephemeral) in urban planning. My work aims to address the need for sustainable territorialized communication.
That said, there are some fantastic things happening all over the world today, on various scales—local, national and international—in urban, suburban and natural settings. These inspiring initiatives are all about promoting sustainability and inclusivity, and they have been instrumental in creating more inclusive and resilient societies.
If readers are looking for inspiration, I would recommend checking out the projects recognized by the European Prize for Urban Public Space. They are truly inspiring and offer great insights into innovative urban development.
What role do you play as a Senior Advisory Board Member on Public Space at City Space Architecture?
As a Senior Advisory Board Member at City Space Architecture, I play a collaborative role in supporting various projects and initiatives aligned with our shared passion for public space, inclusiveness, and social cohesion.
Additionally, I offer a course on the Public Space Academy platform titled "The Media and Public Space" to share my research findings and approach with fellow enthusiasts. Recently, I had the privilege of participating in a 10-day workshop called "Suburban Spark", where I served as an instructor and speaker in the public seminar "Public Space Challenges: From Theory to Practice to Policies". It is an enriching journey contributing to the discourse on public spaces.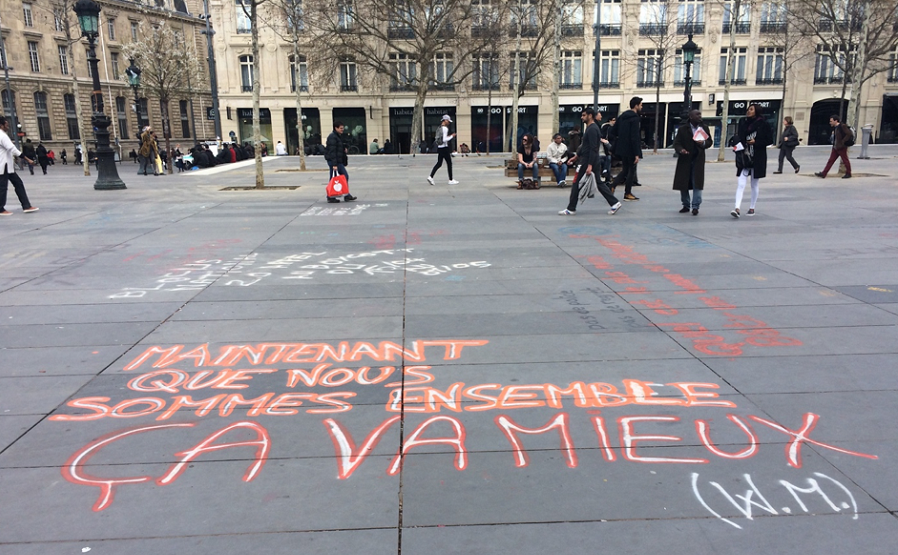 Post-2015 Terrorist Attack – Place de la République – Now that we are together, it is better!
What are the various projects City Space Architecture is busy with in various cities and countries?
City Space Architecture's main current projects are:
The Journal of Public Space, in partnership with UN-Habitat: the first-ever, academic, open access journal on public space;
Public Space Academy, in partnership with Ove Arup Foundation: the first-ever, free, interdisciplinary educational program on urban complexity built around public space;
Museo SpazioPubblico / Public Space Museum – our headquarters in Bologna, in partnership with Genius Saeculi;
Mastering Public Space, a free web-magazine focusing on public space challenges;
Stand up for Public Space, online global campaign;
Film Festival Urban Visions, taking place in Bologna & online and also in Ajman (UAE) and online (two different editions);
Mapping Resilient Communities, in partnership with UNHabitat;
Safe and Sound Cities, research project on urban safety for youth through placemaking interventions in the Global South, with case studies in Cuenca (Ecuador), Envigado (Colombia) and Bandung (Indonesia) ;
A-Place. Linking places through networked artistic practices, a research-to-action project co-funded by the Creative Europe program of the European Commission; and
Past Present and Future of Public Space conference series, the next one will be in July 2024 in Bologna.
Which significant aspects of 'zerobeyond – the new frontier!' did you liked the most, and why?
One of the standout features that I find appealing about 'zerobeyond – the new frontier!' is its relaxed and informal approach to sharing experiences through structured questionnaires. This approach is particularly praiseworthy as it enables a thorough exploration of a wide array of profiles from around the world, with a specific focus on the insights and perspectives of Generation Z. This not only cultivates a sense of global interconnectedness, but also provides valuable insights into the worldview of our colleagues from this younger demographic.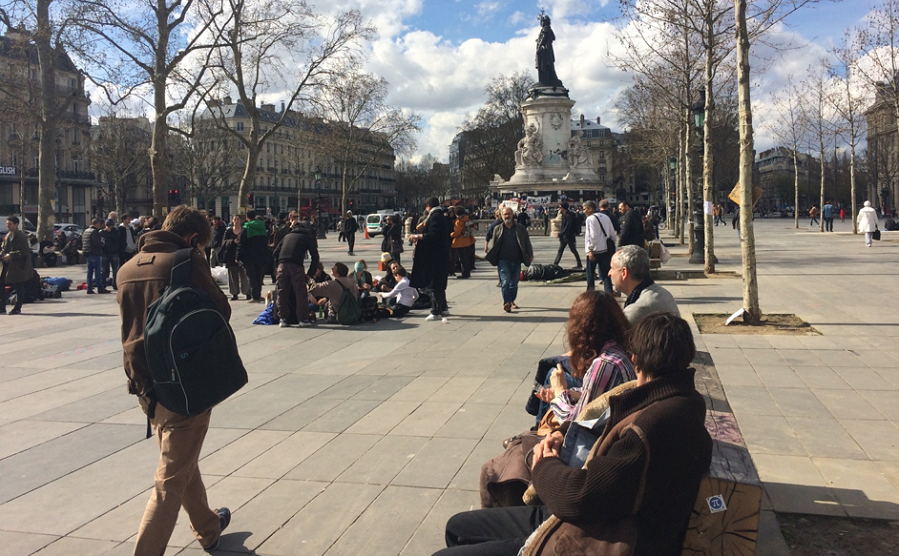 Place de la République – During 2016 'nuitdebout movement'
How would you describe Dr. Sally Hamarneh as a professional and a person?
I would say Sally personifies an insatiable and constant thirst for knowledge, both in her professional and personal pursuits. Her eagerness to engage in conversations often ignites stories that could easily fill the pages of a book, complete with intricate black-and-white sketch illustrations. And as for us, we have found our balance between Provence and Amman. It is like having the best of both worlds for our three-year-old heritage journey.
Photographer: Dr. Sally Hamarneh
Image Courtesy: Dr. Sally Hamarneh