In the year 2018, two creative architects from two different continents decided to establish their own architecture, urbanism and design studio. Husband – wife team German architect Bennet Marburger and Chinese architect Dr. Zhang Ji established their studio and named it 2408. Unusual! Yes, it may seem but Bennet revealed the interesting mystery behind the number 2408 in the interview.
Bennet Marburger studied architecture at the Technische Universität Berlin, Germany and Ecole Nationale Supérieure d'Architecture de Toulouse, France. From 2008 to 2011, he taught at the Technische Universität Berlin as a Tutor. He joined EUROLABORS AG as an architect and honed his skills from 2011 to 2015. He moved to China to join OBERMEYER as an architect and worked till 2017.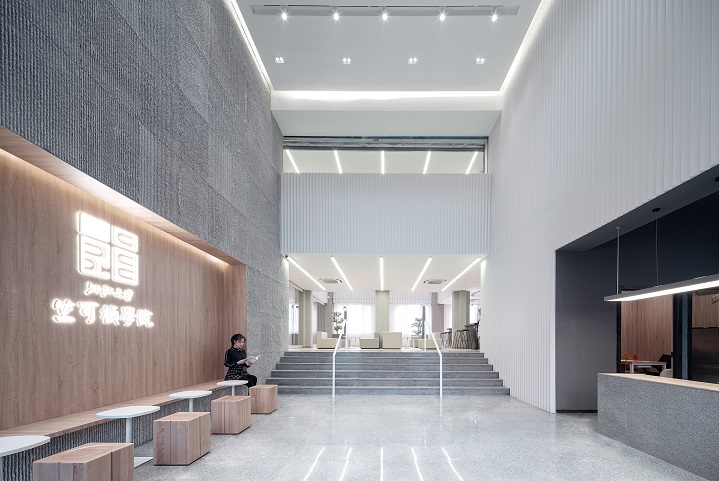 On the contrary, Zhang Ji graduated with a Bachelor of Architecture and Master of Engineering degrees from Zhejiang University in Hangzhou, China. After her Masters, Zhang Ji was awarded the National Studying Abroad Scholarship by the China Scholarship Council and continued her research at Technical University of Berlin and received her Doctorate title by completing her PhD. Dr. Zhang Ji is the Managing Director of 2408.
The creative couple's young firm made their mark in the year 2021 by winning the A' Design Bronze Award for their project 'Chu Kochen Dormitory' and at the 2021 Dezeen Awards, 2408 was 'Longlisted' for their project 'Chu Kochen Dormitory'. They are doing some very interesting projects in China and very soon they will be opening 2408 Berlin studio to expand their presence in both the continents.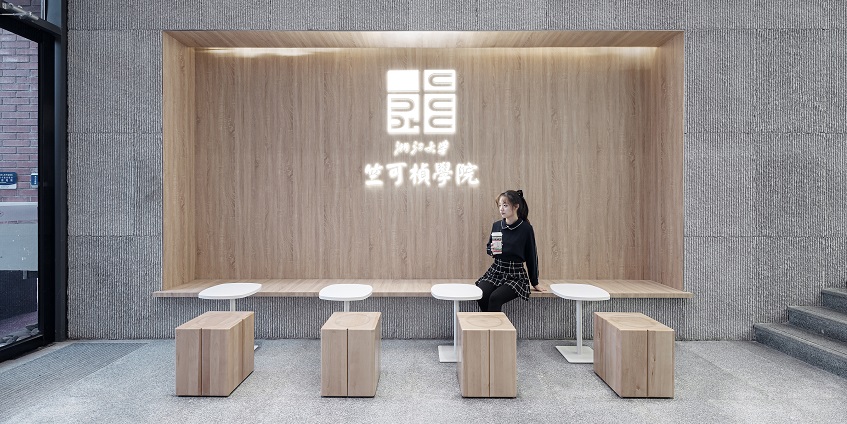 Bennet Marburger talks to Johnny D about his journey into architecture and explains the intricacies about their award-winning project 'Chu Kochen Dormitory'.
When you look back at your childhood ambition, did you always wanted to be an architect? How has been your journey so far?
From a very young age, I have been fascinated by the generalist character of architecture. There is something wonderful in the process of creating buildings. It involves many different people from different professions that work on the same goal. Being a creative person it felt quite natural for me to be interested in becoming an architect. Although my journey was not without detours, in the retrospective it has been pretty straight from the first ambition to opening our own studio and completing the first couple of projects. So far, it has been a very exciting voyage and absolutely worth it!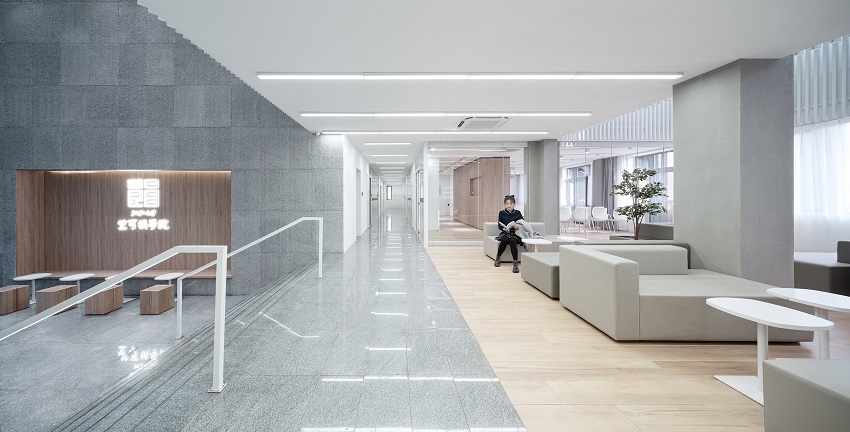 Please elucidate as to how Dr. Zhang Ji and you joined hands to establish 2408. Please unravel the mystery and significance behind the number 2408.
We always dreamt of opening our own practice. After Ji finished her studies in Germany, we both went to China, where Ji comes from. We had the impression we could contribute something to architecture in China. With our first client, everything had to go very quickly. One evening before our first presentation, we just chose the number of our apartment at that time as our studio's name. We did so, because a number is the only thing that works in any language, time or any context.
A number is something very abstract. It also reflects the beauty of creation and the mystery of the universe. I personally liked the idea that there is something very profane and also very sophisticated in the number at the same time (smiles).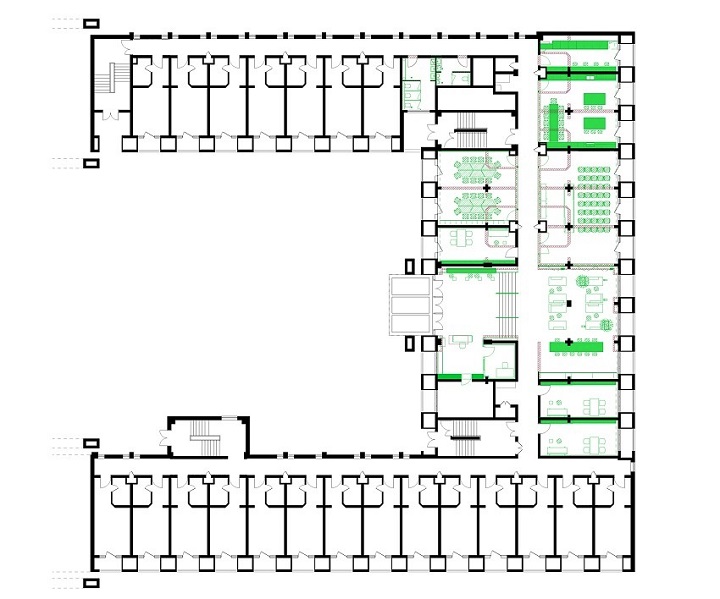 When the client states the brief to you in the first meeting, what really goes in your mind?
Every project is different. Usually when we get invited to a potential client for a first meeting, we try to get a feeling for the atmosphere and style that suits the project: is it warm or cold, playful or rigid, etc? We try to understand the clients' character and motivation. Are we on the same page?
Often, there is already a rough program. So in parallel, we start working on the spatial needs in a more systematic manner: Does the program reflect the client's intentions? Is anything missing? What could be the structure and typology of the project? From these two points we can enter into a dialogue, where we start defining more and more aspects of the design.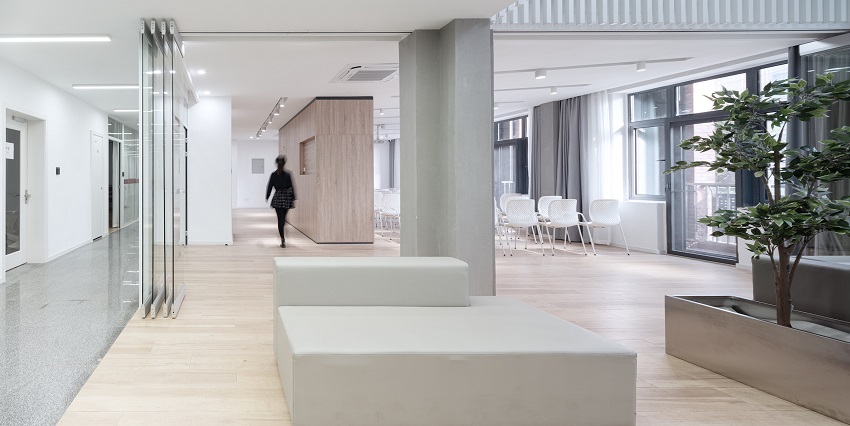 What was the brief of the 'Chu Kochen Dormitory' project?
The client, a college within Zhejiang University, contacted us after seeing another project of ours. The client was not satisfied with the current layout of one of their dormitory buildings. They wanted to transform the dormitory into a demonstration project.
The existing dormitory building was designed for about 1,600 students, but there were hardly any common spaces for self-studying or social interaction. It was difficult for the students to relax and identify with the college or the building. So, during the renovation process we transformed several bedrooms into additional spaces for living and learning like lobbies, classrooms, exhibition spaces or public kitchens.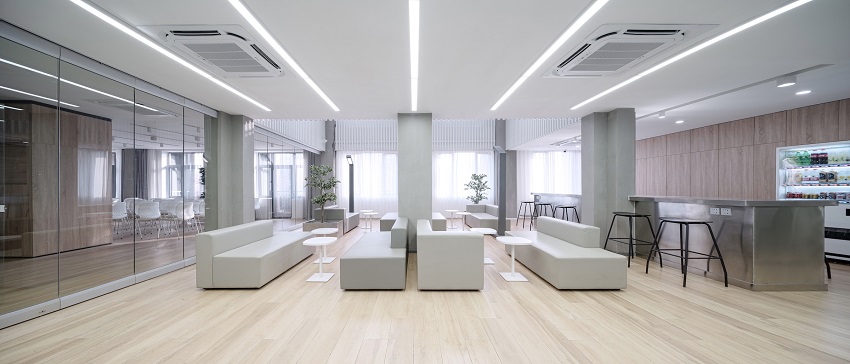 What do you expect from your team members during the planning stage?
In design projects, there are often many different stakeholders involved and the deadlines are tight. As a small company, we frequently work with freelancers and subcontractors. Hence, it is most essential that people are frank and reliable. I also think that there must be a general atmosphere of mutual respect and a commitment to quality.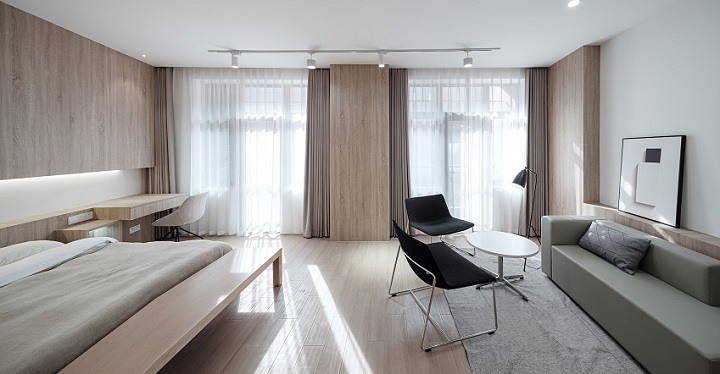 What were the major challenges you foresaw from the planning stage to the execution of the project on the real grounds?
In a renovation project, a lot of constraints are posed by the original building. There were many aspects about this project, we simply could not change. This led to an aesthetic of imperfection! The problems we had to solve started to make the design interesting. I think the largest single impact had the columns. As the building was originally designed only for dormitories, there were cross-shaped columns every 3.60 m. Especially on the ground floor, we took out a lot of walls and integrated the columns into the design. We actually used very different strategies to deal with them: some are hidden or integrated into furniture, others are presented very openly.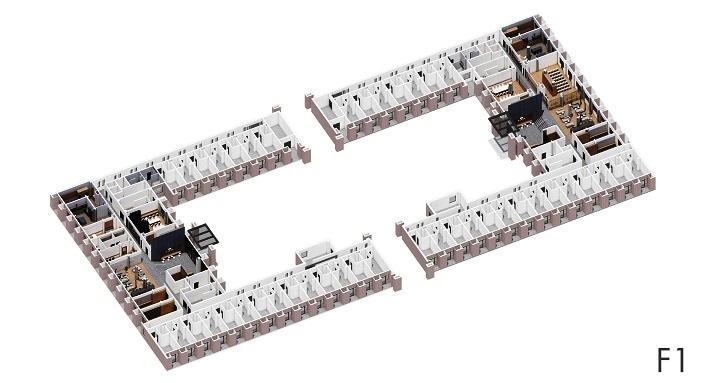 Describe the 'Elegance of Design' of the project from an interior architect's perspective?
Our projects often have multiple layers of meanings, motifs and references. To us, ambiguity is more of a positive aspect of architecture, as it reflects the complexity of our world.
When we started working on this project, we wanted to give the rooms a bright and clear atmosphere, rather than dull and depressed. We wanted the students to feel meaningful and refreshed. The entire design was conceived like a European Palace, where each room has its own design and theme, but altogether they speak the same language. As it is a public project, we had to take good care of cost-efficiency. Functionality was a major aspect of our design. We stuck to a vocabulary of simple shapes and only used a limited but carefully selected palette of materials. Thus resulted in a certain timelessness, which I think is also a fundamental part of sustainability.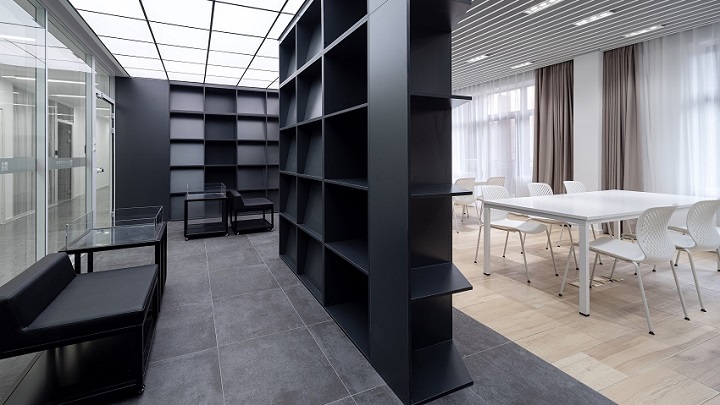 Please mention 5 major 'Sustainability' features you incorporated in the project and its significant impact on the project.
In China, sustainability is usually not a priority. When we worked on this project, we focused on longevity as an essential idea. Being a renovation project, it already was aimed at prolonging and increasing the building's use. While making our design choices, we tried to further optimize functionality, construction and aesthetics in the light of resilience and durability.
For instance, the spaces we designed are very flexible and can often be used in different ways. By opening the folding wall between lounge and exhibition room, a large space can be created. For many rooms, there are also multiple ways to set up the furniture.
Furthermore, we tried to increase space efficiency by making more spaces available to the students that previously were not usable.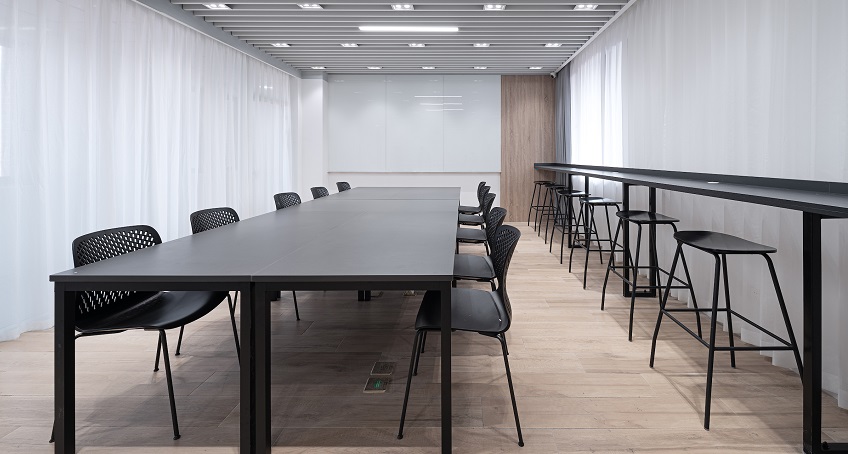 Was it a conscious effort to not use bright colours in the interiors? Please specify.
Absolutely yes! We always saw our task as being to create a background for academic everyday life. We tried to use materials in their natural colours and otherwise stuck with a neutral colour-scheme, dominated by white and a bit of black. With a lot of wood, granite and steel we brought in some warm and cold tones. Eventually about 1,600 students live in this building, so there is no doubt, they will introduce enough colours to make this a colourful building.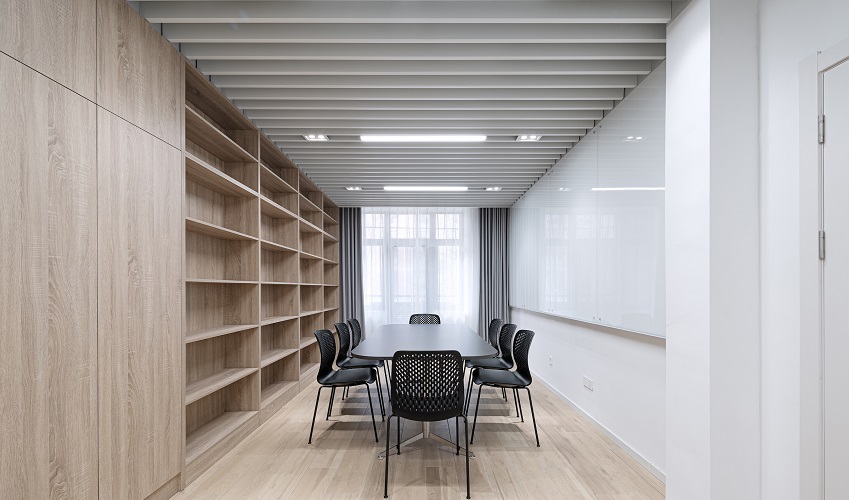 What is the total area of the project, estimated cost and time period of the project design-to-finish?
The total renovated area is approximately 3,000 sq. m. From the first sketch to the final photo shoot it took about 18 months. The cost of the project is confidential.
What are the latest innovative tool(s) your firm is using to facilitate the smooth process of construction of various projects?
Though I think it is not super innovative and should be absolutely natural, the most effective tool we use is BIM. In our office, we try to apply it to the larger extent. It certainly pays off and improves the whole planning and construction process.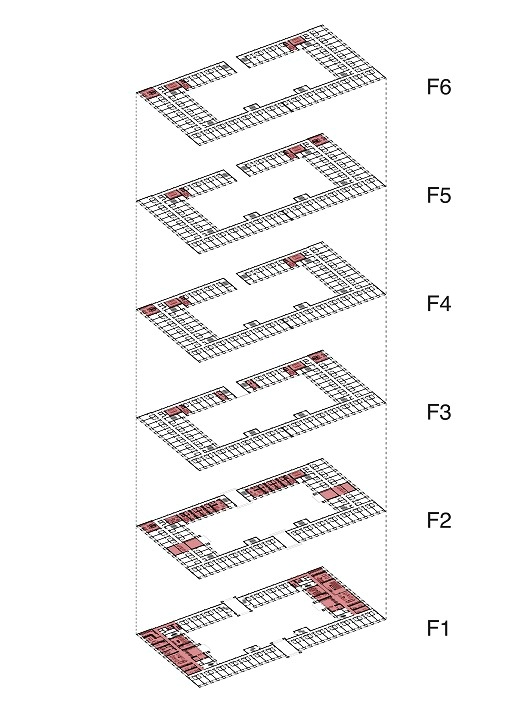 Is modern architecture equipped to overcome the disastrous climatic effects to make 'Cities of the Future' safe and livable? Your views please!
Speaking in general, architecture and urbanism are the problems rather than the solution. The construction sector consumes, way too much, resources and neither the cities nor the buildings are designed to effectively respond to nature. In our projects, we often find that the status quo is far away from the actual need. At the same time, it is very easy to improve the situation. This leaves me quite optimistic that change is possible and will come.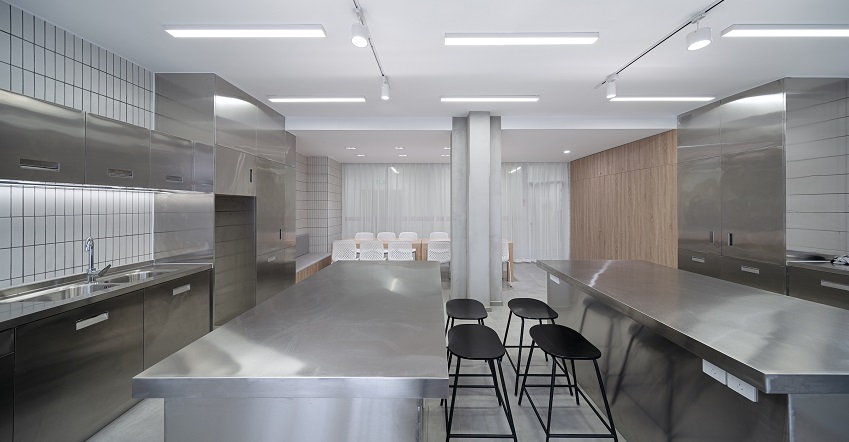 What are the various projects 2408 is currently busy with, in various cities and countries?
Currently there are 2 ongoing renovation projects at Zhejiang University in Hangzhou, China that are under construction or about to start. We are increasingly focusing on architecture projects again after we mainly did interiors in the last 2 years. At the moment, we are also planning to open a studio in Berlin, but that is still in preparation phase and also depends on the international pandemic situation.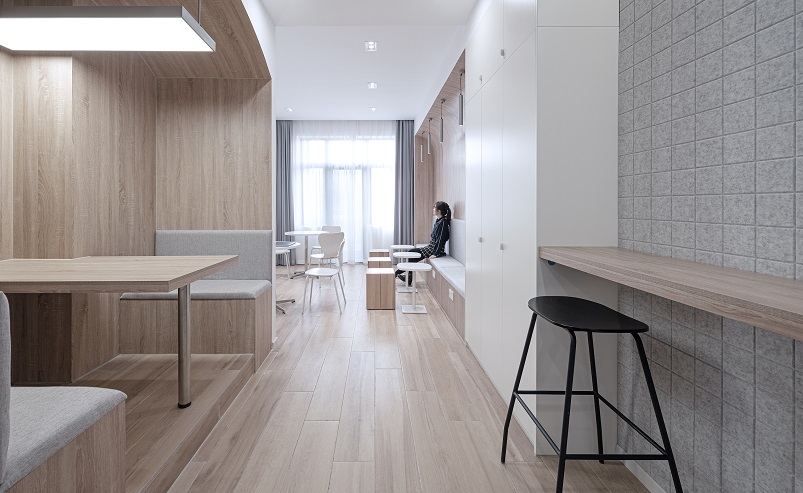 How would you describe Bennet Marburger as a leader and a person?
I love being an architect and am very passionate with what I do (smiles). I hope this also reflects on the people around me. I believe in an inclusive approach and low hierarchies.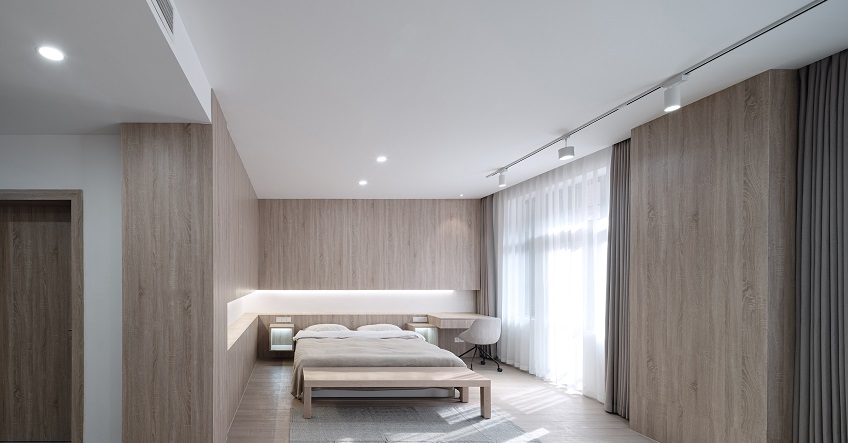 Which significant aspects of the global platform www.zerobeyond.com did you liked the most, and why?
I liked that it is actually looking behind the surface, into the people, the design process, office structure, etc. I found this interesting to read and compare to my own situation. I also noticed that the texts are edited and not just "provided by the architect". I think it is reasonable to put emphasis on sustainability. I also liked that a broad spectrum of what can be architecture is covered.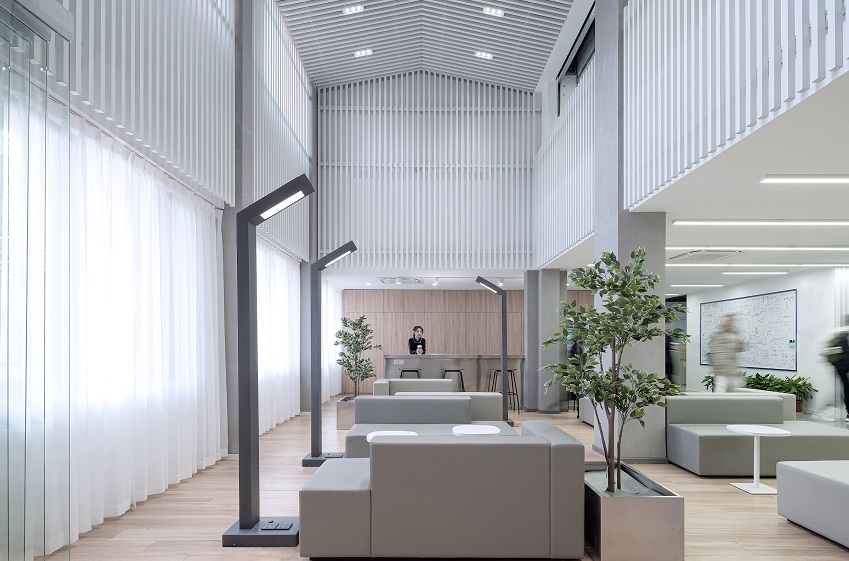 Please state recent awards won by 2408.
2021 – A' Design Bronze Award – 'Chu Kochen Dormitory' Project;
2021 – Dezeen Awards – Longlisted – 'Chu Kochen Dormitory' Project.
Image Courtesy: Studio 2408
Photographer: Shiromio