Koerich based Fabeck Architectes is celebrating its Silver Jubilee anniversary of its successful existence as one of the renowned multiple award-winning architectural firm in the world. Tatiana Fabeck had established Fabeck Architectes in the year 1996. Humble to the core, Tatiana Fabeck's enthusiasm and passion is as intact as it was when she had established her own architectural firm. Her infectious smile speaks about her successful journey of contentment and pride.
Having graduated from the Ecole Spéciale d'Architecture, Paris in the year 1994, Tatiana joined Studio Cuno Brullmann. After honing her skills for two years at the Studio, Tatiana confidently started her private practice Tatiana Fabeck Architecte in the year 1996. With each passing year, the foundation of her private practice became stronger and stronger. 16 years later, Tatiana Fabeck Architecte was renamed Fabeck Architectes LLC. Along with two of her Associate Architects Jens Letzel and Frederic Sold, Tatiana has led the firm to great success.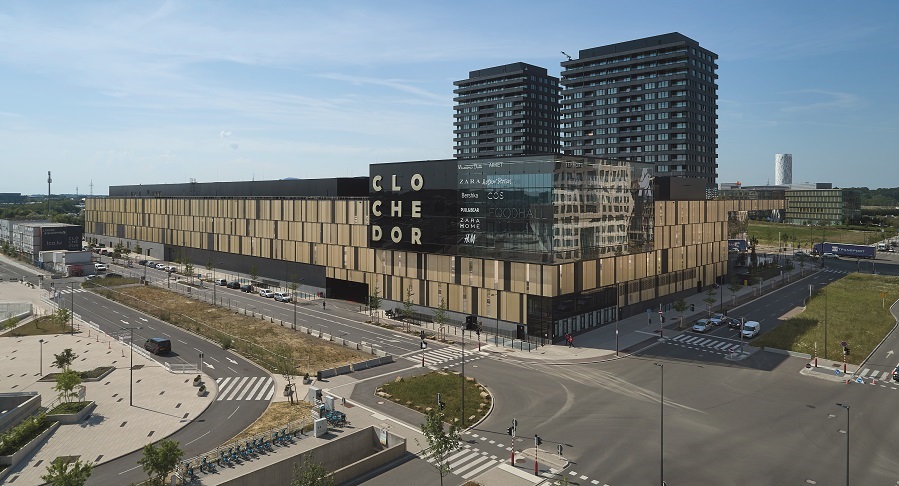 Today, the firm is renowned in the world winning as many as 48 awards so far. Tatiana Fabeck has been nominated for the 2022 Mies van der Rohe Award, the European prize for contemporary Architecture. The project 'Cloche d'Or' is one of the finalists at the World Architecture Festival 2020 – 2021 in the 'Shopping – Completed Buildings' category award.
'Cloche d'Or' is a mixed-use building built close to the City Center of Luxembourg. It is dedicated to commerce and houses a medical center and a wellness area. Cloche d'Or is the result of an international architects' competition in 2014, won by Fabeck Architectes. In the year 2020, the project was executed in association with Schemel Wirtz Architectes Associés.
I take great pride to interview this lovely, humble and successful architect on the Silver Jubilee year. Tatiana Fabeck talks to Johnny D about the 'Cloche d'Or' project and her journey in the last 25 years.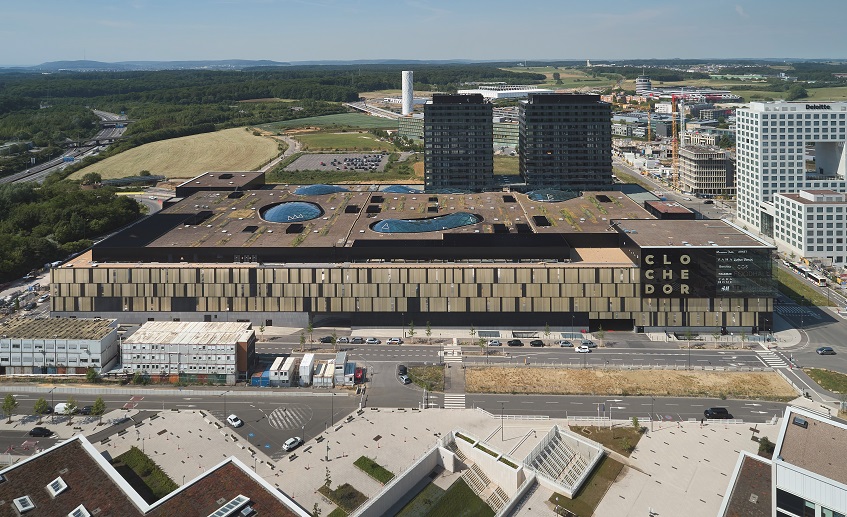 First of all, I would like to congratulate Fabeck Architectes team and you for successfully celebrating the Silver Jubilee year in 2021. It is a great feat indeed! Please share your emotions with the world.
Of course, we are very happy and proud of what has been achieved during the past years! We are looking forward to serve our clients in a dynamic way for the years to come.
When you look back at your childhood ambition, did you always wanted to be an architect?
Not really! I chose to study architecture, because I was always interested in different domains, namely art, graphic design, architecture. Studying architecture meant being able to get an overall education.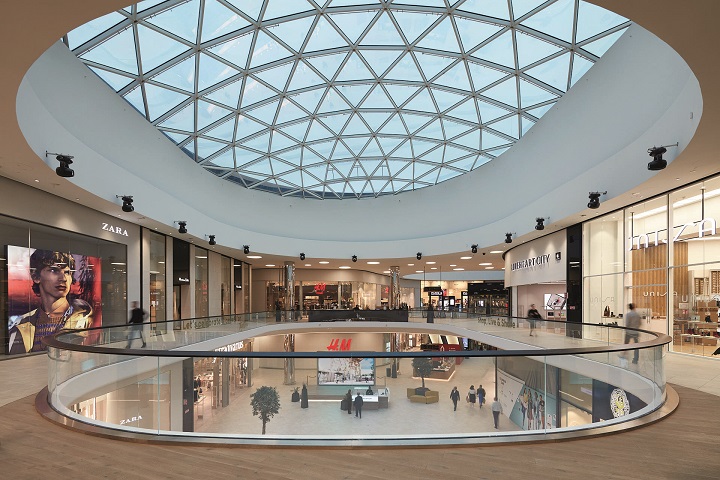 How has been your journey to etch your name in the history of architecture?
Well, I think there is still a long way to go, before we will talk about history. Nevertheless I think, with passion, curiosity and hard work one can achieve a lot.
What are the various projects you are currently busy with, in various countries?
We have recently won a competition in Dakar, the Capital city of Senegal, Africa for an educational Center for Data Information; in Luxembourg, we are working on large scale urban projects, as well as, interesting housing, education, culture and office buildings.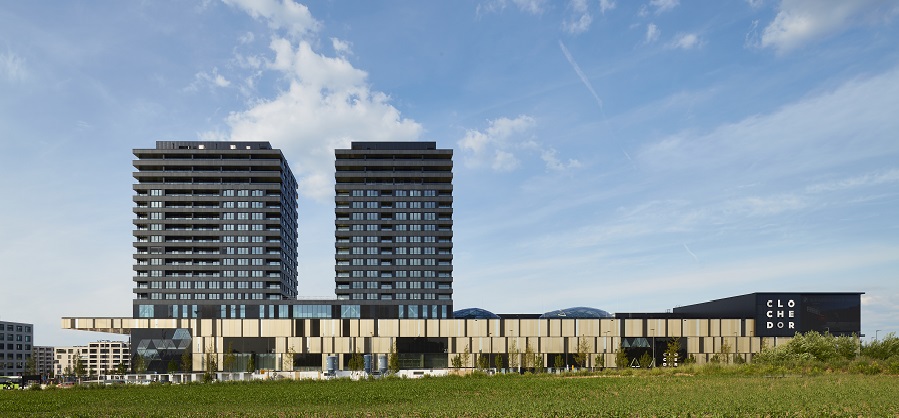 When the client states the brief to an architect in the first meeting, what really goes in an architect's mind?
We listen to our client's brief with lot of attention and try to figure out, what is the most important for him. A project is a constant dialogue with the client or end user.
How does the design creation process materialize in an architect's mind?
Given constraints, program and the client's brief define a first frame. From there on, we try to tell a story, like a book. It's a process till the accomplishment. Each project is a very big book.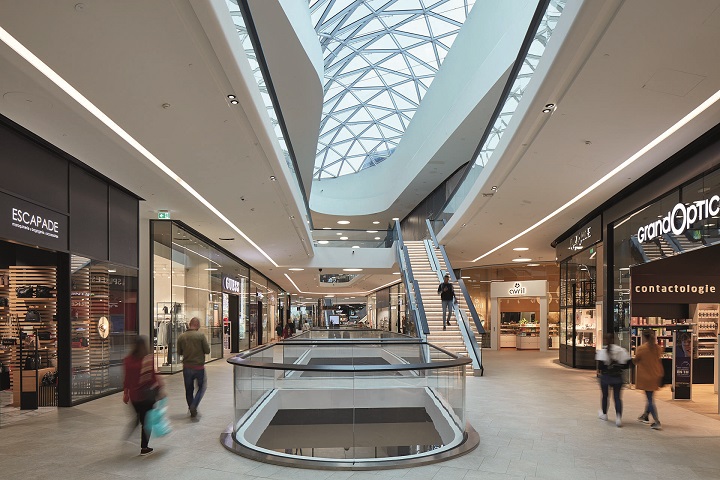 What was the brief of the 'Cloche d'Or' project?
The client organized an international competition. Their aim was to create an iconic multi-usage project. The project combines a parking lot of 2850 places, a shopping mall of 75,000 m2, a hypermarket of 10,000 m2, a residential complex of 25,000 m2, a wellness area with swimming pool, as well as, a medical center. It is a huge project!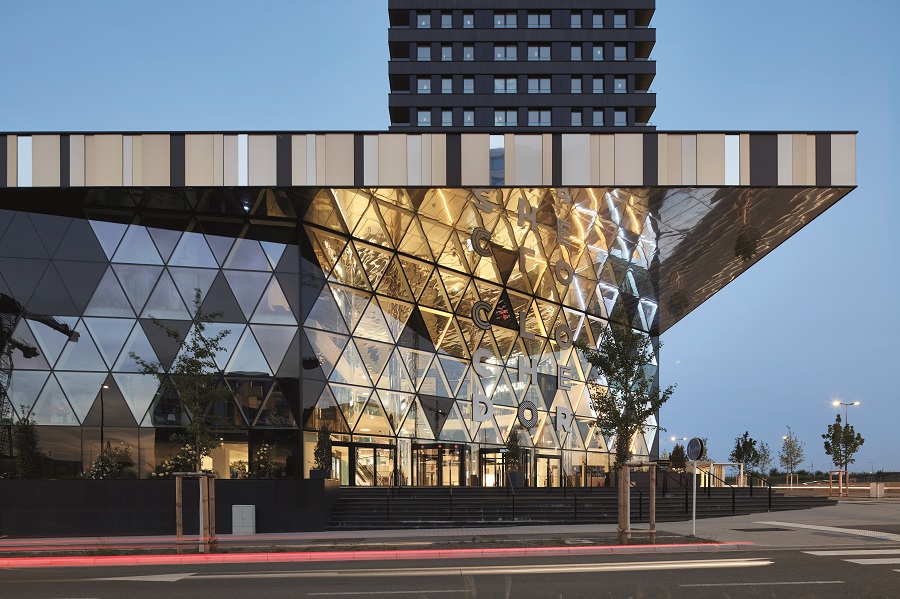 As the head, what do you demand from the team members during the planning stage?
After having won the competition in 2014, we did a large amount of research studies. We always do extensive research with the principle to make a center, where the human person is the most important element. Trying with each sketch or plan to get a better solution, that's what we did till the end.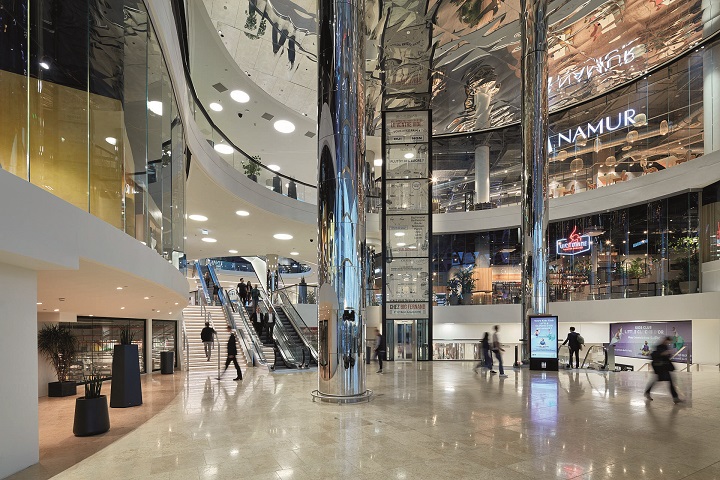 What are the major challenges you foresee from the planning stage to the execution of the project on the real grounds?
We decided at a very early stage to develop the project in BIM. This was very useful due to the size of the project of 200,000m2. We were able to integrate and at each stage of the process, all studies from engineers and specialists. It has been a super complex building as it houses, retail, parking, medical and wellness center, swimming pool, and apartments.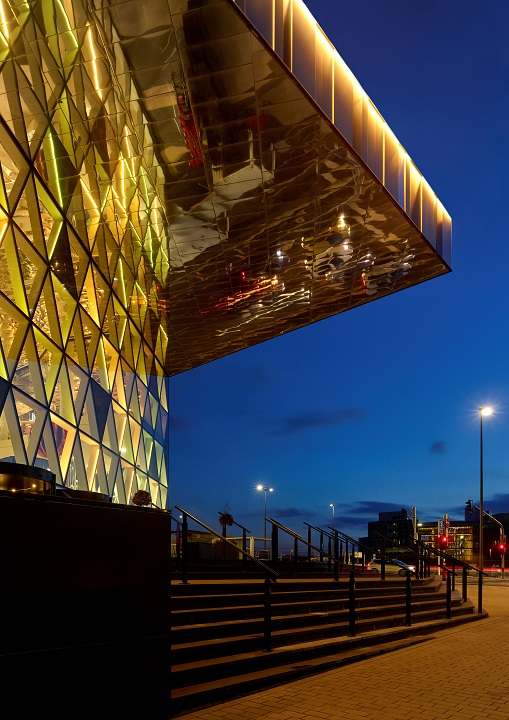 How did you overcome them creatively?
We worked hard and both our teams worked together in an enthusiastic way. We never gave up our main ideas from the competition.
How would you describe the 'Elegance of Design' of the 'Cloche d'Or Project' from an architect's perspective?
A good choice of materials, natural and artificial lighting, form, structure, glass canopy and proportions have shaped an elegant building. Cloche d'Or has been designed with a clear idea about materials and colours. Gold, black and white are the colours, that were chosen in order to provide a bright, contrasting, luxurious, warm, timeless and elegant frame. Different colour and size aluminium elements gave a vibrant appeal to the façade.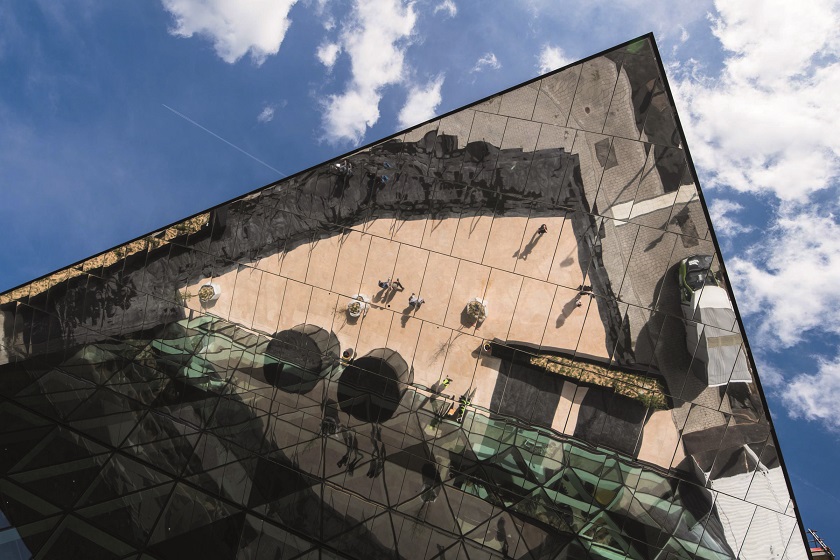 Please mention 5 major 'Sustainability' features you have incorporated in the project.
The project matches top standards in terms of quality, safety and boasts a 'Bream Excellent' Certification. This demanding international recognition rewards the environmental and societal qualities of the shopping centre, in continuity of the district also certified 'GOLD' by the 'Deutsche Gesellschaft für Nachhaltiges Bauen' and the hypermarket certified 'SuperDrecksKëscht®' with 90% of the waste completely recycled and 100% sorted out. A huge planted rooftop provides a buffer for water retention. The recommendations for maintenance have played an important role in the choice of each material and planning elements.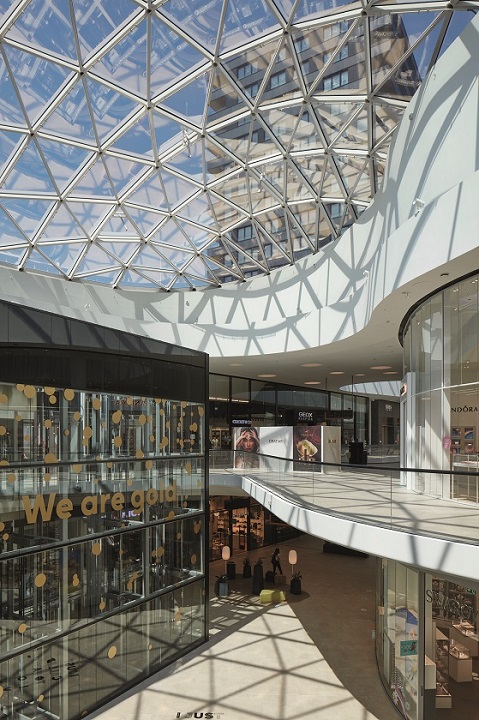 How much credit do you attribute to the conscientious efforts of the civil / structural engineers to give shape to an architect's vision?
Our engineers made a very good job especially for the very gracile structure of the glass canopies.
Climatic catastrophes have seen major smart cities around the world being destroyed in the recent times. How can or will architecture overcome such destruction to safeguard the community at large?
In Luxembourg, public and private projects have been developed since the last 10 years more or less with more awareness of the responsibility every one carries in a building process. Worldwide, we need to figure out new building processes and always keeping in mind that the future generations will have to get along with what is constructed now.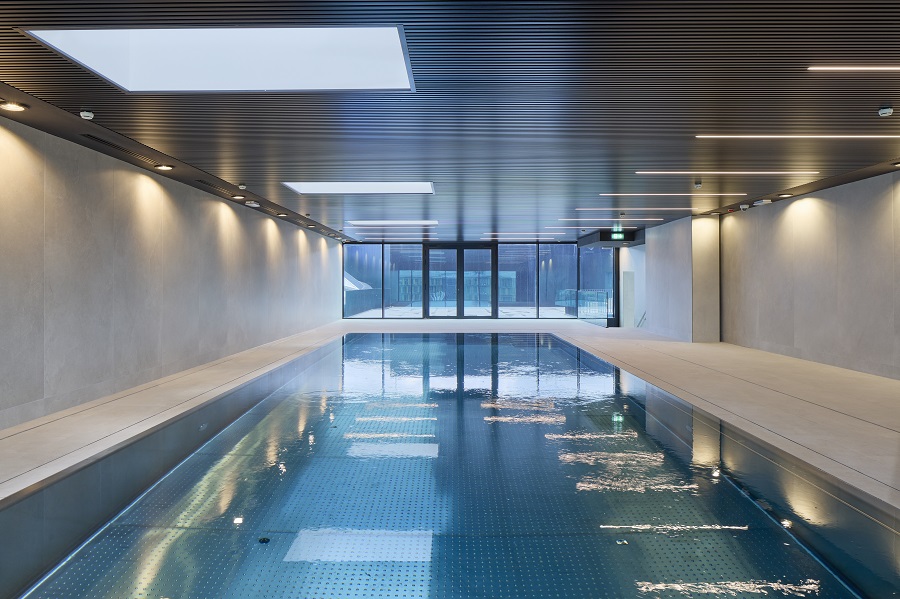 How has the pandemic changed the process of working in the field of architecture?
The process of working has been challenged during the 3 months where everything was only by remote. In our office, we learned very quickly to adapt to that situation and we still now use some of the skills we learned during the Covid period.
How would you describe Tatiana Fabeck as a professional and a person?
I prefer that other people answer this question. I would just say – 'Never give up'!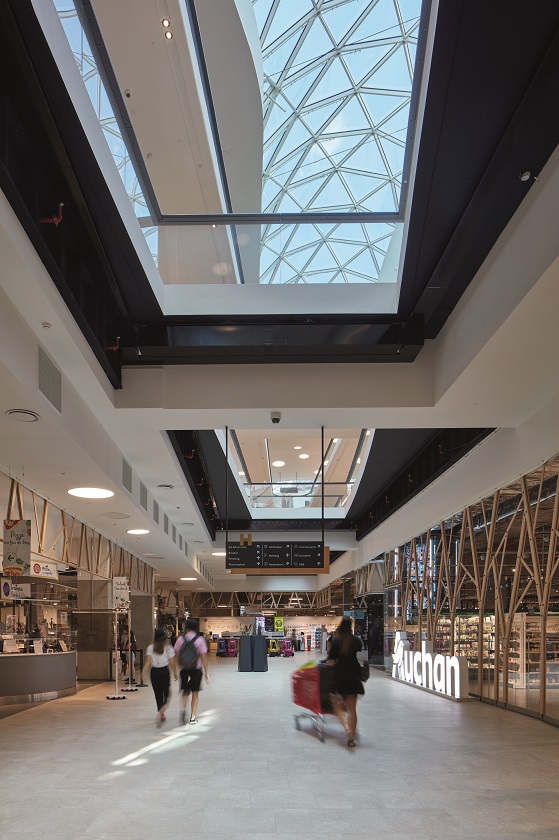 Please state 5 awards won in recent times.
Awards won in recent times are as follows:
– 2021: Architekturpreis Gebäudeintegrierte Solartechnik 2020
– 2020: Holzbaupreis Eifel, International award obtained by Holzkompetenzzentrum Rheinland
– 2019: Special Mention of the Sustainable Construction Grand Prize, Powered by Construction21.org international. (192 candidates of 37 countries around the world).
– 2019: Febe Elements Award
– 2019: European Solar Prize, International award obtained by Eurosolar; European Association for Renewable Energy
– 2019: Prix Solaire Luxembourgeois 2019 obtained by euro solar Lëtzebuerg a.s.b.l.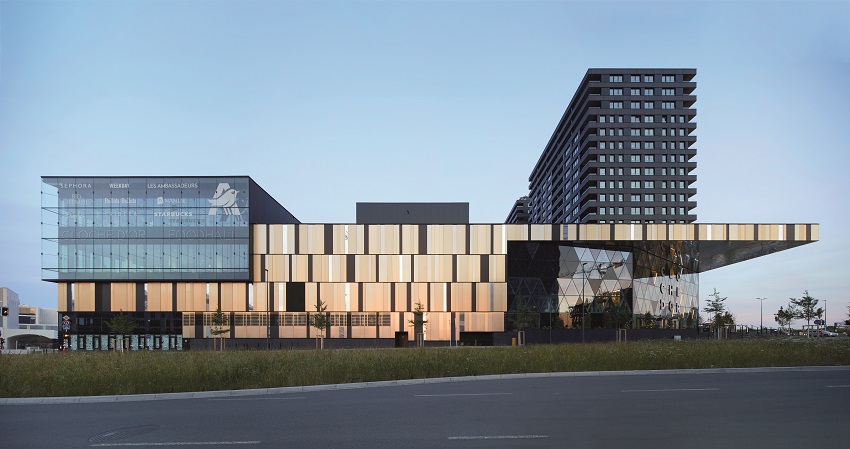 Image Courtesy: Fabeck Architectes