An illustrious career spanning solid 40 long years, Hong Kong born Steve Leung is one of the renowned architects, interior and product designers in the world. Realizing his childhood dream to become an architect of repute, Steve Leung strongly believes, "Design represents different meanings for every master in history." In the year 1987, at the age of 30, he established SL D – Steve Leung Designers Ltd in Hong Kong. Inspired by the Asian culture and arts, his design creations are unique and famous for Leung's contemporary style.
Highly respected in the interiors world, Steve Leung creations are highly acclaimed all over the globe. Steve Leung Designers Ltd has achieved great success for breaking the traditional framework with an international vision. The multiple award-winning design company has built high reputation as one of the leading interior design firms in the world with its magnificent projects. Steve Leung believes in giving back to the society. He grooms young professionals by mentoring their skills and shares his experience with them.
Steve Leung's high credentials speak for themselves. As the President of IFI from 2017 to 2020, Steve Leung's name is etched in the IFI – International Federation of Interior Architects / Designers history books for being the 'First Chinese' to become the President of IFI. Since 2013 till date, he is also the Executive Director of CIDA – Design Committee of China National Interior Decoration Association. Steve Leung is also one the Board of Directors of Hong Kong Design Centre since 2016 till date.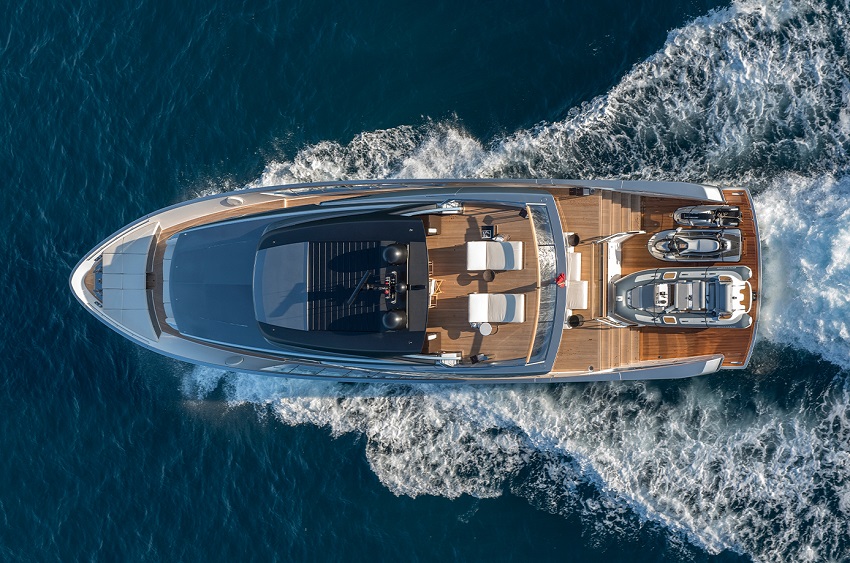 Steve Leung talks at great length with Johnny D about his childhood ambition, designing the spectacular SX88 Lorenzo Yacht and current projects.
When you look back at your childhood ambition, did you always wanted to be an architect? How has been your 4 decades' journey to etch your name in the history of architecture and interior designing?
Since the early age of seven or eight, I already knew I wanted to become an architect. I was inspired by my uncle, whom I adored and watched working on drawings and sketches late at night, while I was growing up. I have been very lucky in terms of my career and the opportunity to create my own firm when I had just turned 30. It was an incredible feat!
Being one of the first Hong Kong designers to pinpoint and believe in the tremendous potential of the Mainland Chinese market in the mid-90s was also another crucial moment in my career. I truly feel grateful to be trusted by so many clients there at the time. Gaining a reputation of introducing a more minimalist and contemporary design, many of these clients are still collaborating with us today. They have played a significant role in our success in China and around the world. Besides seizing the right opportunity at the right time, my success would have not been the same without the significant contribution of my talented design teams.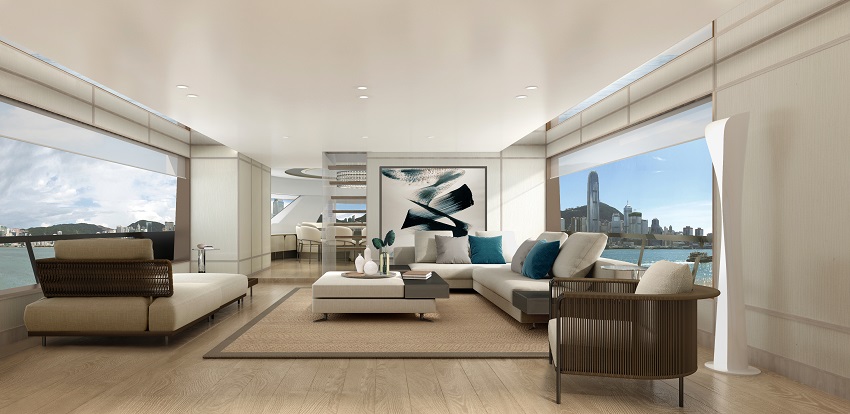 Interior design projects are always the outcome of collective efforts in brainstorming the best ideas, planning a smart working strategy, and creating a design able to meet client's needs. The combined endeavors and contributions of my teams are unquestionably the backbone of SL D's success!
When the client states the brief to an architect in the first meeting, what really goes in an architect's mind?
Every time I start with a new client's brief, I always keep in mind what good design represents to me. A human-centred and balanced mix of aesthetics and functionality that has the purpose to serve people in the best way possible, by tackling today's societal and environmental issues, and enhancing the quality of living. After the brief, I would carefully analyze client's requests, followed by a meticulous consideration of the project positioning, geographical location, target users, and the specific space's features. These first steps allow me to identify the best solutions to maximize the advantages and minimize the weak points of each project.
In fact, I believe a designer should never start his creative process without a logical understanding of the project at large. In other words, it is crucial to be fully aware about client's needs, and also what are the limitations and strengths of each project. Constant attention to detail is also another key attribute for good project management, and this is true for every stage of the design process – from scheme design, development, production, material sourcing, furnishing, to construction supervision.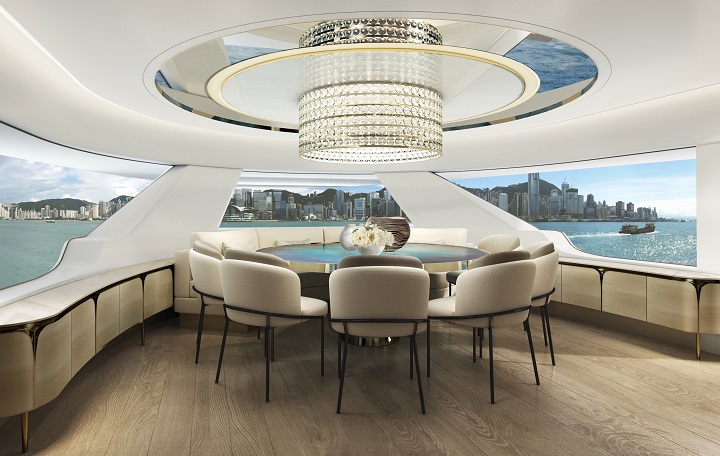 How different is it to design a yacht's interior from a residence or else a restaurant? Please enlighten us.
Joining hands with Sanlorenzo – the Italian shipyard renowned for its unique 'made-to-measure approach', embraced with SL D corporate philosophy of 'Design without Limits' injected a new and exciting challenge in my design career! It provided me the fantastic opportunity to break boundaries and translate my past design experiences into a different field. In both my collaborations with Sanlorenzo in 2016 and 2020, my main objective was to establish a new take in the yacht industry by shifting from a traditional Western approach to create a bespoke design reflecting an international lifestyle aligned with local cultural features of the Asian market.
This is why I was thrilled to contribute my expertise in luxury residential design in Asia to craft a 'Floating Villa' that inspired designing interiors of yacht and deliver the same experience of a premier residence to yacht owners. Of course, compared to traditional residential and even hospitality projects, the design process this time was even more challenging, due to the very limited space, compact layout, and an extra careful selection of materials suitable for the yacht setting.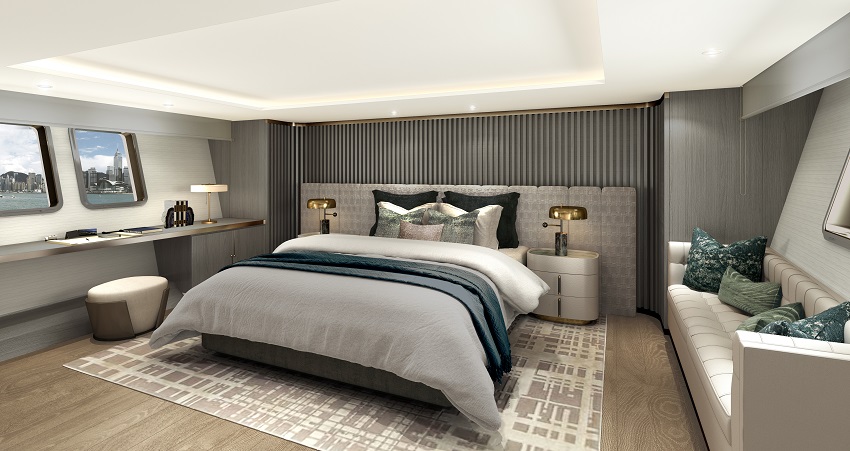 What was the main challenge to execute such a brilliant interior for SX88 Lorenzo Yacht?
While designing for Sanlorenzo, I realized that yacht design has long been dominated by a Western lifestyle approach, which is very different from the way we live here in Asia. I had the great privilege to join, as the sole Asia-based interior designer, the incredible line-up of internationally acclaimed design masters – including Piero Lissoni and Patricia Urquiola, engaged by Sanlorenzo as part of the brand's core DNA to create tailor-made yacht solutions to their international clientele. As such, I somehow felt the moral obligation and challenge to bring to the yacht industry a fresh perspective that could resonate with Asian clients' needs and aspirations.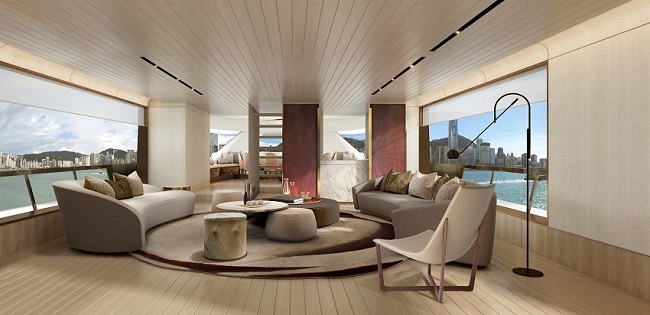 Being a keen yachtsman myself, my strong sailing foundations and a deep understanding of customer behavior in Asia on the latest trends in fashion, design and luxury lifestyle, helped to create for SX88 a private and comfortable environment embraced by an understated luxury feel. As in Asia, yachts are mainly perceived as secluded 'floating spaces' for social gathering and entertaining. My team and I skillfully arranged SX88 compact layout to further emphasize the social aspect of the space, with a special focus on highly-customized and functional features that could reflect distinctive Asian culture and end-users' unique personalities. An innovative open-plan layout encompassing the main salon as a generous, multi-use spaces, and indoor and outdoor connected by floor-to-ceiling glass walls to ensure constant visual communication within different areas of the yacht, also helped to achieve the desired design outcome of a welcoming and fun 'Floating Villa'.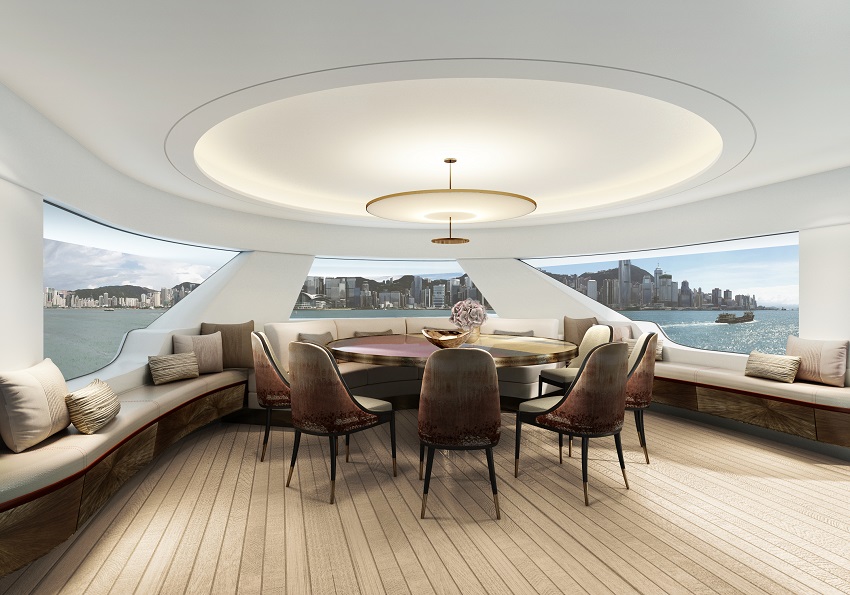 How would you describe the 'Elegance of Design' of the 'SX88 Project' from an architect / interior designer's perspective?
I believe that what lays at the heart of SX88 design elegance is the seamless integration of the 'social' and 'entertaining' aspects of the yacht, with the exquisite design quality of the interiors. In other words, the way Asian owners envision their lives at sea as fun and free exploration surrounded by family, friends, and business partners is reflected in a design that also meticulously embraces smart features, exquisite furniture, and sophisticated colour palettes. In fact, to make SX88 design even more personal, we created two different design schemes: 'Breeze / Zen' featuring relaxed earthy, blue and emerald green shades for a sense of serenity, and 'Vermilion' for more daring owners, with red accents subtly contrasting with soothing cream and beige shades.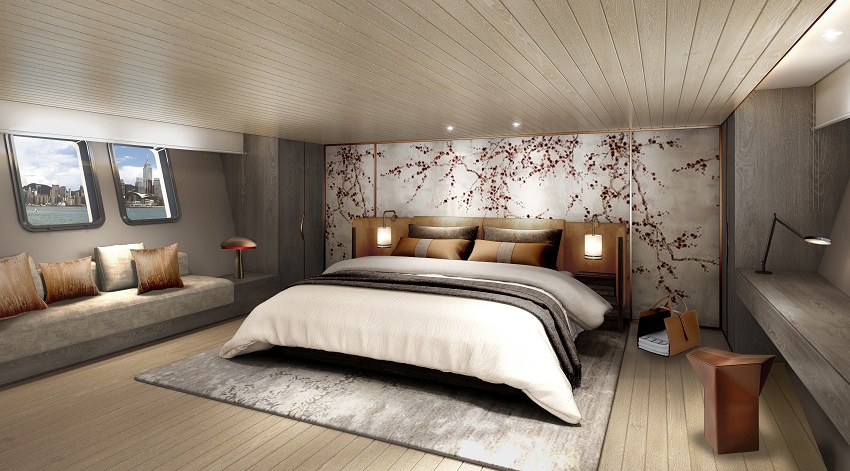 How has the pandemic changed the process of working in the field of architecture / interior designing?
These unprecedented times are surely providing us with the extraordinary opportunity to re-think the mission of design, our role as designers, and how we can actively tackle today's issues. City living and urban commuting could be a great example about how design can have a positive impact on our daily life. With WFH policies widely applied worldwide, design is already setting a new trend in creating dedicated work spaces within the privacy of our homes to replace traditional office environments. Increased space flexibility will definitely set another new highlight for the industry.
Post-COVID19, houses will rely on a space designed to be extra-flexible and multi-functional, blurring the lines of traditional dynamics between our homes and common workplaces, and unfolding new perspectives on how we conceive our usual working experience and habits. On another hand, smart technologies will also become more common, with IoT to change the way we conceive design by providing a higher degree of customization that deeply connects interior designing and technology, allowing the creation of more personalized and functional spaces.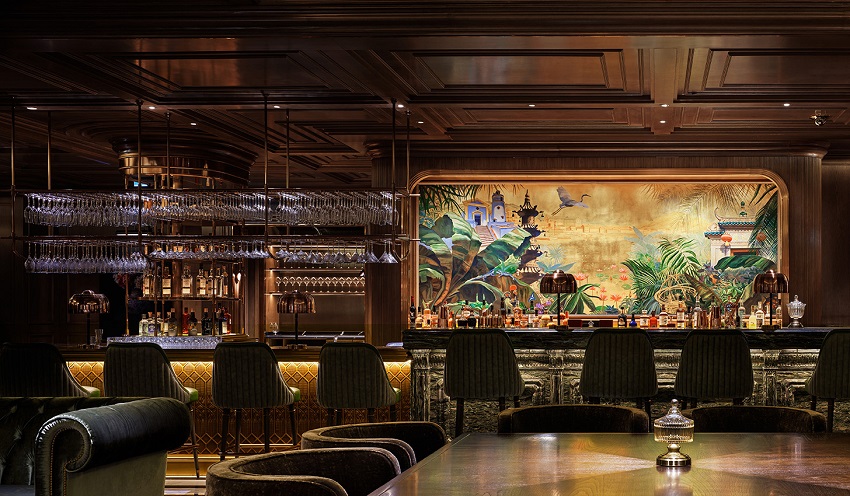 Climatic catastrophes have seen major smart cities around the world being destroyed in the recent times. How can or will architecture / interior designing overcome such destruction to safeguard the community at large?
To me, design is far beyond mere aesthetics and functionality, but a powerful tool to tackle societal and environmental challenges for the greater good of our communities and our planet. For example, the employment of eco-friendly, reusable building materials and finishing, creating more green spaces, encouraging heritage preservation and revitalization etc. These are the things that each designer can ease the societal and environmental challenges through professional designs.
Off recent, I am witnessing how the interior design industry is becoming more and more dedicated to fully embrace design principles of sustainability and well-being that proactively encourage eco-friendly and holistic lifestyles. Design will play a more defined and crucial role in dealing with today's environmental challenges, with green building standards like LEED and WELL increasingly considered and adopted in the near future.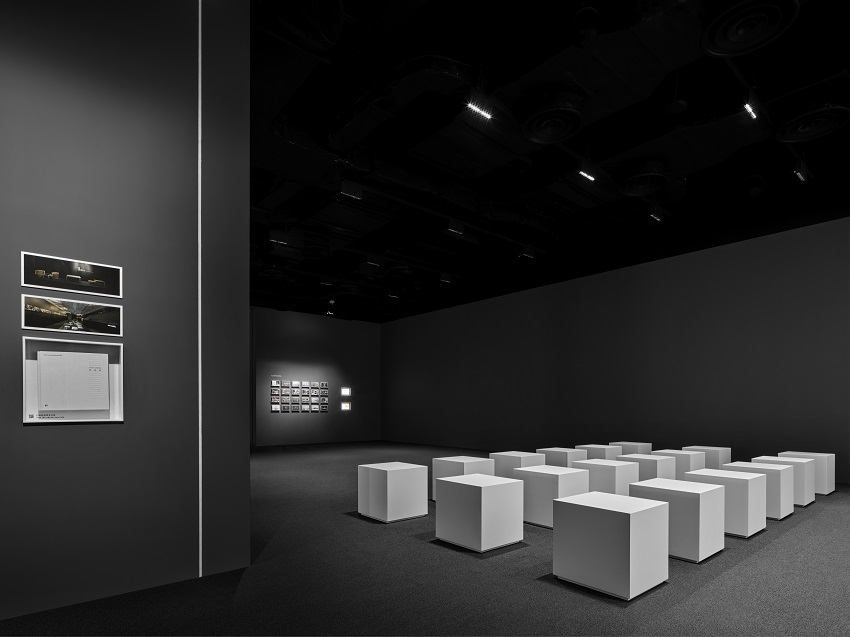 What are the various projects you are currently busy with, in various cities and countries?
My latest design endeavor is the soon-to-be-opened 'Club C+' – my very first social lounge project in Hong Kong. It is especially dear to me, as it is a joint creation with my son Nicholas, who comes from a hospitality background and other renowned Hong Kong-based artists.
Back in December 2020, the opening of 'CUBE' Flagship Restaurants in Chengdu and Shenzhen officially debuted CUBE – a brand-new design scheme for our kick-off collaboration with McDonald's. 'SL D', 'SL D Corporate Culture Centre' in Shanghai, is another recent milestone work that I am very proud of. It provides a multifunctional space, where people from different disciplines are encouraged to gather and connect. It also features 'DESIGN RE: COLLECTIONS', a permanent retrospective exhibition showcasing my career journey and design legacy. Other major design highlights include 'The Londoner Hotel' and 'The St. Regis Bar' in Macao, where timeless British elegance and tradition have been reinterpreted through SL D's signature aesthetics approach.
At the moment, I am also involved in several thrilling projects overseas – such as luxury serviced apartments and hotel rooms for 'The Address Harbour Point' in Dubai Creek, which is a major development area for Dubai; an elegant Chinese restaurant for the 'Mandarin Oriental' in Ho Chi Minh, Vietnam; and the eco-friendly residences for a 'Smart and Sustainable Eco-City' in Phnom Penh, Cambodia.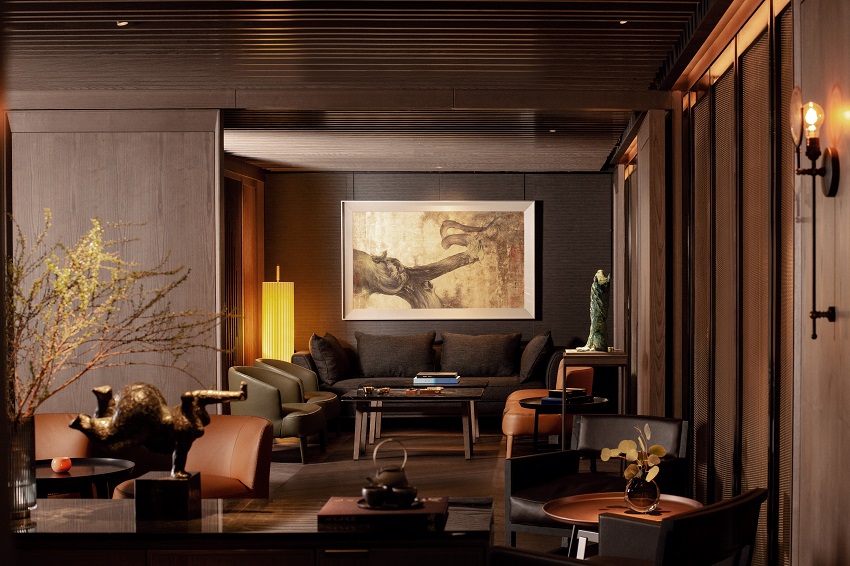 How would you describe Steve Leung as a professional and a person?
It is quite difficult for me to provide separate descriptions of myself as an 'individual' and as a 'professional'. 'Enjoy Life, Enjoy Design' is my personal motto, with design being an essential part of my day-to-day living. Everyday life inspires me and relates me to design: what I see, what I hear, whom I meet; these are all precious connections of life, art and design, and nothing makes me more grateful than sharing happiness with others through my design creations!
Design is also a very personal expression of my attitude towards life. I am inclined to prefer a design that is simple, elegant, and functional, able to integrate unique cultural and artistic elements. In other words, design is a direct reflection of my way of living, which is simple yet refined, practical yet with an artistic touch.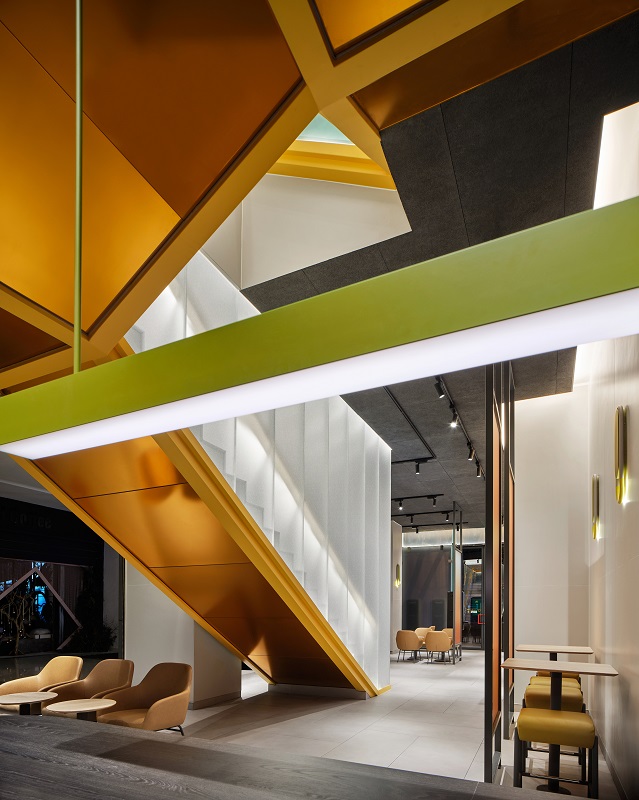 Please list five recent awards won with the name of the projects.
– 2021 International Hotel & Property Awards by Design et al Magazine:
Finalist – Global: Hotel Over 200 Rooms – The Londoner Macao
Finalist – Asia Pacific: Hotel Over 200 Rooms – The Londoner Macao
– 2021 AHEAD Awards (Asia)
Finalist – Bar, Club or Lounge – The St. Regis Bar, Macao
– 2019 iF Design Award
Winner – Shop / Showrooms – Steve Leung's Prototype Room at EasyHome Top Design Centre, Tianjin
– 2018 IIDA Best of Asia Pacific Design Awards
Winner – Restaurants, Lounges & Bars – HEXA
– 2018 Asia Pacific Interior Design Awards
Gold – Food Space – HEXA
Image Courtesy: Steve Leung Design Group