The GEN Z Series travels from the United Kingdom back to the homeland – India. In the year 2021, Saivi Shah graduated from the Kamla Raheja Vidyanidhi Institute of Architecture – Mumbai University. Soon after her graduation, Saivi Shah joined SJK Architects in Mumbai as a Junior Architect. Simultaneously, she is also pursuing a research fellowship at PUKAR – Partners for Urban Knowledge, Action and Research, affiliated with TISS – Tata Institute of Social Sciences.
Passionate, hard working, focused and the desire to gain limitless knowledge is what drive Saivi Shah in life. She strongly believes that skills are best explained through merit. An artist by nature, she loves to learn foreign languages. Saivi Shah talks to Johnny D about her journey into the architecture field and final year thesis.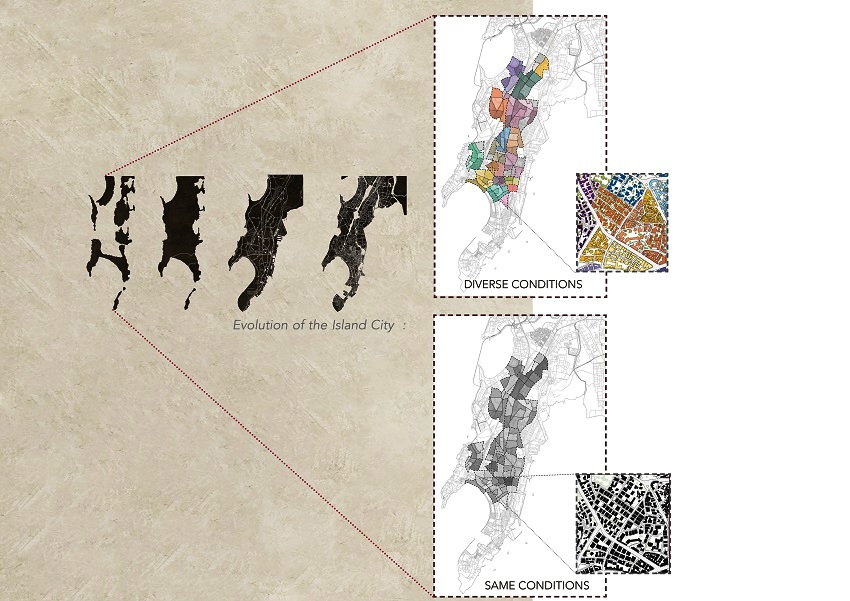 Your childhood ambition, did you always wanted to become an architect?
Since childhood, I have been interested in contributing to creating healthier and safer neighborhoods. I have always been artistic and innovative with my approach. I strongly believe that all creative solutions need to be backed with analytical and scientific methods. The field of architecture is a perfect amalgamation of both.
Having read Christopher Alexander's 'A Pattern Language' way before I had to make a career choice, made me aware of the possibilities and scales that this profession encompasses. I was immediately drawn towards architecture. This field often involves lateral thinking within the stipulated time and relentless effort. I enjoy this part of the profession the most (smiles)!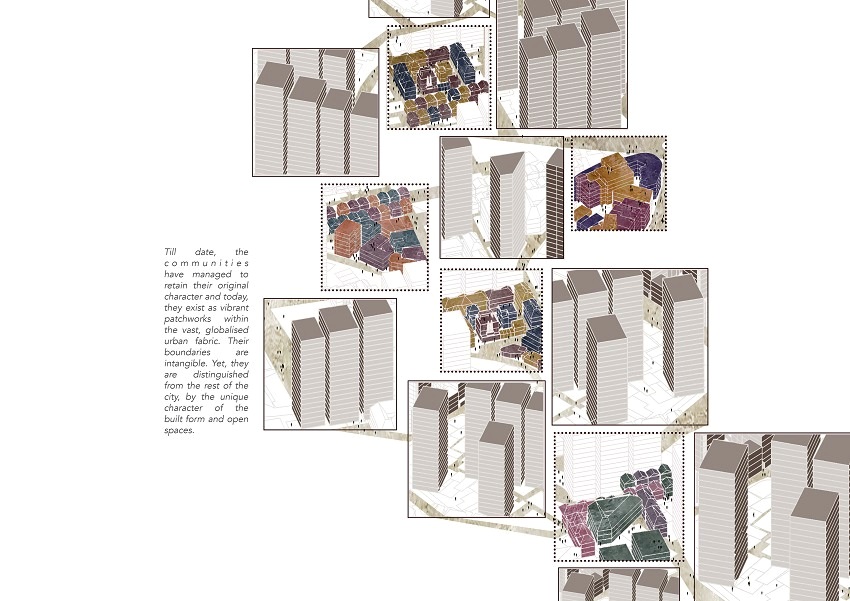 Briefly describe your project.
The thesis titled 'Socializing on a Reconstructed Landscape – CULTURAL CONSTRUCTS X BUILDING REGULATIONS' is an approach to re-contextualize the Community Housing and retain cultural manifestations through architecture, by reinforcing the building regulations in the Inner City of Mumbai.
Abstract: The thesis acknowledges that the growing homogeneity in the urban fabric of Mumbai is broken by the presence 'cultural' neighborhoods, consisting of several communities that have existed within the city since the time of its formation, express culture as a physical construct and exist as vibrant patchworks in the fabric.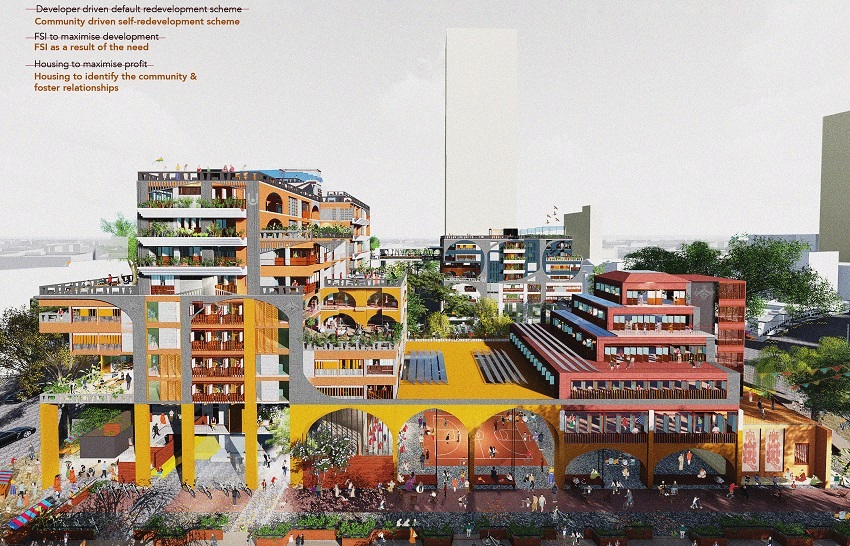 Their resultant built form and way of life was hence diverse, enabled by volumetric regulations and appropriations done by inhabitants and stood out from the rest of the city.
However, the restrictive profit-driven building regulation regime eliminates the possibilities for any kind of differentiation by forcing people into distinct, private silos. This fragments communities and homogenizes cultural manifestations, causing them to blend with the rest of the city.
In this context, the thesis demonstrates how cultural constructs can be captured in the newer development through a more sensitive approach, by suggesting any modifications / recommendations in the Development Control Regulations that must be made, in order to manifest the spatial identity of cultural neighborhoods, such that they still remain a vibrant patchwork within the city.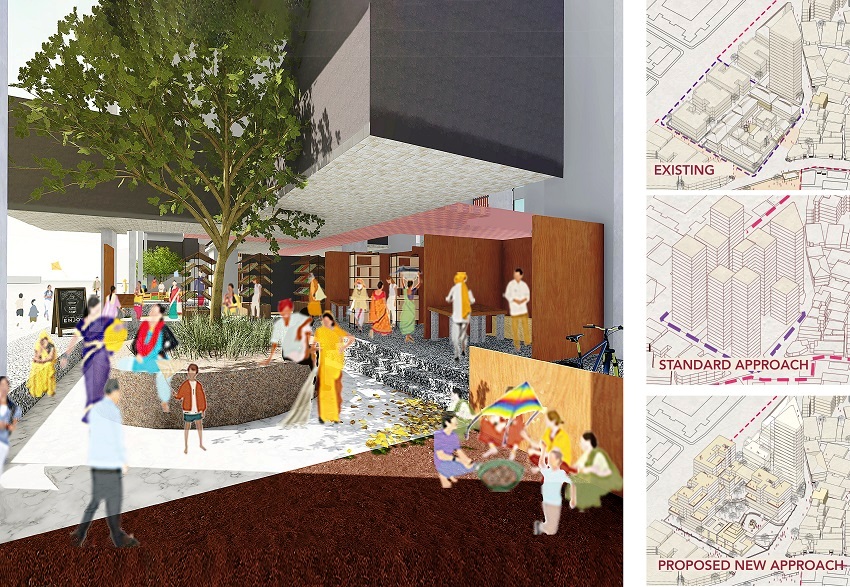 What does 'architecture' means to you?
Architecture is a powerful tool that impacts the environment, the earth and has the ability to shape and improve people's lives. It extends to embrace and celebrate the plethora of diverse ethnicities, religion, gender, culture, language group, profession, historic and political backgrounds and life forms in the form of a physical manifestation that transcends time and is present in space for several generations, communicating stories about people and terrains, empathizing with them, and facilitating their way of life.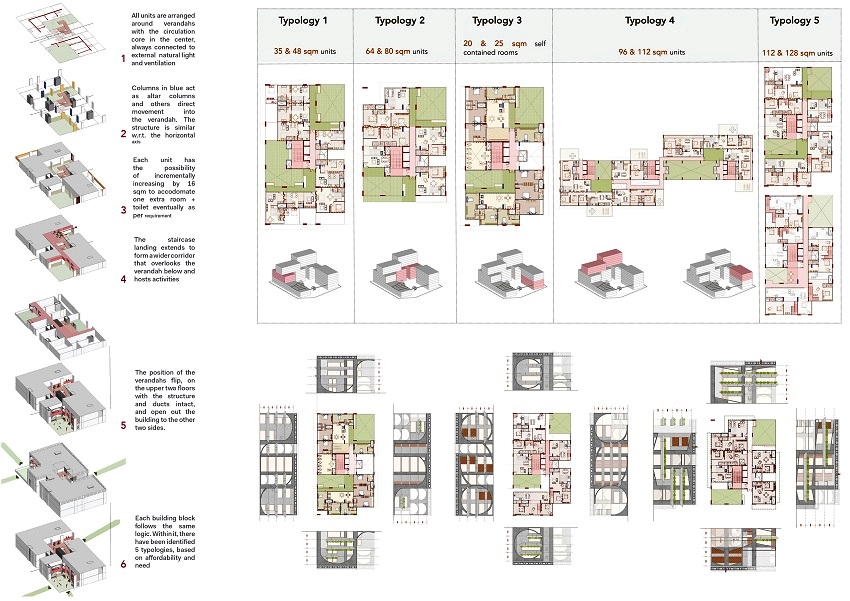 How has it influenced your life as an architecture student?
Through my academic experience, I have realized that architecture as commonly perceived is not just the built form, but comprises of the entire landscape that harnesses cosmic forces – nature, wind, sun, rain, earth, the people, and hence, is constantly changing. Somewhere in the integration of the built and landscape is where architecture lies and where life will thrive. The key is to accept this change and create an adaptable solution that is able to evolve with time, as flexibility would provide for the greatest innovation.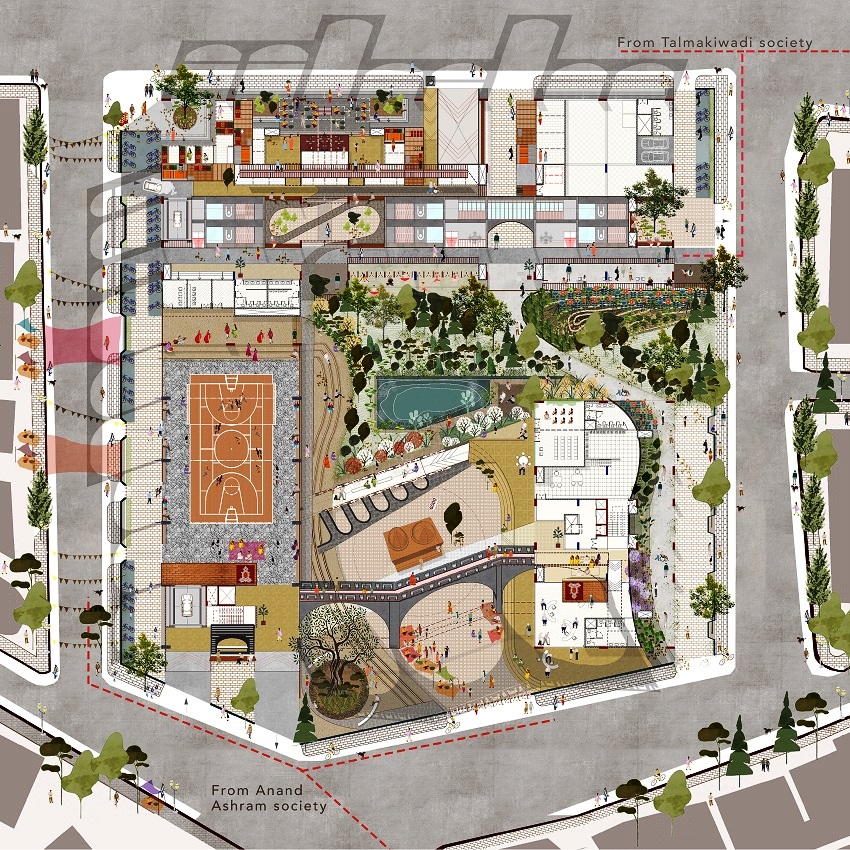 Multi-functionality of spaces and elements that are affordable is crucial. It is essential to learn from the past and have a thorough contextual understanding before intervening in any landscape and then, what you bring to the table that adds another dimension would make you apart and unique.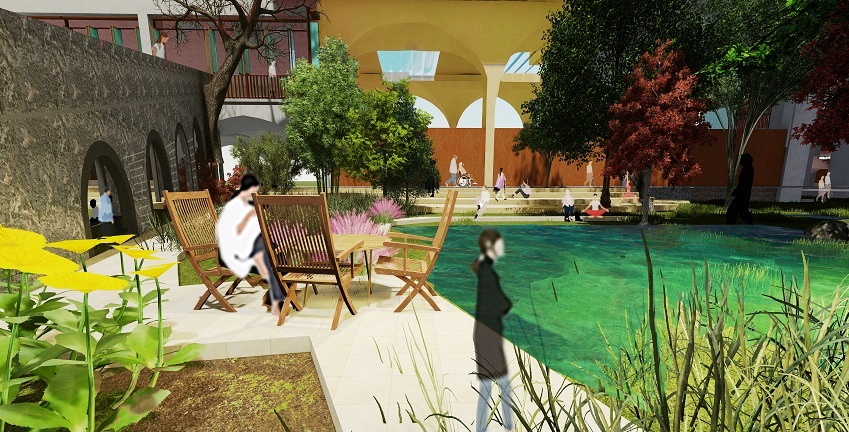 Which National or International architect has inspired you? Please specify as to why?
I admire the work done by BV Doshi, as it has been a constant reference point and source of inspiration for me through my academic years. Most works including, but not limited to the Indian Institute of Indology in Ahmedabad, low- cost township projects and larger institutions have stayed with me. What is consistent is reverence to the landscape that each project lies in, references to the past historic and cultural backgrounds, bold and expressive forms that evoke memories on experiencing the built form and celebration of the Indian lifestyle.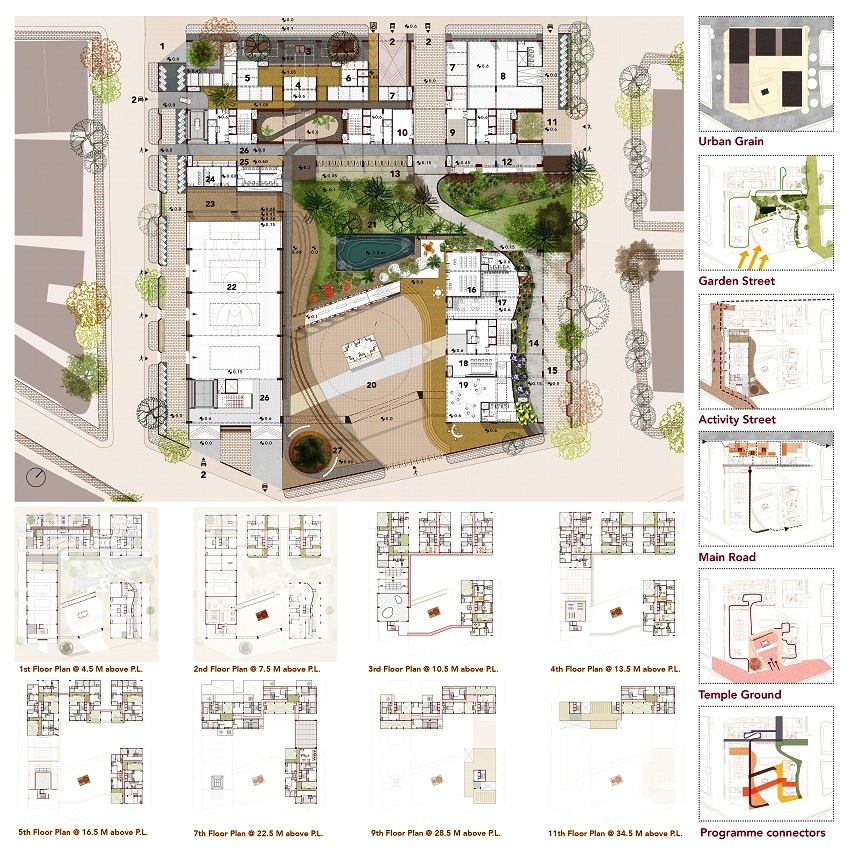 How has the pandemic changed your learning process since the last two years?
The changes brought about by the pandemic have impacted the discipline of architecture at multiple levels and our approach to the design of built form and open spaces. It has highlighted the urgency of creating more resilient cities that are adaptable and flexible, through piecemeal interventions that facilitate more sustainable ways of looking at our cities, finding alternate ways to move around cities and emphasize on hospitality driven user-centric spaces, i.e., spaces which cater to the well-being of users.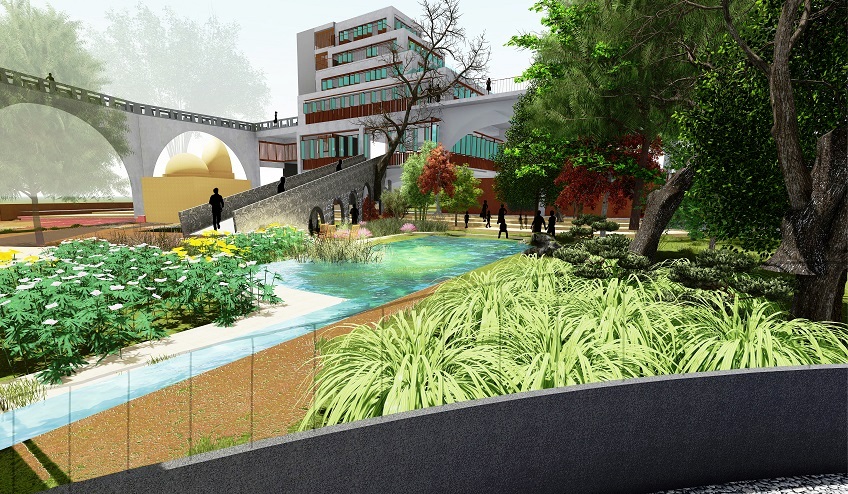 Designing, while keeping these ideas centric is what the focus was since the last two years. For daily working, online methods of working changed the way we connected with people and increased collaborations by extending them globally through virtual conferencing. Eliminating travel time completely made it possible for me to engage in several other allied activities.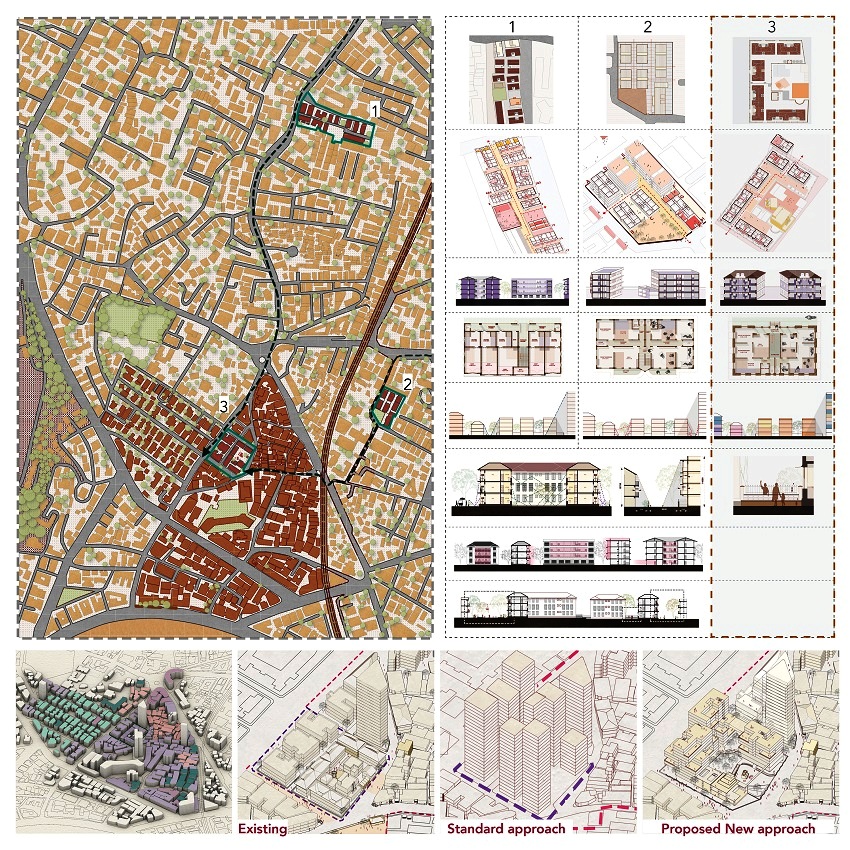 What are your views on Climatic catastrophes and how architects of the future (your generation) will overcome the herculean challenge?
Acknowledging the climate change crisis and realizing that is a fundamental design change in the way we look at our cities is crucial in order to negate its future irreversible implications on the earth. Most global energy is expended by building and transportation and these domains primarily need be addressed, such that, they address and aim to achieve sustainability, carbon neutrality and resiliency. Guidelines incentivizing these needs ought to be formulated on a global scale. More discussions need to take place, questioning the existing practices of building, building materials and their impact on the environment.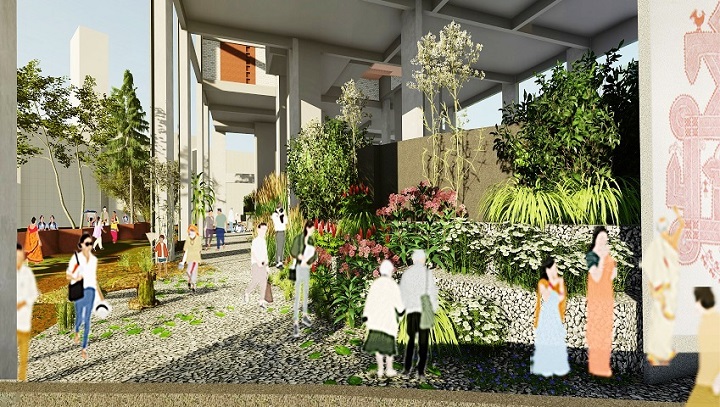 Please write briefly about your University and course.
'The service of architecture is not to a client but to the society' – this is one of the fundamental premises that shapes architectural training at the KRVIA – Kamla Raheja Vidyanidhi Institute of Architecture – and to be able to think critically about spatial production and evolve skills and tools to participate in it through an ethical framework. The intention of the B. Arch course is to create professionals, who are able to participate proactively in the processes of improving our built environment. It places the act of architecture within the larger domain of the production of space. Architecture, therefore, is seen not only as a skill that is imbibed by a student to apply in the world outside, but also is rather is a way of positioning ones role in the world, and the provision of tools and skills to participate in transforming the built environment.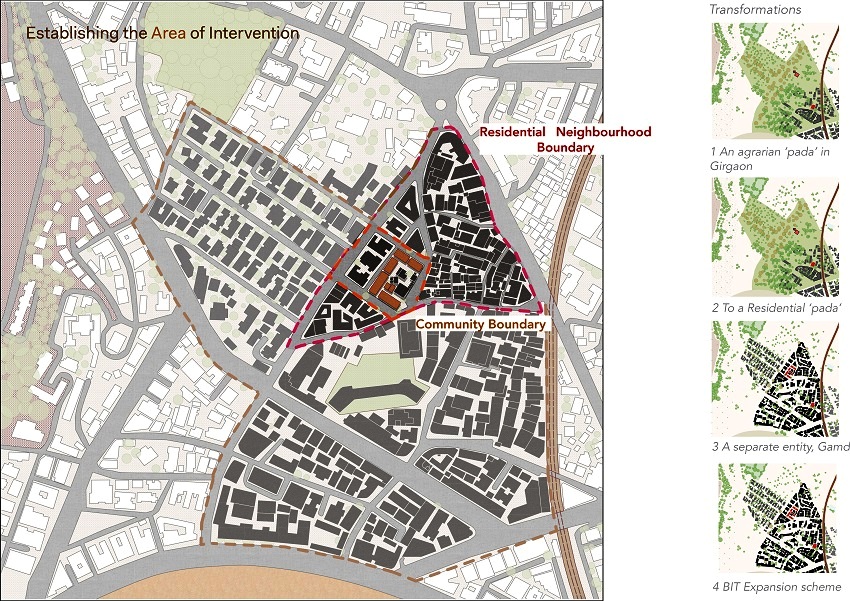 The main components of the structure of the course typically take the form of three kinds of delivery mechanisms – the Studio, Lecture, Seminar Courses and Electives; while the course content itself is divided across three interlinked streams- Design Studios, Technology Courses and Humanities Courses.
Honours and awards:
2021 – 'Top 20 Special Mention' for Dissertation Project – Architectural Thesis Award 2021 by Mango Architecture;
2021 – 'Top 30 Special Mention' for Dissertation Project – Architecture Thesis of the Year 2021 by the Charrette;
2021 – Honourable Mention for Dissertation Project – Archmello Thesis Award;
2021 – Honourable Mention – Architecture Portfolio Challenge 2021 by Architerrax;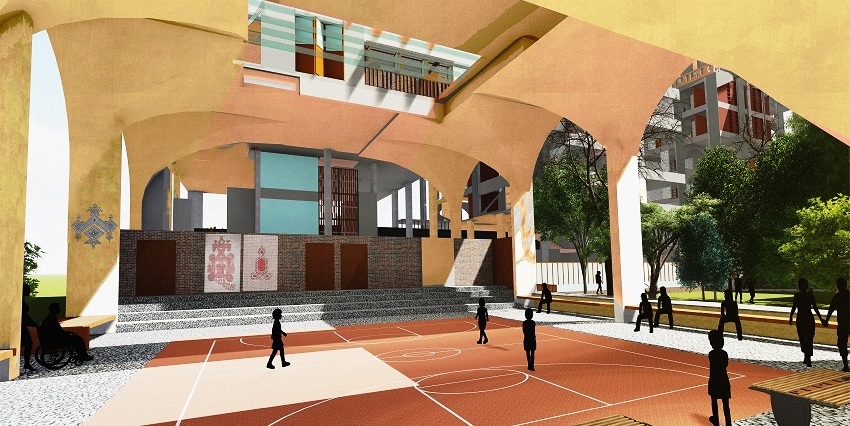 2019 – 1st Rank in Design Whack Awards 2019, Landscape category;
2019 – 3rd Rank in Design Whack Awards 2019, Sports category;
2018 – 2nd Rank in FOAID 'Wood is Good' Design Competition;
2018 – 2nd Rank in COA Heritage Awards 2018, for Patiala documentation, Semester 4;
2018 – 2nd Rank for INTACH National Heritage Awards for Excellence in Documentation 2018, for Patiala documentation, Semester 4;
Image Courtesy: Saivi Shah