Oxford Brookes University is one of the premier architecture institutions in the UK. During our trip, in search of talented young architects, I came across many enthusiastic student-architects from the undergraduate and postgraduate students, who showcased great confidence to participate in our GEN Z Series. I really liked their passion towards architecture and concern for the challenging times ahead.
Rafael T Y Lin hails from Taiwan. She graduated with a Masters' degree in 'Applied Design in Architecture' from the School of Architecture at Oxford Brookes University in the year 2023. She enthuses, "I am deeply passionate about the realm of sustainable solution for low-impact building and the delicate fusion of art and elegant design within the field of architecture. Prior to pursuing my masters, I embarked on a three-year architectural experience in Taiwan, following the completion of my bachelor's degree in architecture. However, my thirst for knowledge led me to the UK, where I sought to delve deeper into the intricate phase of sustainable building techniques and solutions."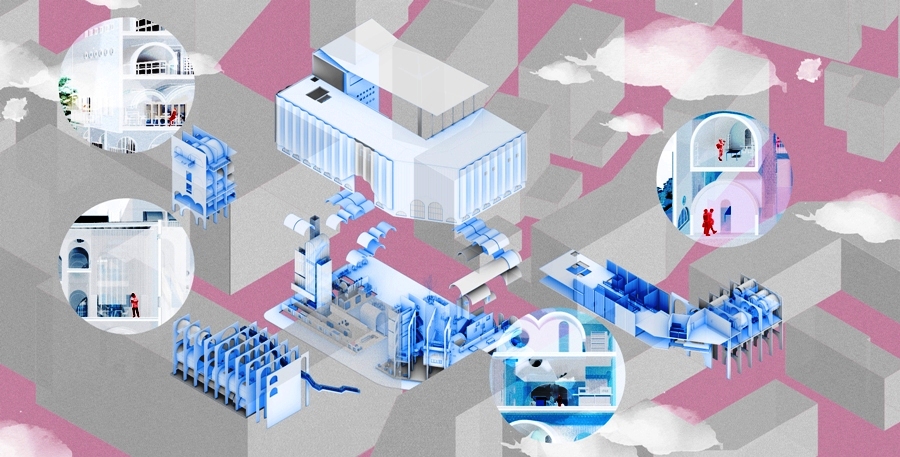 Silvertown Food Club
Rafael T Y Lin reveals, "My family has been my unwavering support. Both my parents are dedicated office workers and have always encouraged me to explore diverse passions. My personal voyage through life has encompassed diverse interests, from instrument playing, including piano and guitar, to an exploration of the intricacies of science. Yet, it was the poetic dance of architecture that stirred my soul. The conversation between sense and sensibility, the fleeting interplay of shadows and light — these whispered secrets in the language of architecture spoke to me. In their eloquence, I found my calling (smiles)."
Johnny D has an interesting interaction with Rafael T Y Lin to explore her amazing journey from Taiwan to Oxford Brookes University, and her futuristic thesis 'Odour Cartographer: Silvertown Food Club as Variant Mechanism'.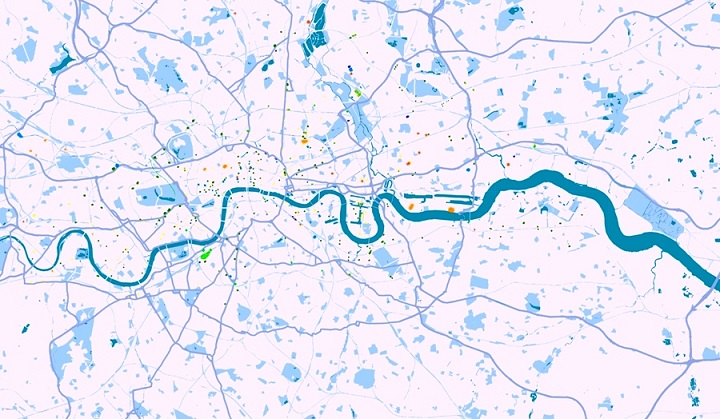 Olfactory Study-Interpretation
What was your childhood ambition? Did you always wanted to become an architect?
In my early years of High School, my dreams took a different trajectory as I had aspired to be a researcher. During this time, my interests were deeply rooted in the realms of science and biology. I embarked on research projects, delving into the mysteries of the natural world, and seeking to understand the intricate web of life that surrounds us.
This pursuit of scientific knowledge instilled in me a strong sense of curiosity and a methodical approach to problem-solving. While my path eventually led me to architecture, the skills and discipline I honed during my scientific endeavours continue to influence my work today. They have taught me the value of rigorous exploration, attention to detail, and the importance of a well-informed, evidence-based approach in the world of design and architecture.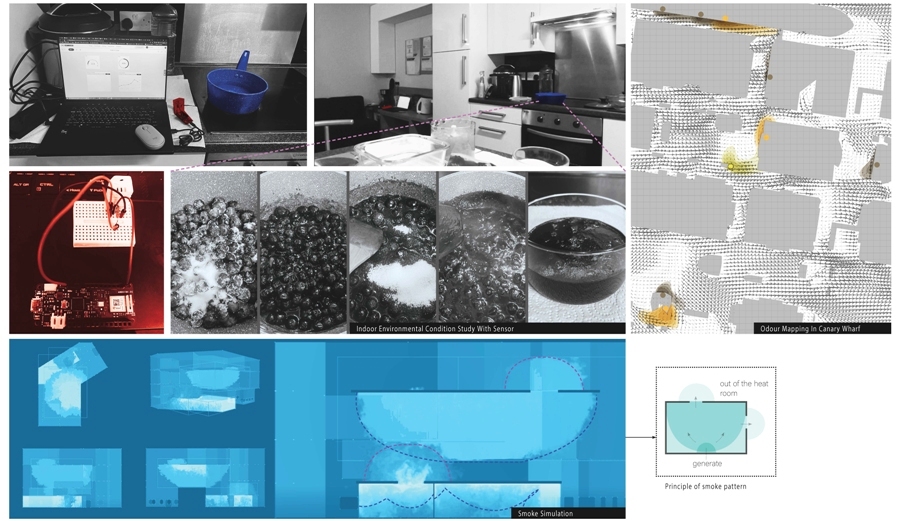 Technology-based Olfactory Study
How has architecture influenced your life as a student?
Architecture, during my educational journey, allowed me to expand the most tangible imagination. At times, inspired by the context of a site, the design would respond to irreversible past in the flowing time of a space, or crystallise into eternity. Sometimes, born from the very fantasy, or a written text, the creation was collaged with a myriad of perceptions from the third-person viewpoint through my first-person eyes' perspective.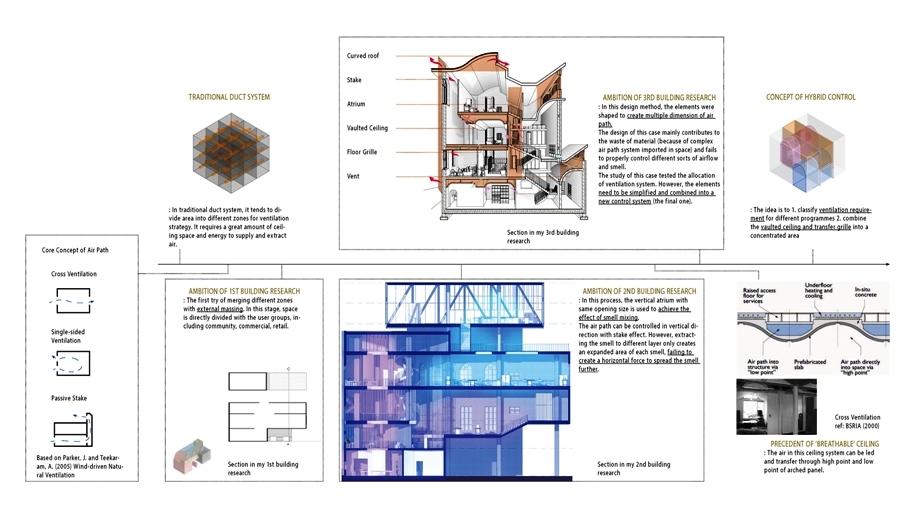 Evolution of Building Design
Briefly tell us about your University and the Course.
At Oxford Brookes University, the architecture program offers a diverse array of first-year studio options, such as SAED – Sustainable Architecture: Evaluation and Design, Urban Design, DEP – Development and Emergency Practice among others. This flexibility empowers students to delve into their chosen professional area of interest. In the second year, the program offers an array of Design Studios tackling various architectural issues, enhancing the learning journey. Personally, I followed the SAED and DS6: Prototypes for 'Future Cities' path, honing my foundation in sustainable technology and evaluation before crafting solutions for future societal and environmental living contexts.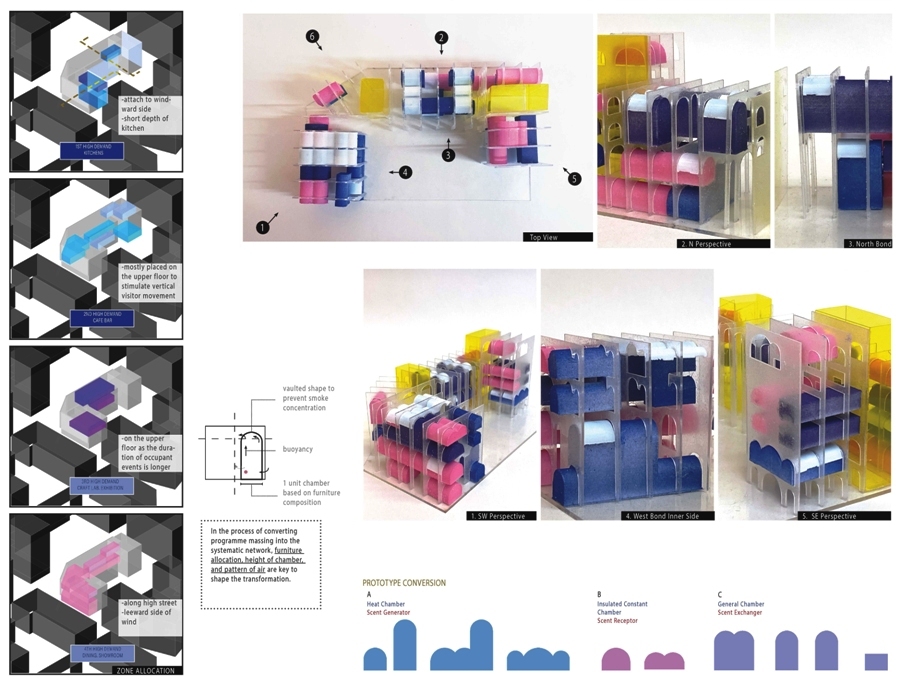 Massing and Prototype Composition
Briefly describe the significance of your project.
The 'Odour Cartographer: Silvertown Food Club as Variant Mechanism' project, a Silvertown Food Club set in 2050, seeks a breakthrough of perceiving and reimaging architecture by exploring the diverse world of scents.
The narrative is cited from Silvertown's historical importance, as a hub of intense manufacturing support during wartime. The inspiration was drawn from the town's unmistakable olfactory identity. The pungent mixed with oily sweet stink and noxious clouds of sulphur smoke, buildings destroyed by explosion and bombing and afterwards rebuilt consistently for industrial and residential expansions, shape the distinctive impression of this smoky town. It is a town noted by smell.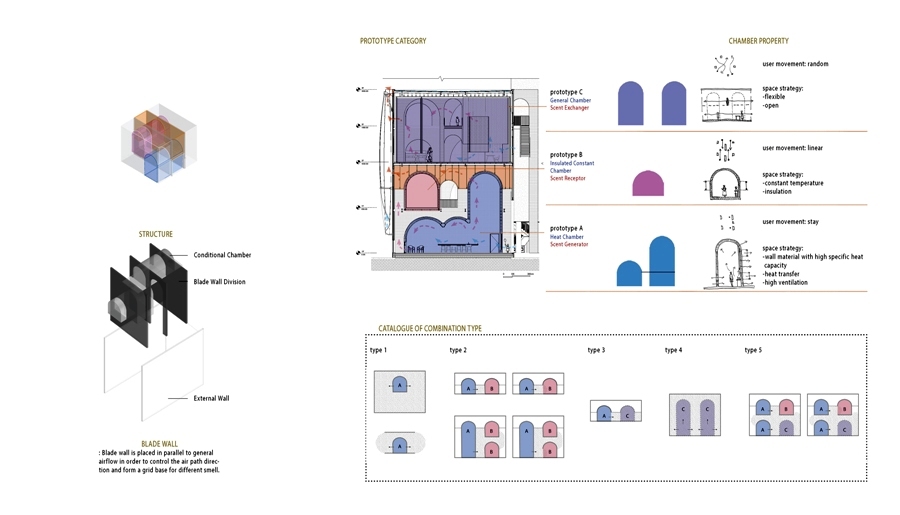 Generation of Space Prototype
The design challenges building systems to achieve effective operation of airflow mobility and scent intensity. The evolutions of design went through interpretative, sensor-based, and technologically simulating research assessments, to capture, detect, and silhouette the shape and movement of smell. Furthermore, this project is about more than just scents; it is also sustainable design for reaching Net Zero by 2050.
The building incorporates passive design approaches like natural ventilation, day-lighting, and rainwater collection to achieve Net Zero status, while narrating the story of each olfactory zone. The dynamic scentscape is revealed behind the silvery shimmering veil on the site of high street, enchanting passersby with fleeting fragrances, fostering lasting collective memory in vivid contrast to the area's past, malodorous manufacturing odours.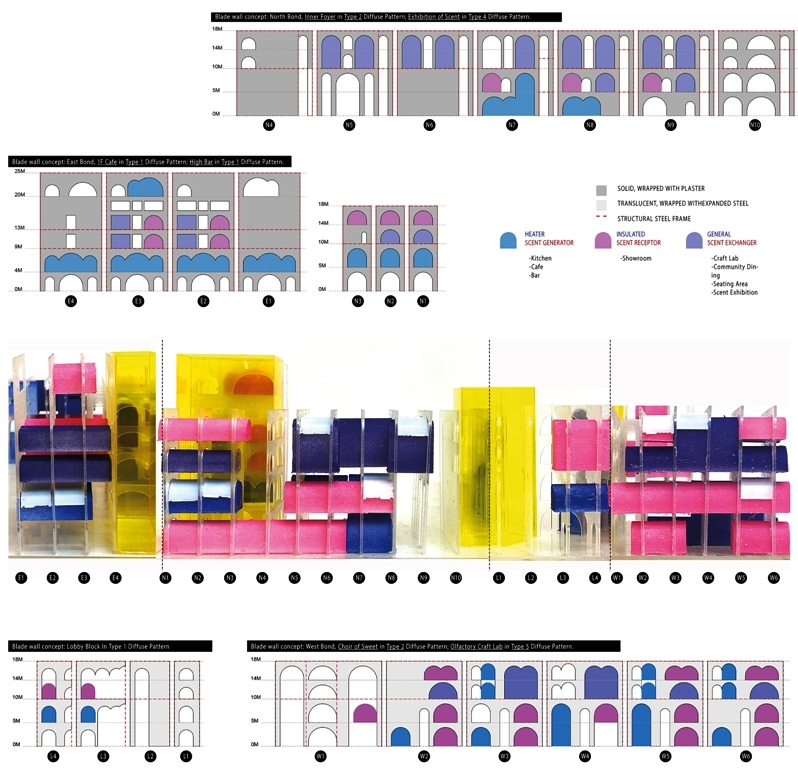 Contour of the Journey
Step inside and one will discover a world of olfactory wonder. From inviting lobbies and canopy parks to a living recipe library, the 'Odour Cartographer' is an immersive sensory experience. The space orchestrates a symphony of scents, varying in intensity and character, using airflow and unique combinations to create a dynamic scentscape that lingers in the memory.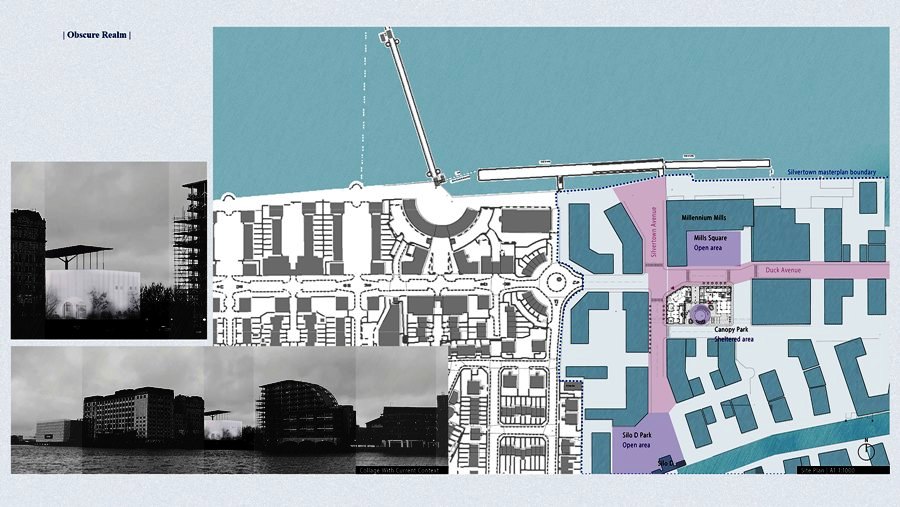 Shimmering Veil Facing Passersby
Which National or International architect has inspired / influenced you? Please specify as to why?
Dutch interior designer and architect Gerrit Rietveld's 'Schroder House' was my first case study during my whole academic journey. What truly resonated with me was Rietveld's pioneering approach to spatial flexibility, allowing spaces to seamlessly adapt to a multitude of functions. This concept has become an intrinsic part of my design ethos, deeply ingrained in my subconscious thinking process.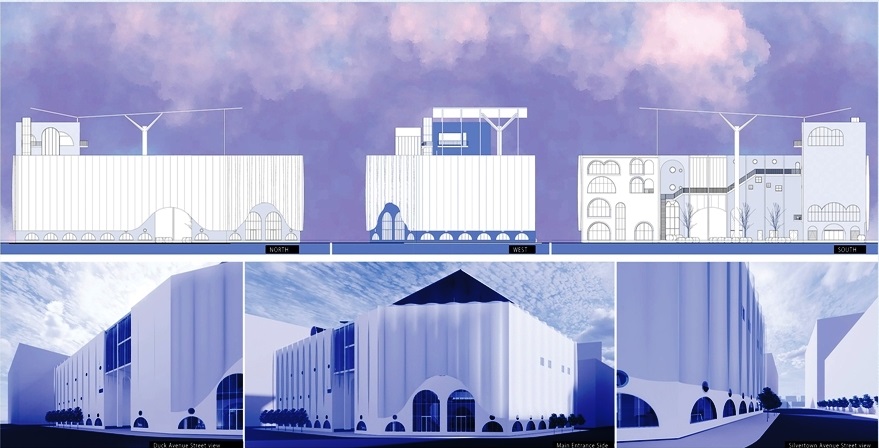 Semi-concealed Activity
As an Intern, what is the most important lesson(s) you have learned from senior architects, while being a part of a project?
I learned how to approach design problems critically and creatively, always rooted in the context of real-scale conditions. These experienced architects have been invaluable in guiding me on how to strike a delicate balance between aesthetics, functionality and practicality in our designs. Their mentorship has engraved the seriousness of an architect's role and responsibility in my deep mind.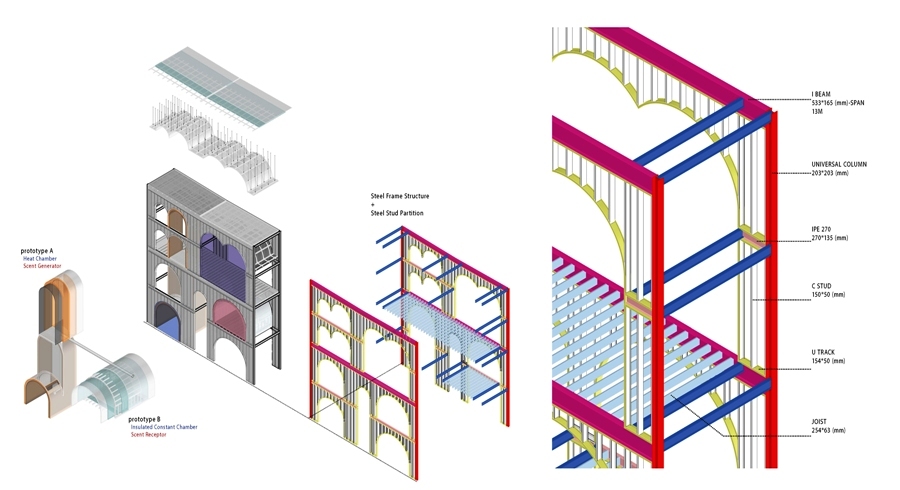 Blade Wall Construction Principle
Will the younger generation of architects make innovative changes to mitigate the catastrophic effects of Climate Crisis? Elucidate your perspectives.
Yes. I think contemporary architecture programs in schools combine design modules with sustainable policies and principles, including ambitious goals like achieving Net Zero by 2030, making sure that the new generation of architects is well-informed about climate issues. This education equips them with the knowledge and tools to incorporate sustainable practices into their work.
Meanwhile, the climate crisis is an evolving challenge and architects need to adapt to changing circumstances and emerging technologies. Younger architects may have more opportunities to learn and adapt to latest technology tools.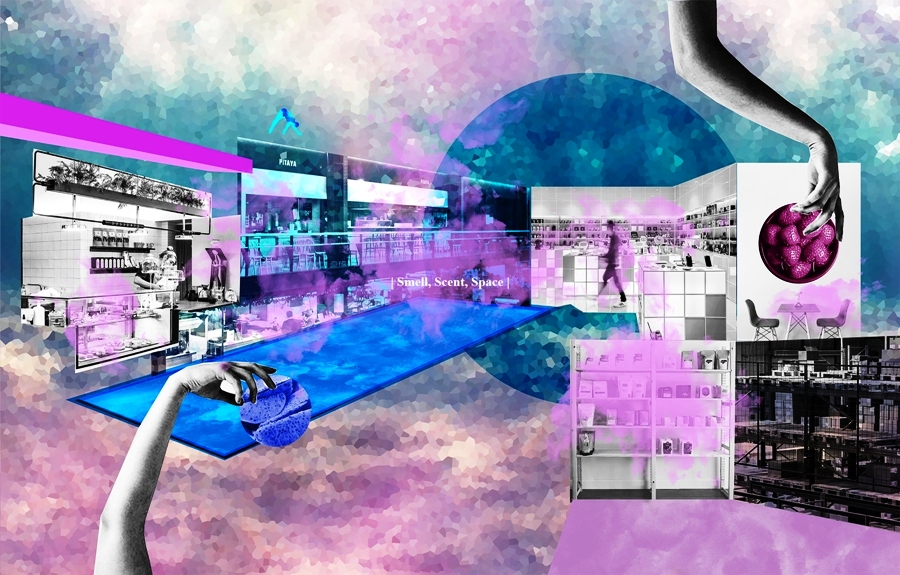 The Shape of Smell
Which significant aspects of the global platform 'zerobeyond – the new frontier!' did you liked the most, and why?
The facets of 'zerobeyond – the new frontier!' that truly captivated me were twofold. Firstly, it is the empowering voice that lends young architects by providing them with a platform to amplify their ideas and innovations. Secondly, the invaluable insights shared by architects from diverse corners of the globe. Both elements inspire a sense of inclusivity and innovation, fostering a dynamic exchange of ideas that transcend geographical boundaries and fuel the global architectural conversation.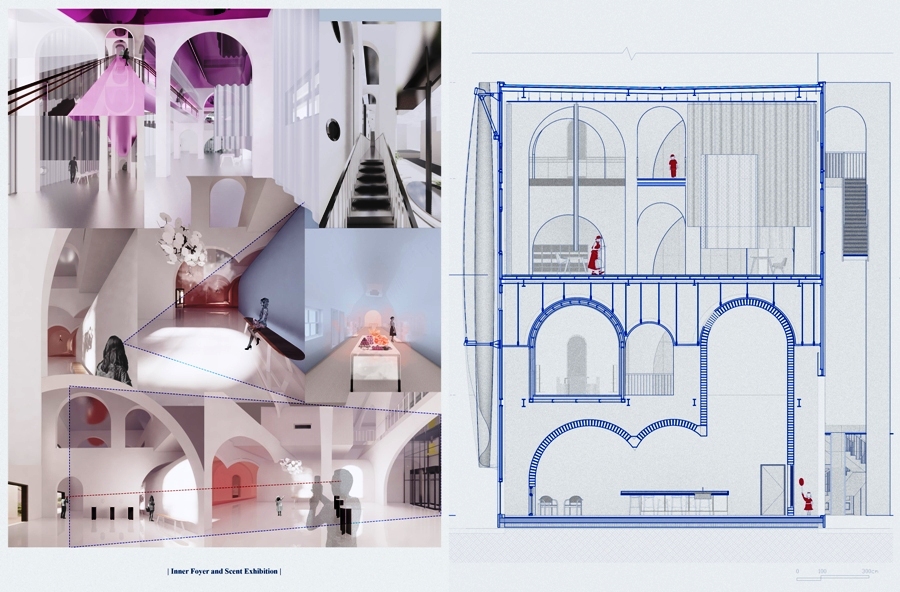 Stream of Scents
Local charm of cities has diminished due to Modern Architecture as every city looks alike and similar. How should architects / urban planners / landscape architects modernize cities, while maintaining the local charm intact?
To keep the distinctive charm of cities, it is necessary for a collaborative effort involving various stakeholders. This includes investment and commitment from clients, strategic planning from local authorities, a deep sense of local identity, and active engagement from the community. Architects play a pivotal role in this process by acting as mediators, weaving together the perspectives of diverse groups. Their task is to listen, harmonise and synthesise these inputs, ultimately crafting design solutions that are both forward-thinking and sensitive to the city's unique character.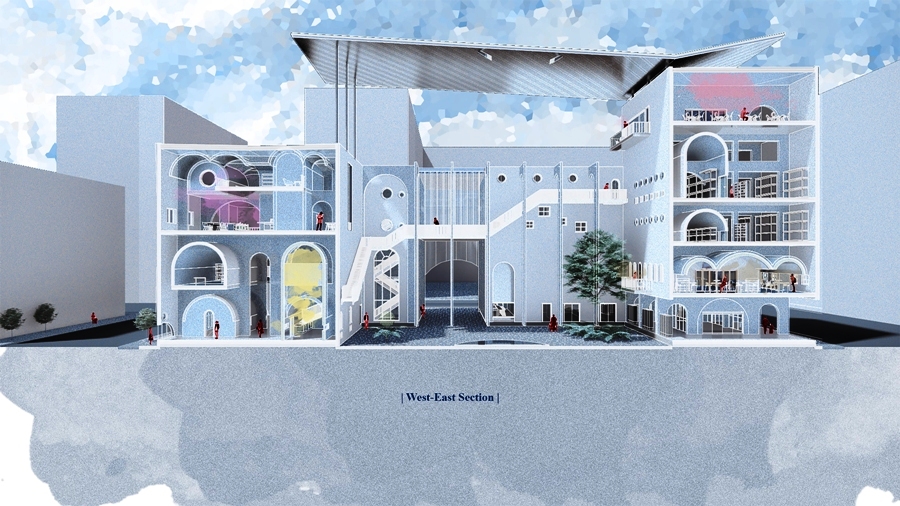 Bursts of Aroma
Looking at the past in the current present, what are the futuristic architectural changes you would like to see in your home city? Elucidate the reasons for your vision.
In my hometown, Taiwan, architectural evolution has blended indigenous and global influences due to historical shifts. However, rapid modernization has replaced traditional structures with generic concrete buildings, especially in Taipei, the place I was born and lived. I envision a future, where architecture transcends profit by embracing a deep respect for local culture and the environment. This vision preserves the city's unique identity and fosters a sustainable harmony between the past and coming future, thereby enriching our urban landscape.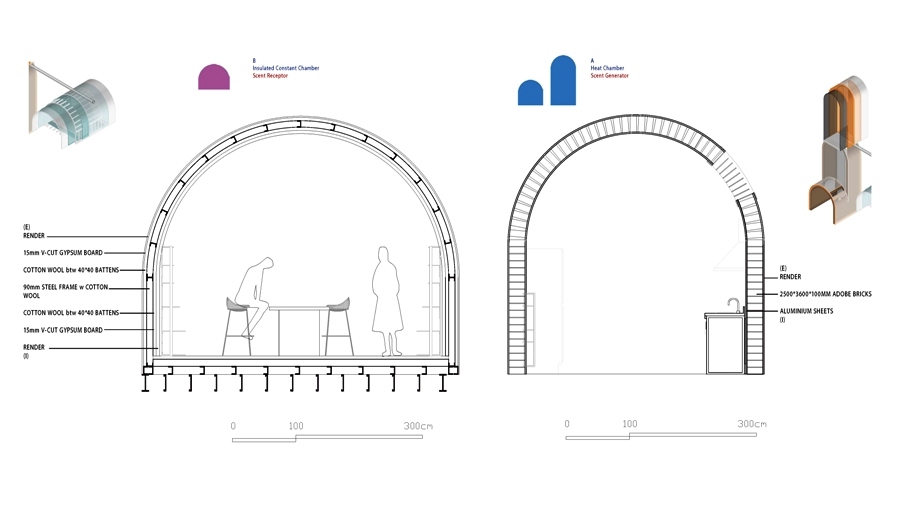 Chamber Detail
Honours and awards related to architecture, if any.
During my time at Oxford Brookes University, I was fortunate to receive recognition for my work. My first-year project was awarded 'The Sustainable Architecture Evaluation and Design Prize', which was a significant honour for me. Additionally, my second-year project was nominated for both 'The Ackroyd Lowrie Prize' and 'The Make Architect Prize' at the university. These nominations were incredibly encouraging and motivating for me.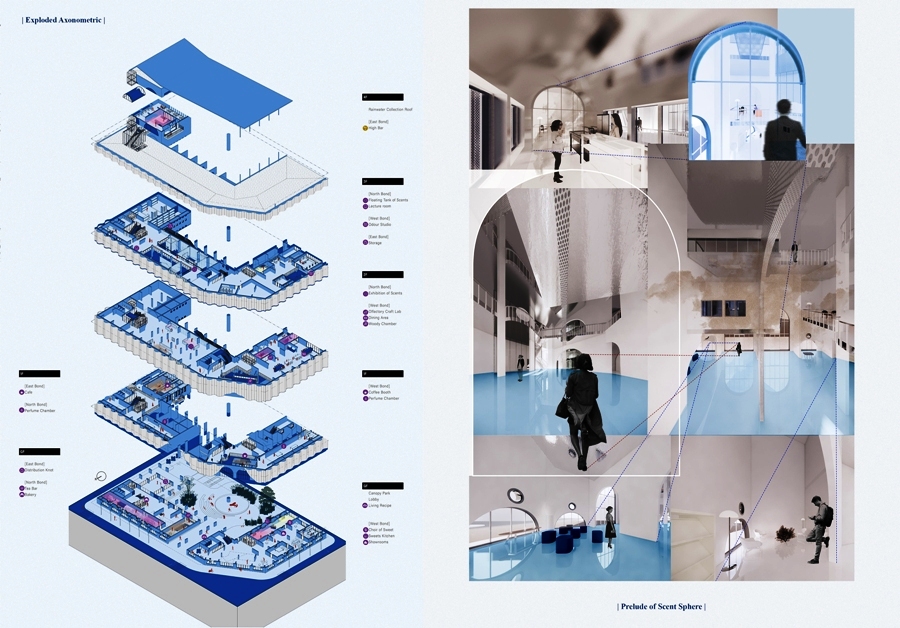 Vivid Daydream or Imagined Reality
Image Courtesy: Rafael T Y Lin