The GEN Z Series travels back home in God's own country Kerala from PRATT Institute, New York. We meet Aswathi Nambiar, a final year B. Arch student at TIBA – Talent Institute of Architecture Studies, affiliated to Calicut University in the southern State of Kerala. TIBA is Kerala's largest university. A self-confessed introvert and extrovert, Aswathi loves to learn new things in life. It was fascinating to know that Aswathi loves to reward self with tiny rewards, each time she accomplishes a thing / task.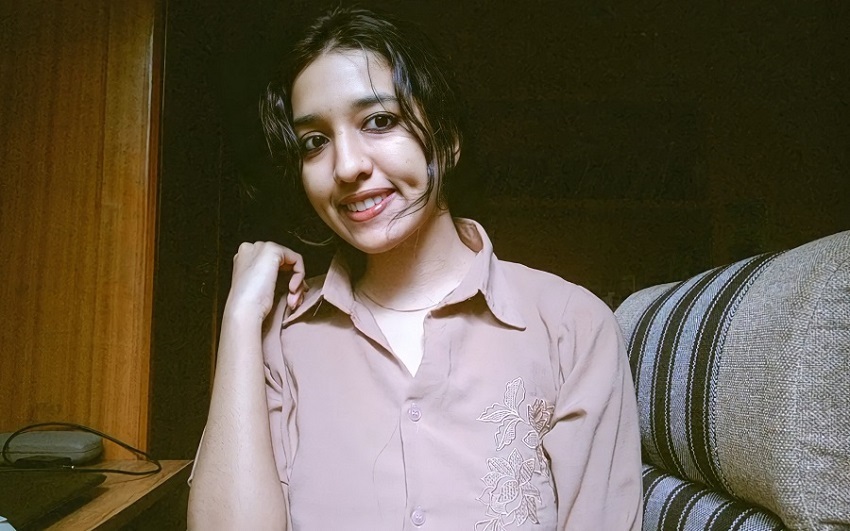 Creative, artistic, ambitious, dedicated and eager to meet people to learn about their cultures and life's theories, Aswathi Nambiar plans to travel the world as an architect in near future. She loves to exchange thoughts, visions and knowledge with like-minded people around the world expecting it would lead her to new adventures in life. It is interesting to know that Aswathi was unaware about 'architecture' as a profession till she was in her 11th grade. She reveals, "I went with the flow of life. I never set long-term goals for myself. Instead, I strive to keep them as short as possible."
The destined soon-to-be architect Aswathi Nambiar shares her journey into the architecture world with Johnny D.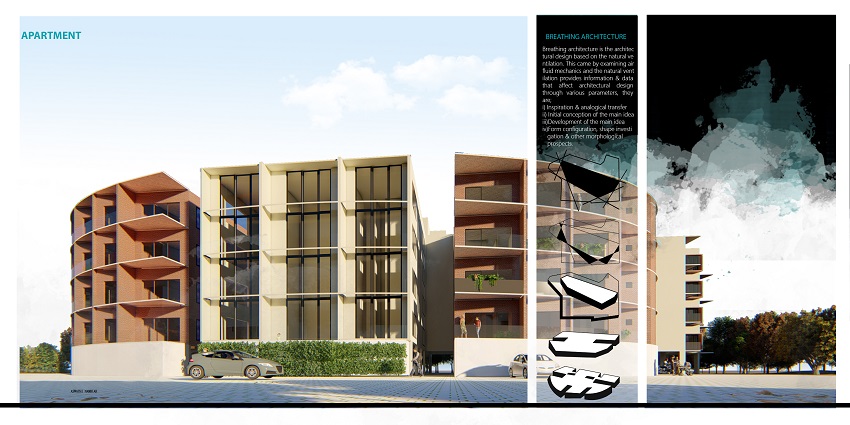 Your childhood ambition: Did you always wanted to become an architect?
No, I did not even know about the profession till I was in the 11th grade. In my childhood, I was not an ambitious girl. I went with the flow of life. I never set long-term goals for myself. Instead, I strive to keep them as short as possible. When I got there, life always showed me what should come next. During my school years, I used to draw a lot and always attempted to participate in extracurricular activities. I wanted to do something innovative with my career. I found architecture meets my interests (smiles).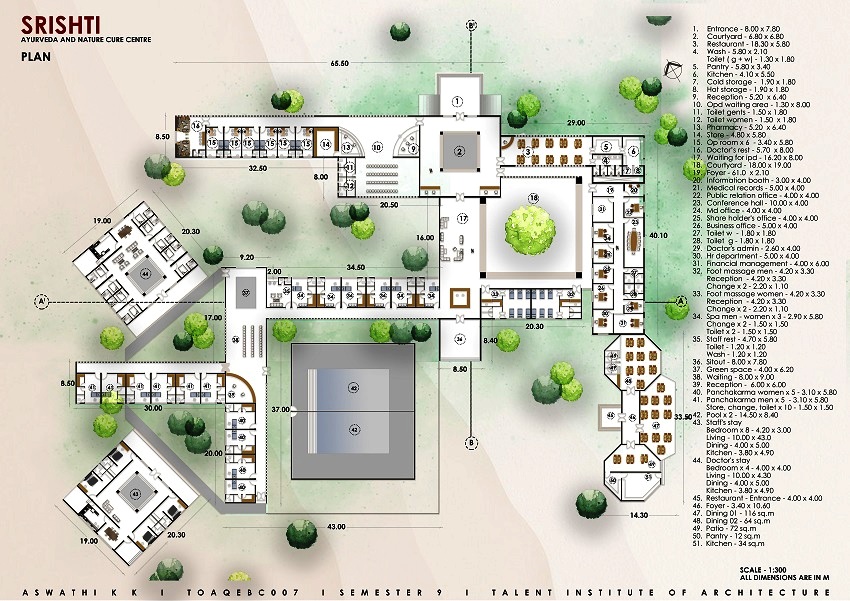 What does 'architecture' means to you?
I learned to enhance my thinking standards through architecture. Architecture, in my opinion, is much more than just designing space. It allowed me to express myself and channel my enthusiasm. Traveling, creating new relationships, learning new technology and maintaining standards are just a few examples. It should be a platform that anyone can access, regardless of their social class.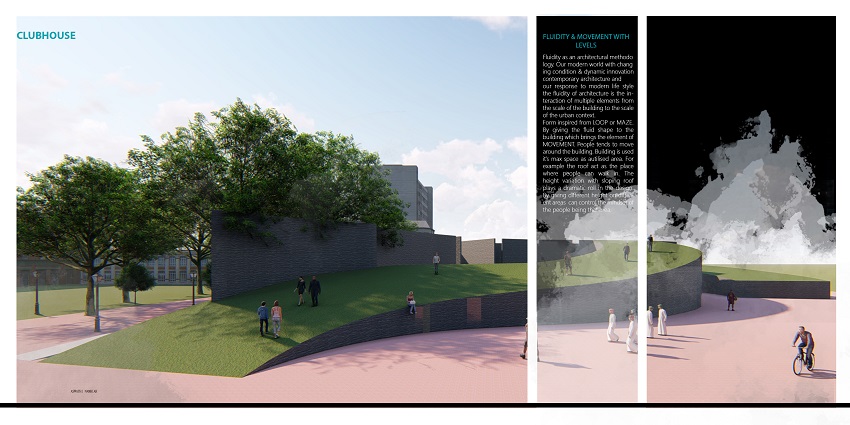 How has it influenced your life as an architecture student?
I began to notice the technical aspects of all the minor details. I experimented with more sketching, fashion and style, making videos, and design, among other things. Being an architecture student and architect is difficult, but it prepares us to go through all the ups and downs in five years. When you are in a city / region / space, architecture naturally links you with more people, boosts your confidence, and causes you to notice buildings and the age in which they were built. Thanks to the people and profession of architecture, it has also strengthened me and given me the ability to be self-reliant.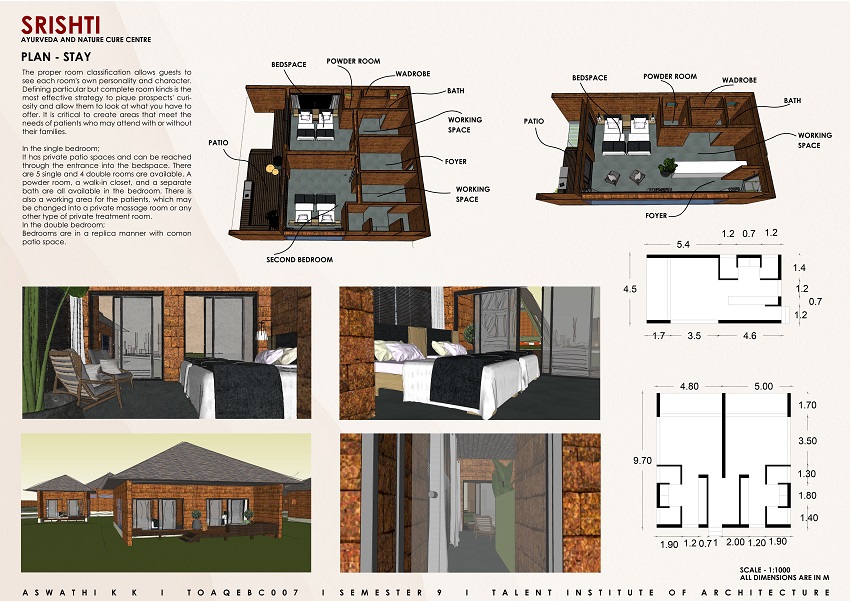 Which Indian or International architect has inspired you? Please specify as to why?
I am at a loss for words here, because so many architects have influenced me. Zaha Hadid, Le Corbusier, Laurie Baker, Sanjay Puri, Alok Shetty and others are just few architects, whose works has impressed me. Being a multi-talented individual, Zaha Hadid has influenced me greatly! She was a designer, artist and an architect. She experimented with a variety of styles rather than sticking to one. I have always been inspired by architects, who design in a minimalistic manner and with form following function.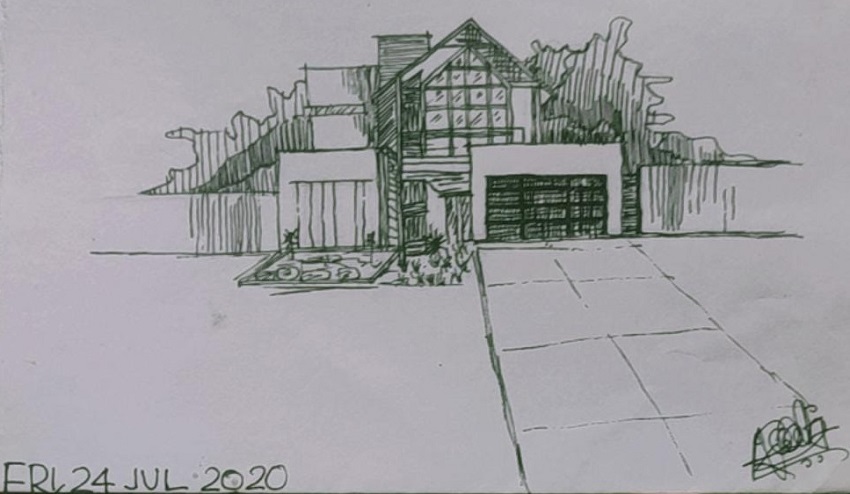 How has the pandemic changed your learning process since the last one and a half plus years?
We were impacted particularly hard by the pandemic. We could not sit inside and work, while socializing was essential for us. The learning process was particularly difficult, because our tutors were unable to communicate with us in a significant manner. It is quite difficult to study online. For architecture students, literature studies are insufficient. They must also experience and see things in real life in order to create better designs. We found it really difficult to complete the thesis online. Also, the freshman would not have had the opportunity to learn what architecture is. Interaction, first-hand experience and live sessions with skilled architects, and travel were all stymied by the pandemic.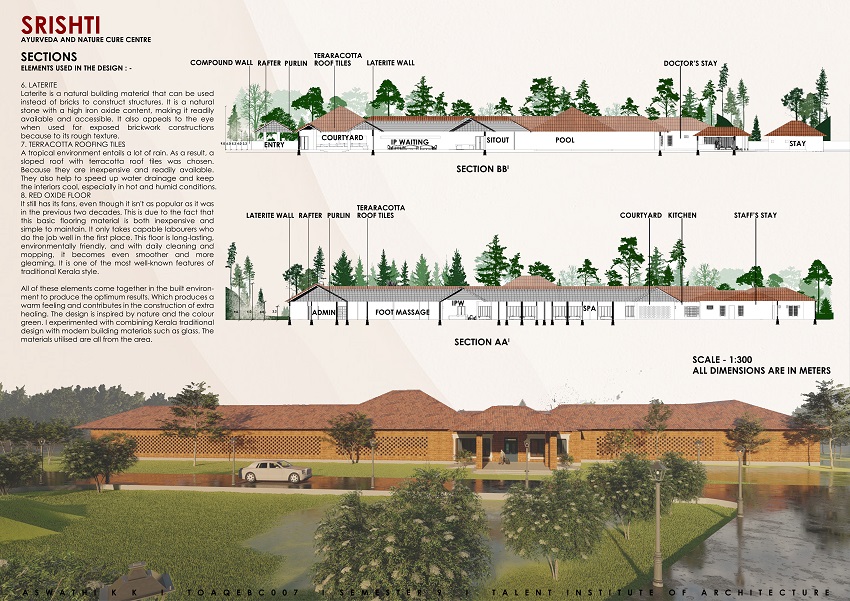 What are your views on Climatic catastrophes and how architects of the future (your generation) will overcome the herculean challenge?
In my perspective, it demonstrates the need of having sustainable or climate-responsive designs. The designs should be based on a sustainable understanding of the client, site, climate and community. Every architect is accountable for the modifications they have made to nature, in order to construct a space. It ought to be less harmful and should serve as a deterrent to those who construct in the name of luxury. The purpose of a built environment is always to serve a purpose.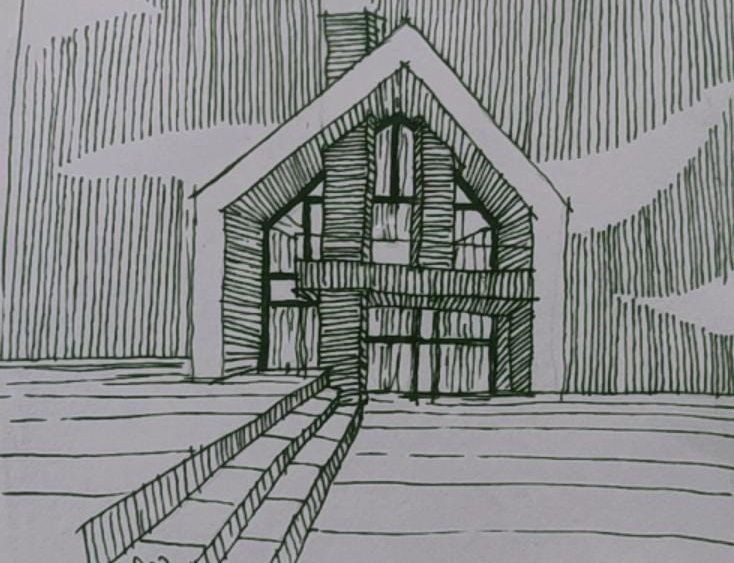 Please write about your university and the course.
I am a final-year architecture student at Calicut University, class of 2016-2021. Calicut University is Kerala's largest university. It was the second university to be established in Kerala. It was founded in 1968. In the age of urbanization, architecture plays a critical role in keeping things organized and sustainable.
In the final semester, we must select a project that piques our interest and create a thesis on it. Professors helped us through everything we need to accomplish ourselves, from the project idea to the presentation documents. But, in the end, the student is free to do anything they want. My thesis is about the film hub. A film studio and a film institute combined would operate as a catalyst for dissolving the borders between theory and practice in filmmaking. Learning films becomes more adventurous as a result. Both architecture and cinema are separate art forms that are achieved via the combined efforts of a team of specialists and assistants, but strangely, both are produced by a team of specialists and aides.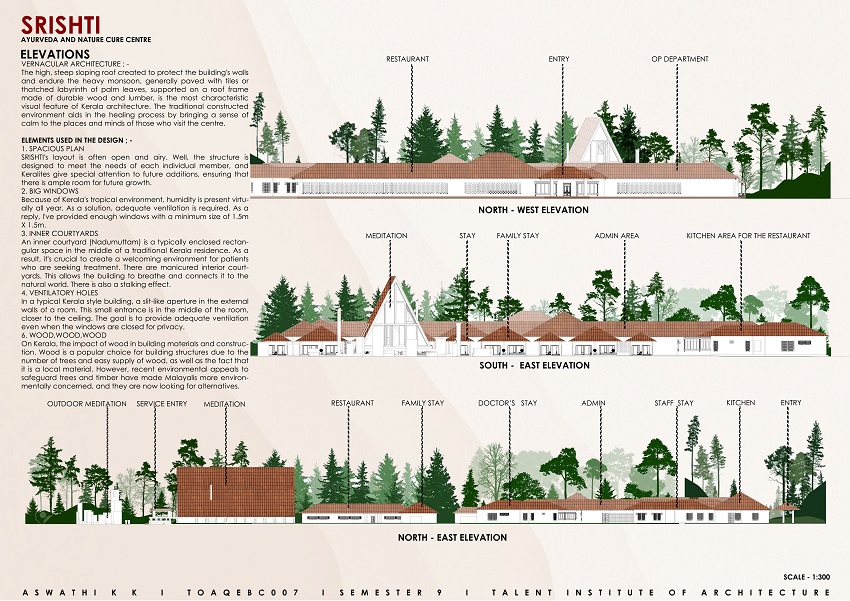 In 200 words describe your project.
SPIRITUAL RECOVERY THROUGH ARCHITECTURE – THE TRINITY OF HUMAN SOUL, BUILT ENVIRONMENT AND DIVINE POWER
Human beings are formed out of the same atoms that previously made the stars, according to science. Galaxies, planets and living organisms developed from old stars that imploded and burst. As a result, people are real cosmic creations. It is only natural that spiritual centres be built with architecture that embraces and enriches the earth, producing a loving experience of fullness and harmony, as well as, a sense of balance and oneness.
SRISHTI – Ayurveda and Nature Cure Centre was my 9th Semester project. It explored how architecture might influence healing, design a calm area that serves as a well-being space, a self-sustaining constructed environment that promotes mental and physical healing by incorporating them into the built form and establishing a healing relationship. Basically, I divided the site into zones based on privacy, with public zones leading to private zones. In order to be in contact with nature, it was also designed in a building-like form. Those elements were meticulously zoned in line with the laws of nature.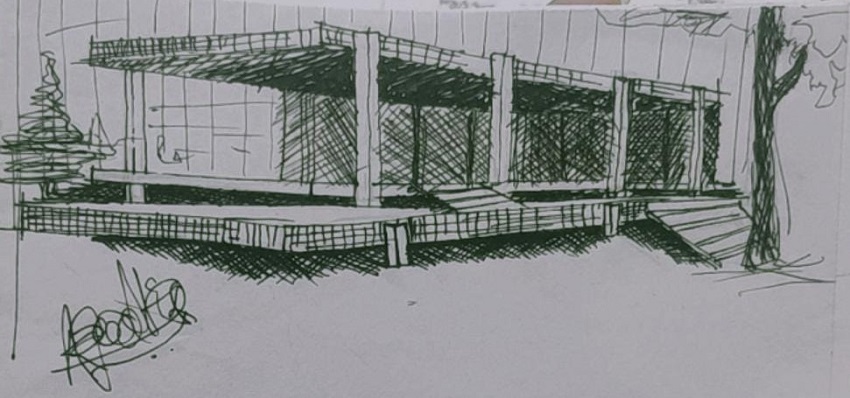 Frank Lloyd Wright believed 'the good building is not one that hurts the landscape, but is one that makes the landscape more beautiful than it was before that building was built'. The concept was movement, moving through the loop of memories of Kerala's tradition in a modern fashion, slowing down the senses of someone entering the structure.
The experience of construction in my imagination has been formed through walking and movement. I chose the footprint as a zoning concept with the forefoot portion representing the public zone and the hind foot region representing the private zone. In the middle foot or instep arch region, the landscape connects these. Our built environment evolves and transforms as soon as we walk, despite its central position in architecture practice.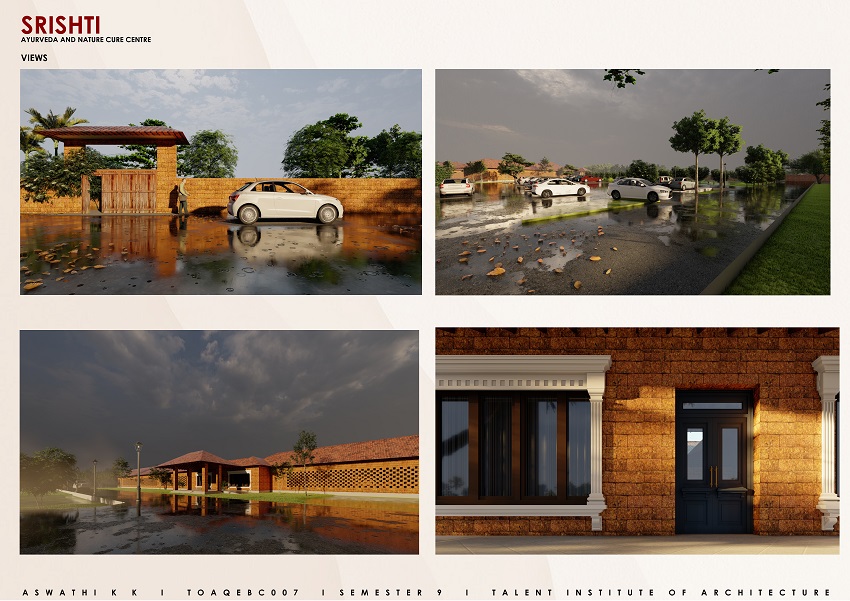 Image Courtesy: Aswathi Nambiar