New Zealand's research-based design practice Irving Smith Architects have been making waves with their creative design and projects in the architectural world. The magnificently designed 'Te Whare Nui o Tuteata' project is a joint collaboration between two architectural firms – RTA Studio and Irving Smith Architects, who jointly won the design competition. Structural engineers Dunning Thornton have done a marvelous job.
Dr. Jeremy Smith is also an Adjunct Associate Professor with a design-based PhD at the University of Auckland. In the year 2019, Dr. Smith had presented projects through 8 American Universities, at the New York League of Architects, then in Paris and Amsterdam. He has judged the NZIA New Zealand Architecture Awards and at World Architecture Festivals in Singapore, Berlin and Amsterdam. He has recently been appointed an International Advisor to Saveetha College of Architecture and Design in Chennai, India.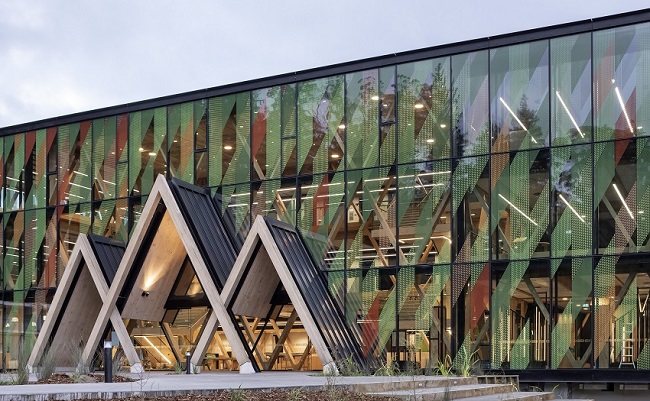 The project is one of the finalists at the WAF – World Architecture Festival Award 2020 – 2021 in the 'Higher Education & Research – Completed Buildings' category.
Dr. Jeremy Smith – the Design Director of Irving Smith Architects talks to Johnny D to elaborate the technicalities of the 'Te Whare Nui o Tuteata' project.
What was the brief of the project?
The project actually started with a design competition for a timber innovation centre on a different site. Some time, after we won the design competition in collaboration with RTA Studio, we were asked to start thinking about an entry hub building for the main SCION Timber Research Institute campus.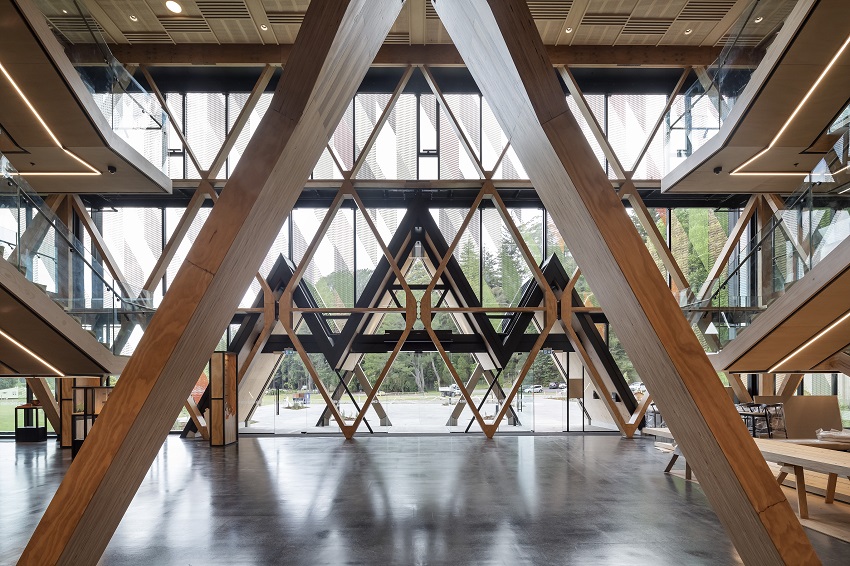 How does the design creation process materialize in your mind?
In this project, we were looking for an answer that forwarded timber construction as a renewable resource in New Zealand. From that question the creative process sets about solving the question through asking and then solving questions.
As the Head of the Project, what do you demand from the team members during the planning stage?
Architecture is a team game and there are many people in charge of many different areas on an innovative project like this. Most important, it is for everyone to work together and be open to discussion and critique from all involved.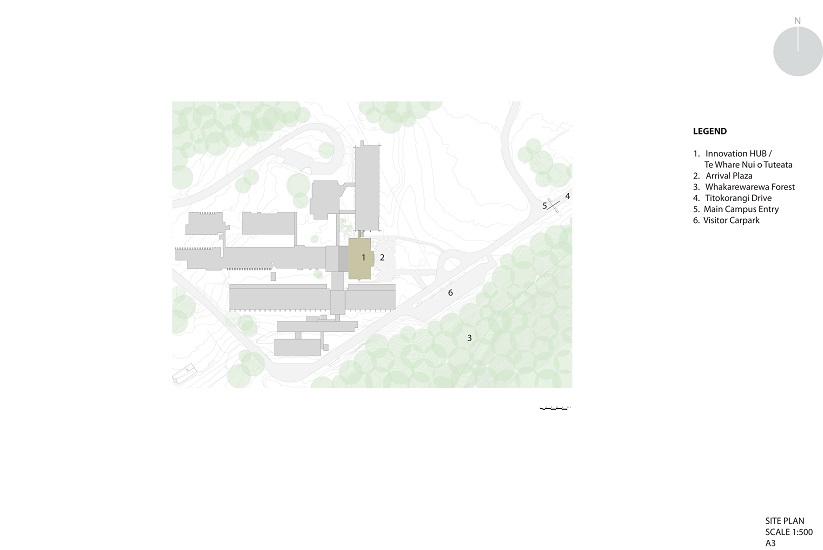 Please elaborate about the 'Te Whare Nui o Tuteata' Project, including the total area and estimated project cost.
'Te Whare Nui o Tuteata' provides a welcome to the New Zealand Government's SCION Timber Research Institute in Rotorua, New Zealand. It is an educational invitation to come to 'Walk in Our Forest' and learn new and sustainable ways of resourcing and building with timber.
The 1,800 sq m building sits outside the fence-line to the campus. It reveals itself like a forest on arrival with entry-level café, display and communal areas providing a real-life experience of science. Timber research is visibly happening in the upper floors and within a three-storey engineered-timber diagrid structure, which challenges stereotypes to timber structural buildings.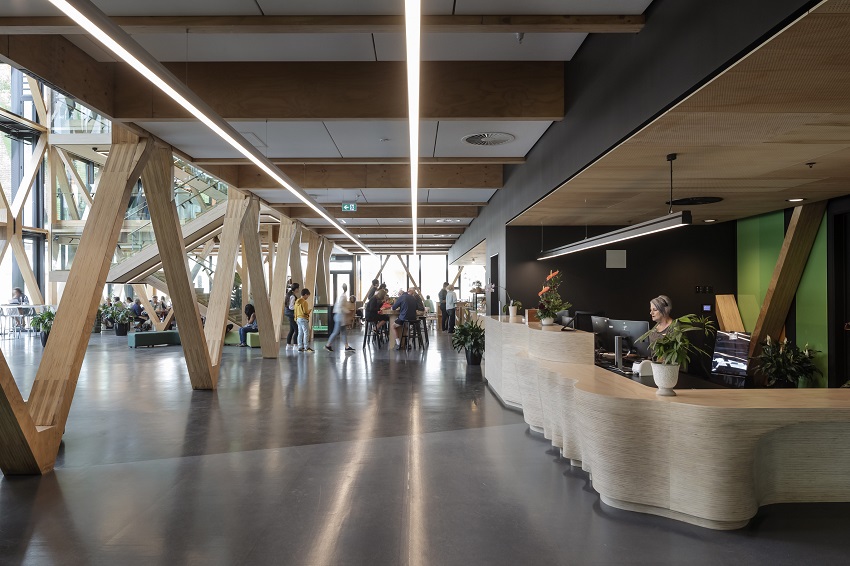 What were the main challenges of the projects you anticipated, while designing the project?
It's a challenge doing anything for the first time, but it helps if you ask a question that needs solving.
The expression of the diagrid legibly demonstrates that timber structural buildings do not need to be designed like steel and concrete buildings. Instead, it can act more like trees where strength follows the continuous grain of the wood. Here, an innovative timber structural node transfers loads and holds a seismic fuse to yield and be replaced after an earthquake. With this simple shift in thinking, the structural size of the timber has reduced by around a quarter.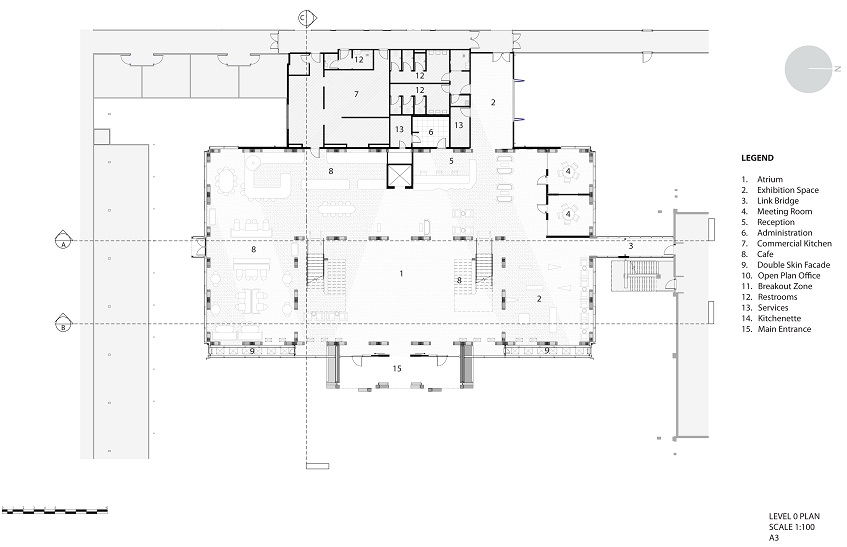 Being smaller means timber construction is easier to handle, transport and sustainably resource and ultimately change or re-used. This kind of thinking allows more buildings to be built in timber rather than more timber to be used in individual buildings. It is an approach not only useful to a small, isolated country like New Zealand, where new machines and construction materials like steel and concrete generally come on a boat, but also to larger countries where efforts to store carbon in buildings often is thought of, in larger and larger components as the name 'mass' timber suggests. Sustainability does not mean more, it means less!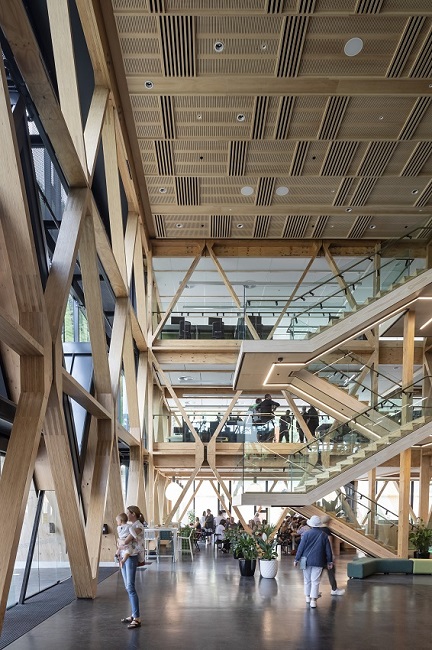 How did your team overcome them creatively?
Architecture is all about finding answers and solving anything that is usually best done creatively – otherwise you tend to find a generic rather than specific outcome. Every project and everybody is different, so having an environment where all sorts of ideas can be generated and tested is important. Our office is set up with computers facing outwards and everybody sitting around a very large shared communal table where projects are modelled, drawn, sketched and discussed by our whole office. We have a communal approach to creativity (smiles).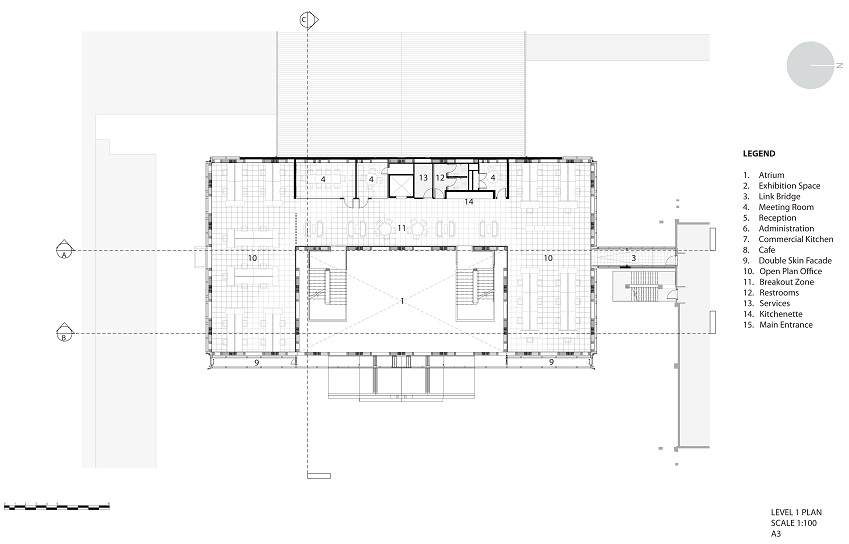 Please specify Irving Smith Architects' systematic approach and process of Designing Priorities.
We are a research-based design practice, working in sensitive environments throughout New Zealand and abroad. Our work looks to participate with existing landscapes before generating new contexts – what we call 'Soft Architecture'.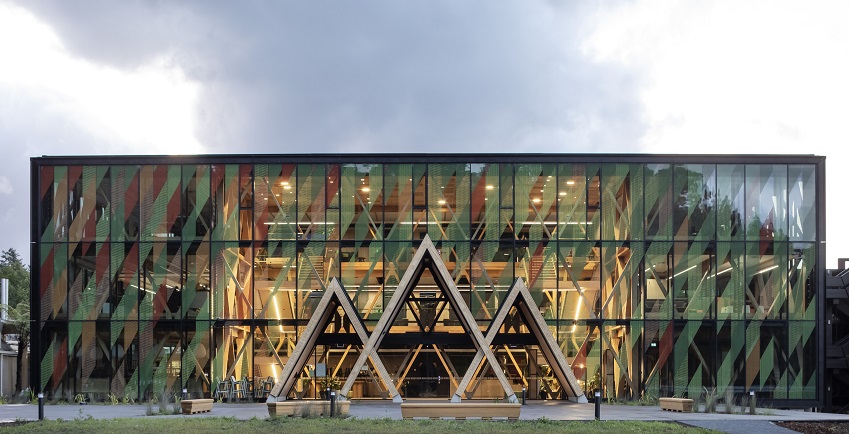 Please specify 5 major 'Sustainability' Characteristics you have incorporated in your design creations.
We incorporate sustainable thinking into all our projects. With 'Te Whare Nui O Tuteata' project, thinking harder about what timber is good at and how timber buildings might be better prefabricated and pieced together has resulted in a globally significant scientific demonstration of how we might build tomorrow.
The building achieves embodied carbon zero at the end of construction, which includes raw material mining, manufacturing, transportation and installation. Throughout whole of life, carbon usage over the next 60 years will be about two-thirds those of current 2020 RIBA reference building targets. In numbers, the building SEQUEST 530,488kg of carbon, or around 300kg of carbon per sq m and stores approximately 415 tonnes of C02-e in just its primary timber structure for the life of the building, which is equivalent to the emissions of 160 flights around the world. The building is ahead of its time, the 454m3 of structural timber is re-grown every 35 minutes in New Zealand.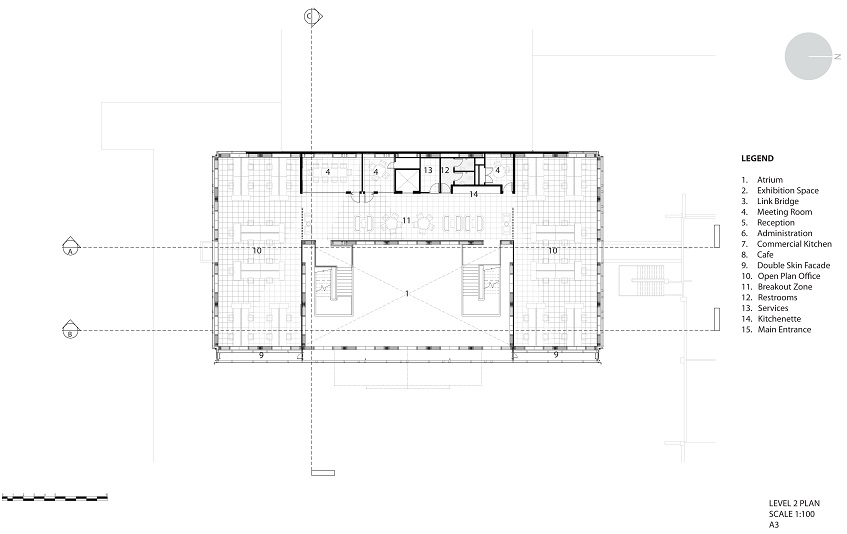 'Te Whare Nui o Tuteata' provides an invitation to researchers, the timber industry and the community to come to understand the value of timber research and innovation and be part of the future. The building represents a real prototype, rather than just a possibility, for all future buildings. It lays a marker on New Zealand's journey to be carbon zero by 2050.
We hope everybody joins the adventure and helps use of timber sustainably to improve our participation with the planet.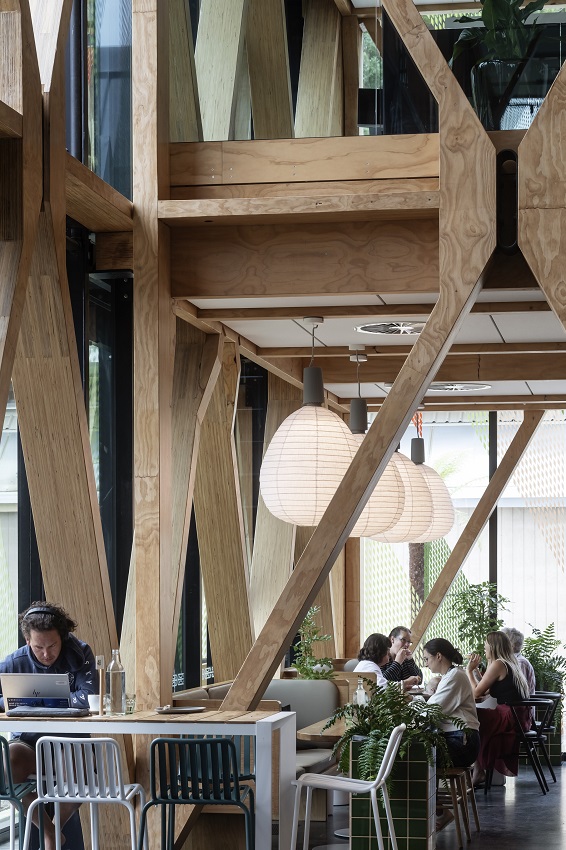 Please elaborate on the joint venture with RTA Studio in this project.
Collaborating with other practices is wonderful and allows different creative processes and expertise to combine to solve problems. RTA Studio is a practice with whom we share sustainable interests. We are now continuing to collaborate with our friends at RTA on further public projects, which is really exciting!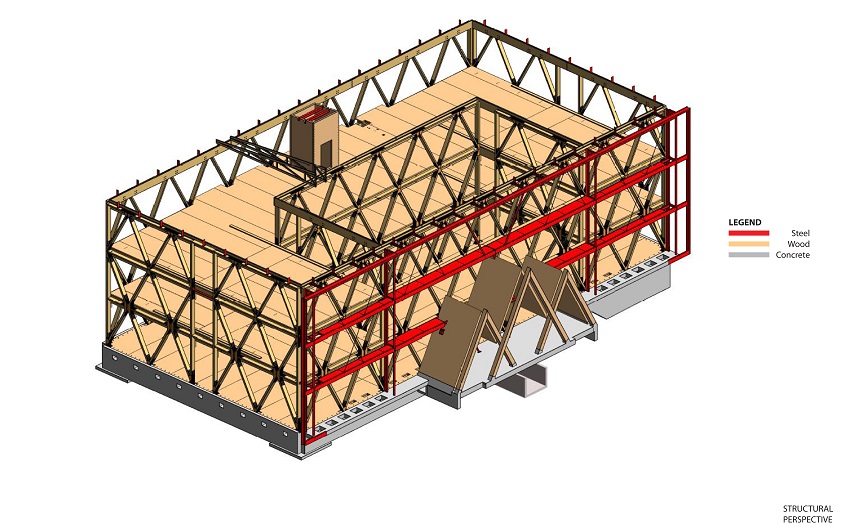 How much credit do you attribute to the conscientious efforts of the civil / structural engineers to give shape to an architect's vision?
Huge! It is all a part of collaboration. At 'Te Whare Nui O Tuteata', the Dunning Thornton structural team and the E3 services team were involved right through the design process to enable the innovative thinking to be conceived, tested and ultimately constructed. But, there were many other contributing teams as well. Architecture is a team game.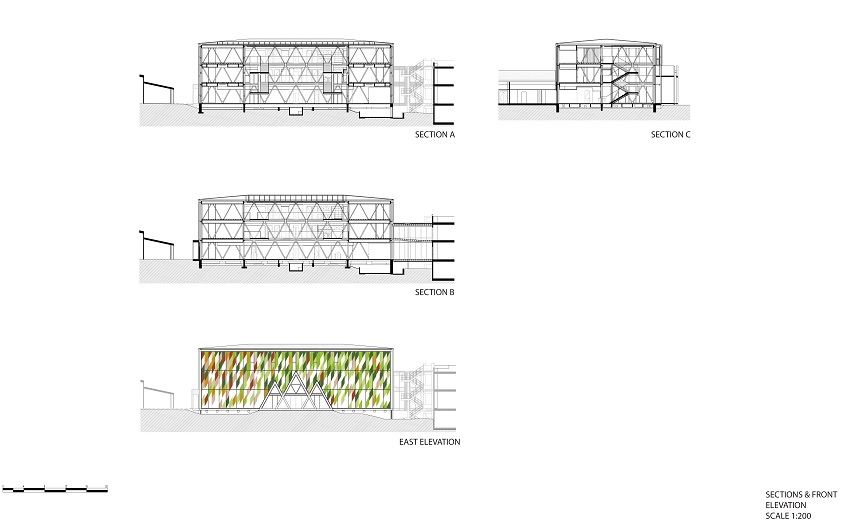 How would you describe your Signature Style?
I am not sure if we have a signature style. It is more about people and benefitting community and physical landscapes. That means different things in different places, but the mantra that 'Being Finished' is finished is important. Designing for change is important and our work is becoming increasingly iterative in response.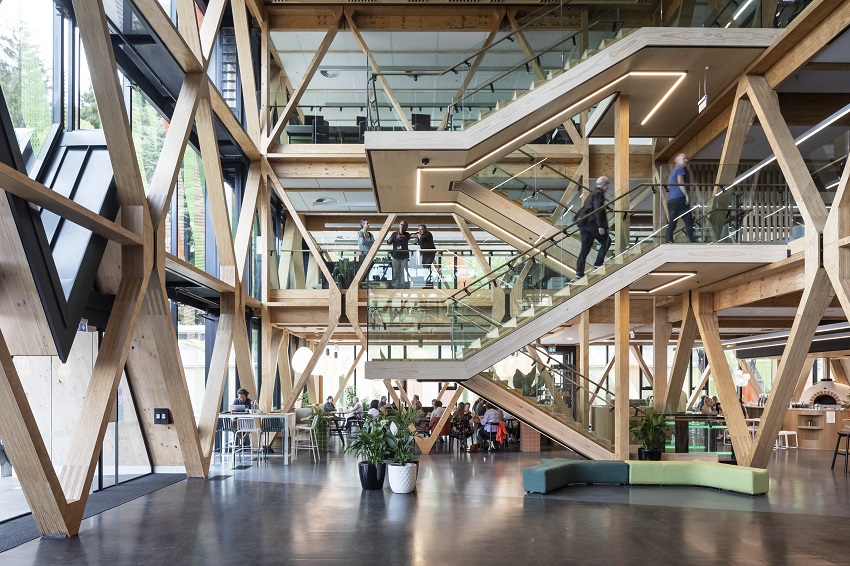 Climatic catastrophes have seen major smart cities around the world being destroyed in the recent times. How can or will architecture overcome such destruction to safeguard the community at large?
The first thing is to think iteratively. We all thought and in fact, were taught that we could control the landscape. But now, we are relearning that we cannot. That means that our buildings cannot stay the same and must change with our landscapes. So our work, research and teaching forward the idea of architecture iteratively preparing for change. We look to understand how buildings inhabit an environment that constantly undergoes change – be it in city or rural landscapes. We look for architecture, which benefits from a continual dialogue and iterative participation between building and context.
Change is iterative and so too architecture. Being finished is finished!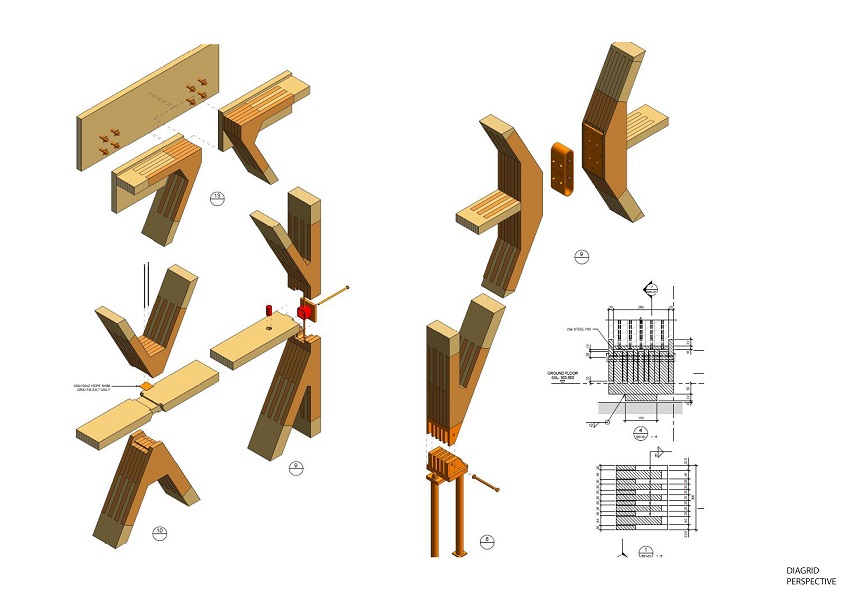 How do you emphasize your students to create designs for the future as an International Advisor to the Saveetha College of Architecture and Design in Chennai, India?
My role is to bring new perspectives from a different part of the world to the table and challenge students to think outwards to how their architecture can help people and landscape. I teach a similar way at the University of Auckland in New Zealand. I cannot wait until this pandemic is over to go to Chennai and meet everyone in person. There are some wonderful people involved.
How has the pandemic changed the process of working in the field of architecture?
We are still finding out, I think. It has certainly s stopped us all getting together and we have all learned that learning anything is harder when you are remote. Solving problems is easier in person and around a table.
How would you describe Jeremy Smith and Andrew Irving as a professional and a person?
We are probably quite like the architecture that we are interested in making. Outward thinking, interested in people and in helping community and places.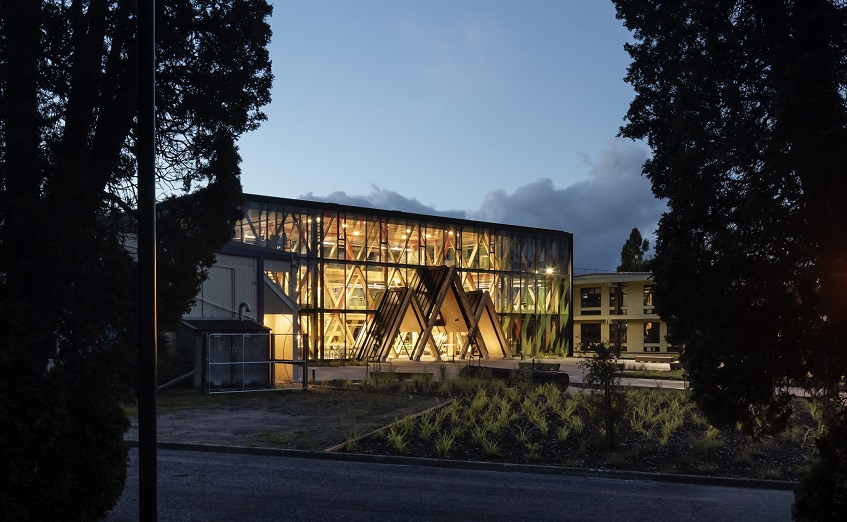 Please state five major awards you have won recently.
Following are the recent awards:
The Building Award, 2021 INDE Indo-Pacific Architecture Awards, Sydney
2021 Architizer A+ Wood and Architecture Jury and Popular Choice Awards, USA
2021 Small HOME of the Year, New Zealand
2020 Special Judges Award, Taipei International Design Awards, Taipei
2019 UNESCO Award of Distinction, Asia-Pacific Cultural Heritage Conservation Awards, Penang
2017 World Villa of the Year, World Architecture Festival 2017, Berlin
Image Courtesy: Irving Smith Architects
Photographer: Patrick Reynolds