Human greed has surpassed all its limits in our world today! There is certainly no turning back whatsoever! Planet Earth is all set towards its catastrophic end – an apocalypse will be sooner than the team of scientists around the world can even declare.
If some of these below "Headlines" will not shudder or shake your mind and conscience – well, what can I say?
3rd JULY: Locals fear as fresh crack appears near house in Joshimath; Locals expressed apprehension that the land subsidence might only worsen with the arrival of the monsoon – INDIA
3rd JULY: Wildfires have become more intense in Russia in recent seasons, helped by unusually high temperatures in Siberia, driven by climate change – RUSSIA
5th JULY: At least 22 countries have recorded maximum temperatures of 50C (122F) or above. Al Jazeera looks at the hottest places on Earth. – Currently, the highest officially registered temperature is 56.7C (134F), recorded in California's Death Valley back in 1913. The hottest known temperature in Africa is 55C (131F), recorded in Kebili, Tunisia in 1931. Iran holds the record for Asia's hottest official temperature of 54C (129F), which it recorded in 2017.
The highest temperature ever recorded in Europe was 48.8C (119.8F) on the Italian island of Sicily on August 11, 2021. On July 19, 2022, The United Kingdom recorded highest-ever temperature reaching 40.2C (104.4F), according to its Meteorological Office.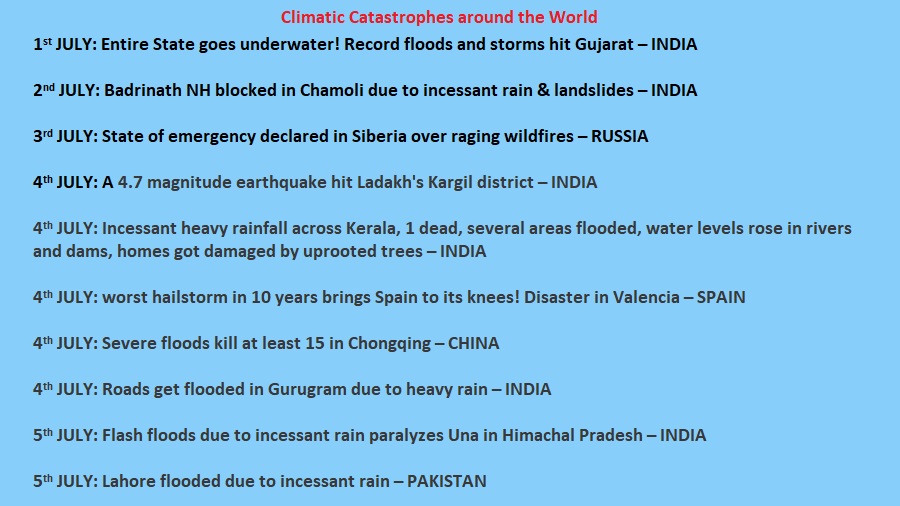 16th JULY: Extreme heat grips three continents as wildfires rage – Health alerts issued as scorching weather strikes three continents, threatening to topple temperature records – ASIA, EUROPE & US
20th JULY: Long-lost Greenland ice core suggests potential for disastrous sea level rise – CNN dated 20th July 2023
20th JULY: Since the last six months 67 villages in Assam's Lakhimpur district have been battling flood waters – INDIA
22nd JULY: Greece's capital is facing its hottest July weekend in 50 years with temperatures forecast to soar above 40C (104F) as the nation and others in southern Europe, such as Italy and Spain, swelter in another record-breaking heatwave – GREECE
23rd JULY: In peak of monsoon, Jharkhand stares at drought due to 45% rain deficit – INDIA
24th JULY: Wildfires raging across Algeria have killed more than 30 people, including 10 soldiers battling the flames, forced evacuation of hundreds from their homes along the country's Mediterranean coastal region as temperature hits 48 degrees Centigrade – ALGERIA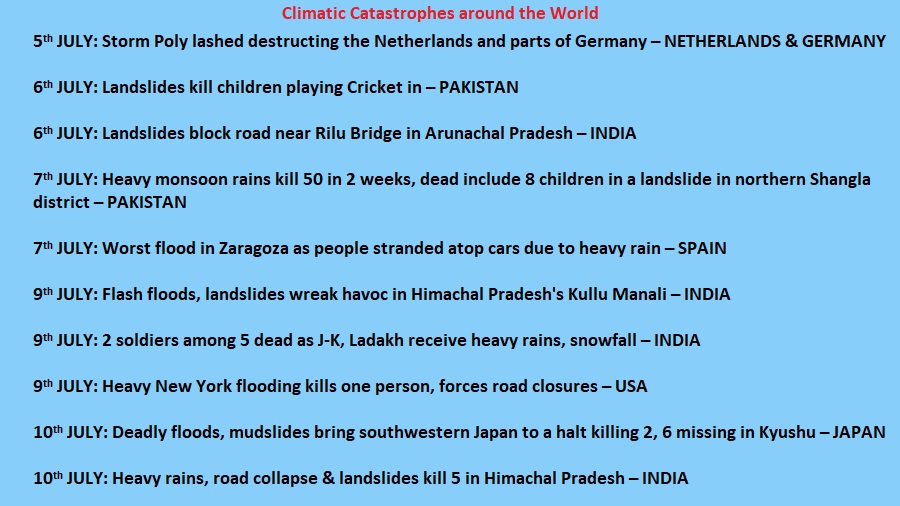 26th JULY: Heatwave and drought leave Tunisia farmers struggling to survive
Farmers in northern Tunisia say conditions are getting progressively worse despite government efforts to combat climate change – TUNISIA
26th JULY: Soaring Mediterranean temperatures bring death and destruction;
Extreme weather throughout July has caused havoc in Southern Europe, North Africa and across the world – EUROPE & NORTH AFRICA
28th JULY: G20 environment meeting ends without agreement on climate crisi – No consensus reached on key points, including curbing emissions and scaling up renewable energy, despite record temperatures and wildfires across the globe – WORLD
30th JULY: Antarctica is missing an Argentina-sized amount of sea ice – and scientists are scrambling to figure out why – ANTARCTICA, CNN News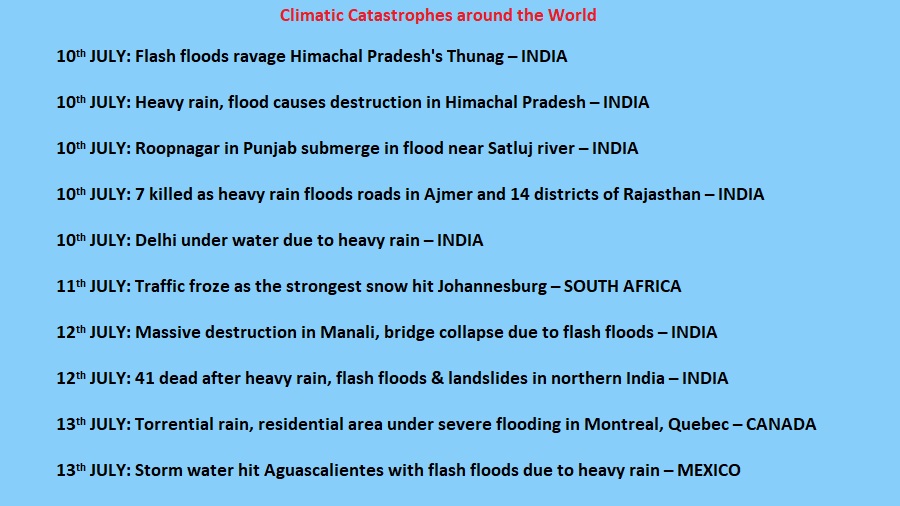 The devastating wildfires ravaged Hawaii's resort town of Lahaina, burning everything that came its way on Maui Island in August 2023, killing more than 106 people has also not shaken the global leaders even one bit. Properties worth billions were gutted out in human greed's frenzy!
With each passing day, living on the planet has already become LIFE THREATENING in bold letters! No one really has even a slightest idea if s/he is safe anymore. And the ironical part of human greed civilization is that each nation / global leader is busy fighting unwanted wars and killings of innocent lives to satiate their respective egos. And the rest of the world is busy celebrating sports, movies, partying and spreading more hate in the society and world at large as if we are all living in "Utopia". What a shame!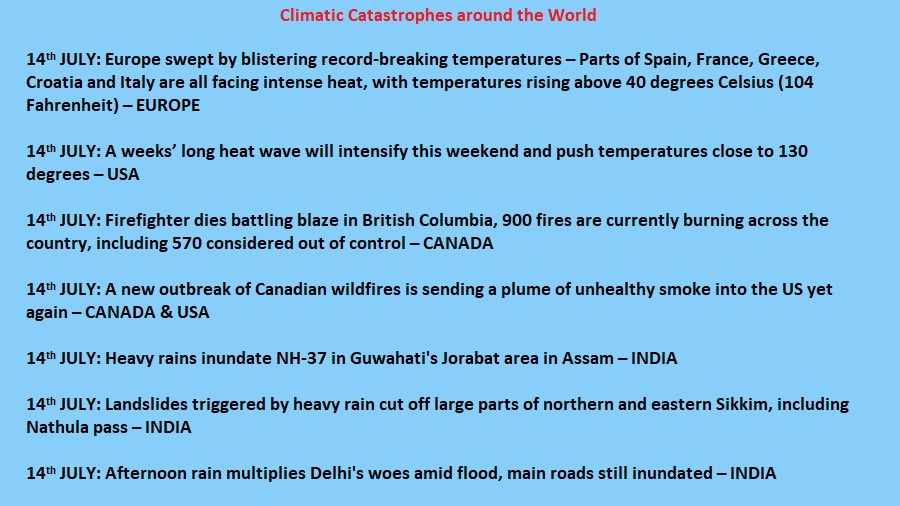 'Resilience' is certainly not going to save our Planet Earth. 'False Hope' is not going to decrease these human greed catastrophes automatically, as we progress from a day to another. Imagine how life must be in 50+ degrees Celsius high temperatures!!! Extreme heat has hit Iraq with temperatures exceeding 51 degrees Celsius, rivers are drying up and the population in the state of ever growing are not only worrisome, but also life threatening.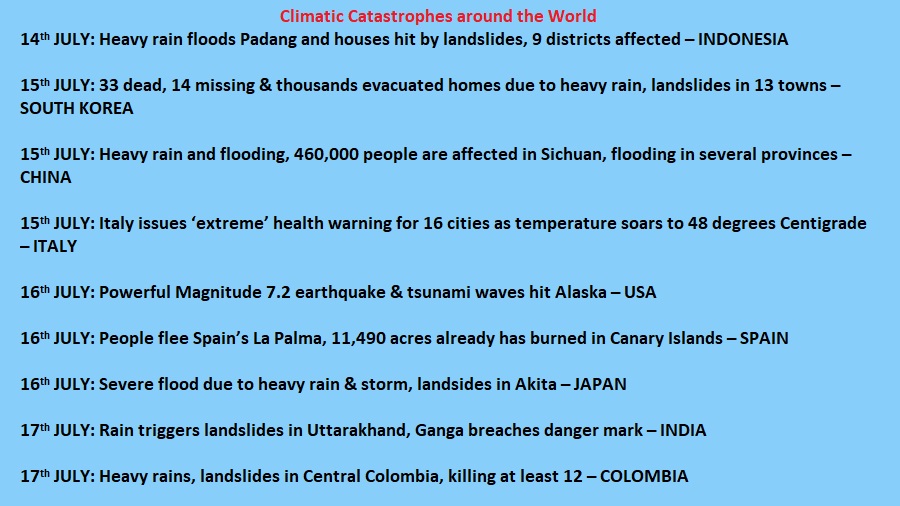 When I am writing, I can see the unimaginable future of all the toddlers in the world. Will they even see their teens under the present scenario? A small nation in the Central Europe – Slovenia known for its mountains, ski resorts and lakes was jolted by the human greed crisis this month. On Lake Bled, a glacial lake fed by hot springs, the town of Bled contains a church-topped islet and a cliff-side medieval castle was ravaged by unprecedented floods in the first week of August 2023. Two-thirds of the country was under water to suffer the worst disaster in its 100-year history of existence.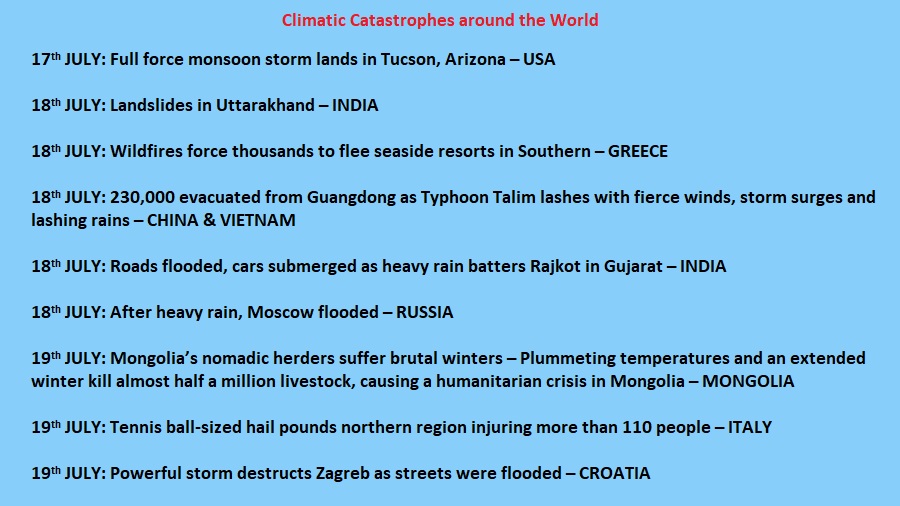 Well, in few months the Slovenes or Slovenians will go on with their life as if nothing had even happened. Resilience – that is right – the leaders of the nation will be proud of their people for their resilient spirit to once again bounce back to lead life until the next year. Remember that the ivory towers inhabitants will lose nothing, but the citizen are the sufferers – who have lost their homes, lives, hard earnings and whatever they have earned all their lives.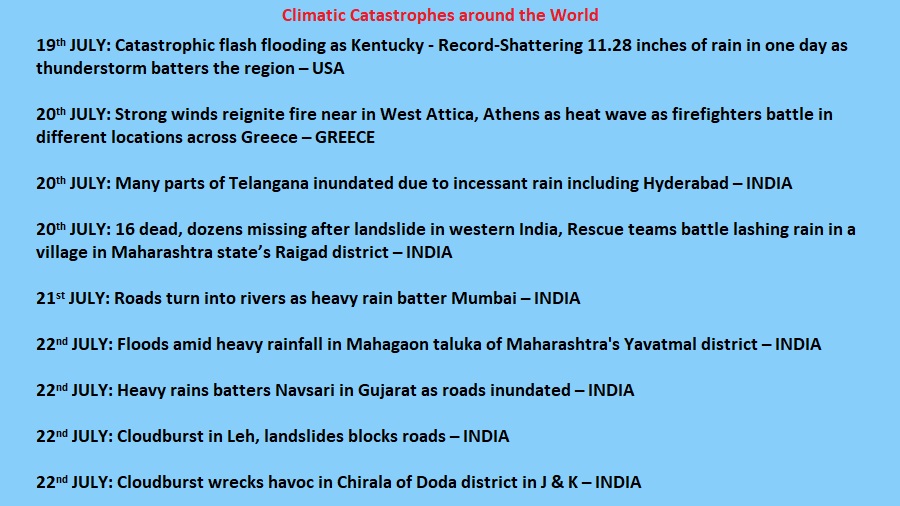 Floods in China and India have become 'the' annual human greed catastrophes since the last few years, if not decades. In India, as many as 21 States out of 28 States and 8 Union Territories were affected with devastating floods, numerous landslides, earthquake and heavy rain. Jammu and Kashmir, Uttarakhand, Himachal Pradesh, Punjab, Haryana, Delhi, Rajasthan, Telangana, Kerala, West Bengal, Assam, Maharashtra, Gujarat, Uttar Pradesh, Bihar, Karnataka, Arunachal Pradesh, Jharkhand, Ladakh, Sikkim and Orissa have all been destructed in its own manner. Billions lost and innumerable lives lost their lives and are still suffering on a daily basis.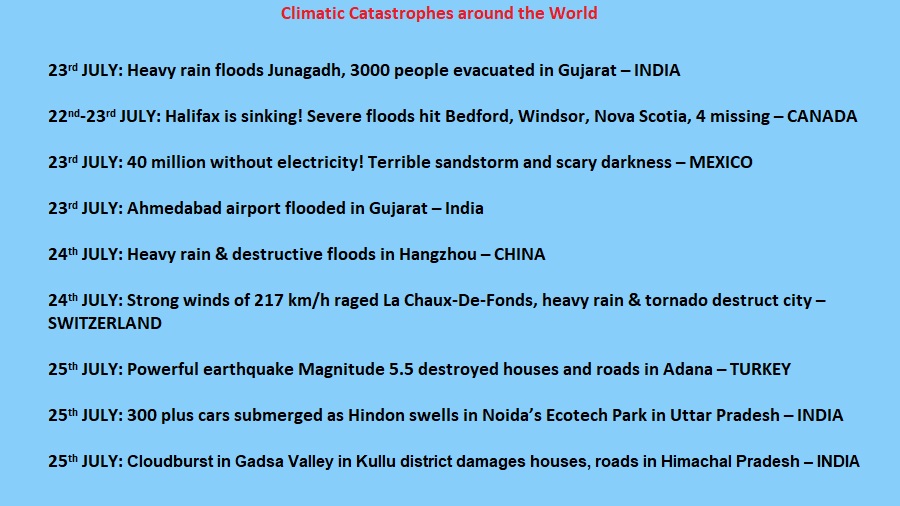 In China, 59,000 plus homes collapsed and 150,000 others damaged by flooding brought on by record rainfall in Beijing in the month of August 2023. Many other provinces and cities in China have also experienced catastrophic human greed crisis. Numerous lives were lost and the catastrophes are leaving no signs of stopping as the nation's monsoon season progresses.
Hawaii death toll has risen to 100 plus and the numbers are likely to increase as per government officials, thereby making it the deadliest US wildfire in 100 years. The resort town of Lahaina, home to more than 12,000, was reduced to ruins by horrific inferno that swept through the US Island nation Hawii.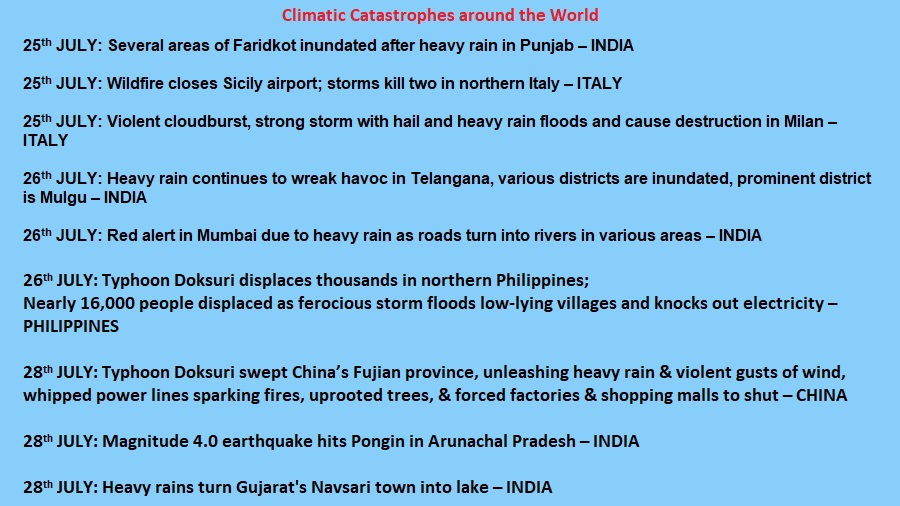 If all the human greed catastrophes are recorded by various nations – the number will exceed 150 catastrophes each month or even more. The average would be one catastrophe every 2.43 days. The magnitude of climatic catastrophes should not only worry each one of us living on this planet, but also frighten us to the hilt. Believe me nothing is going to ever change even after all these deaths and devastation surrounding our everyday lives, because "Human Greed" is too powerful to satiate the "Egos of the Global Leaders".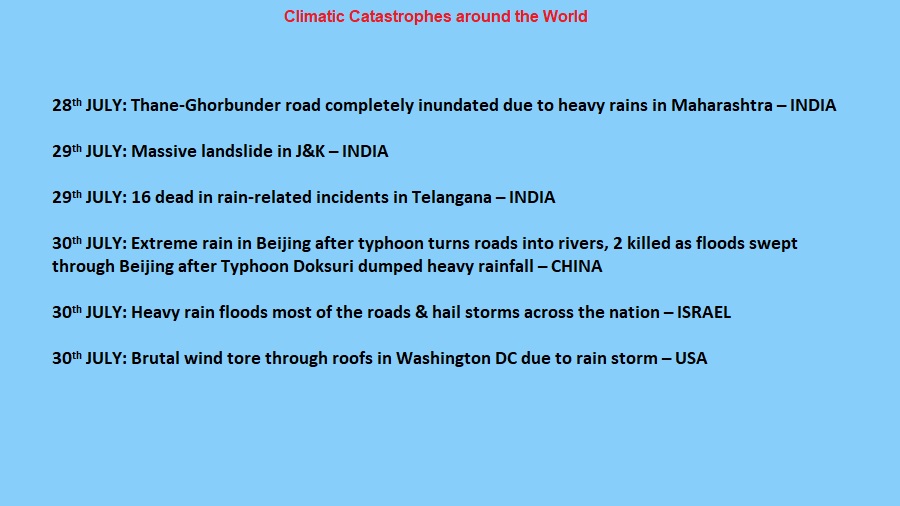 To be continued…..
Feature Photo: French Skyline
Photographer: Mandy Rukwa