In the past two years, 'zerobeyond – the new frontier!' has featured interviews of 61 young student-architects in the GEN Z Series from all across the world. To mark a new chapter in the architectural design world, we became the sole global platform in the world to give young student-architects this once-in-a-lifetime opportunity to express, put their views and showcase their futuristic design creations for the world to notice and read. The idea of the GEN Z Series is to not only encourage youngsters to build their confidence in their professional lives, but also to prepare them for being competent to enter various competitions with stringent rules and conditions.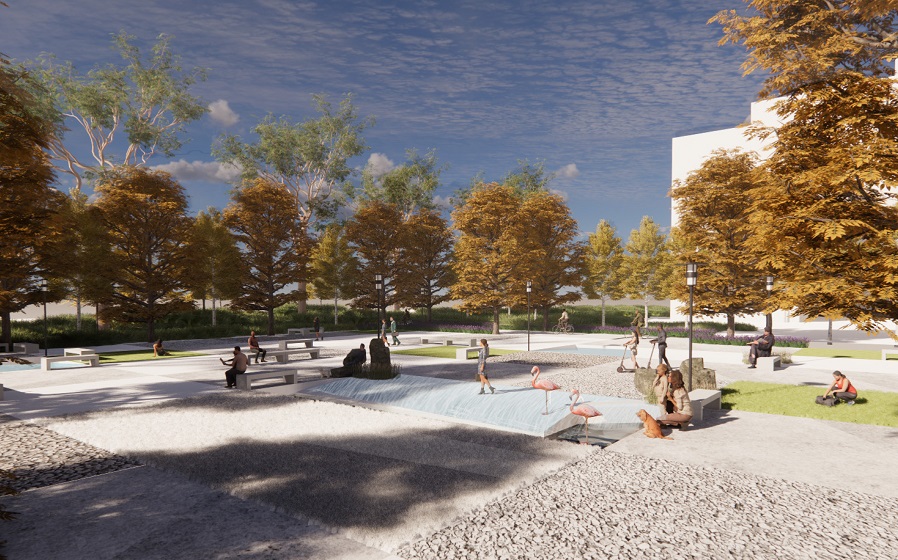 View of Mineral Plaza
The GEN Z Series travels from Bucharest to the art city of Milan in Italy to meet Indian student-architect Snishtha Bhatiaa, a 2022 graduated Masters in Urban Vision and Architectural Design from Domus Academy, Milan. A passionate creative youngster, who reveals, "Drawing profound inspiration from nature, my passion revolves around fostering communities. I possess a genuine eagerness for crafting public spaces, delving into diverse cultures and identities that significantly shape our community and way of life." She adds, "A big question I often think about – How can architecture act in terrain vague without becoming an aggressive instrument of power and abstract reason? (Terrain vague, de Sola Morales)"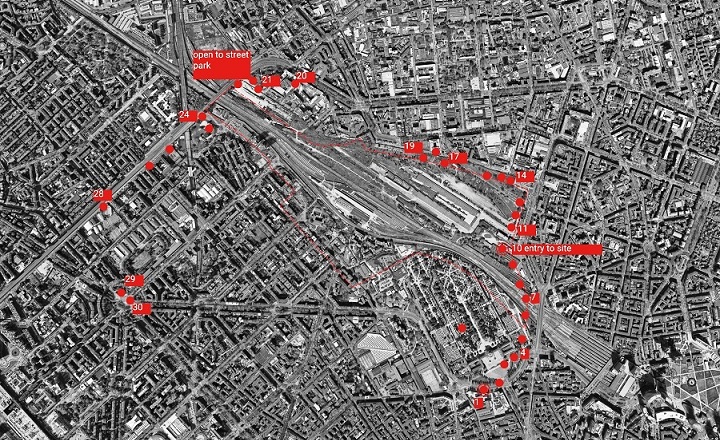 Map of Urban Context Study
Hailing from Surat in the western State of Gujarat, Snishtha's father is a manufacturer and mother is a housewife, who loves singing and yoga. Interestingly, her two elder sisters are engineers. The importance of exploring one's own path in life was inculcated by her parents from their early years of growing up. Snishtha enthuses, "My methodology is deeply grounded in meticulous research, encompassing a comprehensive understanding of the context and a thorough urban analysis. This approach takes into consideration the transformative shifts that shape the journey of the urban fabric, allowing me to envision the future of a city."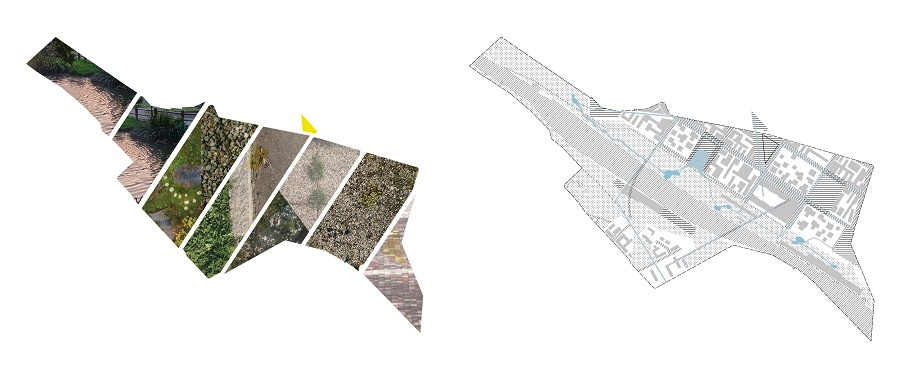 Design Concept based on Materials
Johnny D interacts with Snishtha Bhatiaa at great length to explore her fascinating journey in the field of architecture and her well-thought thesis 'Bridging Time – A look in the past to design for the future'.
What was your childhood ambition? Did you always wanted to become an architect?
In different scenarios, I had aspired to teach in various roles. I have had a vague idea about architecture as a potential career. My choices have been shaped by a process of elimination, which led me to architecture. While exploring architecture, I felt a strong inclination towards it instantly (smiles). As an urban designer today, I am still eager to pursue my childhood passion for teaching in future. I eagerly anticipate that phase in my career.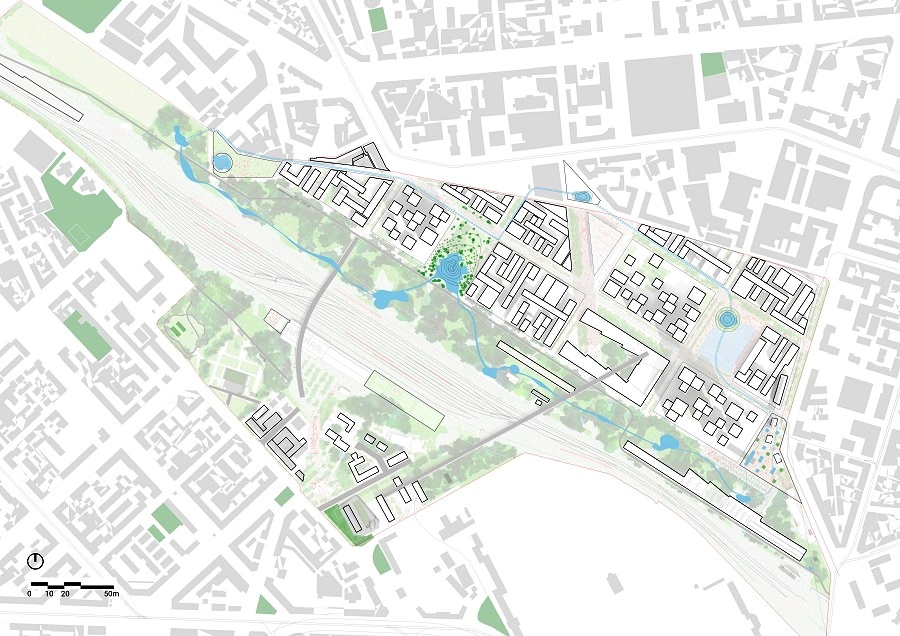 Master Plan – Introducing Water Connections
How has architecture influenced your life as a student?
Pursuing architecture as a student and as a professional has greatly influenced my world-view and how I perceive everything around me. Learning how to view the world through a designer's lens involves consistently observing one's environment, evaluating things that exist around you and searching for design inspiration, while closely studying the natural and the built world, truly transforms one's perspective in life. It has taught me to explore and at times simply observe, and in the process has drawn me closer to nature, thereby significantly shaping my lifestyle.
This changed perspective of observation and exploration ends up influencing everything I do. A simple discussion with a fellow colleague, a trip with friends, a simple walk in the park are completely different through this lens, which then end up influencing the perspective further, completing this cycle.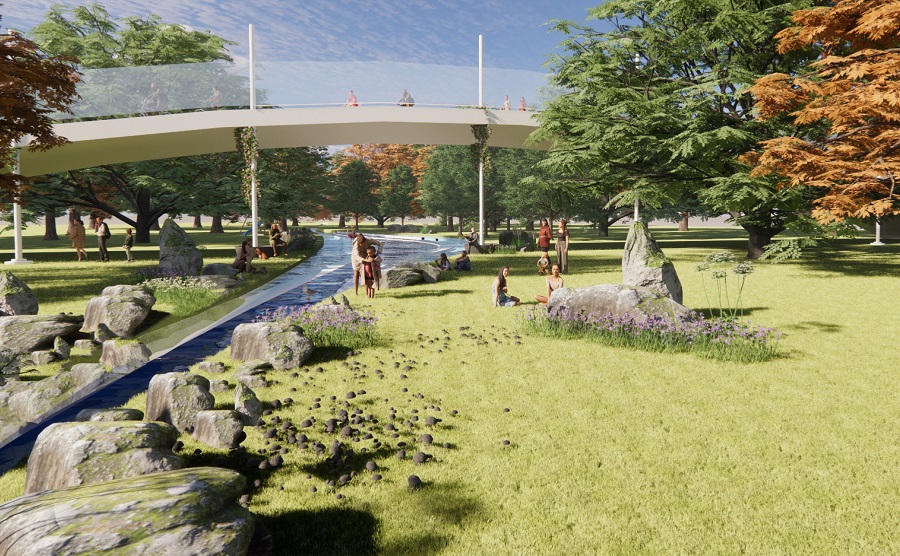 View of Water Stream amidst Green
Briefly tell us about your University and the Course.
I completed my Masters in Urban Vision and Architectural Design from Domus Academy, Milan. The teaching approach at DA is not the conventional one. We did not have subjects, but the curriculum was workshop based. Each workshop focused on a different scale and design aspect. It was led by professional firms and people in the field giving us an industry-based experience. Milan, with its ever-active environment offered a constant stream of events. Being immersed in experiences like the biennale and design week was truly an enriching package!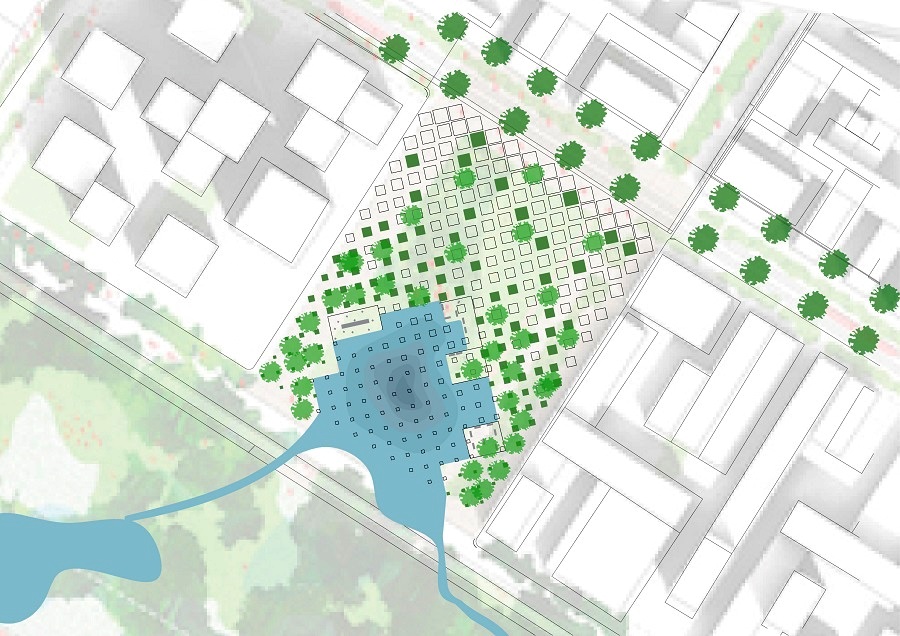 Detailed Plan of Mix-Plaza
What major differences did you observed at the Domus Academy for your Masters, as compared to your BMS School of Architecture, Yelahanka?
Joining BMSSA marked my initial step into architecture, fresh out of school and with limited foresight. It was a beautiful experience guided by remarkable professors introducing us to an array of subjects that provided a comprehensive overview. This process revealed that architecture extends beyond mere construction – it intertwines with every facet of life. Introduction to Urban Design in third year left an indelible mark. I immediately recognized it as a path I wanted to pursue further. Gaining insights into street design, public spaces and related regulations, I felt a deep connection. This enthusiasm drove me to pursue Masters' program at Domus Academy.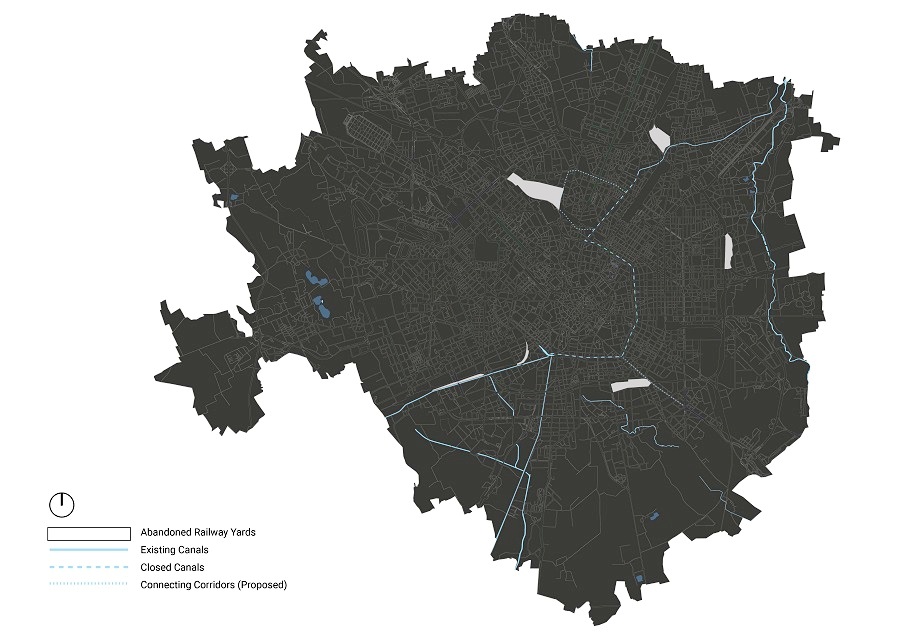 Map of Milan – Canals and Abandoned Railway Yards
Both the institutions introduced me to exceptional individuals, with notably varying approaches to design. Adjusting to the curriculum's design style at Domus Academy proved challenging with 4 workshops in a year. It marked my initial exposure to collaborative group projects. A shared standout feature of both institutions was their thesis topic selection approach. Despite differing processes, they both encouraged self-exploration, guiding me to choose personally meaningful subjects. Both my under-graduation and post-graduation theses' ideas ended up exploring similar themes reflecting parts of my own identity.

Types of existing Water Spaces in Milan
Briefly describe the significance of your project.
My Masters' thesis titled 'Bridging Time – A look in the past to design for the future' deals with the ideas of preservation involving city and identity. The project invents the future by looking into the history, an approach that will be fundamental to how we manage sustainability and climate change today and tomorrow. One part of the project deals with the idea of what happens to a space or building when it dies! Is it important for the culture to preserve or demolished it?
The other part closely studies the identity of Milan in the past and present to define the shift in identity of the city. Extending this to what we do today to preserve the identity for the future generations. Once where canals were a major connection for the entire city is now left only in one part – the Navigli, and the rest is only in memory.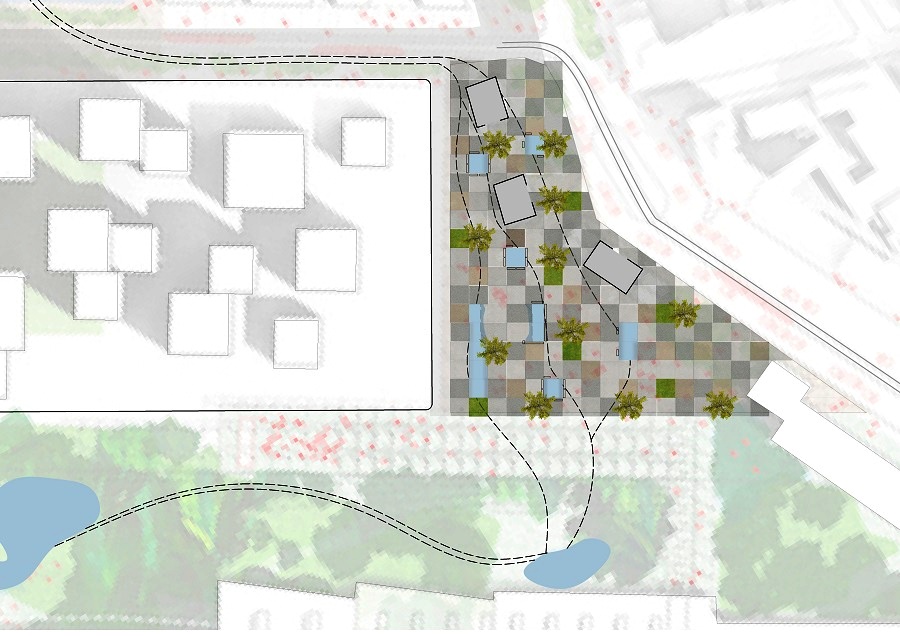 Detailed Plan of Mineral Plaza
The project combines the two concepts, which are very closely knit together – of reviving the character of Milan and re-using the abandoned spaces in a way that is important for the city. The master plan is based on the proposed redevelopment project by OMA and LaborotorioPermenente, adding a layer of water-based public spaces to relive the memory of Milan.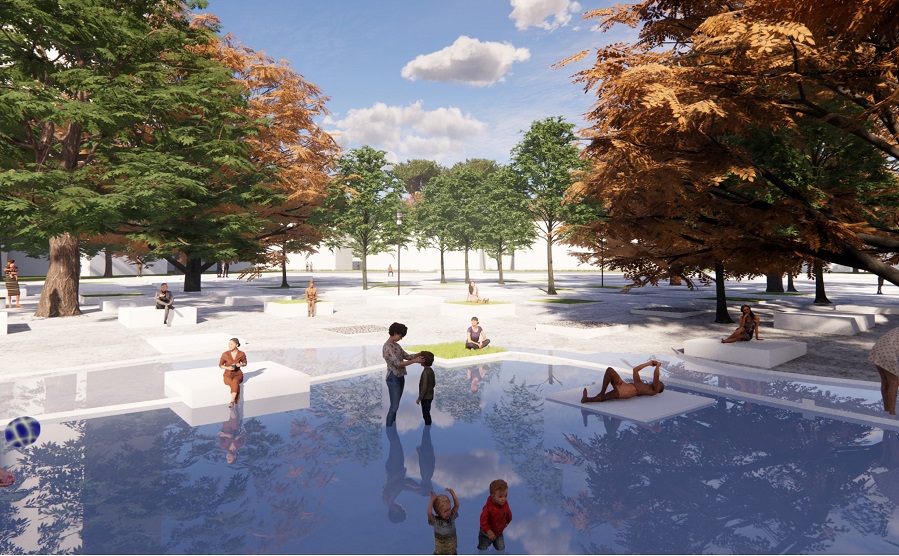 View of Mix-Plaza
Which National or International architect has inspired / influenced you? Please specify as to why?
Identifying a single architect is not possible. Inspiration arises from daily interactions, professors, local architects and the grandfathers of our field like Aldo Rossi, Ettore Sottsass, BuckminsterFuller, Superstudio among others. Their interdisciplinary and visionary approaches have significantly influenced radical thinking.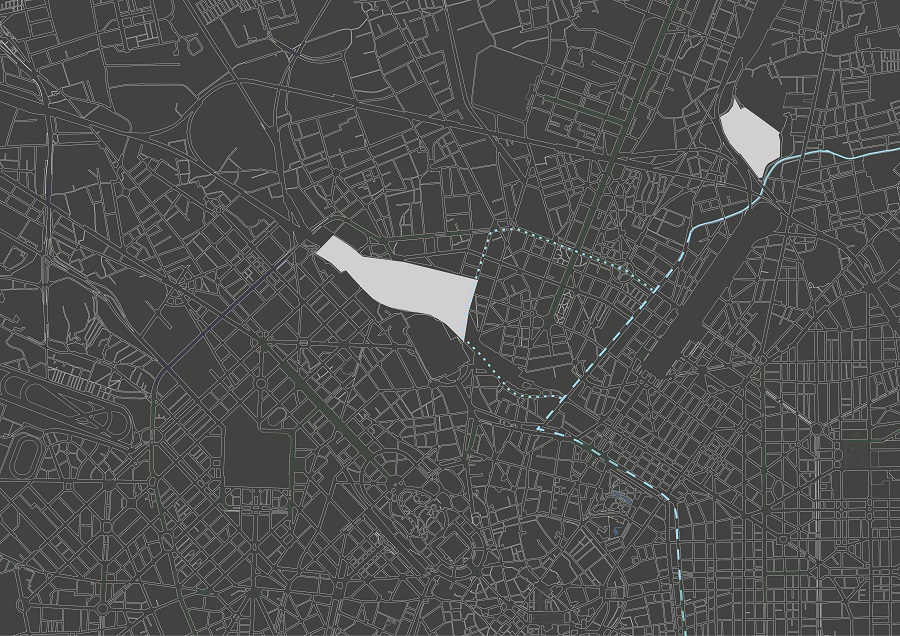 Site Scalo Farini and Canal Connections
As an Intern, what is the most important lesson(s) you have learned from senior architects, while being a part of a project?
A valuable lesson I acquired is that maintaining consistency holds the utmost importance. It involves dedicating yourself to daily effort and wholeheartedly finding your focus as a professional. Working as an intern helped me learn to overcome obstacles, handle routine tasks and foster effective teamwork, while giving a window to how the industry actually works.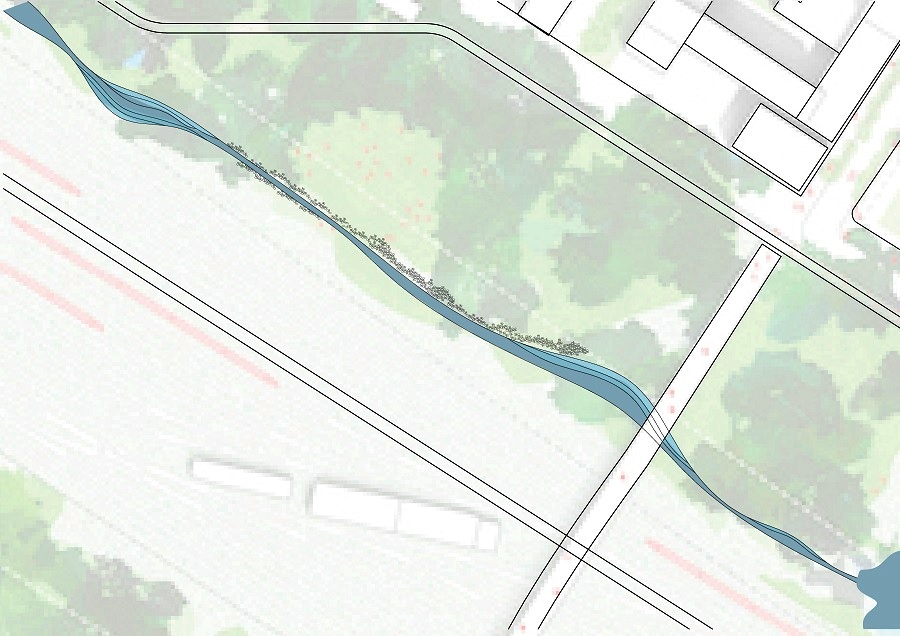 Detailed Plan of Water Stream amidst Green
If you are given the responsibility to rectify the Urban Planning of an existing city to overcome floods due to Climate Crisis, what innovative design features would you implement to make cities flood-proof?
I would explore the technology to build floating structures – Structures that remain functional during floods and return to normal position afterward. Given our trajectory, opposing climatic devastation is challenging, so adapting to it and lessening our impact on deterioration becomes crucial. This is where repurposing materials and integrating natural elements prove significant. In this aspect, I am deeply inspired by the work of 'Unless', a Venice-based firm addressing sea level rise by examining solutions rooted in Polar regions.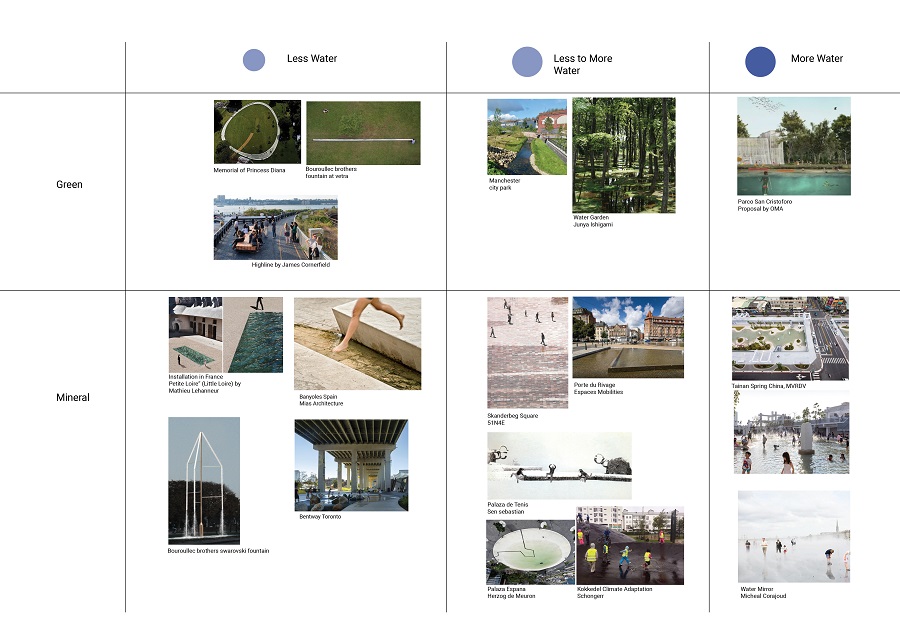 Research on Water-based Public Spaces
Which significant aspects of the global platform 'zerobeyond – the new frontier!' did you liked the most, and why?
'zerobeyond – the new frontier!' is an excellent platform that consolidates diverse and crucial information within the field. I found the GEN Z segment particularly appealing. Fresh perspectives, open conversations and drawing inspirations from the youth are significant. It also gives us the space to contemplate, express our thoughts and voice our opinion.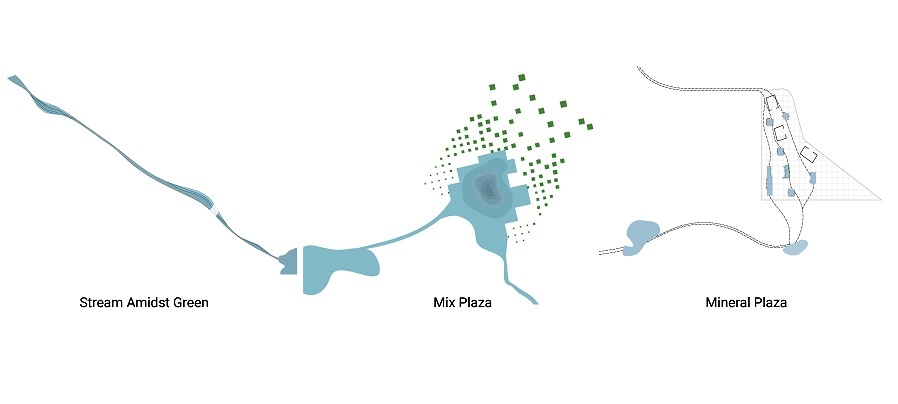 Types of Water Plaza Proposed
Local charm of cities has diminished due to Modern Architecture as every city looks alike and similar. How should architects / urban planners / landscape architects modernize cities, while maintaining the local charm intact?
I strongly agree with this statement. The main approach, which I have practiced and learn, involves in-depth contextual study to grasp a place's identity, drawing from historical research and current conditions, needs of the people and environment, and then design for the future. It is a complex inquiry – which aspects of the historical character warrant preservation and how we integrate them with contemporary elements as our additions today hold the power to permanently reshape the city's identity for present and the future. Reflecting on this becomes of utmost significance.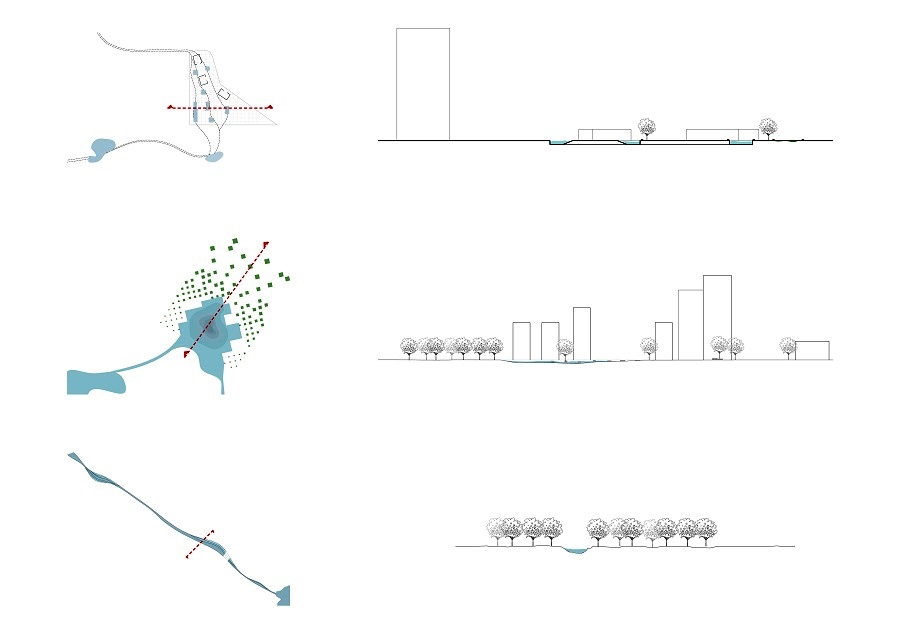 Relationship of Water Public Spaces with Surrounding
Looking at the past in the current present, what are the futuristic architectural changes you would like to see in your home city? Elucidate the reasons for your vision.
Coming from Surat, a fast-developing, in my early years, it used to be a town. The urban evolution brought about a notable shift, giving rise to a new epicenter. However, this newfound hub lacks the authentic essence of the original city. There is an evident difference when comparing the architecture of aged apartment buildings to the contemporary counterparts, where office complexes exhibit a repetitive design.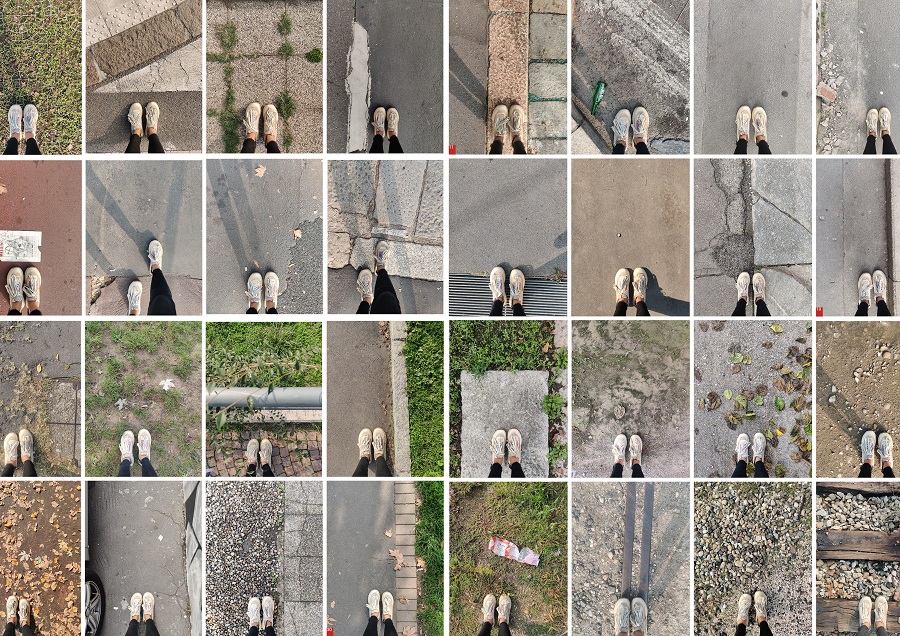 Study of Street Micro Elements and Materials
Considering the past and keeping the present in mind, a conspicuous void persists, particularly in the realm of public spaces and parks within the town, and the character of the buildings. In my viewpoint, any expansion strategy must conscientiously incorporate and emphasize the creation of public spaces and parks. This inclusion not only contributes to the structural landscape, but also bestows a distinctive identity upon the urban fabric.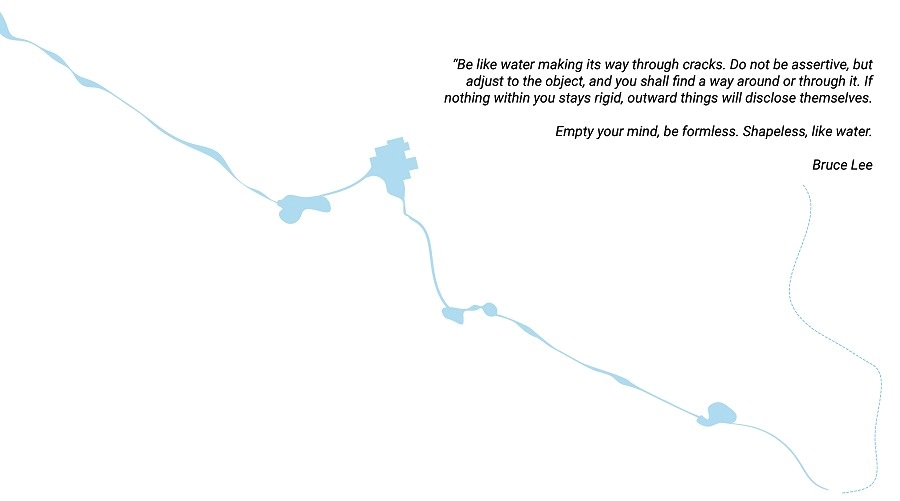 Conclusion
Image Courtesy: Snishtha Bhatiaa