A seasoned and highly respected professional in the academic field, Winka Dubbeldam is currently serving as the Chair and Miller Professor of Architecture at the University of Pennsylvania, Stuart Weitzman School of Design. Creative and innovative to the core, Winka happened to be one of the first woman architects to successfully experiment and create 'Parametric Design' developed by 3-D Computer model, covering a humongous 80,000 ft area with a frontage of folded glass curtain wall, resembling waves of glass, for the 11th Floor GW497 Building. She created her niche in the architectural world with this superb feat.
Winka was greatly influenced working under Peter Eisenman, the renowned American architect during her early career days. In the year 1994, she established Archi-Tectonics in the New York City. In the last 27 plus years, Winka Dubbeldam has created and etched her name in the world of architecture with great success. Having won multiple prestigious international awards, Winka is very pragmatic in her approach. It is always a delight to interact with Winka, for her infectious enthusiasm and credulous innocence. She shares her journey from her early childhood and how she made great impact in the field of architecture.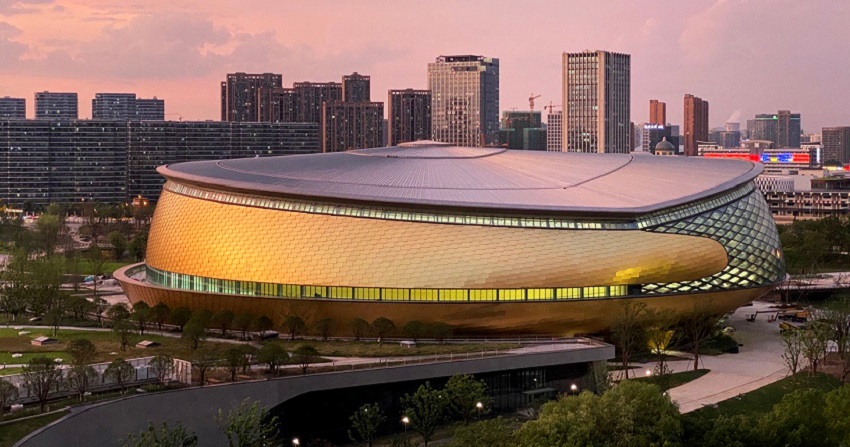 The XIX Asian Games will be held from the 10th to the 25th of September 2022 in Hangzhou, Zhejiang, China. Construction at the 116-acre Eco-Park is in full swing. New York based innovative Dutch-American architect Winka Dubbeldam's Archi-Tectonics has done an amazing work with their magnificent design creations. Elegant, charming, enthusiastic and passionately Winka Dubbeldam talks to Johnny D at great length about the enormous project, explaining in great detail.
When you look back at your childhood ambition, did you always wanted to be an architect? How has been your journey so far to etch your name in the world?
As we often moved during my childhood, there was a constantly looking for new homes and often were building or rebuilding them. So early on, I decided that was the profession for me, which after a short detour passed towards sculpture and art education. Studying at Columbia in NYC was very important for me, as it complimented my studies in the Netherlands in a very important manner.
After a few years with Peter Eisenman, I started my own office in NYC in the year 1994. It has been a great journey full of unexpected experiences. It helped that our first monograph came out in 1996, following a first solo exhibit in the Form Zero gallery in LA in 1995. We were also included in MoMa's 'Unprivate House' Exhibit in the year 1999.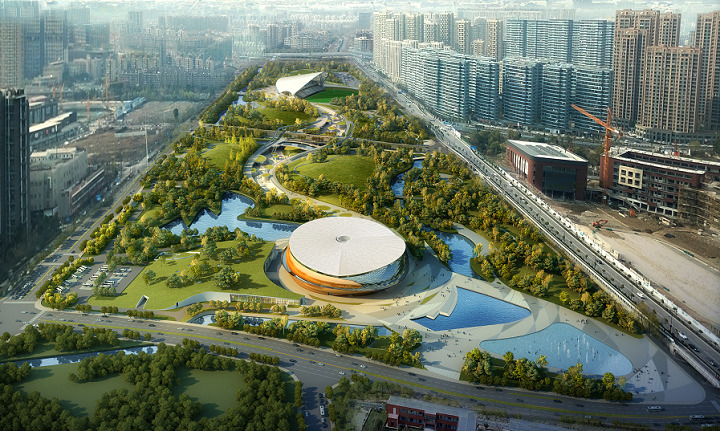 What are the various projects you are currently busy with, in various cities and countries?
We are completing the Asian Games 2022, with a 116 acre Eco-park with 7 buildings, among which 2 stadiums as hybrids in Hangzhou China. We are designing a house in London, upstate New York and working on a station design for Airtaxi's in the USA. Also, we are working on a master plan for a golf resort in New Jersey. We recently won the 2nd prize for a tennis stadium and master plan in Nanjing China.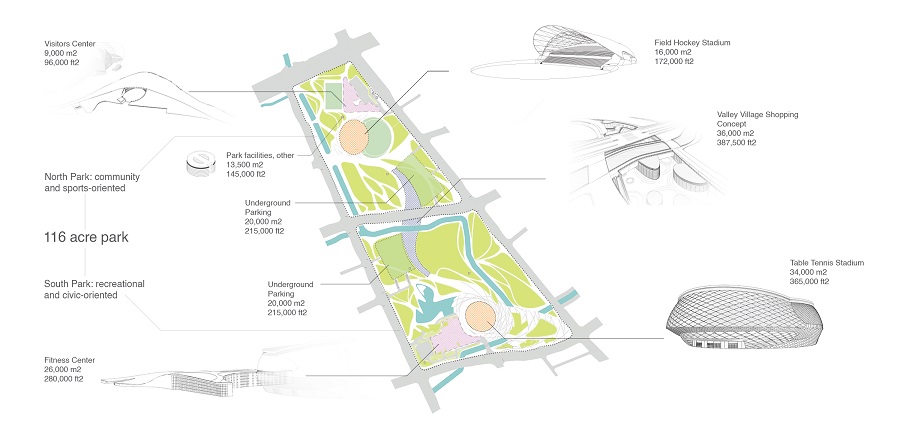 When the client states the brief to an architect in the first meeting, what really goes in an architect's mind?
A brief, as well as, a strong client are both great partners for us in the design process. As we are experts in the field of architecture, we also feel it is our job to evaluate the brief and offer our professional opinion to our clients. But often, clients come to us, because of our earlier works. So it is mostly just a great dialogue, discussing options. We see research as part of our 'work', so that comes naturally. Where we invest as designers is that we often develop new materials or components with manufacturers and make 1:1 prototypes. This we see it as the only way to innovate architecture in an expedited manner.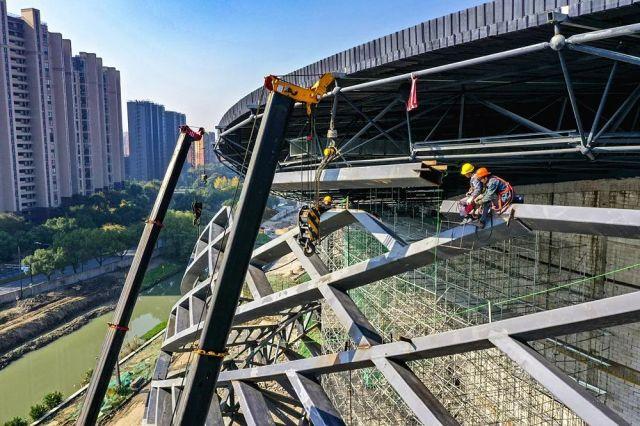 What was the brief of the 'Asian Games 2022 Master plan and Buildings' Project?
The brief was to create a master plan following the 'Sponge City' guide lines, i.e. an eco-park. The original question was to put the 2 stadiums next to the road that bisects the park. However, our team felt that it made the 2 park sections into the 'backyards' of the stadiums. We proposed another scheme, where we placed the 2 stadiums each in a park section, so they had some agency as attractor or even generator of park activities. We then proposed to transform the request for an underground shopping mall into a green shopping valley that crosses under the road and river, now aqueduct, and connects the 2 stadiums.
We did discuss with the team this proposal, as it was away from the competition requirements. It could either make us win or lose the competition. Hence, we had to take this decision as a team. The team initially were Thornton Tomasetti, !Melk and MIC – Mobility in Chain and Archi-Tectonics (Archi-Tectonics was the invited team member), and decided to go for the alternate scheme and take the risk. Luckily we won!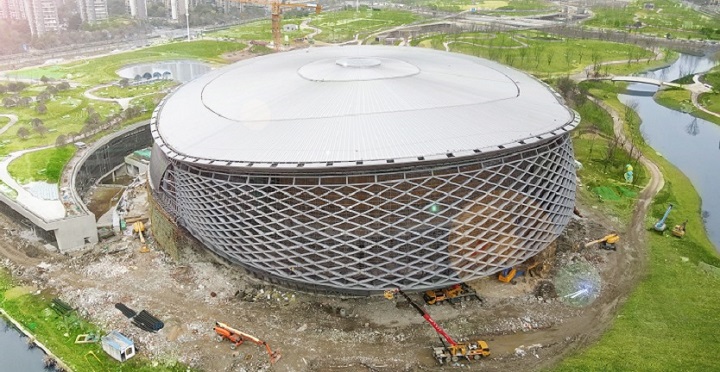 As the head, what do you demand from the team members during the planning stage?
Actually, it was very different. Due to time constraints and the enormous size of the project, we went in as equal partners for the competition with Thornton Tomasetti and !Melk landscape architects. It turned out to be a great idea and really improved not only our submission, but also the optimization of the design from the beginning. It was also extremely enjoyable as a process. The fact that we had fully developed structures (including calculations) and park designs helped convince the client that it was possible to build. It also helped the client to expedite the construction process.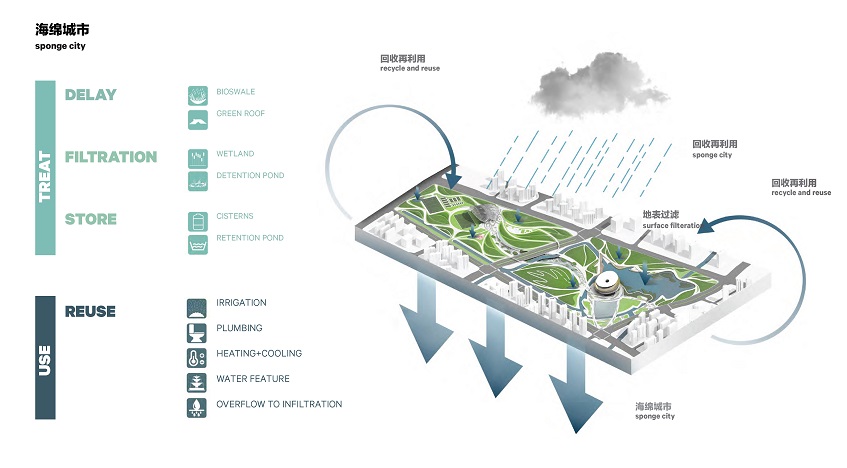 What were the major challenges you foresee from the planning stage to the execution of this project on the real grounds?
We knew there were enormous time restraints. But at this point, the project was opened a year ahead of the Asian Games 2022 opening. So the team, client and the contractors did really very well. We designed all the structures 3D in Rhino. We all worked in BIM, which facilitated working on details together. It really helped work across such a distance. The project won last year the first prize in a BIM competition (9th 'LONGTUBEI' National BIM competition) for the 1st Chinese project that coordinated all aspects, such as park, landscape and buildings all in BIM.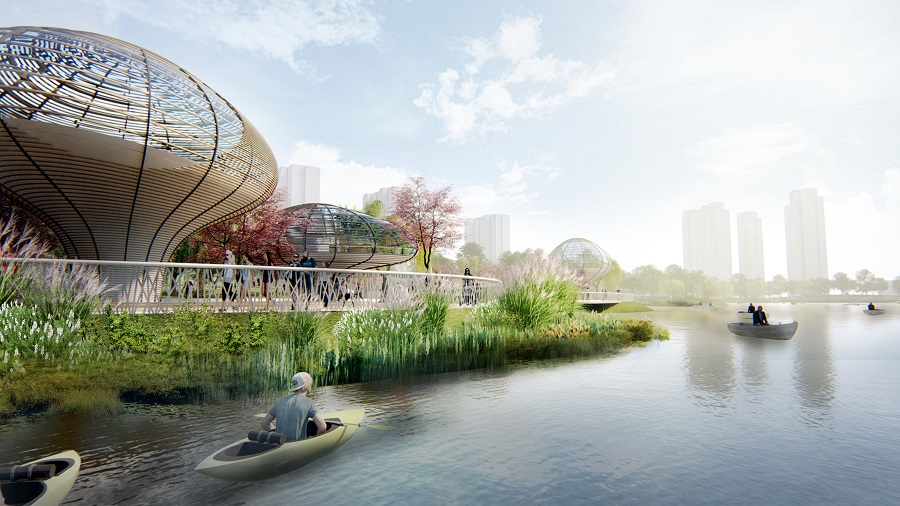 How did your team overcome them creatively?
We all worked tightly and non-linearly from the very beginning with the team of engineers and consultants. We aimed to achieve unique, innovative designs that are optimized, energy-efficient and sustainable. We achieved innovation through deep research, extensive prototyping and advanced digital tools. We believe that only a research-based approach leads to genuine design innovations, healthier living environments and evocative spaces. We love to build and operate on multiple scales of investigation, ranging from object to building design to urban environments.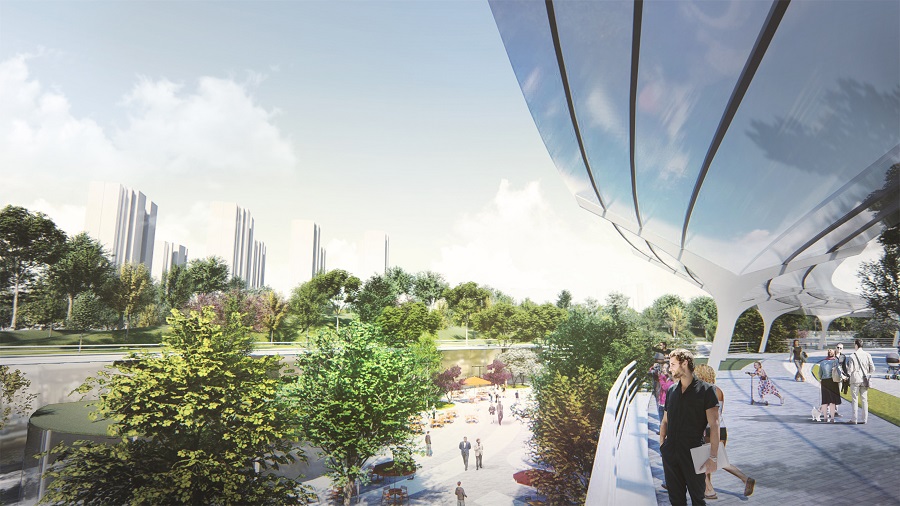 Our focus is not on style or a recognizable 'signature', but on a cutting-edge design process that combines creativity with technological advancements, from which a poetic precision emerges. We value performance over form and design intelligence over style. We always aim to create efficient, optimized, sustainable and, at the same time, healthy work and living environments. Our trusted team of engineers and consultants supports this and adds expertise to each project.
How would you describe the 'Elegance of Design' of the 'Asian Games 2022 Master plan and Buildings' Project from an architect's perspective?
As the landscape and buildings are fully coordinated, designed simultaneously by the team, they have been the perfect 'fit' in the landscape. The fluid lines surround the buildings as nodes in the landscape with pavement and plantings, expressing the same. Also the zero-earth policy (a strategy, where excavated earth cannot leave the site) made that with the excavation of the wetlands and the shopping valley. We had lots of earth, which the landscape architects made into a beautiful hilly landscape, where buildings were tucked inside.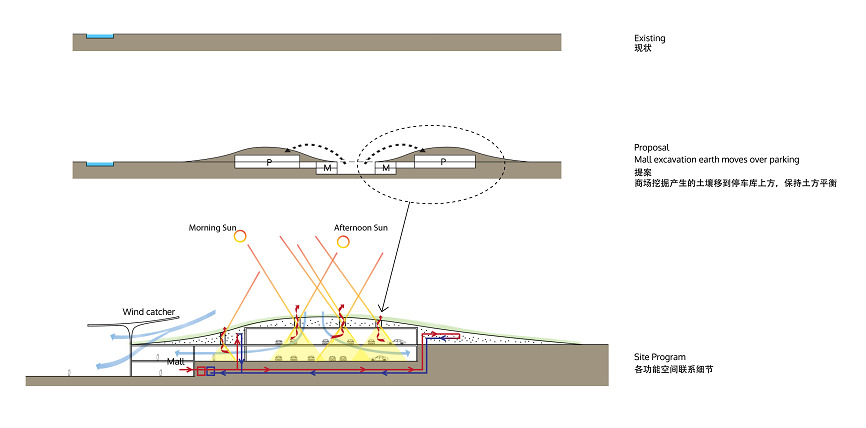 The berms (a flat strip of land, raised bank, or terrace bordering a river or canal) also helped to protect the park from noise, since it is strangely a quiet place. The multiple bridges connect all fluidly, while giving great vantage points over the site. These interventions turned the site into a 'Sponge City' that collect, filters and reuses rainwater for water features – irrigation, plumbing, heating and cooling, and wetlands generation. To transition the park after the Games, the design supports events such as shopping to hiking, bird-watching, boating, outdoor concerts and major cultural events.
The park extends the activity of the surrounding city streets into the landscape to add a much-needed green heart to the area. It strengthens and diversifies the ecology its entire context and creates a new center of public life in Hangzhou that will be used, long after the Games end. The design is well-equipped to house activities like nature walks, basketball and skateboarding, shopping, picnics, waterfront dining, community events, and more. Buildings are designed as hybrids to transition from sports into concert and theatre venues.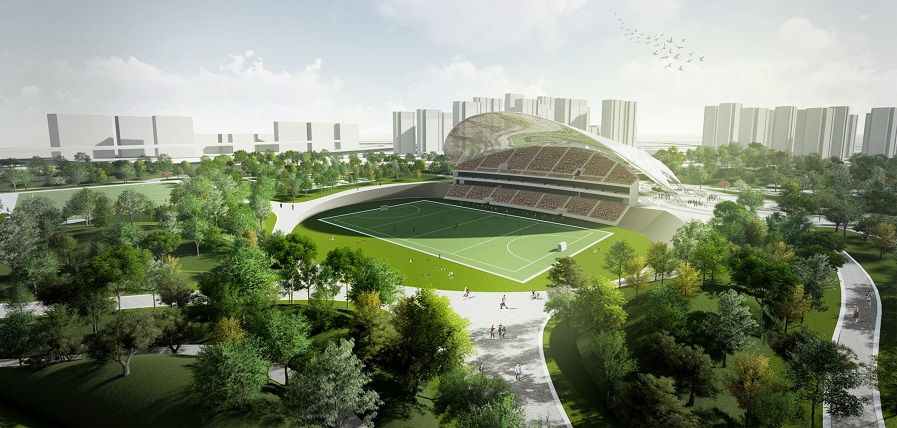 Please mention 5 major 'Sustainability' features you incorporated in the project.
Landscape as 'sponge city' with:
Restored and expanded the local wetlands; Porous pavement; Restored the natural biome with local vegetation; Solar shading devices over the Valley Village mall; Everywhere Green roofs; Stadiums with passive ventilation and insulated skins / façades; and Use of renewable materials such as bamboo.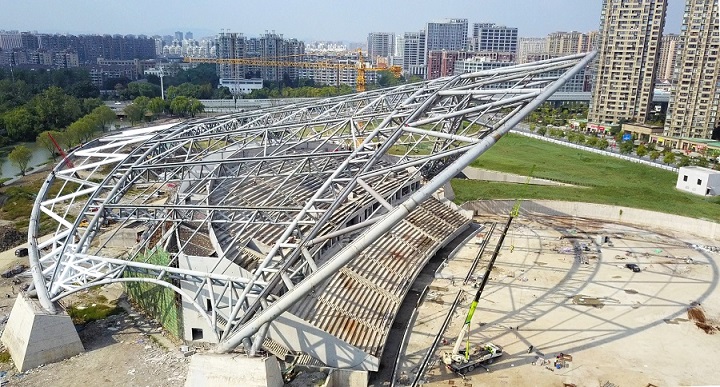 What is the total area and estimated cost of the project?
The budget is approximately around $200 million. The total area of the project is 47 hectares Eco Sports Park (in acres 116). The Table Tennis Stadium Hybrid is 35,000 sq. m with a 5,000 seats capacity; the Field Hockey Stadium Hybrid is 18,000 sq. m with a seating capacity of 5,000; the Commercial Mall area is 55,000 sq. m; the Fitness Centre is spread across 23,000 sq. m; the Exhibition / Visitors' Centre and Park facilities has an 18,000 sq. m allocated area; and the Underground Parking with green roofs and natural ventilation has an area of 68,000 sq. m.
How much credit do you attribute to the conscientious efforts of the civil / structural engineers to give shape to an architect's vision?
I consider them as valuable and crucial team members that understand how to translate a 'no columns' concept into a 'suspen-dome scheme'…. Simply Brilliant!

Climatic catastrophes have seen major smart cities, including desert cities around the world being destroyed in the recent times. How can or will architecture overcome such destruction to safeguard the community at large?
The forever hardening of our city surfaces with not enough space for riverbeds with overflow areas and not enough green parks to absorb rainwater, we are continuously putting cities in danger of both drying out and flooding. Not 'smart' as they say.
An intelligent city is not trying to defeat nature, but works 'WITH THE NATURE' and makes sure that it is a safe and healthy environment to live in. Greed has often beaten the smart aspects.
The Solution is 'Simple' though, by creating more porous surfaces, more parks, larger riverbeds and not to build housing for lower income classes in areas prone to flooding.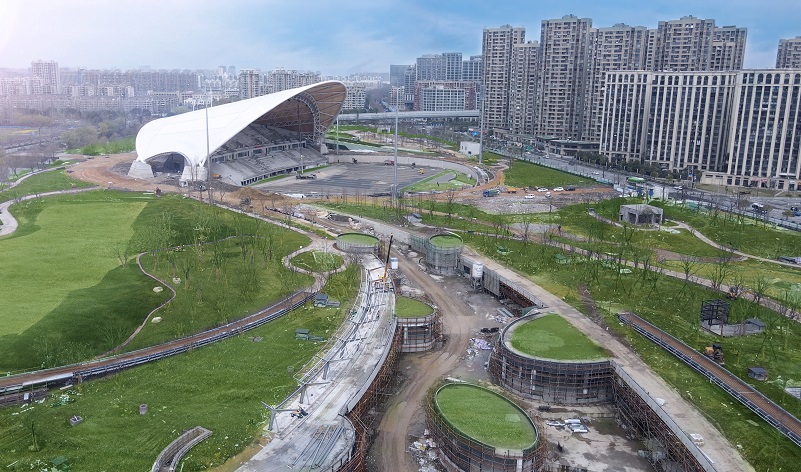 How has the pandemic changed the process of working in the field of architecture?
Not much really! All the work was done on zoom, though it worked a bit slower but overall okay. Zoom is a good democratic and 'across borders' app, which sometimes increased teamwork in an interesting way. Having said that, it was good the pandemic was limited to a year though. We also realized, working as a team in an office really facilitates dialogue and brainstorming sessions, and that we really missed, especially having coffee together (smiles).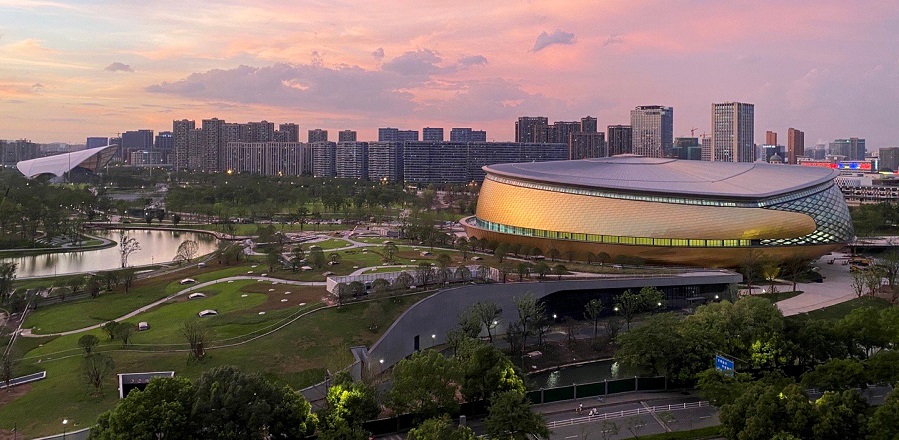 How would you describe Winka Dubbeldam as a leader and a person?
As a person, I like to inspire and collaborate. I prefer horizontal organizations, hence architecture and academics fits me well. I am rigorous, theoretical and a builder, and believe that these are not mutually exclusive.
Please state 5 recent awards win.
First Prize at the 2021 9th 'Longtu Cup' National BIM Contest by the China Graphics Society for the Asian Games 2022 Master plan and Buildings
DEZEEN 2021 – Twenty-Two Women Architects And Designers You Should Know
ARCHITIZER 2021 – 100 Women To Watch In Architecture
ARCHITIZER A+ AWARD– For the Asian Games 2022, master plan & stadiums // Popular Vote ' Rethinking The Future Award 2020' Awardee for 'Housing Over 5 Floors (Built)' for 512GW Townhouse in SoHo, NYC
PLAN Magazine Italy:Award for Master plan 'Sports and Leisure' for Asian Games 2022 Sports Park, and stadiums in Hangzhou, China
Winner Invited Competition ASIAN GAMES 2022, A 115-Acre Park and 7 Buildings with !Melk, Thornton Tomasetti, and MIC traffic engineers – Under Construction.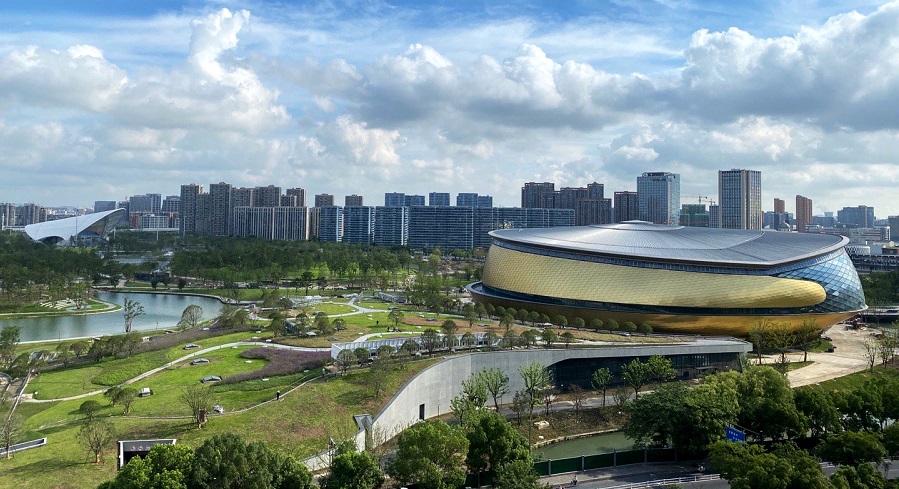 Image Courtesy: Archi-Tectonics