The fifth richest country in the world Kuwait is transforming its desert into an oasis in real sense. In the heart of the eastern desert of Kuwait, Jasper Architects is building DHK Desert Hotel – DUNAS the resort oasis will be one-of-its-kind in the world! Jasper Architects is based in Buenos Aires and Berlin, and have branch offices in Vienna, Quito and Santo Domingo. The design firm won the prestigious international competition with its magnificent design to create the first hotel in the middle of the desert in Kuwait.
In the year 2008, Martin Jasper established Jasper Architects in Buenos Aires. In the last 13 plus years, the design firm has created a name with some of the most innovative and outstanding projects in the world. Martin Jasper says, "Focused on a meticulous research on the unique parameters of each project's site and context, and the analysis of the specific programmatic and functional goals, we develop design solutions that attempt to push the envelope and go 'beyond context'."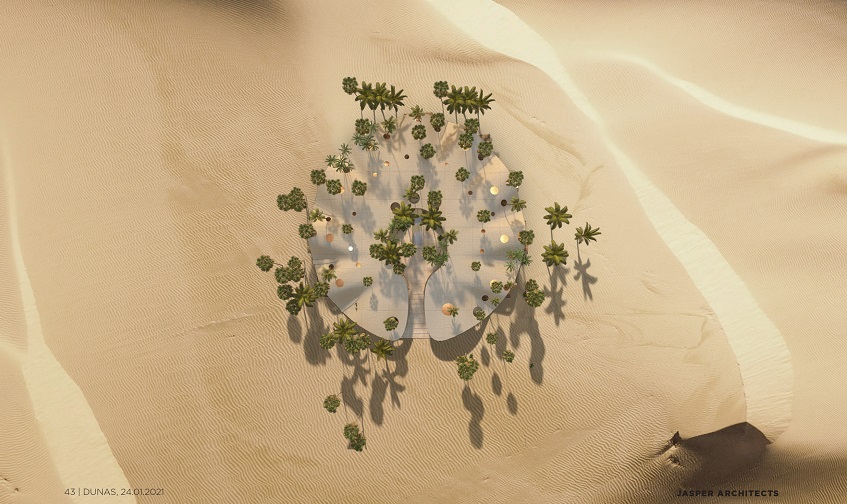 Martin Jasper talks to Johnny D about his childhood ambition, the growth of his design firm and the desert hotel DUNAS project in great detail.
When you look back at your childhood ambition, did you always wanted to be an architect? How has been your journey so far to etch your name in the world?
I wasn't always convinced to become an architect. Rather, I wanted to become an artist, specifically a painter. Since my childhood, my interest was towards visual and artistic fields in general. Later, my focus shifted towards architecture during my studies in Berlin at the University of Fine Arts. I understood that architecture has the capabilities to create realities and atmosphere that create the stage for our life to play on. The understanding of that strength in architecture is what deepened my interest in architecture.
In terms of our name, honestly, I do not think that we are even at a starting point to etch our name in the world. This is not an objective that we would like to focus on. We try to be authentic in the first place. We try to share, discuss and inspire our project teams in a continuous dialogue by defining our proposals and design solutions. That is our main focus. In those terms, I believe we are only at a starting point, where we are defining what we are and where we are.
When the client states the brief to an architect in the first meeting, what really goes in an architect's mind?
Our strategy is to absorb as much as we can from what the client expresses and tells us. We give him the space to talk and to get an understanding of what he is looking for. That is sometimes a challenge, because we architects often have a different approach to expressing ourselves regarding architectural matters. We try to understand the main goals of our clients. These might be economical, design-driven, functionality-driven, or even environmental.
We try to understand their vision that they sometimes express in a completely different way. We try to translate that into first architectural ideas. Often these are situational ideas. We try to start thinking about the build environment that we can create through architecture to trigger the client's emotions and assure that his goals are met with greater satisfaction.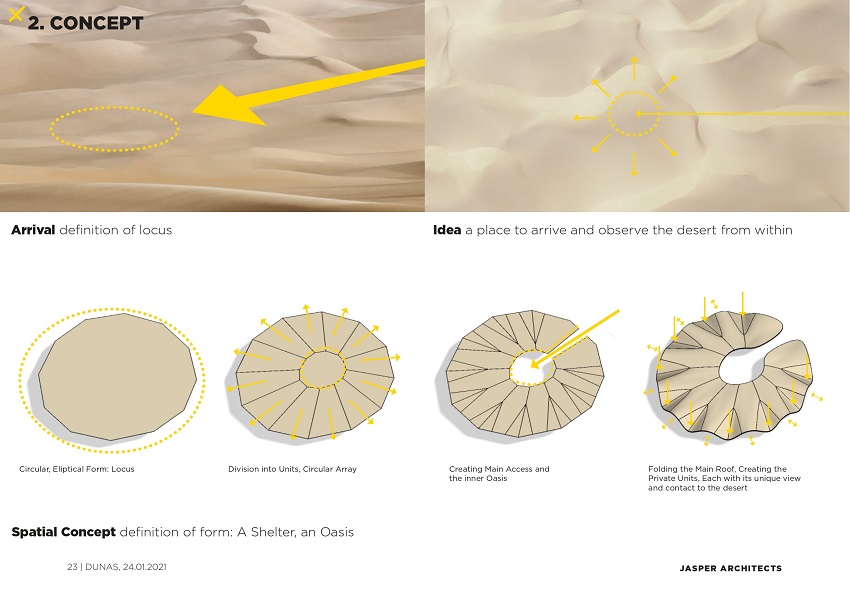 What was the brief of the 'DHK Desert Hotel, Kuwait' Project?
The brief of the desert hotel was very short and we had very little information. We had the scale, the size it should be, the functions of each of the hotel's units and the general functions for the hotel. There was no explanatory text that could give a direction of what should be created. With that, we could have an unbiased approach in terms of architectural envisioning. We started with an analysis of Kuwait's desert. What the desert's DNA is in terms of Geography, materials, climate, forms, etc., and from that point, we started to develop our vision of what we thought a desert resort should look like.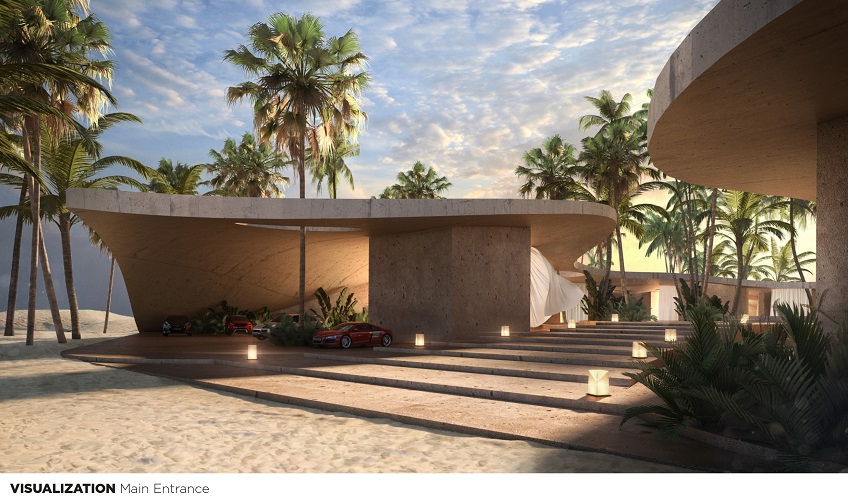 As the head, what do you demand from the team members during the planning stage?
Creative thinking and thinking out of the box are essential for every planning member of the team. I do not demand, but I expect that! What I demand is clear strategic thinking once you have a concept and a vision defined. This should be the common thread through the whole project. I demand concentration and focus on that conceptual idea. We strongly believe in the quality as a result of this methodology.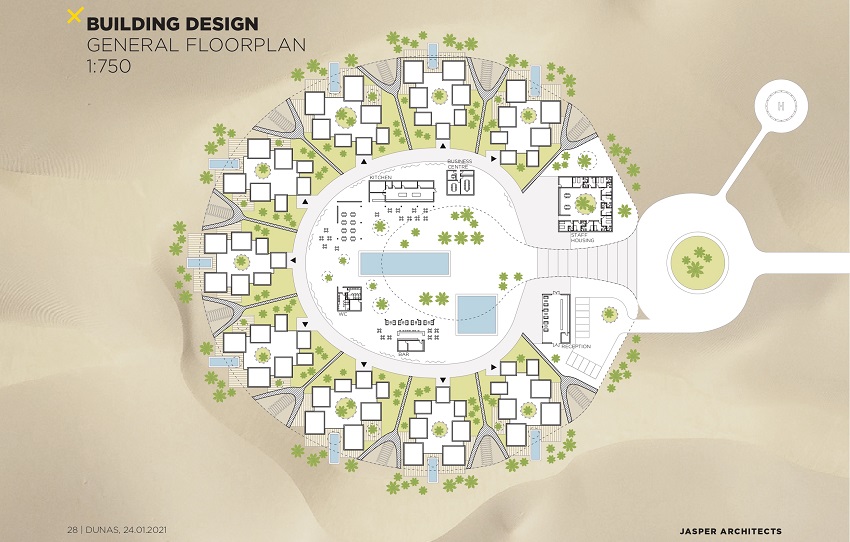 What will be the major challenges you foresee from the planning stage to the execution of this project on the real grounds?
Since the project is in the middle of the desert, it will be a big challenge in terms of logistics and how to bring all the materials to the building site. Concerning the free forms that we designed, we are thinking about prefabricated concrete elements or projected concrete. Both the techniques are quite easy. When it comes down to building in these remote locations, you have to bring the building technology there. That will be the major challenge!
On the other side, we will face the challenge of installations of the infrastructure of the building itself, thinking of sanitary installations, electricity, etc. We are in the middle of nowhere, so we have to think about how to bring this entire infrastructure there, while always maintaining the sustainability goals. We want to use as little technology as necessary.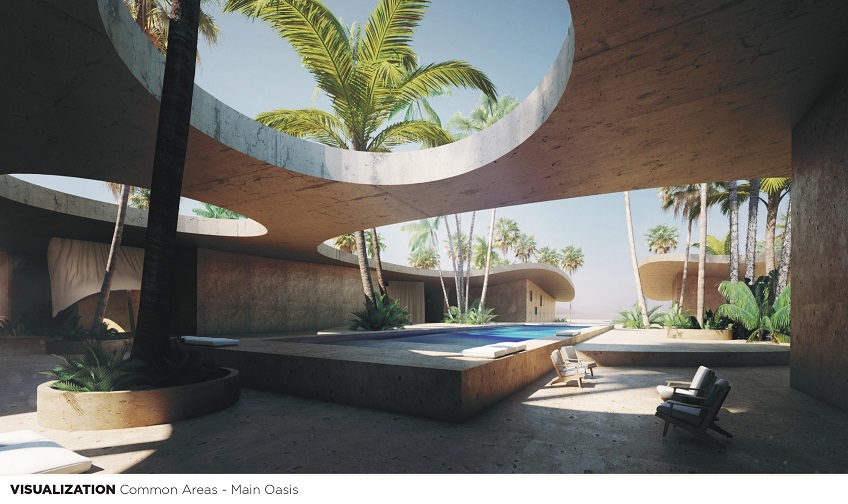 How will you overcome them creatively?
It comes down to doing a very careful design execution. Everything will have to be very carefully taken care of. Working with the engineers, who design the structure, will be very relevant on how to join different materials, how things would arrive at the ground and how walls will be connected to the ceilings, etc.
There is a lot of work to be done and it has to be done in great precision and detail. We must do that step-by-step for every single element that has to be designed. This is the only way to overcome the challenges in these projects and create quality, whist never losing the common thread of the original conceptual idea.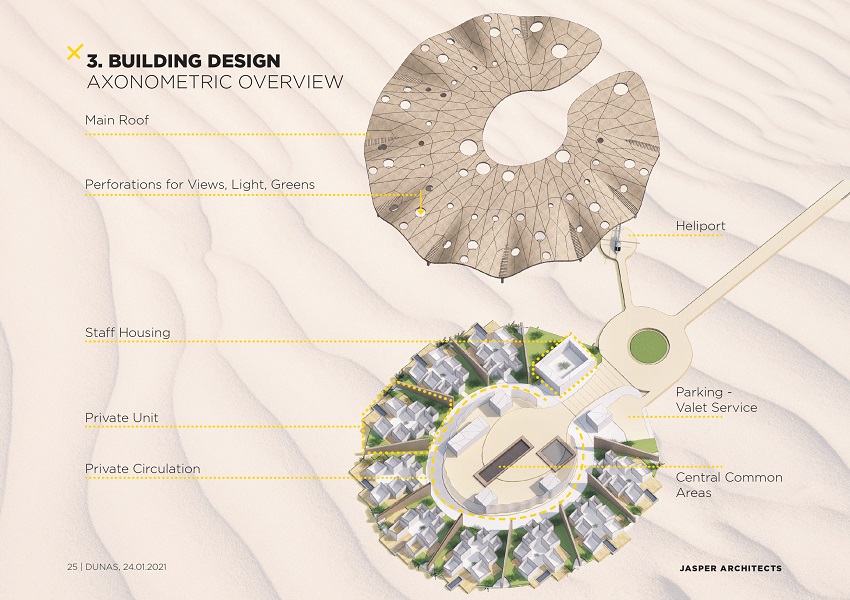 How would you describe the 'Elegance of Design' of the DHK Desert Hotel Kuwait project from an architect's perspective?
Elegance is always a matter of simplicity! Elegance evolves out of simple ideas and solutions that bring the answer to complex situations and challenges. You have to find the most direct and clear way to solve problems. In that way, it becomes elegant. From an architect's perspective, for me, in our proposal the elegance will be there if we manage to keep the project as simple as it is now. We have to find architectural solutions within this simplicity.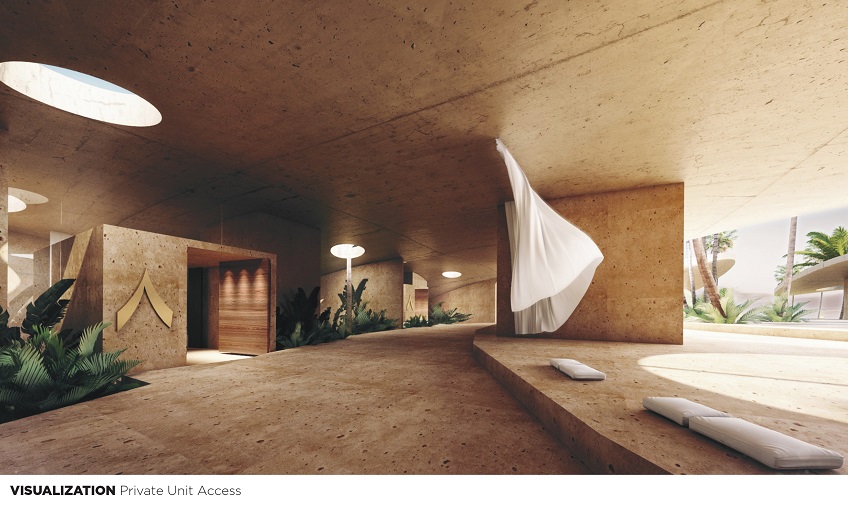 Please mention 5 major 'Sustainability' features you would incorporate in the project.
The whole project is designed thinking of a shelter that brings shading and uses natural ventilation. This is one of our main goals. In addition, we are thinking of reusing gray and black water, to be as sustainable as we can in water usage and also use of renewable energies. The addition of greenery in the interiors will be helpful to refresh and create microclimate.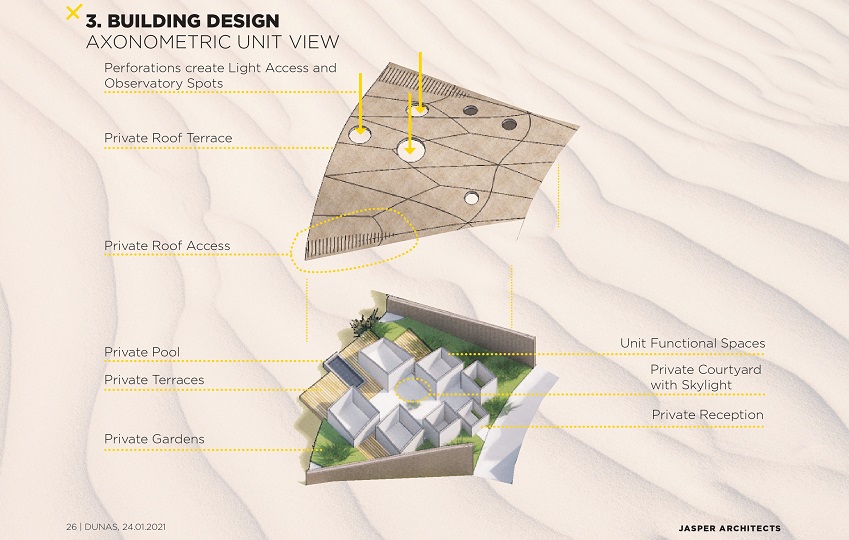 What is the total area and estimated cost of the project?
The total area of the project is 19,866 sq. m / 213,835.84 sq. ft. The budget has not yet been fixed.
When will the 'DHK Desert Hotel, Kuwait' be realized for the world to enjoy its hospitality – a time period?
If everything goes well, we could be talking about 2024.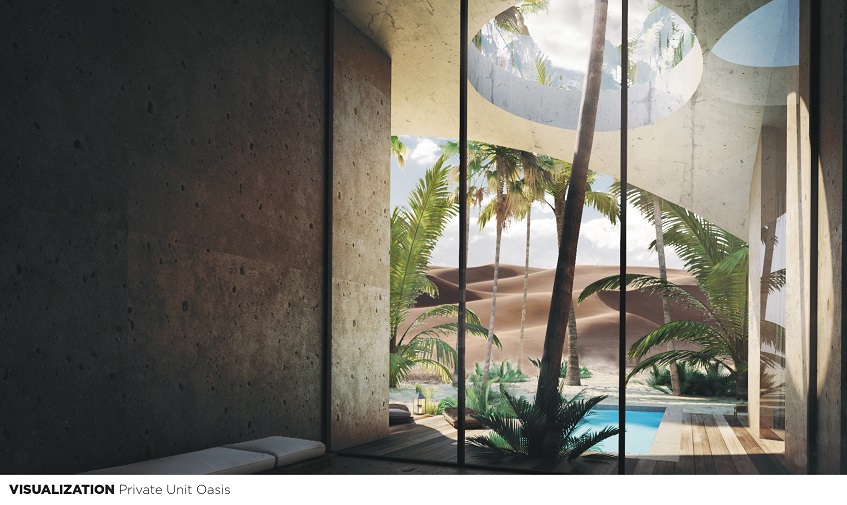 How much credit do you attribute to the conscientious efforts of the civil / structural engineers to give shape to an architect's vision?
It is fundamental! We believe in a strategy called general planning from the very beginning of the project. It includes all the engineers and not only the structural engineers. This way we can solve all the issues and the challenges on the ground together, without losing the focus on the common conceptual thread. I think that is fundamental as we need the engineers to feed us with their inputs and their knowledge, in order to be creative in the most sustainable way, and find clear and elegant solutions. You cannot find simple solutions, if you do not have the engineers' input from the very beginning. Only that way you can assure architectural quality.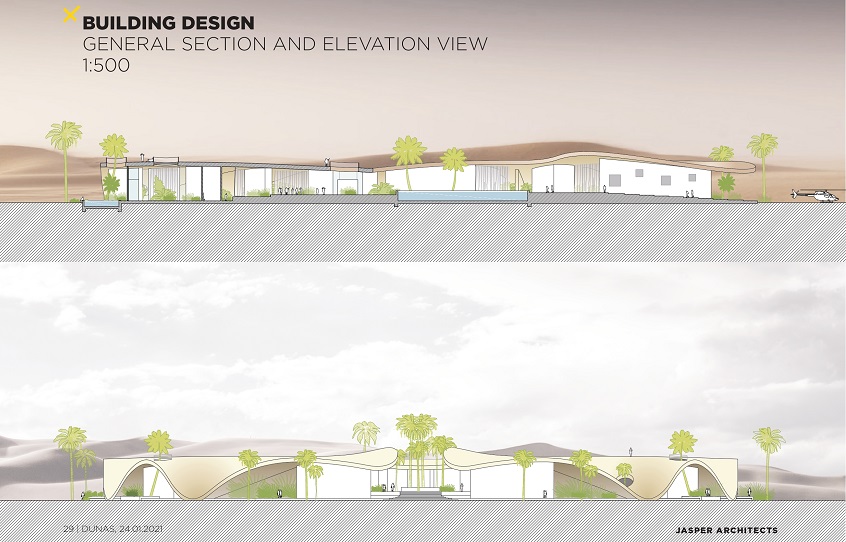 How has the pandemic changed the process of working in the field of architecture?
Since we are an internationally operating company, we were always working all over the globe and our teams cooperate remotely. Therefore, we were very used to online meetings within our teams. We use virtual reality a lot in our practice to be able to meet in virtual reality space and experience the architecture that we design altogether, no matter where we or our clients or team members are physically. Therefore, for us, the impact on the working environment of the COVID pandemic was not a big change. A lot of our team members started working from home.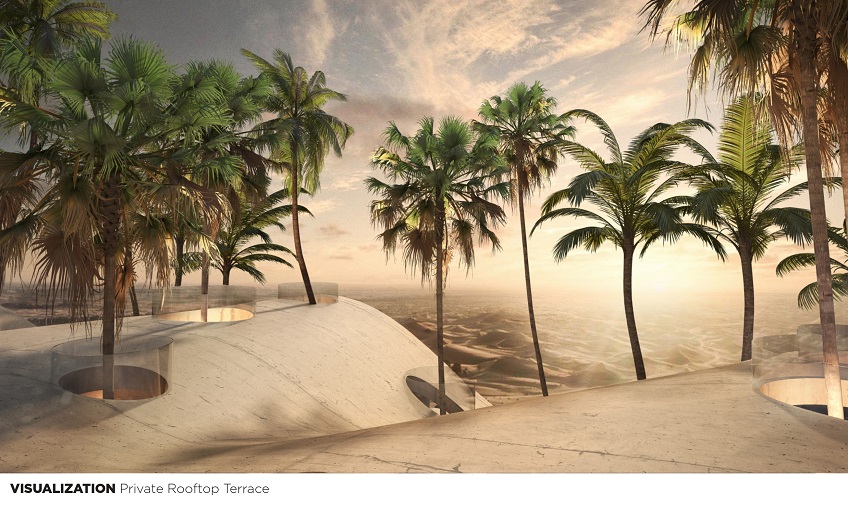 What changed more were our clients and the projects themselves. Remote working and remote meetings became possible and much more common, and the request of office space versus a more livable residence from where you could also work increased by a lot.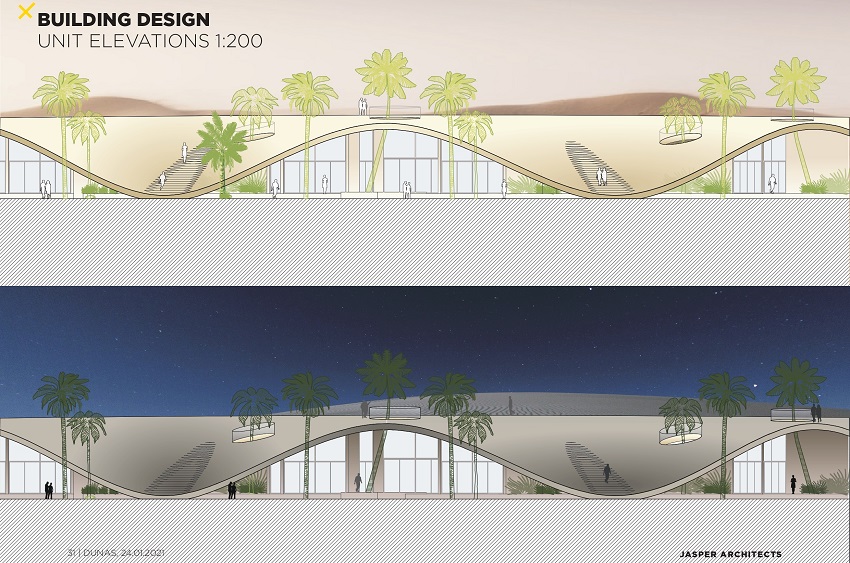 What are the various projects you are currently busy with, in various cities and countries?
I started my first studio in Buenos Aires, Argentina, way back in 2008. Through commissions and competitions we won in different countries, both in Latin America and in Europe. Our operations expanded, leading to the opening of several representations and our branch offices in Berlin and Vienna. In Buenos Aires, typically we work on bigger housing complexes. Lately, we have been focusing on an approach towards post-pandemic housing and how we can redefine our living concepts in dense urban environments, like the one in the Argentinean Capital. New types of spaces are becoming interesting for the developers, integration of greens buffering the urban, etc.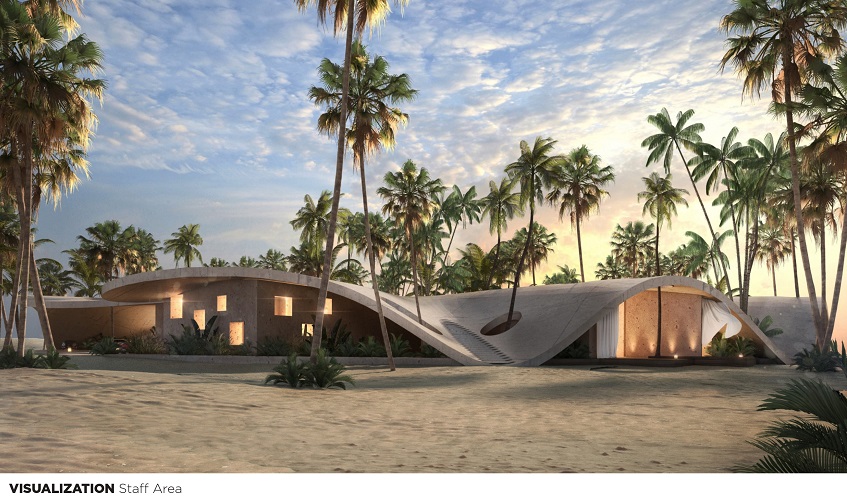 In Berlin, at the moment we are working on urban and city development strategies, opportunities to develop new quarters and areas of housing around the city, since there is a great lack of housing solutions. From our Berlin Office, we also work on our projects in Eastern and Southern Europe. Amongst others, we are doing a greater 'Restructuring Housing' complex in Warsaw's historical city Centre.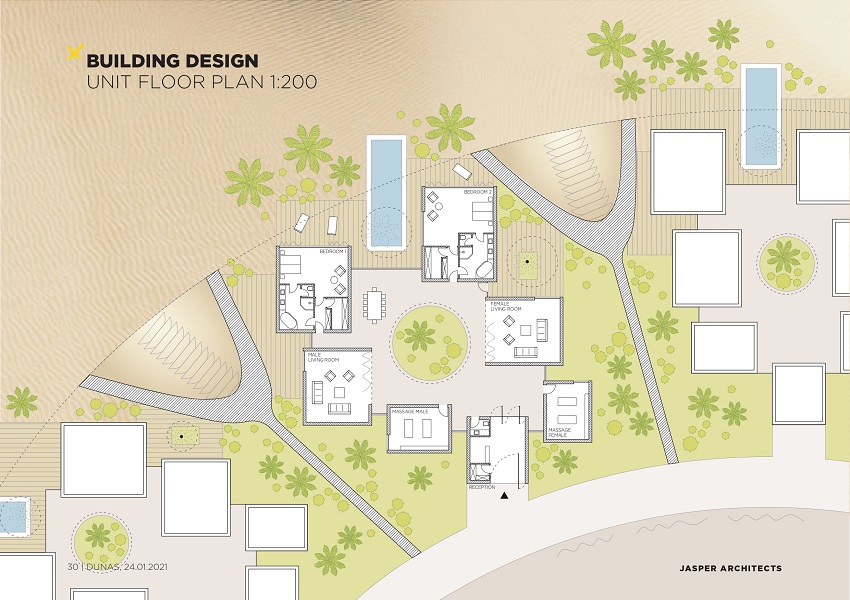 How would you describe Martin Jasper as a leader and a person?
I believe that I am very passionate about quality and elegance. I try to maximize our output that reaches the quality in a way that I described as elegance: find simple solutions. Whenever I perceive within a project, our work, team and we are on the right track, I get very passionate about it. I always work on transmitting this passion to the team. I do not think that this always happens, but that is my goal and become that kind of a leader. My passion is to always follow that path of quality, good work and ultimately good architecture.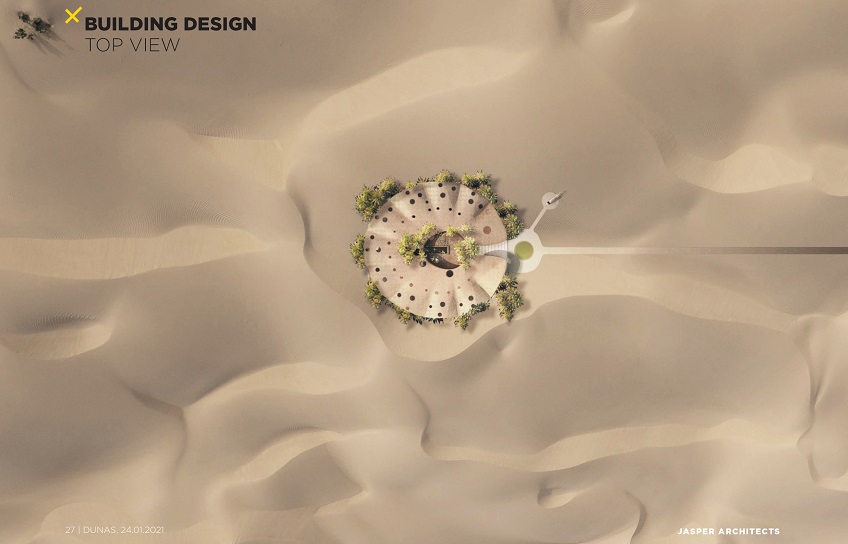 Please list recent awards win by your firm.
2021 Rethinking the Future: Global Architecture and Design Awards. Mixed-use Built
2021 Iconic Awards: Innovative Architecture
2021 Heinze Awards: Architekten Award
2021 Built Design Awards 2021
We are also 'Shortlisted' for the following awards:
2021 Golden Trezzini Award – Best Implemented Restoration / Reconstruction Project
2021 European Union Prize 'Mies Van Der Rohe Award'
Image Courtesy: Jasper Architects